UFC on Fox 2: Power Ranking Every Fight on the Card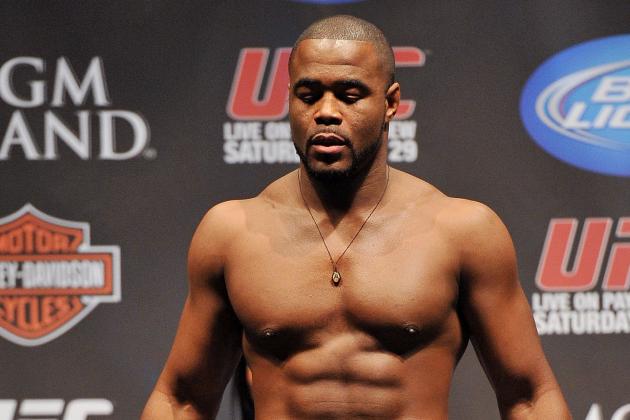 Jon Kopaloff/Getty Images

This Saturday we will see the UFC put on their second live event on Fox as Rashad Evans and Phil Davis square off in the five-round main event in what is essentially a No. 1 contender bout.
We will also be treated to a battle of the trash talkers when Chael Sonnen and Michael Bisping face off in the No. 1 contender co-main event to determine who will face middleweight king Anderson Silva.
Fortunately for fight fans, these are just two of the three fights that will be available on the broadcast portion of the card, and we'll be treated to six more on Fuel TV, with an additional fight available for the hardcore fans on Facebook.
With so much action available for free and packed into one night, let's take some time to determine which bouts will deliver and which ones won't.
Begin Slideshow

»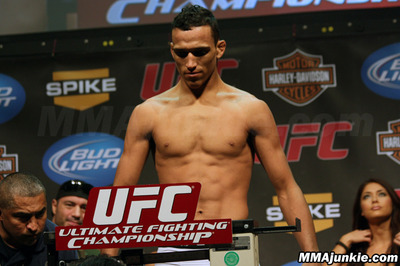 Charles Oliveira vs. Eric Wisely come in at the bottom not because they are unenergetic fighters or put on less-than-inspiring performances, but because Oliveira, who sports recent losses to Donald Cerrone and Jim Miller, hasn't looked that great in his last few outings.
As for Wisely, well we just haven't seen very much of him as he will be making his UFC debut. He does however have two victories over Hermes Franca, one by decision and the other via TKO, and was unsuccessful against Patrick Healy in his Strikeforce debut last summer.
The most interesting thing about this matchup is that both fighters are essentially fighting for their jobs. Oliveira will be looking for the win to keep his contract going as he makes his featherweight debut, and Koch will be looking to prove he deserves to be in the UFC.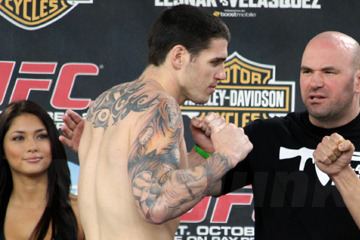 Chriss Camozzi and Dustin Jacoby are up next because neither fighter has made waves or impressed anyone with their performances in the UFC.
Just like in the previous slide, each of these guys will also be looking to keep their jobs, as Camozzi has already been cut once before by the UFC and Jacoby is coming off a loss after his debut inside the Octagon.
Even though each of these guys isn't known as a finisher, given the stakes I would be looking for each one to put away his opponent as early as possible in order to secure their continued employment and make a statement that they belong in the UFC.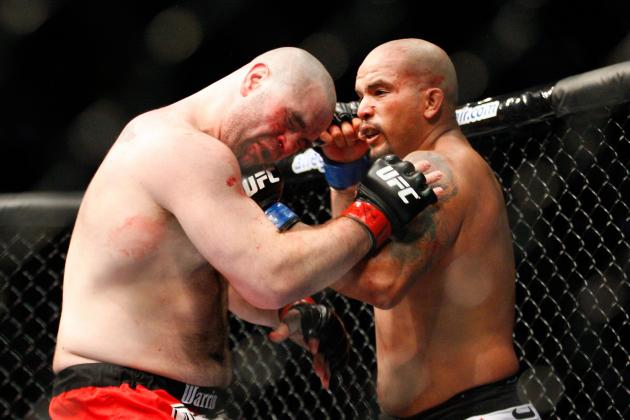 Richard Wolowicz/Getty Images

Following the trend of prelim fighter competing for their job, heavyweights Joey Beltran and Lavar Johnson fall right into place.
Both competitors are coming off of a loss. Beltran is 3-3 with the promotion, and Johnson has been brought over from Strikeforce after suffering back-to-back losses and going 3-2 under the San Jose-based company banner.
Due to the power of each fighter, this could end up being a Knockout of the Night performance, or it could be a sloppy slugfest between two guys who have already proven they still have a lot to work on before they can hang with high-level talent.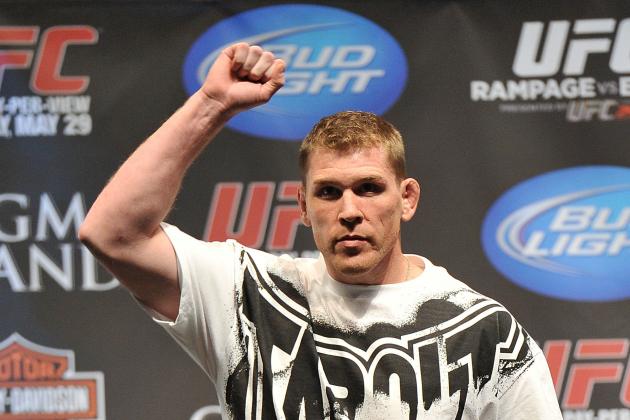 Jon Kopaloff/Getty Images

A Mike Russow fight would normally be higher on the list, but one can't help but wonder if his opponent, John-Olav Einemo, is just another step in Russow's climb up the heavyweight ladder.
Russow is as dangerous as heavyweight comes. He can knock you out or submit you on the ground. Add on the fact that he's 3-0 in the UFC, and it is only a matter of time before the Chicago native is headlining fight cards.
Einemo lost his UFC debut after taking a nearly five-year hiatus from competing in MMA. While the submission specialist had success in Japan against lesser competition, his losses to Fabricio Werdum and Dave Herman show that it is only a matter of time before the Norwegian gets his walking papers.
Unless Einemo can pull off a submission upset while he tries to get the fight to the ground, expect Russow to pick him apart with solid striking before likely finishing him by (T)KO.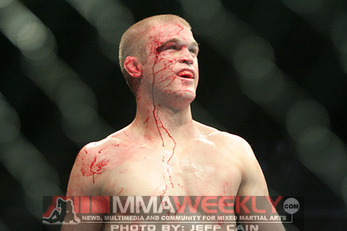 Evan Dunham vs. Nik Lentz anchors the card at No. 6 on our list. Each fighter is looking to get back on track to climb up the lightweight division ladder, and this matchup serves that purpose for each combatant.
The problem is that neither fighter has fared well when matched against the upper levels of the division, and when you take into account what's at stake here, it is likely we'll get a decision victory since neither fighter has finished an opponent for some time.
Dunham and Lentz will put on a decent showing that won't be bad, but it won't neccesarily be good either.
Breaking into our top five is Michael Johnson vs. Shane Roller. While this might not be the the most significant bout for the division, it does have all the makings of non-stop action.
Between the two of them they have 30 professional fights, and only three have gone to decision. Add on the fact that Roller has been awarded two Submission of the Night and one Knockout of the Night in the WEC and UFC, respectively.
Each fighter may also be fighting of their job tomorrow night, but regardless of outcome, a Fight of the Night performance should secure each member at least one more shot inside the Octagon.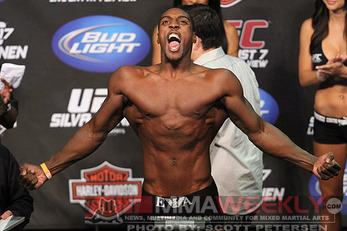 In the main event of the evening, Rashad Evans and Phil Davis will square off in a five-round match to determine if Evans should still be considered the No. 1 contender and face Jon Jones for the title, or if Davis will be put on the short list alongside Dan Henderson as likely title challengers.
While this fight has all the hype to be a big event, stylistically it falls short of the other main card bouts.
What we are likely going to see is both fighters use their wrestling to dictate the pace of the fight. Davis will use his reach to pick Evans apart from the outside while at the same to using his NCAA championship-level wrestling to stuff Evans attempts to take him down.
Evans will use his striking to set up his takedowns and bank on his experience and technique to outclass and outlast his younger, more athletic opponent. If that fails, expect Evans to start going for a Hail Mary and try to KO Davis.
Don't get me wrong; all these elements will make for a good fight. Unfortunately it probably won't be a great fight, unless of course Davis can pull of an early-round stoppage of the No. 1 contender.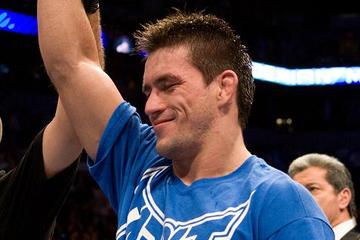 Photo Credit: MMAMania.com
Maia appeared to be working his way back to a title shot when he faced off against Mark Munoz, but The Filipino Wrecking Machine had different plans. Then when it looked like he was back on track again when his opponent was supposed to be Michael Bisping.
Now the Brazilian will face an unlikely, yet equally dangerous opponent in undefeated Chris Weidman, who is coming off a submission win over Tom Lawlor at UFC 139.
If Maia can display his ever-improving stand-up and send Weidman back to the prelims, then he'll be right back on track for another title shot. However if Weidman can pull off an upset after taking the biggest fight of his life on short notice, then he will definitely be on the short list of future contenders.
If Weidman really thinks he can hang with Maia on the ground, then we could be in for one of the most exciting displays of grappling the UFC has seen in a long time.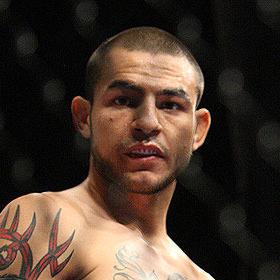 Collectively Cub Swanson and George Roop have earned four Fight of the Night and one Knockout of the Night honors during their stints in the WEC and have seven KOs and 11 submissions for a total of 18 wins by stoppage.
Even though this fight is among the prelims, we'll be expecting nothing but non-stop excitement from two of the featherweight divisions most entertaining competitors.
Add on the fact that both fighters are coming off of a loss, each will be looking to re-establish himself in the division.
Swanson's last win came over a game Mackens Semerzier at WEC 52 in controversial split-decision fashion, where as Roop scored his last win at The Ultimate Fighter 13 finale against Josh Grispi by way of KO with a devastating body shot.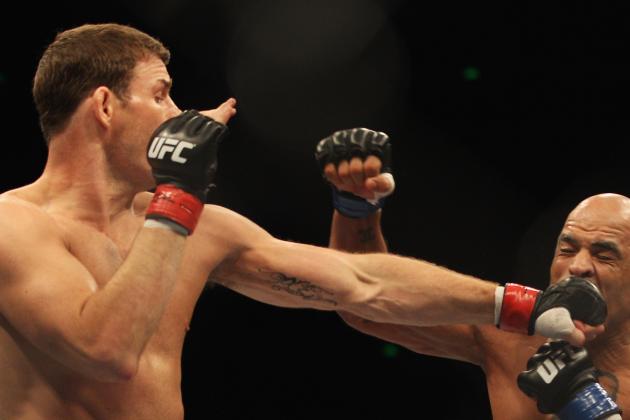 Mark Kolbe/Getty Images

Even though we weren't expecting this bout just a couple weeks ago (which is billed as the co-main event), there is no doubt that Chael Sonnen vs. Michael Bisping is the real reason we will all be at the edge of our seats come Saturday night.
Despite the short notice changeup, oddsmakers were quick to put The Count as the heavy underdog. But don't let that take anything away from the action.
Watch for Sonnen use his striking to set up his takedowns, while Bisping will try to find his range early to dictate the pace of the fight while using his sprawl to stay off his back. If Bisping does go down then we'll also get a chance to see his self-professed world-class jiu-jitsu.
Regardless if the outcome is the expected Sonnen beatdown or a Bisping upset, it will without a doubt deliver fireworks and leave many fans wondering why it wasn't the main event.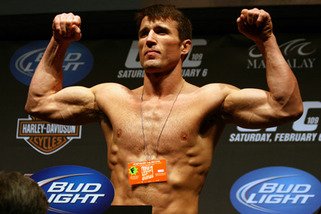 Do you think Evans vs. Davis should be higher on the list? Maybe you think Maia vs. Weidman shouldn't even in the top five, let alone No. 3.
Well let us know, and comment below! It's fun, free, and the anonimity of the internet will keep you from getting car jacked.
And that's the bottom line.
Follow Justin Fuller on Twitter @JustinFullerMMA or like him on Facebook for the latest and greatest in...well...whatever, that's what. Just do it, he's hilarious and probably won't steel your bike (no promises).