Brock Lesnar and the 15 Most Hyped Fighters in UFC History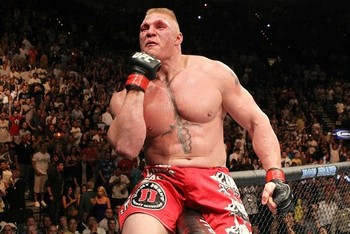 Many fighters have come in and out of the caged doors of the UFC over the years.
However, very few fighters have garnered the kind of attention that ex-WWE star Brock Lesnar has. After an initial loss in his organizational debut, Lesnar would go on to become champion in subsequent bouts, drawing comparisons as a would-be heavyweight great.
Was the hype he cultivated undeserving? Yes and no. However, Lesnar did collect excessive amounts of attention which can all be credited to his larger-than-life persona and the accolades procured throughout his career—much like these next few fighters.
Antonio Rodrigo Nogueira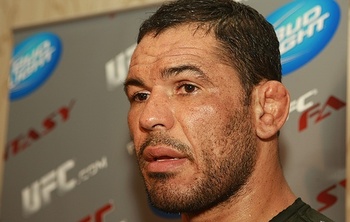 sherdog.com
The legendary Antonio Rodrigo Nogueira entered the UFC in 2007, coveted as the world's second-best heavyweight, just behind then-divisional kingpin Fedor Emelianenko.
Nogueira carried with him a lot of prestige thanks to his run through the Pride organization, which saw the Brazilian clinch victories over Dan Henderson, Mirko Cro Cop and Josh Barnett, among others.
"Minotauro" is the first man to capture both Pride and UFC titles—submitting former two-time world champion Tim Sylvia at UFC 81 with a third-round guillotine choke.
Yoshihiro Akiyama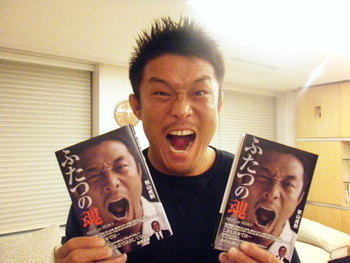 A world class Judoka practitioner, Yoshihiro Akiyama initially made waves overseas under the K-1 Hero's banner.
Once regarded as one of the best in the middleweight class, a knockout victory over Pride Grand Prix finalist Denis Kang garnered the attention of the world, which eventually prompted the move for Akiyama to enter the UFC in 2009.
In his first three outings, Akiyama quickly became a fan favorite, claiming "Fight of the Night" bonuses in battles against Alan Belcher, Chris Leben and Michael Bisping—though, the Dream veteran dropped bouts to the two The Ultimate Fighter veterans.
Akiyama is currently riding a three-fight losing streak, which was capped off by a knockout loss to Vitor Belfort last August.
Brandon Vera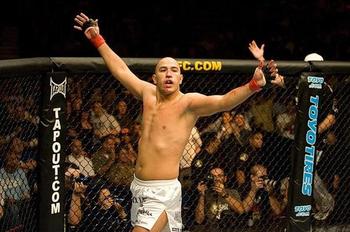 Entering the UFC with an undefeated record, Brandon Vera quickly ascended the ranks of the organization through his emphatic and devastating performances.
In the heavyweight class, Vera looked to be the next uncrowned king after dispatching of formidable opponents Fabiano Scherner, Justin Eilers and Assuerio Silva. Those victories earned "The Truth" a shot against former champion Frank Mir, whom Vera deftly defeated with a first-round TKO.
However, after spats with his management company kept him out of the cage for nearly a year, Vera's career has never since regained that momentum he once had.
After his pristine 8-0 run as a pro, Vera has now gone 4-5-1 in his last 10 outings inside the Octagon.
Sokoudjou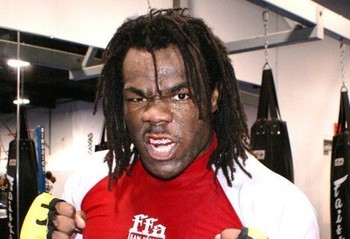 A 2-1 run invited this "African Assassin" to the now defunct Pride organization in 2007, where Sokoudjou quickly asserted himself as one of the elite of the light heavyweight class.
The Team Quest product took on perennial contender Antonio Rogerio Nogueira in his debut, knocking out the Brazilian in just seconds.
The victory was followed by another impressive finish, this time at the expense of Pride Grand Prix finalist Ricardo Arona, finishing off the submission whiz inside of the first round.
After those two back-to-back stellar performances, Sokoudjou was a highly sought-after commodity, eventually finding a home with the UFC.
Despite his early successes, Sokoudjou washed out of the organization with a 1-2 record, dropping bouts to Lyoto Machida and Luiz Cane, respectively.
Sokoudjou now holds a very pedestrian record of 12-10.
Todd Duffee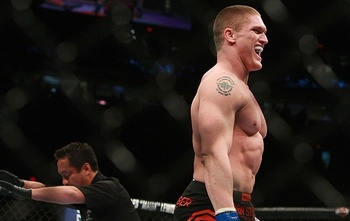 sherdog.com
A perfect 5-0 record eventually garnered the attention of the UFC, who signed then top heavyweight prospect Todd Duffee in 2009.
That August, Duffee made his debut against Tim Hague, who was coming off of a first-round submission victory over Pat Barry in his previous outing.
Duffee wasted no time in finishing off the Canadian, who succumbed to the heavy hands of the 26-year-old, who finished off Hague in just seven seconds—then considered the fastest knockout in UFC history.
After the impressive victory, Duffee received all kinds of notoriety; however, after a surprise knockout loss to Mike Russow, the Indiana native was released from the organization.
Since then, Duffee has suffered another decisive loss to current UFC contender Alistair Overeem.
Brian Stann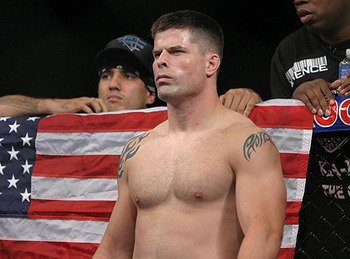 mmaweekly.com
After capturing the WEC light heavyweight belt and making a somewhat of a successful transition into the UFC, Brian Stann thought it better to drop down to the middleweight class, which has paid off in spades.
After an initial submission victory over Mike Massenzio in a "Fight of the Night" performance, Stann used the momentum when he was pitted against then-top contender Chris Leben, who was fresh off of a submission victory of his own, stopping the touted Yoshihiro Akiyama.
In an upset, Stann mowed through Leben, finishing off "The Crippler" with a barrage of strikes inside of the first round. The Greg Jackson product next plowed through former Sengoku and Strikeforce champion Jorge Santiago, solidifying his status as one of the best in the division.
Stann gained tons of notoriety thanks to his heavy hands and obvious patriotism linked to his stint as a revered member of the U.S. Marines.
In his last outing, Stann was submitted by former title challenger Chael Sonnen.
Houston Alexander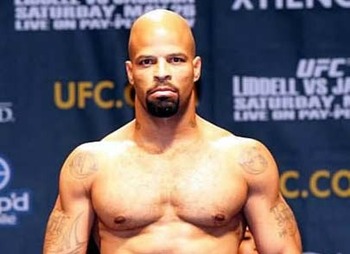 A relative unknown before entering the Octagon, Houston Alexander quickly gained the attention of the masses with some impressive performances.
In his organizational debut, Alexander took on Keith Jardine, who was fresh off of a first-round drubbing of The Ultimate Fighter season one winner Forrest Griffin.
Alexander was rocked early, but he rallied back, muscling Jardine against the cage where he leveled the New Mexico fighter with shorts shots within the clinch, eventually finishing "The Dean of Mean" with a decisive knockout in less than one minute.
Next, Alexander blew through formidable opponent Alessio Sakara, dropping the American Top Team star with a knee before ground-and-pound blows secured the first-round finish.
Alexander looked well on his way towards an imminent title shot, though, the Nebraska fighter failed to secure a win in his next three outings, prompting his release from the UFC.
Bas Rutten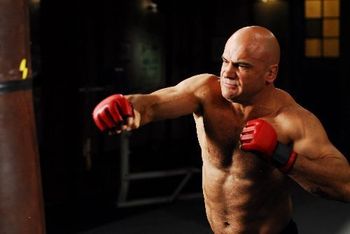 One of the all-time greats, Bas Rutten entered the UFC with the prestige of his impressive run in Pancrase behind him, having captured the organization's heavyweight title.
Both a touted kickboxer and submission artist, Rutten was billed as "The World's Greatest Martial Artist" as he made his Octagon debut in 1999, taking on Tsuyohi Kohsaka—who owned a victory over Fedor Emelianenko.
Rutten battered Kohsaka with a first-round knockout, which prompted the Dutchman to vie for the UFC's heavyweight crown against Kevin Randleman.
In an upset, Rutten bested Randleman with elbows from his back, taking home the split-decision win after 21 minutes of action.
Shortly thereafter, Rutten retired, though, he made a return to the sport seven years later, defeating journeyman Ruben Villareal with a first-round TKO, courtesy of some crippling leg kicks.
The bout was the last fight of Rutten's illustrious career.
Mirko Cro Cop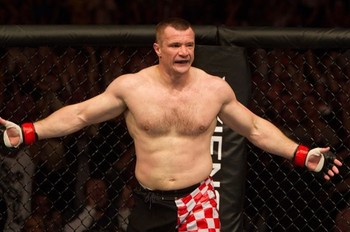 Hailing from the K-1 circuit, where he was regarded among the best, Mirko Cro Cop eventually made his foray into the world of mixed martial arts in 2001, where he quickly ascended the ranks.
Cro Cop opened up his career with an undefeated seven-fight streak, securing victories over Heath Herring, Aleksander Emelianenko and former UFC champions Kevin Randleman and Mark Coleman along the way.
Eventually, the Croatian made his way through the organization's Pride Open-Weight Grand Prix in 2006, where after defeating Ikuhisa Minowa, Hidehiko Yoshida, Wanderlei Silva and Josh Barnett, Cro Cop was pronounced the winner.
This crowning achievement caught the attention of the UFC, who billed the touted striker as the best striker in the heavyweight division and one of the top three in his weight class.
Cro Cop's career in the UFC never really gained momentum, and the Pride vet eventually retired from MMA after succumbing to a three-fight skid, having been knocked out by Frank Mir, Brendan Schaub and Roy Nelson in succession.
Jake Shields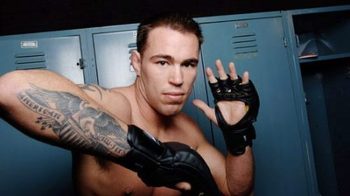 A world-class grappler, Jake Shields became widely sought after once Strikeforce failed to renegotiate a contract with the Cesar Gracie fighter.
While with the San Jose organization, Shields submitted the heavy-hitting Robbie Lawler, which prompted a move to the middleweight division, where he earned the organization's title with a dominant performance against UFC vet Jason "Mayhem" Miller.
For his first title defense, Shields took on former Pride champion Dan Henderson. The Team Quest star rocked and dropped Shields early, though, the submission whiz survived long enough to escape the first-round assault.
Afterwards, Shields dominated the Olympian on the mat, taking him down at will and grounding-and-pounding his way to victory after five rounds of action.
Coupled with an unbeaten 15-fight win streak, Shields made the move to the UFC, where a victory over Martin Kampmann earned him a shot at champion Georges St-Pierre.
Turning in a lack luster performance, Shields lost the bout by decision. Since then, Shields was knocked out by the heavy-hitting Jake Ellenberger last September, which plummeted the Californian down the ranks.
Norifumi Yamamoto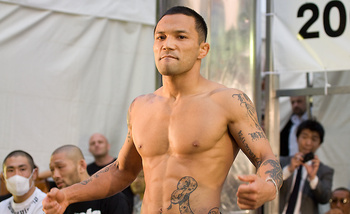 sherdog.com
The former kingpin of the featherweight division, Norifumi Yamamoto was revered by his native fans in Japan thanks to his fast-paced style of fighting.
A talented wrestler coupled with knockout power, Yamamoto's trademark became his impressive finishes of opponents much larger in size.
Eventually, the K-1 Hero's champion made his way to Dream, where an initial two-fight skid had many questioning on thing: Just what did Yamamoto have left? The Kawasaki native re-emerged himself into the MMA fray with a first-round KO win of Federico Lopez, which earned him a chance in the UFC.
Since entering the Octagon, Yamamoto has gone win-less, losing to grappling aces Demetrious Johnson and Darren Uyenoyama, respectively.
Kimbo Slice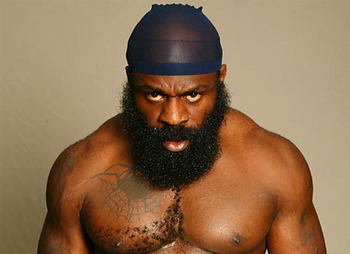 The Internet sensation that is Kimbo Slice reached main stream popularity while under the EliteXC banner. There, the Floridian turned in knockout victories over Bo Cantrell, UFC vet Tank Abbott and Pride vet James Thompson.
Undefeated in his mixed martial arts career, Slice finally succumbed to his first loss, live on CBS against Seth Petruzelli, who knocked out the heavy hitter in just 14 seconds.
Slice eventually found his way on season 10 of The Ultimate Fighter in arguably the UFC's most successful season.
Though the backyard brawler was knocked out of the competition early when he was pitted against Roy Nelson, Slice made his way to the Octagon, where he secured a decision victory over Houston Alexander.
Slice's ride in the promotion was short lived as a subsequent loss to Matt Mitrione signaled his release.
Jon Jones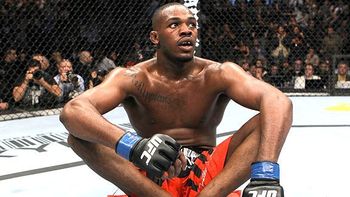 After fighting professional for less than a year and compiling an undefeated 6-0 streak, the light heavyweight dynamo that is Jon Jones made his UFC debut August of 2008.
There, Jones bested Brazilian Andre Gusmao, though, the New Yorker gained notoriety after upsetting season one veteran of The Ultimate Fighter, Stephan Bonnar, dominating the durable fighter thanks to suplexes, lateral drops and a spinning back elbow—all of which helped secure Jones the decision win.
In 2011, Jones went from contender to champion, first defeating Ryan Bader and earning his shot against then-titleholder Mauricio "Shogun" Rua.
After TKO'ing the Pride vet in three and claiming the title, Jones defended his belt twice, submitting both former champions Quinton Jackson and Lyoto Machida in succession.
Vitor Belfort
In his younger days as a heavyweight, Vitor Belfort was aptly named "The Phenom" thanks to his dismantling of much larger opposition.
Knockout victories over Jon Hess, Scott Ferrozzo and heavy hitter Tank Abott in the UFC garnered Belfort a lot of praise, with many believing that Belfort would become a pound-for-pound great.
The UFC Heavyweight 12 Tournament winner was brought back down to reality by Olympic wrestler Randy Couture, who finished off the Brazilian with strikes in the first round.
Brock Lesnar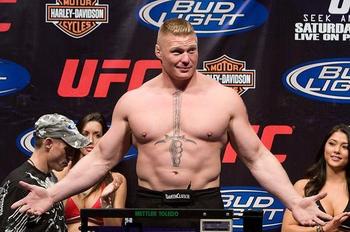 The former UFC heavyweight champion garnered the attention of the MMA community like no other fighter has.
After leaving the WWE, Lesnar dedicated himself to mixed martial arts where both his size, strength and wrestling pedigree made up for many of his natural deficiencies.
A loss to Frank Mir in his UFC debut was medicated by a dominant performance over Pride vet Heath Herring, which earned him a shot against then-champion Randy Couture.
"The Natural" remained competitive early, though, a Lesnar right hand sent the Olympian crashing to the mat, where Lesnar pounced with ground-and-pound blows and cinched the title with the TKO.
Next, Lesnar avenged his previous career defeat to Mir, using a heavy dose of crushing right hands to seal the knockout victory, laying claim as the best fighter in his class.
A subsequent title defense against Shane Carwin put Lesnar in rare air, as the South Dakota native became among only a few men in the UFC's heavyweight division who managed to defend the title more than once, as the belt has been passed around frequently.
Since then, Lesnar has succumbed to battles with diverticulitis and subsequent knockout losses to Cain Velasquez and Alistair Overeem, prompting his retirement from the sport.
Keep Reading