Dwight Howard to New Jersey Nets Plus Other Potential Landing Spots
January 26, 2012

Brett Deering/Getty Images
Should the Orlando Magic trade Dwight Howard to the New Jersey Nets for a hobbled Brook Lopez and two future first-round picks?
This is perhaps the best deal that the Nets can offer. It would also be a trade that sends the Magic's General Manager Otis Smith out of town—fast.
Don't you just love the NBA-rumor mills?
The Nets aren't moving to Brooklyn until next season. Right now they are abysmal. Never have I heard so much trade buzz centering around a player of Dwight Howard's caliber and a 6-13 team.
If he wants to win so badly, why go to New Jersey?
Otis Smith shouldn't be backed into a corner to make a deal that is not good for the Orlando Magic as a franchise. He would be better served to call Howard's bluff about his disinterest in re-signing and let him walk.
With a record of 12-5 and being only a half of a game behind the Miami Heat, the Orlando Magic are on the hunt for a top seed in the Eastern Conference.
In a season that will wear teams out, the top spot in the Eastern Conference is up for grabs.
Trading Dwight Howard to the New Jersey Nets won't help the Magic the way that a rumored deal for Amar'e Stoudemire and Tyson Chandler of the New York Knicks would.
The return is much greater than anything the New Jersey Nets can offer.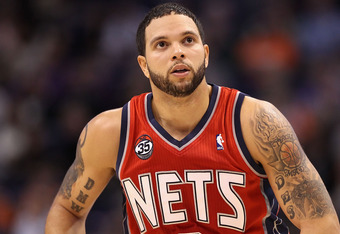 Christian Petersen/Getty Images
In my opinion, the only trade that works involving the Magic and Nets is Jameer Nelson, Daniel Orton, who is a first-round pick and Orlando's $4.25 million trade exception of Brandon Bass to the Nets for Deron Williams.
Deron Williams gets to play with Dwight Howard in Orlando, and New Jersey gets a good point guard in Jameer Nelson.
The key to this deal is Daniel Orton—a talented big man who only played one year of college basketball for Kentucky.
At 6'11'', Orton has legitimate size. He would allow Brook Lopez to slide over to the power forward spot once he returns.
A young lineup of Nelson, MarShon Brooks, Damien James, Lopez and Orton isn't a bad one for a young team that faces losing their star in Williams for nothing.
There are a few other teams that may have the pieces necessary to get in on the sweepstakes:
The Los Angeles Clippers could offer DeAndre Jordan, Randy Foye and draft picks.
The Golden State Warriors could offer Stephen Curry and David Lee.
The Chicago Bulls have nothing but depth and a package of Joakim Noah, Taj Gibson and Charlotte's draft pick of Tyrus Thomas that they obtained in a 2009 trade could be enticing. 
Even the Washington Wizards may be in play.
Why the Wizards?
They can offer a large market for Dwight Howard, and they have a capable young point guard in John Wall.
The trade pieces that the Wizards have are astounding—once talent and potential is considered.
Here is what I'm thinking: Javale McGee, Jan Vesely, Rashard Lewis and two draft picks for Howard and Hedo Turkoglu.
The Magic get the most talented young center in the NBA in McGee and a young European prospect with huge potential in Vesely. 
They provide intriguing building pieces for Orlando and long-term cap relief with Rashard Lewis' contract expiring a year sooner than Hedo Turkoglu's.
That deal is better than anything the Nets have to offer for Howard. In fact, it might be the best possible trade for Orlando.
Calling Otis Smith.