L.A. Dodgers: 7 Bats They Are Most Excited About in 2012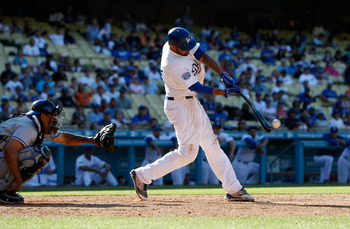 The once illustrious and proud Los Angeles Dodgers franchise is now in shambles. Ownership is up in the air, on-the-field talent is sprinkled around inconsistently and attendance is at an all-time low.
After the roller coaster ride Dodger fans (and the team itself) went on in 2011, it's hard to be excited about much in 2012 (aside from how deep the pockets of the soon to be new owner will be).
I, as a lifelong Dodger fan, am aware of the conundrum my beloved team finds itself in. The starting rotation is weak at the bottom, as is the batting order. The dugout doesn't have much depth, and the owner's suite is collecting dust.
All that being said, I like to look at things with a "glass half-full" mentality and this coming season, the half of the glass that's full (minus Clayton Kershaw) is the potential at the plate. A healthy Andre Ethier is back in play, as is a full year of Dee Gordon and an "I still think I deserved MVP" Matt Kemp (with a whole bag of chips on his shoulder).
Here are Ethier, Gordon, Kemp and a few other young bats to be excited about.
Right Fielder Andre Ethier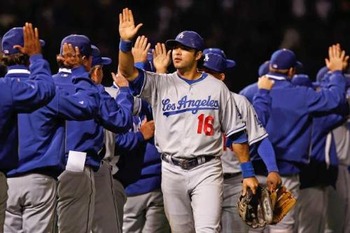 Andre Ethier played in only 135 games in 2011, the fewest since his rookie season. The majority of the 135 games played were played injured, an injury that was subject to much controversy around Chavez Ravine. Whether the drama was justified or not, the injury to Andre's knee clearly plagued him throughout the year, limiting his offensive output.
The injury, and the drama that accompanied it, did not come until the second half of the season. When he was healthy in the spring, he was tearing the seams off the ball.
Ethier had a 30-game hit streak going throughout most of April and the beginning of May. At the peak of the streak, Ethier was hitting an unreal .388 and when the streak ended, he was hitting .367 with an on-base percentage of .434 and OPS of .950.
He finished the season hitting .292 (a solid average all things considered) but his power numbers and offensive production dropped substantially. He only hit 11 home runs, while driving in only 62 runs.
A healthy Ethier throughout 2012 is something the team and their fans should be excited about thanks to his body of work thus far in his career.
Shortstop Devaris "Dee" Strange-Gordon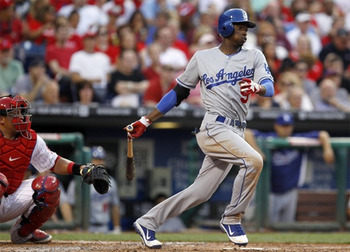 Dee Gordon got called up to the big leagues early in June when regular shortstop Rafael Furcal got injured. Gordon was (and still is) young, athletic and full of untapped potential that had him talked about as one of baseball's best minor league prospects.
He has lived up to them thus far.
In his first professional start, in Philadelphia, Gordon recorded three hits, stole a base and scored a run. He would stay in the big leagues until early August, when he would get sent back down to Triple-A Albuquerque. When he left the club, he was only hitting .238 with an on-base percentage of .248.
The Dodgers would end up trading Furcal to St. Louis several weeks later, at which point Dee would return to the major league level and finish the season strong. At the end of the year, he was hitting .304 with 11 RBIs and 24 stolen bases in just 56 games.
Going into 2012, with Gordon as the guy at shortstop, Dodger fans should be excited about his future and his growth continuing.
Center Fielder Matt Kemp
Every baseball fan is well aware of what Kemp did in 2011 despite the struggles his franchise faced both on and off the field. Kemp finished the 2011 campaign with a .324 batting average. He hit 39 home runs, stole 40 bases and drove in 126 runs. His on-base percentage was .399.
Despite coming up just shy of winning the MVP, he has been saying and doing all the right things this offseason to establish himself as the favorite to win it next year (the departure of Albert Pujols and Prince Fielder doesn't hurt his case either).
Kemp will not only be playing with a chip on his shoulder, but he will be playing with quite a few new faces on the field, more faces in the bleachers behind him and a new owner watching from behind home plate.
Dodger fans should be jumping for joy knowing Kemp is locked in Dodger Blue for years to come. He is hungry, determined and happy—all part of the recipe for true success.
Outfielder Alfredo Silverio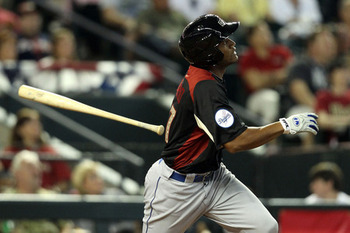 Alfredo Silverio is the first of the minor-leaguers on my list, but that is no reason to assume his impact won't be felt immediately in 2012. Silverio is a lethal force at the plate and in 2011 he mashed a .306/.340/.542 stat line in Double-A.
Some of the knocks on the youngster include the fact that his strikeout-to-walk ratio was 3:1 in 2011 and he tends to be a liable both on the basepaths (he stole 11 bases on 23 attempts) and in the outfield.
The upside, however, is much larger. Of his 163 hits in 2011, 42 of them were doubles, 18 triples and 16 were home runs. Silverio is not one to force the long ball and with a little improvement to his discipline at the plate, he could become a viable fourth outfielder at the big-league level.
Dodger fans should definitely keep their eyes peeled for Silverio's name starting in May and expect him to get a shot at the big-league level if veterans like Juan Rivera and James Loney continue to struggle.
Catcher Tim Federowicz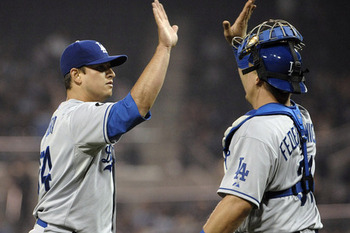 True Dodger fans (the ones who continued to watch the team play this past September) got a sneak peak at Federowicz.
He was acquired in a three-team deal from Boston (the same deal that sent stud prospect Trayvon Robinson to Seattle) at the deadline and the Dodgers invited him up to the big leagues in September for a cup of coffee.
Despite the small sample size, Federowicz's numbers as a Dodger are something to be excited about and look at in a positive light. In 25 games for the Triple-A affiliate Albuquerque Isotopes, he hit .325 with six home runs.
When he got called up in September, he only had 16 plate appearances but managed to draw a pair of walks, notch his first two major league hits and drive in a run.
Acquiring Federowicz at the deadline was an under-the-radar move that will be appreciated much more when he starts hitting doubles in the gap for the Dodgers.
Outfielder Joc Pederson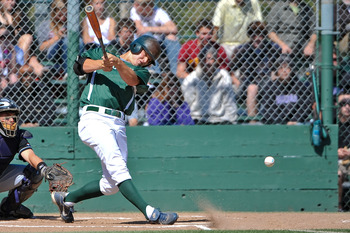 Pederson is quite a ways away from playing at the big-league level, but his youth and upside make him well worth the early excitement. Pederson will be turning 20 this April and with the Ogden Raptors of the Rookie Pioneer League, he posted a line of .353/.407/.503 and an OPS of .997.
In 68 games, he only struck out 54 times while walking 36 (giving him an impressive 1.5:1 strikeout-to-walk ratio). He also showed speed and smarts on the basepaths by successfully stealing 24 of 29 bases.
He doesn't have the experience or power that Alfredo Silverio has, but considering his youth and lack of true playing time, there is nothing to worry about. Give Pederson a full 2012 in the minors and he will add some muscle and power to his game as he continues to grow.
A young prospect that hits from the left side of the plate with the upside Joc brings to the table is something the Dodgers used to be famous for.
It is something fans should be more than happy to welcome back.
Outfielder Blake Smith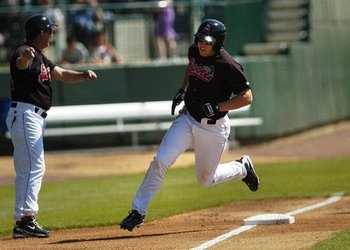 Blake Smith, simply put, is an older and bigger version of Joc Pederson. Smith, a young 24, also plays the outfield while hitting from the left side. The biggest difference is the size difference; he has two inches and nearly 40 pounds on Joc.
Smith spent 74 games in 2011 with the Rancho Cucamonga Quakes in the Class A Advanced California League. While a member of the Quakes, Smith's stat line was an impressive .294/.359/.539.
Given his big build, he is not quite the base-stealing threat once he gets on, which is forgivable because he has shown the ability to hit for power (in those 74 games he crushed 16 homers and drove in 63 runs).
For a big, strong hitter, his strikeout-to-walk ratio is also less than 3:1.
Smith, like Pederson and Silverio, has demonstrated an ability to hit the ball well and field his position adequately. Given the inconsistencies at the major-league level, if the team struggles and pieces get shifted around throughout the summer, Smith could be making nose at the top of the minor leagues, if not in the dugout with the Dodgers.
Keep Reading

Los Angeles Dodgers: Like this team?