Senior Bowl 2012: SEC Linemen Dominating Senior Bowl Practice
January 26, 2012

Kevin C. Cox/Getty Images
One of the best battles at this week's Senior Bowl practice in Mobile, Alabama has been the fight in the trenches between a number of SEC offensive and defensive linemen. 
In all, there are eight players from the SEC involved in the daily battles at the line of scrimmage. The offensive linemen include: Georgia standouts Cordy Glenn and Ben Jones, Alabama center Will Vlachos and LSU guard Will Blackwell have also played well on the offensive line this week.
On the defensive side of the ball, Alabama's Courtney Upshaw leads a talented group that also includes: South Carolina's Melvin Ingram, Florida's Jaye Howard, and the latest addition to the list of former SEC stars on the roster—Tennessee's Malik Jackson.
Each and every time these units have lined up in one-on-one situations and/or in full-scrimmage drills, the war between some of 2011's top-SEC players has been nothing short of epic. 
Georgia's Glenn has stood out at offensive tackle for much of the week. Although some are considering Glenn a guard prospect at the next level, Glenn has taken his role as the South's largest player very seriously. 
"I think I've gotten better with each day," said the former Bulldog. Glenn continued, "I'm trying to pay attention to all the details (the coaches) are telling me."
And it shows. Glenn has been one of the more consistent offensive lineman from either squad through the week's first three workouts. 
Having the two best centers from the Southeastern Conference has been interesting for the South team as well. Vlachos and Jones have actually developed a friendship and text each other frequently. However, neither has been very friendly with the guys on the other side of the line of scrimmage.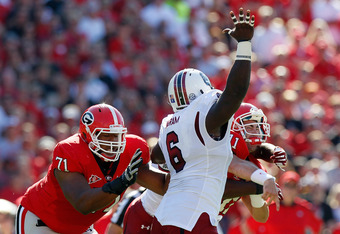 Kevin C. Cox/Getty Images
Florida defensive tackle Jaye Howard was carving out a very successful week in Mobile, until an injury ended his Wednesday practice session early. Howard routinely busted through his blocker during Tuesday's practice and his rare combination of size, power and speed was a sight to behold. 
Alabama's Courtney Upshaw has been successful almost to the point of boredom. All the guy does is make play after play with seemingly little effort. It's no wonder Upshaw has been a top-10 lock since he came back to Alabama for his senior season. 
Melvin Ingram has also continued turning heads off the end. Ingram's motor never stops. At one point during Wednesday's practice, it appeared that Ingram would not get a breather. That didn't stop the top-15 prospect from going all out on every single snap.
On Wednesday, Tennessee's Jackson had his first full workout in pads since the Vols final game last November. The defensive end-turned defensive tackle-turned defensive end again at the Senior Bowl, showed absolutely no rust less than 24 hours after his arrival in Mobile. 
"I felt like my old self. I've still got some improving (to do), but for the most part I think I did really good," Jackson said following practice.
The rust that some were expecting to see from Jackson was a non-issue to the 6'5", 285-pounder.
"I got that out (Tuesday). I got my butt whooped the first three plays," said Jackson. 
At least seven of the eight former SEC linemen are expected to be chosen in April's draft. And two of the eight (Upshaw and Ingram) will definitely go in the first round. A third (Glenn) could have his name called on the first day as well. 
Watching the eight linemen go at it on a daily basis has been a lesson in true dominance up front. Each has had his own moments during Senior Bowl practice. Each will probably have a moment in the game Saturday as well.
(All quotes were obtained first-hand at the Senior Bowl unless otherwise noted)