Milwaukee Bucks: First-Quarter Report Card for Each Player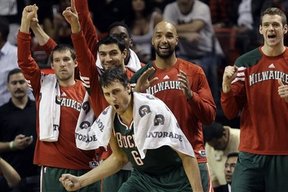 The Bucks have started the shortened 2011-12 season with a 7-10 record.
While this is not ideal, they are not buried to the point that they cannot climb their way back into relevance.
In looking at the reasons for this start to the season, we can give a grade to each significant player for the Bucks and assess their contributions to the team so far.
Here is how the report card turned out.
Begin Slideshow

»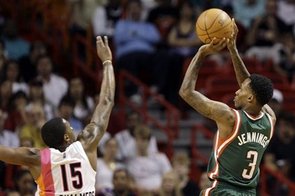 Grade: A-
Of all of the Milwaukee Bucks players, Brandon Jennings has shown the most consistency this season. Averaging over 20 points per game, you know the guy is going to score.
The only question is how many shots will it take for him to put up 20 per night?
Overall, his field-goal percentage is up on the season at 44 percent. But he still has the tendency to throw up a lot of shots, and his ability to finish at the rim still isn't where the team would like it to be.
Jennings also leads the team in assists at 5.5 per game. As a point guard, you would hope for more assists from the third-year player.
While Jennings isn't the bona fide superstar Bucks fans have been waiting for, he has shown improvement this season while continuing to carry the team in certain stretches.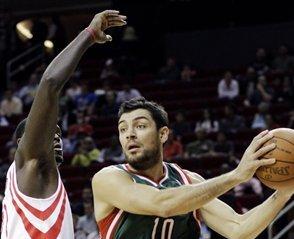 Grade: C+
Carlos Delfino is a serviceable player. There is not much flashy about him, but he will get the job done.
So far this season he has played solid defense, and helped the Bucks to spread the floor. After missing the first two games of the season, he appears to be back to full health. There have been no obvious signs of the concussion issue that he dealt with last season.
Carlos just hasn't improved and developed much this season. He is still a solid role player, but not a player the Bucks can consistently count on for production on a nightly basis.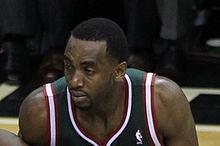 Grade: B-
Luc has only played in six games so far this season, so judging where he is at is difficult.
His defense is still as good as ever. He can literally cover any position, and that is an invaluable tool to have on your team.
Offensively, he has shown an improvement in his jump shot, and if he could improve his handle and driving abilities, he would be that much better on offense.
The book is still out on this guy, but for what he has shown so far this season, the grade is fair.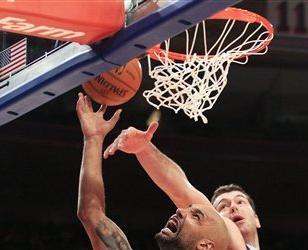 Grade: C
Drew just cannot seem to be what the Bucks need him to be.
He is a 6'10" player with a big body. He needs to be banging in the paint, scrapping for boards.
Instead, you will often find him above the free-throw line waiting for jumpers. He does hit that shot with regularity, but his inability to get after boards and post up is a concern for the team.
This likely what has led to his inconsistent playing time for Coach Skiles.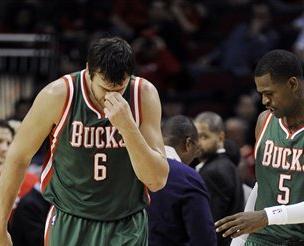 Grade: C-
Bogut has already missed five games this season. All five of the games he missed were losses for the Bucks.
Four of the games were due to family issues, and one was due to concussion-like symptoms. Then last night Bogut sprained his ankle. It is unknown how long he will be out.
Bogut has shown once again that every season he is going to miss some time. What is strange is that most players who always seem to miss time is the consistency of the problem.
For Bogut, in the last few seasons it has been his elbow, wrist, back, head and now ankle that have been injured.
The Bucks have have a lot invested in and riding on this guy. He needs to find a way to stay on the court.
In dealing with the injuries, Bogut has not developed as much as he probably should have. He has only scored 15 points or more three times this season.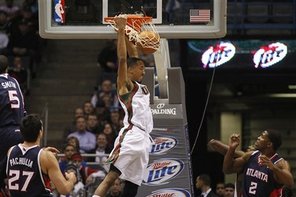 Grade: B+
This guy was an afterthought in the trade that brought Stephen Jackson to the Bucks. He has more than proven his worth through the first quarter of this season.
He has been a spark plug for the Bucks. What he does may not always show up on the stat sheet. He is a good defender, and his quickness on the court keeps the Bucks offense moving and flowing.
He has played three positions for the Bucks so far. His combination of being a 6'7" player with the handle and quickness of a point guard makes him a nightmare matchup for many teams.
He is the ultimate change-of-pace player when things are not going the right for the team.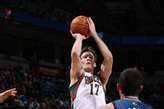 Grade: Incomplete
Mike gets an incomplete for this grading period.
He missed 10 of 17 games due to a groin injury, so it is very tough to determine how he is fitting in on this team.
What is encouraging is that he has scored 17 and 18 points in his last two games against quality opponents in Atlanta and Houston, respectively. As Dunleavy gets his legs back under him and gets more comfortable with the team, he should continue to put up solid numbers.
He is a deadly shooter all over the court, and he has shown the ability to put the ball on the floor and head to the rim.
His defense leaves something to be desired, but he has a lot of tools he is bringing to the table on the offensive end of the floor.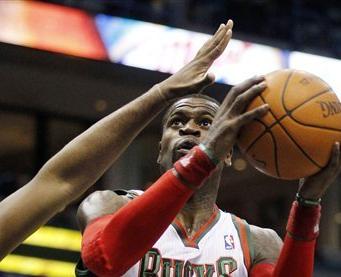 Grade: C-
This guy by far is the toughest to try and grade.
He has such extremes between high and low. Overall, on the season he has been a disappointment.
He has not shown very great leadership and ability to elevate the game of the other guys on the team. He has been suspended, complained about his contract and is only shooting 37 percent on the season.
On the other hand, the guy has shown flashes of brilliance that show you what he could give this team. He is capable of going off for 20 to 30 points on any given night.
Jackson just has to play more within the offense. He is shooting WAY too many threes and only hitting 30 percent on the season from behind the line.
Skiles has been bringing him off the bench the last few games, and it will be interesting to see if he keeps it that way. Jackson provides a great scoring punch off of the bench.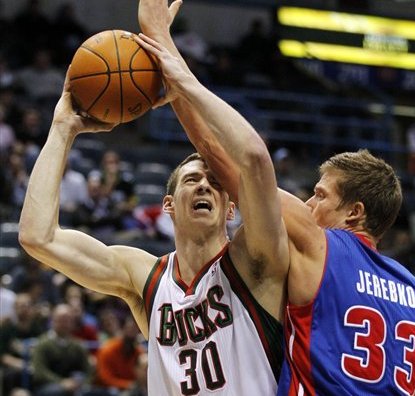 Grade: B
Leuer has already exceeded what a lot of people thought he would contribute this season.
He has shown to be an incredibly smart player. He is going to play hard every second he is in the game. Recently, as the team has gotten healthy, there has been a decrease in his minutes.
But if he continues to work and develop, it will be hard to deny him time on the court.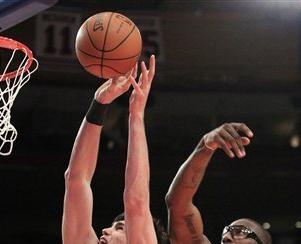 Grade: B-
Ilyasova has been improving his game in the last week or two. He has gotten away from shooting so many jumpers, and really worked to get on the boards to create second-chance opportunities.
Ilyasova has been the player to bang it out in the paint. In the game against Houston, he pulled down 19 rebounds.
He has the ability to do many things on the court. But if he can embrace the role of the team's "garbage man" of cleaning up missed shots, he will earn himself significant minutes for the rest of the season.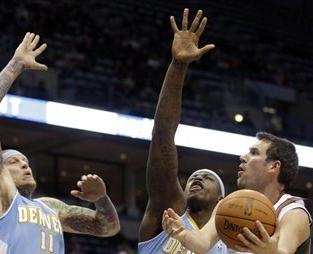 Grade: C-
Beno has been a disappointment so far this season.
Last season saw him average almost 14 points per game off the bench, and he hasn't shown that spark yet in Milwaukee.
He is a better player than he has shown. You have to keep in mind he did miss five games on a new team, after going through an abbreviated training camp.
As he grows more comfortable with the offense and the team, his production should return to a high level.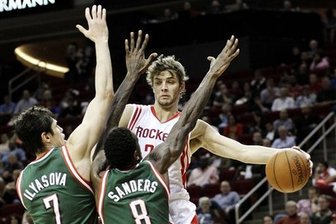 Grade: D
It doesn't look like Sanders is going to be a part of the regular rotation.
It really is his fault, as there isn't a star power forward holding him back. He simply has shown little development from last season.
He is not growing as a player. He still looks just awkward out there.
There is no flow to anything he does. He needs to work on moving with and without the ball. He needs to learn how to score, as well. Unless it is a dunk, if he shoots the ball, people cringe.
This is not meant to pile on the guy, but you can see the potential in his frame and athleticism.
He should be better.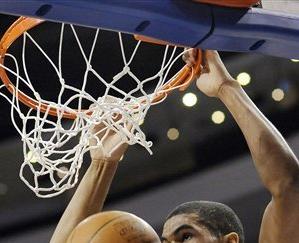 Grade: B
Tobias has opened some eyes during his brief NBA career.
He has shown some of the ability that warranted taking him with the 19th overall pick in last years NBA draft.
He is still a bit raw overall.
He plays very wildly and almost seems out of control when he is out there. His defense is also a question mark; he picks up a lot of fouls very quickly.
For very little being expected of him this season, Harris has given a nice contribution.
If he can learn to play more under control and play within the offense, he could be a wild card for the Bucks the rest of the season.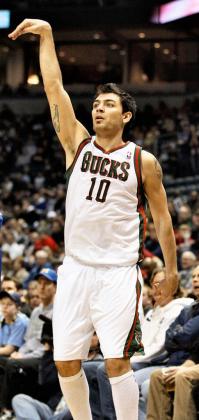 The Bucks are not where they want to be in terms of record, but they have shown the ability to come together as a team and play extremely well.
If the players can work on some of the things suggested and improve their grade, the Bucks could make some noise come playoff time.
Thanks for the read! Do you agree with the grades given to the Buck's players?