Notre Dame vs. Seton Hall: Fighting Irish Hoops Burn Down Seton Hall, 55-42
January 26, 2012

Andy Lyons/Getty Images
Coming off a monumental 67-58 victory over top-ranked Syracuse on Saturday night, the Notre Dame men's basketball team seemed ripe for a fall as they visited a good Seton Hall team. The Pirates entered the night with a high RPI of seven.
Seton Hall had not lost on their home floor all season while vanquishing the likes of West Virginia and UConn. But from the outset the Irish (13-8, 5-3) controlled the tempo and often burned the shot clock down to a glowing ember before running a play.
This familiar ploy, plus a pesky and persistent Notre Dame defense, frustrated and flustered a vexed Pirate offense.  
Seton Hall (15-5, 4-4) had shot a consistent 48 percent from behind the arc at the Prudential Center in Newark, NJ. But they never seemed to find their rhythm, nor were they able to make the extra pass which would free up their dangerous outside shooters.
Notre Dame leaned on the rapidly improving backcourt duo of Eric Atkins and Jerian Grant. Atkins played cool and collected while scoring 14 points and Grant had 15. These two players are growing up fast and the way they have played in the last two games is making aspirin unnecessary for Irish head coach Mike Brey. 
Meanwhile, Irish forward Jack Cooley continued his much-improved play by throwing down 13 points and bullying his way to 11 boards. He also did the job defensively on Pirate's big man Herb Pope, who finished just 2-of-16 from the floor. 
The Irish led just 19-18 at the half, but went to work quickly after intermission. Three-point field goals by Alex Dragicevich and Grant put the Irish ahead by 10 at 29-19 and when Dragicevich struck again with another three the Irish had widened the gap to 43-29 with 8:39 to go.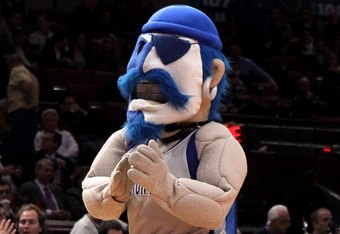 Jim McIsaac/Getty Images
The Irish got to the line and were pretty consistent down the stretch. For the game, Notre Dame sank 24-of-32 free throws for a 75 percent clip.  
Seton Hall could not mount a series run in the closing minutes and the Irish posted a resounding 55-42 victory. Notre Dame had every reason to ask for a free pass after a win for the ages Saturday night. Instead the Irish dug deep and got in the face of the Seton Hall shooters for a full 40 minutes. 
Anyone who watched this team play during the non-conference portion of their schedule can not help but be impressed with the leaps and bounds this young Irish squad has made in recent weeks, and Brey deserves a ton of credit for bringing his fledgling team along. 
The Big East is not an easy conference to play in, however, and Notre Dame's reward for beating Seton Hall is a trip to Connecticut. Where we will see if the Irish can take another huge step in their evolution.