2012 NFL Mock Draft: Where Robert Griffin III, Heisman Contenders Will End Up
January 26, 2012

Sarah Glenn/Getty Images
The Heisman Trophy is the most prestigious award college football has to offer. The trophy itself is iconic.
Yet winning the award does not guarantee success at the professional level.
For every Cam Newton and Tim Tebow there is a Troy Smith, Chris Weinke, Jason White and Eric Crouch.
So what does it mean for the Heisman class of 2011? Robert Griffin III has a ton of upside, but is it enough for a team to trade up?
How about the rest of the top vote-getters that are entering the 2012 draft (Trent Richardson, Andrew Luck, Luke Kuechly)?
Here are the latest placements of the '11 Heisman candidates as we take a look at my latest mock draft (selections highlighted in italics).
1. Indianapolis Colts: Andrew Luck, QB, Stanford
Unless you've been living under a rock for the last year, you're aware that Luck is the best pro prospect since John Elway.
Not only is he 6'4', 235 pounds, he has an extremely strong and accurate arm that is capable of making every throw a professional quarterback has to make.  He had a grand total of 22 interceptions in college and has the poise of a player 10 years his elder. His decision-making is off the charts.
There is no debate that the player who finished third in the Heisman voting is going to finish first in the draft.
2. St. Louis Rams: Matt Kalil, OT, USC
The health of Sam Bradford is the No. 1 priority and Kalil is the best tackle in the draft. Unless the Rams get a huge offer from a team looking to trade up for RGIII, the best tackle in the draft has to be the pick.
3. Minnesota Vikings: Justin Blackmon, WR, Oklahoma State
The Vikings have a tremendous hole at the position and need to give second-year QB Christian Ponder help. Blackmon is the top playmaker available in the entire draft.  I don't understand why he wasn't among the Heisman finalists, but that's an old debate at this point.
4. Cleveland Browns: Robert Griffin III, QB, Baylor 
The Browns are beginning to realize Colt McCoy isn't their guy and looking towards the future must happen now. RGIII is far from a can't-miss star, but it's the sort of risk the Browns have to make.
RGIII may not be a dominant player from Day 1, but his ceiling is almost as high as Luck's.  His ability to make accurate throws on the run is extremely rare at any level, as is his speed. Griffin made enormous strides in his final season at Baylor with his accuracy on his deep throws. Combine that with his outstanding pocket presence, and he is a worthy top-five pick.  
The Heisman winner showed a great sense of maturity and perspective during all of the interviews, which showed he is more than capable of leading an NFL offense. What gives him such a high ceiling is not his physical attributes, but his personality and leadership abilities. He can command the respect of a locker room with his authenticity and that will go a long way toward his success.
RGIII looks more like Cam Newton than Eric Crouch.
5. Tampa Bay Buccaneers: Dre Kirkpatrick, CB, Alabama
The Bucs defense is ranked 30th in the league and could desperately use a shutdown corner like Kirkpatrick.
6. Washington Redskins: Trent Richardson, RB, Alabama
The 5'11', 225-pound back is a physical freak that has star written all over him.  
There is little doubt he'll be able to handle a 16-game schedule and already has two games of championship experience under his belt. The runner-up in the Heisman voting received four first-place votes because he was far and away the most dominant offensive player in the toughest conference in America.
What gives him the ceiling of becoming the best running back in football is his ability to explode after being hit. Most players go down after a defender strikes, whereas Richardson bounces off and explodes forward. His game-clinching TD run in the national championship is a perfect example.   
His versatility also allowed him to catch 29 passes for 338 yards and three TDs as a receiver, too. He is the complete package and would be a top fantasy draft pick if he lands in the run-heavy Redskins offense that is based on a strong, every-down running back.
7. Jacksonville Jaguars: Morris Claiborne, CB, LSU
This year's version of Patrick Peterson...who also went to LSU.
8. Carolina Panthers* (subject to coin flip): Melvin Ingram, DE, South Carolina
The Panthers defense was one of the worst in the league in 2011 with almost zero depth to speak of. Ingram can bring consistent pressure on a team that ranked 23rd in the NFL in sack percentage.
9. Miami Dolphins*: Riley Reiff, OT, Iowa
Reiff produces constancy on the line and the sort of work ethic that can rub off on his teammates. His experience allows him to start from Day 1.
10. Buffalo Bills: Quinton Coples, DE, North Carolina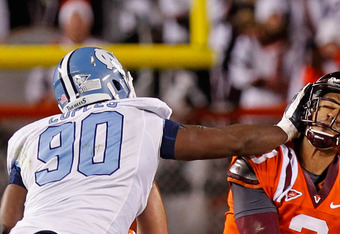 Geoff Burke/Getty Images
The Bills made the right pick in selecting Marcell Dareus No. 3 overall a season ago, but he needs help.
11. Kansas City Chiefs* (subject to coin flip): Jonathan Martin, OT, Stanford
The Chiefs have a solid foundation on defense and decent playmakers. Unless they decide Kyle Orton isn't worth trying out for a season, O-line is the way to go.
12. Seattle Seahawks*: Alshon Jeffery, WR, South Carolina
The talented but troubled receiver is a perfect fit for a Seahawks team desperate for a big-time playmaker.
13. Arizona Cardinals: David DeCastro, G, Stanford
The best interior lineman in the draft should help clear up the unpredictability of the Cardinals' running game.
14. Dallas Cowboys: Courtney Upshaw, OLB, Alabama
Upshaw made an immediate impact at 'Bama as a freshman and has improved every year. The defensive MVP of the 2012 championship game will be transitioning to defensive end for this weekend's Senior Bowl, which is something the Cowboys have to be thrilled about.
15. Philadelphia Eagles: Luke Kuechly, ILB, Boston College 
There is no question Philly needs a linebacker that can step in right away, and Kuechly is the guy. The 6'3", 240-pound Kuechly has the speed and size to justify a spot in the top 15.
The Butkus Award winner was a tackling machine and led the nation with 193 and had 10.5 tackles for a loss. He was BC's only two-time consensus All-American selection.
The player that finished eighth in the Heisman voting has the ability to make a mammoth impact instantly.
16. New York Jets: Michael Floyd, WR, Notre Dame
Skipping the Senior Bowl wasn't the greatest idea, but his talent will be more than enough. Here's another guy that was a worthy Heisman candidate.
17. Cincinnati Bengals (from Oakland): Cordy Glenn, OT, Georgia
Long-time guard Bobbie Williams is aging and his play is beginning to decline. The Bengals may be cutting ties with Andre Smith as well. Glenn is a tremendous value pick at No. 17.
18. San Diego Chargers: Mike Adams, OT, Ohio State
Adams is just what the doctor ordered for an incredibly thin Chargers O-line.  
19. Chicago Bears: Lamar Miller, RB, Miami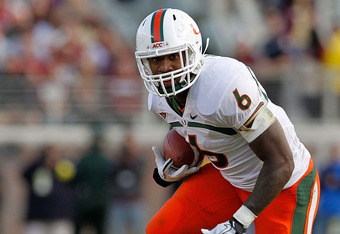 Mike Ehrmann/Getty Images
You may not know a lot about Miller right now, but you will by draft day.
20. Tennessee Titans: Devon Still, DT, Penn State
He can split the gap against the pass and take on multiple blockers at once in the running game. While he may not play at a glamour position, Still has the ability to be the next Albert Haynesworth—minus the bad attitude.
21. Cincinnati Bengals: Stephon Gilmore, CB, South Carolina
The Bengals still haven't gotten over the loss of Johnathan Joseph and they might as well replace him with another Gamecock.
22. Cleveland Browns (from Atlanta): Janoris Jenkins, CB, North Alabama
Despite off-the-field issues, Jenkins is still a first-round talent but needs to mature in the next three months. No player has more at stake in pre-draft interviews and the NFL combine than Jenkins.
23. Detroit Lions: Baylor Vontaze Burfict, ILB, Arizona State          
The Lions need help in the middle of their defense and could use a reliable tackler with fantastic fundamentals like Burfict.
24. Pittsburgh Steelers: Dontari Poe, NT, Memphis
Casey Hampton is close to retirement and drafting his replacement now will set the Steelers up for the future without a sharp drop-off.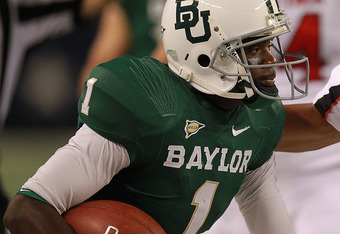 Ronald Martinez/Getty Images
25. Denver Broncos: Kendall Wright, WR, Baylor
Lighting fast at 5'10" and 190 pounds, Wright had an eye-popping 1,663 yards and 14 TDs his senior season, but how much of that was because of RGIII? 
26. Houston Texans: Alfonzo Dennard, CB, Nebraska
The Texans have a well-rounded team with few holes, but adding cornerback depth is the move to make.
27. New England Patriots (from Saints): Chris Polk, RB, Washington
Polk is the fastest running back in the draft, and the Pats could use an upgrade.
28. Green Bay Packers: Markelle Martin, S, Oklahoma State 
The Packers had the poorest pass defense in the NFL this season and their safeties were a big offender.
29. San Francisco 49ers: Andre Branch, DE, Clemson
Depth to the D-line with the best available is going to work out well for the 49ers.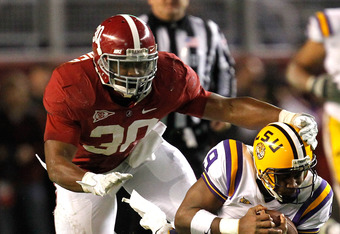 Streeter Lecka/Getty Images
30. Baltimore Ravens: Dont'a Hightower, ILB, Alabama
Ray Lewis is reaching the twilight of his career, and grooming a potential replacement needs to happen now.
31. New York Giants: Zach Brown, OLB, UNC
The Giants could go either OLB or CB here and will likely go for whoever is the top talent still on the board. Brown is a strong tackler who fits in well to Tom Coughlin's 4-3 scheme.
32. New England Patriots: Jared Crick, DE, Nebraska
The Pats need more depth upfront and Crick is the sort of pass-rusher the Pats covet. If it weren't for a season-ending injury in October Crick would be much higher.