The Dallas Cowboys' 5 Biggest Personnel Needs for 2012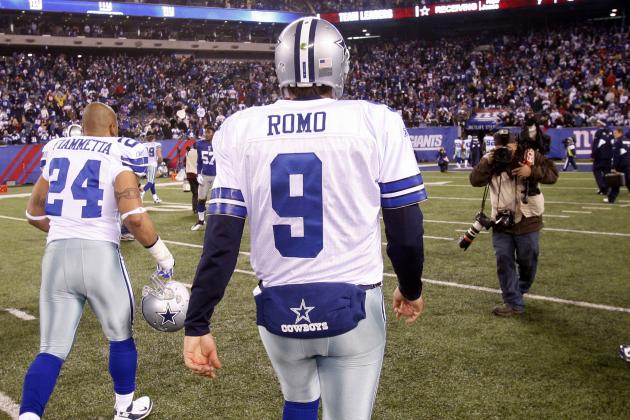 Rich Schultz/Getty Images

After a second consecutive third-place finish in the NFC East and an 8-8 record, the Dallas Cowboys have many personal changes they should make. These changes will help them become a playoff team and a Super Bowl contender, making a feeling that Cowboys fans have every year a reality. This past season was not a complete disappointment despite failing to reach the postseason and losing all four games against the Eagles and Giants.
In my opinion, Tony Romo had the best season of his career. He finished with more TDs, fewer INTs, a higher completion percentage and a higher passer rating than Eli Manning; a player who everyone has firmly put in the elite quarterback category after this season. Romo also played much of the season injured. He was plagued with broken ribs, a punctured lung and a bruised hand. Romo was not the problem this season and should be praised for leading this team to an 8-8 record.
Not everything for the Cowboys was as good as Romo was in 2011. Rob Ryan's defense ranked 23rd against the pass, while his former team, the Cleveland Browns, ranked second . Also, a Wade Philips-coached Houston Texans defense ranked third against the pass. Ryan's defense often looked confused. Players often blew assignments in the passing game, and the Cowboys were never able to create pressure on the quarterback in crucial moments of the fourth quarter.
Unfortunately for Cowboys fans, the Giants were a better overall team this season with more talent on both sides of the ball. Here are the five biggest personal needs the Cowboys have entering the 2012 offseason to help them become the team most people already believe they are.
Begin Slideshow

»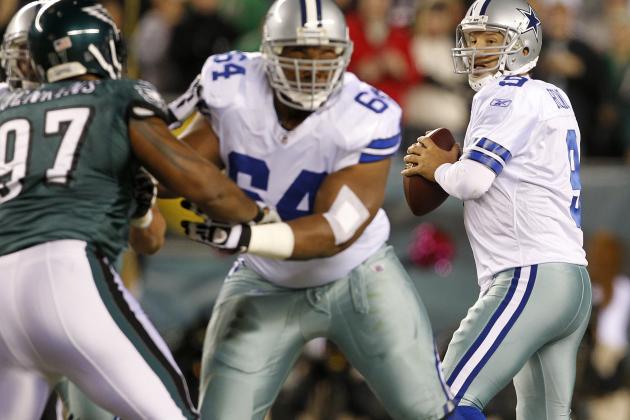 Rich Schultz/Getty Images

In 2011, Doug Free was a shadow of the left tackle he was in 2010. The biggest change for him was the move of Kyle Kosier from LG to RG. Kosier playing next to Tryon Smith made him one of the best rookie tackles in recent memory.
Now it's time to give Free some help on the left side. Bill Nagy, Derrick Dockery and Montrae Holland all started games at left guard for the Cowboys. Anyone who thinks that didn't affect Free's poor play needs to understand how an offensive line has to play as a unit watching for stunts, bouncing defenders to each other and picking up blitz packages.
An upgrade at left guard not only solidifies the position where career reserves, and a seventh-round pick, were starting but also boosts the level of Free's play; hopefully, back to his 2010 level.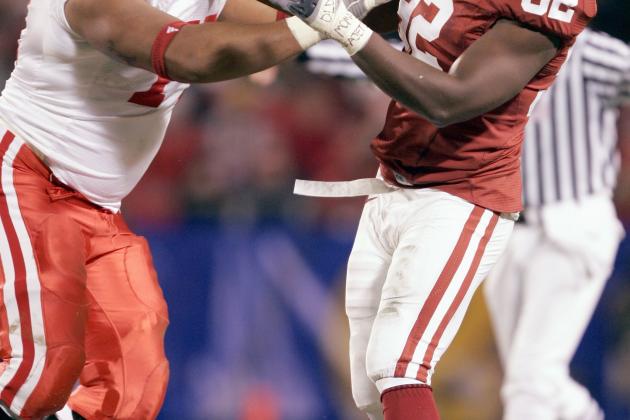 Brian Bahr/Getty Images

Carl Nicks
The Saints highly-touted left guard is a free agent and at 27 years old will demand a lot of money. The Cowboys have salary they can shed (Bradie James, Keith Brooking, Terence Newman), along with a decent amount of cap room to make a strong offer for Nicks.
Nicks also has ties to the Cowboys new offensive line coach Bill Callahan. Nicks played for Callahan at Nebraska. The Saints have to re-sign Drew Brees before they can think about re-signing Nicks or Marques Colston, opening the possibility the Cowboys can steal an elite left guard in his prime.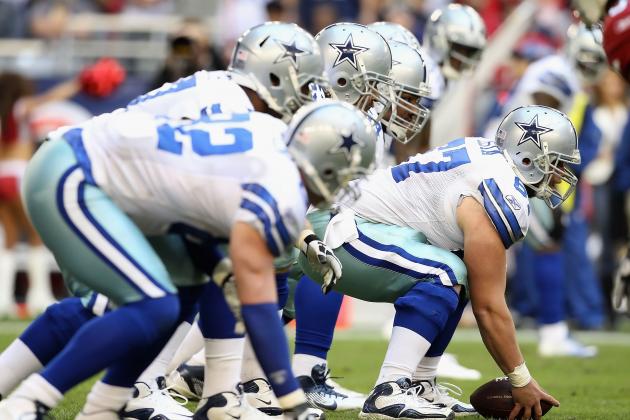 Christian Petersen/Getty Images

How bad was it watching Romo catch snaps one-handed, jump to knock snaps down so he could catch them or have the ball snapped to him while he wasn't looking? That's another reason why I think this was Romo's best season because his offensive line, outside of Tyron Smith, was horrid.
Nicks is the best free agent offensive lineman available but I believe the center position is more important for the Cowboys to address.
Imagine if Romo received clean snaps in the shotgun, the possibilities are endless. He may have the opportunity to make more big plays down the field to Dez Bryant and Miles Austin if the snap ever went straight to his hands. In addition, it would allow Romo to read coverages more efficiently when he isn't wondering where the snap is going to go.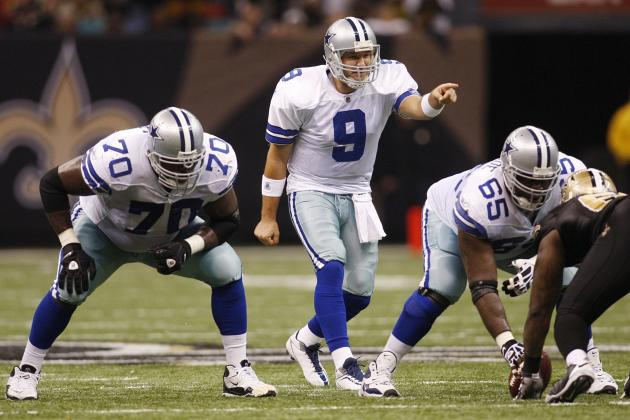 Chris Graythen/Getty Images

Andre Gurode
No, Gurode isn't going to make any more Pro Bowls in his career. Yes, his 2010 season was far from his best. He can, however, snap the ball to Romo's hands repeatedly on target. At this point, what more could a fan ask for from this position?
Gurode knows the Cowboys' protections and would return for a reasonable price allowing the Cowboys to spend money on Nicks and their defense.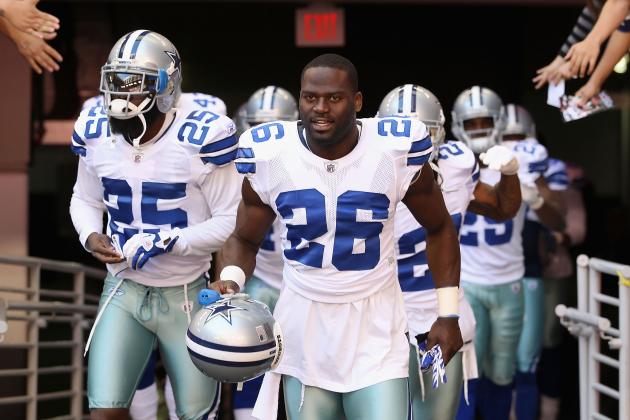 Christian Petersen/Getty Images

Abram Elam and Gerald Sensabaugh are average NFL players. Elam is a favorite of Ryan and Sensabaugh was just re-signed, making this position the least likely to be upgraded on this list. That does not change the fact that the Cowboys need a playmaker at the safety position. A ball-hawking safety is a game-changer on defense and the Cowboys do not have one. Safeties can do so much on defense from stopping the run, to creating havoc in the backfield, to scaring receivers over the middle.
The Cowboys should not settle for average players at this position. Just look at the Pittsburgh Steelers who have two above-average safeties. When either Troy Polamalu or Ryan Clark is on the sidelines the likes of Tim Tebow can throw for 316 yards on them. An upgrade at safety would instantly upgrade a defense ranked 23rd against the pass.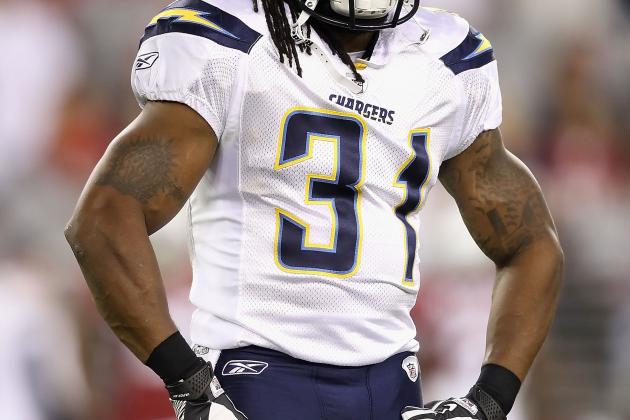 Christian Petersen/Getty Images

This is high risk and high reward. Since I believe Elam and Sensabaugh will be wearing the star on their helmet next season why not give Sanders, a former Defensive Player of the Year, a chance. Even if he ends the season on IR, Elam and Sensabaugh can be the average players that they are and fill in.
If the Cowboys can recover Sanders' DPOY talent then he is an instant game-changer on defense without using one of their first two draft picks or spending too much on a player like LaRon Landry or Michael Griffin. That way the Cowboys still have the money for Nicks.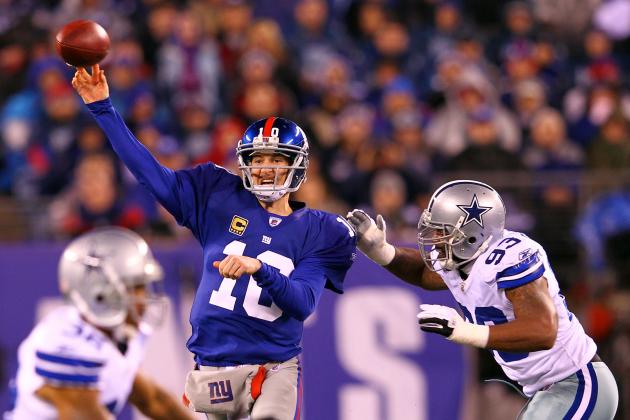 Al Bello/Getty Images

DeMarcus Ware is one of the best Cowboys ever to play the game, but Anthony Spencer has not lived up to his first-round expectations. Spencer is a free agent and should not be re-signed at the money he will receive in free agency.
Ryan's defense relies on creating pressure on the quarterback and confusing him into making mistakes. Ware cannot do this alone. He needs someone on the other side to take some of the protection away from him. When the Cowboys cannot create pressure it allows quarterbacks to pick on their cornerbacks who are in man coverage trying to cover receivers for eight seconds. Jay Ratliff and Ware are the only two consistent pass-rushers the Cowboys have and that needs to change to help their defense.
Michael Jenkins, Newman and Orlando Scandrick are not as bad as they looked this past season. They are just not talented enough to cover dynamic receivers like Victor Cruz and Hakeem Nicks for eight to 10 seconds consistently. In order for Ryan's defense to be successful they need pass-rushers, and a lot of them.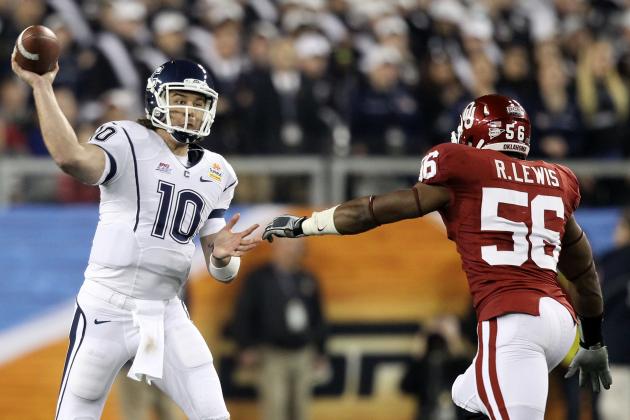 Christian Petersen/Getty Images

Ronnell Lewis and Vernon Gholston
I don't believe the Cowboys should use their first-round pick on an OLB/DE so if the Cowboys could select Ronnell Lewis from Oklahoma in the second round, Ryan should try a back flip. Lewis is mean, plays angry and is fast coming off the edge. He would be the dream selection in the second round for the Cowboys.
Gholston is a former top-five draft pick. Rex Ryan couldn't make him into a star but America was built on second chances and the Cowboys should give Gholston one. Rex Ryan turned Aaron Maybin, who never recorded a sack for the Buffalo Bills who selected him in top 10, into the New York Jets' sack leader this past season. Rob Ryan could have similar success with Gholston. Even if the experiment with Gholston failed, the minimum contract the Cowboys signed him to would not affect any of their other offseason plans.
The reward greatly outweighs the risk in this situation. Ware, Ratliff, Lewis and Gholston could give the Cowboys the pass rush needed to take pressure off of the secondary.
Rich Schultz/Getty Images

The second piece to the Rob Ryan defensive puzzle is having as many players who can play man to man as possible. Newman and his large contract will most likely be shown the door this offseason, leaving the injury-prone Jenkins and Scandrick left as their only two decent cornerbacks.
Alan Ball should never be allowed back in the Cowboys locker room and Frank Walker is nothing more than an injury fill-in. Jenkins can be a good second cornerback and Scandrick can be a decent slot corner, but Ryan's defense needs at least four corners who can play man to man against any receiver. Especially when the Cowboys face teams like the Packers, Saints and Giants who can go four to five deep at the receiver position.
In order to beat these teams, the Cowboys are going to have to cover their receivers. This is why cornerback is the Cowboys biggest offseason priority. If the Cowboys want to beat Aaron Rodgers they need four to five solid cornerbacks to do so.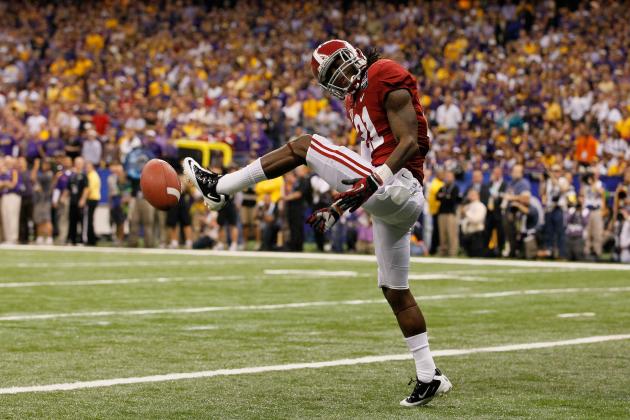 Kevin C. Cox/Getty Images

Dre Kirkpatrick and Aaron Ross
Dre Kirkpatrick should be the Cowboys target with their first overall pick. He can develop into the shut-down corner that Rob Ryan needs in his defense. Kirkpatrick paired with Jenkins forms a solid one-two punch against opposing team's top receiving targets. Signing Ross should be the Cowboys next priority at the cornerback position.
There are a lot of really excellent cornerbacks in free agency this offseason like Carlos Rogers and Terrell Thomas, but Aaron Ross is solid. He can fill-in in case of injury and can also cover a team's third or fourth receiving option without breaking the bank. This would give the Cowboys the money to sign Carl Nicks as well.
Kirkpatrick, Jenkins, Ross and Scandrick would give the Cowboys one of the best cornerback groups in the league and allow them to be Super Bowl contenders in 2012.