Tom Thibodeau: Is the Chicago Bulls Coach the New Doug Collins?
January 27, 2012

Jonathan Daniel/Getty Images
Seeing Derrick Rose still in at the end against New Jersey Monday night in a game long decided made me wonder what coach Tom Thibodeau was thinking.
Anybody who remembers the early days of Michael Jordan remembers the frenetic coach roaming the sideline with the Chicago Bulls, Doug Collins. He took over in Jordan's third year in the league during the 1986-87 season, eerily similar to Thibodeau joining the Bulls in Rose's third season.
When I say eerily similar, there's a reason for that. Collins and Thibodeau are like-minded.
Both of them are defensive oriented, demanding coaches who insist their teams play until the final buzzer.
The score doesn't really matter to them. The game already being in the bag doesn't either.
I remember Collins frantically waving at his players in the last minute of blowout victories. At the time, I thought, "Why is he acting like that when the game is clearly over?"
Now I know the answer: Because he had to. That's who he was, and I'm starting to think that's who Thibodeau is too.
Nothing is ever good enough. Even a blowout victory still leaves lessons to be learned.
Have you ever heard Thibodeau say after a game that he was satisfied with the team's performance? No matter how well they played, he always thinks they could have done better.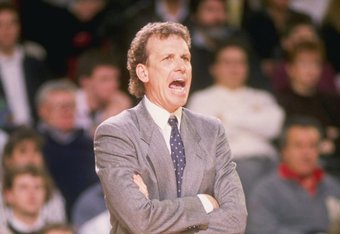 Jonathan Daniel/Getty Images
That kind of thinking leads to burnout, for the coach and his players.  
Why do you think the Bulls got rid of Collins after making the Eastern Conference Finals in 1988-89?
It's because the players were tired of his act, and management realized if they were going to take the next step, they needed to hand the keys to the car to someone who didn't run it into the ground.
Jordan was a great player, but he was different than Rose. He was more assertive when it came to the team and how he thought things should be done.
Like Rose, he had a burning desire to win, but he wasn't afraid to interject if he thought something or someone was keeping that from happening.
Rose is a lot like Thibodeau. All he ever says is, "I just want to win." You hear it in the Bulls commercials. He always wants to be in the game, even when he shouldn't be.
That's where the coach steps in.
When Jordan was injured his second year in the league, he was chomping at the bit to get back in the lineup. The Bulls held him back. Eventually they relented, but they kept his minutes on a watch so he wouldn't re-injure himself.
Thibodeau is failing to do that.
When the Bulls were playing Phoenix, I asked him his plans for Rose when he came back from his toe injury, and if he was going to pull him out a little earlier in games so he didn't re-injure himself.
His answer was, "I think once he's healthy, he'll be able to do all he knows. That's something that we talk to the medical staff about first...what can he handle? He's been through different injuries. Once the swellings out of there and the pain goes down, he'll be fine." 
That's exactly the wrong way to think.
At all times, he has to err on the side of caution when dealing with Rose this year. He can re-injure himself at any time, and keeping him in at the end of games when the outcome is already determined is suicide.
These games don't matter, and the sooner Thibodeau understands that, the better. Everything is about the playoffs. It's okay to lose a game during the season at the expense of the big picture.
Like Collins, he hates to lose, but there are times it's better to take one for the team than to let one game ruin a whole season.
I think Thibodeau is a very good coach. His players like him, and he gets the most he can out of them.
But his message is going to fall on deaf ears eventually if he keeps on coaching like every game is the last game of the season.
I'm sure he doesn't want to suffer the same fate Collins did. The Bulls brass decided he was the coach to get them from point A to point B, but not to point C, the championship.
I wonder what Phil Jackson is doing these days.