Detroit Pistons: A Radical Trade Idea
January 26, 2012

Streeter Lecka/Getty Images
The Detroit Pistons are a mess.  They have started with only four wins in their first 18 games and there really is not much hope for some great turnaround. 
While Joe Dumars has been touting his rebuilding plan there really is not much of a plan.  In the offseason he resigned Tayshaun Prince and Rodney Stuckey.   While both can still be assets, the contracts that Dumars signed them to will make it difficult for the team to make any other moves to improve.
It is time to take a radical approach and just dismantle this team.  At this point there are really only two players that should not be parted; Brandon Knight and Greg Monroe.  A case could also be made for Jonas Jerebko, but everybody else should be on the trading block. 
So what should they do?  Easy, go get Dwight Howard.  He seems to be torn on if he wants to be traded  or not.  There is still a long time until the trade deadline and the Magic will try to resign Howard before then. 
The team is currently tied for second in the Southeast division and fourth in the Eastern Conference.  There really is no runaway team in the East, but are the Magic true contenders for the title?
The bigger issue for Orlando is Howard leaving this offseason as a free agent.  If he does not resign before the trade deadline then they will need to move him in order to at least get something back in return.  They cannot afford to get nothing in return for him.  This is where the Pistons come in.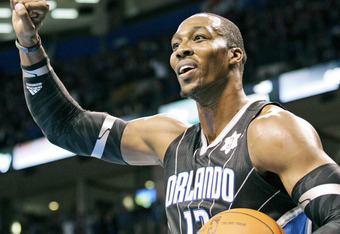 Brett Deering/Getty Images
Detroit is tied down by decent players with difficult contracts and none of them mesh well together on this team.  There are too many players playing the same position or that have styles that just do not work well together on the floor.
A quick review of the main roster spots
Charlie Villanueva—He is the worst free agent signing in Detroit history and should be an amnesty candidate.  If anyone offers anything for him, the Pistons needs to agree.  A pack of gum, empty pop can...anything.
Ben Gordon—A talented player but overpaid for his production in Detroit.  He has never really fit in but would garner attention by other teams and would likely regain his prior form in a new city.  It would not be bad if they could keep him, as once the roster is cleaned out he may finally shine.
Rodney Stuckey—Stuckey can play, but just not in Detroit.  Detroit started his career by forcing him to play out of position and some maturity issues have kept him from blossoming here. 
Will Bynum—He is a tough shot first point guard who can score but just can't move up the depth chart in Detroit.
Jason Maxiell—He used to be an energy player.  Now he does not rebound and does not score, but still collects a big check.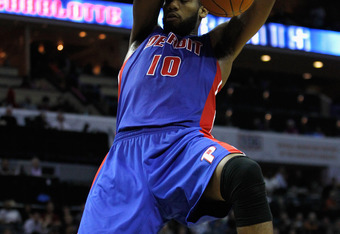 Streeter Lecka/Getty Images
Austin Daye—I am amazed when I watch him play that he is on an NBA roster.  At this point they should hand him a vendor vest and let him sell hot dogs and beer in the stands.  Hopefully he doesn't get boxed out trying to give change to a customer.
Tayshaun Price—Prince will garner attention.  Contenders would love to add his veteran presence.  He can score when needed but would not demand the ball and upset the chemistry of a new team.  He could definitely put some team over the top in the championship race.
The need to offer any and all of these players to Orlando.  If they are going to lose Howard then they need pieces back, and the Pistons can offer lots of pieces.
Why would Orlando do this?
While they could add Gordon, Prince or Stuckey to their current lineup, their better option may be to move them for more players and/or draft picks.  With Howard looking like a rental player, only the contending teams would be interested. 
However, they are going to be uneasy about parting with too many of their key pieces as they would be in the championship race. 
This means that the Pistons should be offering more talent than Orlando could get elsewhere.  If they are going to lose Howard anyway, it would be smart to grab pieces for the future.
Why would Detroit take the gamble?
There is no gamble here.  Under this plan, the goal for the Pistons is cleaning out their roster and creating cap space. 
By trading several players away to get Howard they would accomplish that.  It is not as though the Pistons are playoff bound now, but by the time the trade deadline comes around they will be so far out of contention that Howard's arrival would not help.   This is important as it would keep them in the draft lottery.
Of course, once the season is complete they too would be in the race to sign Howard.  Perhaps playing with the young and talented group of Monroe, Knight and Jerebko would be enticing.  Plus, knowing another good draft pick would be joining them would make it something that he would at least consider.
Depending on which players they moved, the team would easily clear out $20 million and likely much, much more.  They are already flying below the league's salary cap, meaning that they would have room to sign Howard to just about whatever deal he wanted.
Now this could be wishful thinking.  Realistically, he would decide to head to New York or Los Angeles and join up with other superstar level players.  That would still work for the Pistons though. 
Remember the primary goal of this plan is to get rid of players and contracts.  If Howard did walk, the Pistons would then have a ridiculous amount of money to chase after whatever free agents they would like over the next two seasons.
As the team is built now, both with players on the floor and the contracts that they have, there really is no hope for this team.  As great as Monroe has played this year and as promising as Knight has looked, they will both watch their young careers spiral downward on this team. 
By cleaning house, these two players would be allowed to fully take over the team.  Adding Howard would greatly improve the odds of this team returning to contention quickly.  Even if he did not stay though, the breathing room it would give the team would still make it much easier for them to return to relevance in the league.
As this team looks like now they will have no chance for several years.  It looks like they are closer to the Los Angeles Clippers of the past 30 years then they are to the Pistons of the 2000's. 
It is time for Joe Dumars to make some bold and drastic moves.