MLB Rumors: Oakland A's Should Fulfill Jose Canseco's Wish and Sign Him Again
January 26, 2012

Otto Greule Jr/Getty Images
One of the more indelible moments in my life as an Oakland A's fan was being in attendance at the Oakland Coliseum when Jose Canseco hit his 40th home run in 1988, putting him in place to become the first member of the elite 40-40 club.
Watching him in person smack a home run against the San Francisco Giants during Game 3 of the 1989 World Series was equally memorable, as the A's went on to win the championship that year in the Battle of the Bay.
Yes, there were oodles and oodles of impressive performances and exciting memories of the Bash Brother, Jose Canseco, in an era when he was the best player on the best team in baseball. The grand slam in Game 1 of the 1988 World Series. The fifth-deck moon-shot at the SkyDome in the 1989 ALCS. Everything he did was so incredulous. Everything he did was Herculean.
To me, Canseco was a god. The way he swung was so majestic, whirling his toothpick of a bat as if it were a two-by-four, mashing baseballs as far as the eye could see. Watching him annihilate the ball like he was Conan the Barbarian was a feature any kid could idolize—and I did. The posters on the wall, the scores of baseball cards, the personalized outfielder's glove. It was a great time.
In the decades that have followed since then, Canseco has flipped from a god to a dog. The tumultuous theatrics that trailed him wherever he went had shriveled him. Maybe not his physique, but rather his value, respect and trust. The home run off his head. The elbow surgery as a result of a pathetic relief-pitching cameo. He became a punch line throughout the MLB, and he was completely out of baseball in 2001.
I could literally see my shoebox of Jose Canseco Upper Decks depreciate before my eyes.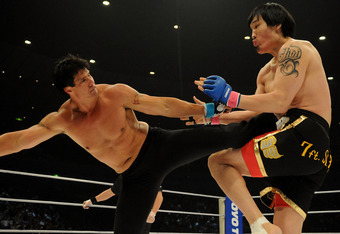 Getty Images/Getty Images
I grew up believing that he was one of the greatest players in all of baseball. And to see him mewl into retirement as a classic case study of wasted athletic talent was a bit tragic, and made worse by his post-baseball controversy: the autobiography Juice, that outed himself and fellow steroid users; the "celebrity" boxing matching; the MMA trouncing; an appearance on the F-list reality show The Apprentice.
There are no words—just head-shaking.
His opening of the Pandora's box of steroids was shameful, helpful and sorrowful all at once. He is the scar of an era that MLB would like to soon forget, but won't for a long, long while.
And yet when it was reported earlier Tuesday that Canseco had expressed interest in signing on with the Oakland Athletics again this offseason, I couldn't help but feel a little giddiness. The Contra Costa Times notes Canseco reached out to Oakland A's general manager—and former teammate—Billy Beane in an effort to lobby for a chance to make the Athletics roster. Interestingly, Canseco avers that watching the movie Moneyball reignited his fire for competitive baseball. Really? Canseco? The man who once auctioned off his AL MVP award and his 2000 World Series ring? Wow.
If that doesn't prove how moving the film is, I don't know what will. Give Jonah Hill the Oscar!
Obviously it's ridiculous to believe for a second that Beane would take Canseco so seriously in his dream to return to baseball. After all, Canseco, 47, hasn't played in the majors since 2001, with the Chicago White Sox. How on earth could Canseco even take himself seriously? Not possible.
And yet the kid in me somehow sees the glass half full. He's trying to convince the modern me that the beleaguered Canseco's desire to return to the majors is possible. He's bursting at the seams of nostalgia, wanting to root for this comeback of all comebacks.
With Oakland mired in a turbulent era, fans—what's left of them—have had little to cheer for this offseason. There's the nauseating San Jose-relocation battle. And, of course, the depressing exodus of nearly every player on the roster via trade or free-agent departure. Beane, on behalf of owner Lew Wolff, has made it the team's focus to do everything in its power to ostracize the few remaining A's fans. Thus, the 2012 campaign will be a tortuous one indeed.
That is why it'd be nice—almost necessary—to bring Canseco back to Oakland. In the very least, he'd bring some excitement and energy to the fans. After all, who wouldn't want to see Canseco take a stab at bashing a home run into the Oakland Coliseum again? The A's are surely not going to be buzzing with competitive fire this season. It'd be a wonderful sight to come to the ballpark and have Jose Freaking Canseco in green and gold again.
In a lineup full of unrecognizable players, Canseco's presence alone would be enough for fans to care about the A's. Can you imagine a Jose Canseco bobblehead day? That would be awesome to see because, as we know, Canseco's noggin is already a bit disproportionate from the rest of his body. The bobblehead itself would be like a real-life representation of those NBA Jam characters.
Though Oakland amazingly has a better chance at winning the World Series than signing Canseco, the little boy in all of us should hope the A's turn back the clock and at least give him a chance to make the team. It'd be a great way to inject some energy back into a depleted team and defeated fanbase. I certainly would be amped at the opportunity to unearth my shoebox of Jose Cansecos.
Furthermore, I'd absolutely rather see Canseco fail than watch Seth Smith, Josh Reddick or Jonny Gomes—or a rumored Manny Ramirez—succeed as the DH.
In Oakland, that may be all there is to look forward to.
Follow me on Twitter: @nathanieljue