Australian Open 2012: Top 10 Men's Matches of 2012 Aussie Open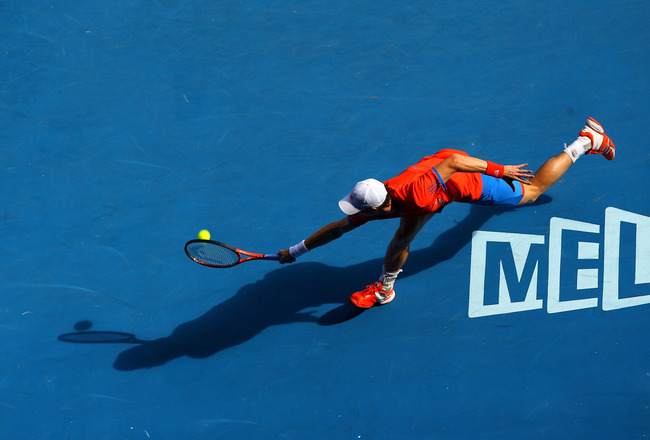 Mark Kolbe/Getty Images
We have been treated to some fine tennis at the 2012 Australian Open.
The world's best players have not disappointed in Melbourne Park with some sublime performances that led to one-sided matches as well as some five-set thrillers.
The first major of the year has been the platform for several players to make names for themselves in the tennis world.
Among some of the more memorable matches over the last 10 days, we have seen some major upsets too.
Tennis fanatics have been completely engrossed throughout the Australian Open, and here are 10 of the best matches we have witnessed so far in the men's tournament.
Day One: Bernard Tomic vs. Fernando Verdasco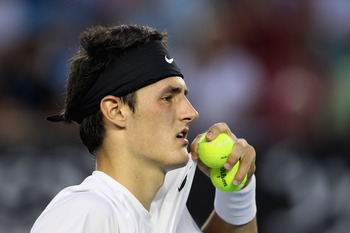 Cameron Spencer/Getty Images
Bernardo Tomic kicked off the Australian Open with a thrilling first-round match against Fernando Verdasco.
The Australian was cheered on by the locals as he overcame a two-set deficit to topple the No. 22 seed.
Tomic completed his comeback in three hours and 41 minutes to win 4-6, 6-7, 6-4, 6-2, 7-5.
The key to the comeback was Tomic's first serve win percentage at 70 percent.
Furthermore, Tomic was able to mix his game up more significantly than his Spanish opponent by winning 74 percent at the net.
The win was also hugely beneficial to building an incredible atmosphere in the days that followed.
Australia has a new tennis sensation, and Tomic was able to generate some immediate excitement.
Day One: Philipp Kohlschreiber vs. Juan Monaco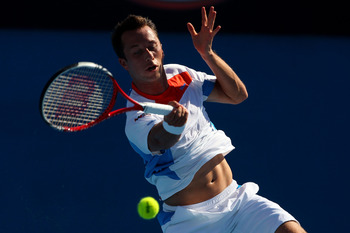 Lucas Dawson/Getty Images
Philipp Kohlschreiber capped off a spectacular first day of tennis at the Australia Open with a five-set thriller against the No. 24 seed Juan Monaco.
The German overcame his Argentine opponent in five sets, 7-6, 4-6, 6-3, 6-7, 6-0.
The pair was on court for three hours and 53 minutes.
Kohlschreiber led the ace count with nine to Monaco's two.
His first serve did the damage, averaging 175 kilometers per hour, seven more than his opponent.
Day Three: John Isner vs. David Nalbandian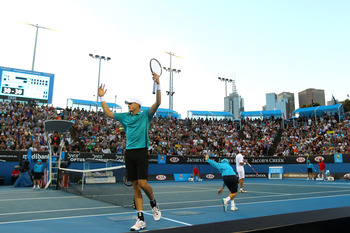 Cameron Spencer/Getty Images
John Isner triumphed over David Nalbandian on Day Three's match of the day.
The giant American came through 10-8 in the fifth set, which lasted 99 minutes.
Isner won 4-6, 6-3, 2-6, 7-6, 10-8 to win against the former Wimbledon finalist for the first time.
Isner's serve kept him in the contest, as always, with the ace count woefully one-sided in Isner's favour, 43-7.
His considerable advantage on his average first-serve speed was the difference with 198 kilometers per hour, compared to Nalbandian's 175 kilometers per hour.
Day Five: Feliciano Lopez vs. John Isner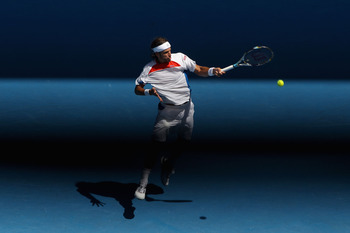 Quinn Rooney/Getty Images
Feliciano Lopez was able to halt the big-serving John Isner's charge on Day Five of the 2012 Australian Open.
The Spaniard won 6-3, 6-7, 6-4, 6-7, 6-1 with his break-point conversion rate proving to be significant.
Isner does not offer his opponents many opportunities to break him, so by taking six of the 11 break points offered up, Lopez was able to get the win.
Critically Isner made 21 more unforced errors than the world No. 19.
The pair put on a real show with 119 winners in total.
Day Six: Lleyton Hewitt vs. Milos Raonic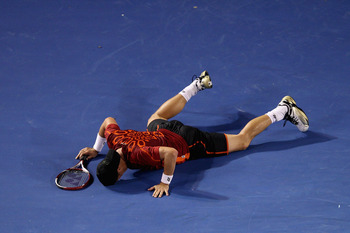 Quinn Rooney/Getty Images
Lleyton Hewitt rolled back the years on Day Six of the Australian Open in front of his noisy fans.
The veteran was able to overcome the super-talented Milos Raonic, 4-6, 6-3, 7-6, 6-3.
Hewitt was able to draw on his experience to triumph against his youthful opponent.
The 21-year-old Raonic could not keep the former world No. 1 down, despite serving three times more aces, hitting double the amount of winners and possessing a 40-kilometer-per-hour advantage on the average first-serve speed.
Hewitt, ever the opportunist, earned just five break points throughout the entire match, but he took three of them.
The Australian also saved six of Raonic's eight break points, as he dominated in the match's clutch moments to the cheers of his loud contingent of followers.
Day Six: Mikhail Kukushkin Versus Gael Monfils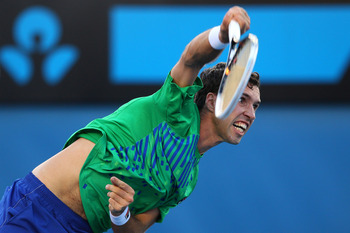 Cameron Spencer/Getty Images
Mikhail Kukushkin was able to provide a real shock on Day Six of the Australian Open with a five-set win over No. 14 seed Gael Monfils.
The Kazakh player sealed his victory in three hours, 40 minutes with a score of 6-2, 7-5, 5-7, 1-6, 6-4.
There are 77 places between the players in the world rankings, with the Kazakh player currently the world No. 92.
Kukushkin hit 18 more winners than Monfils and enjoyed particular success at the net.
Kukushkin approached the net 51 times and won 31 of those points to bamboozle Monfils and secure the upset.
Day Seven: Tomas Berdych vs. Nicolas Almagro
Mark Dadswell/Getty Images
Tomas Berdych overcame Nicolas Almagro in an ill-tempered match on Day Seven.
A row ensued when Almagro decided to deploy an aggressive but fair tactic as he made a net approach.
The Spaniard hit the ball directly at the body of Berdych, striking the Czech's arm.
Berdych was furious, and despite Almagro's offer of an apology, refused to shake his opponent's hand.
Berdych, who triumphed 4-6, 7-6, 7-6, 7-6, was then booed off the court by the Australian crowd.
It was a terrible display of sportsmanship, and the ATP should take action in the aftermath of the tournament to ensure that this never happens again.
Day Eight: Kei Nishikori vs. Jo-Wilfred Tsonga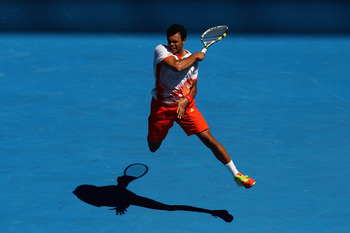 Cameron Spencer/Getty Images
The Japanese player Kei Nishikori produced an upset on Day Eight by eliminating the No. 6 seed and dark horse for the tournament, Jo-Wilfred Tsonga.
The world No. 24 clinched his biggest victory of his career in exactly three hours, 2-6, 6-2, 6-1, 3-6, 6-3.
Despite how refreshing it was to see the underdog triumph, it was perhaps uncomfortable to see Tsonga wilt so much.
The Frenchman was made to battle hard for each and every point.
The Japanese player made 40 less unforced errors, which ultimately proved crucial.
Day Nine: Roger Federer vs. Juan Martin Del Potro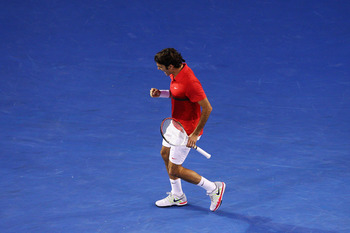 Cameron Spencer/Getty Images
This match was eagerly awaited as Roger Federer's big test. Each year, the pundits boldly predict that Federer will begin to decline.
It was also intriguing to see the best contender outside of the top four to win a Grand Slam this year.
It was surreal to see Federer completely dominate the Argentine with an array of ground strokes that carefully constructed each and every point.
The Swiss disposed of Juan Martin Del Potro easily enough to suggest he can still contend in the Grand Slams for a while yet.
Federer came through 6-4, 6-3, 6-2 to provide us with the knowledge that he means business this year.
He won 89 percent of the points on his first serve.
Day Nine: Rafael Nadal vs. Tomas Berdych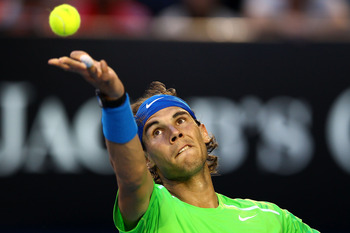 Clive Brunskill/Getty Images
Rafael Nadal gave an exhibition on how to overcome adversity on Day Nine of this year's Australian Open.
The Spaniard was unfortunate enough to receive a line call that the umpire refused to overturn at a crucial time in the match.
Tomas Berdych went on to win the first set on the tie-break after his good fortune and entered a second tie-break with the knowledge that he had the momentum.
Nadal had blown a break in the second set to allow the Czech to take it to the tie-break, which could have ultimately proved costly.
But Rafa was able to to pull through 8-6 in the second tie-break to swing the momentum back in his favour.
It proved to be the turning point in this intriguing match, which Nadal triumphed in, 6-7, 7-6, 6-4, 6-3.
Follow me on Twitter @jackalexandros
Keep Reading