2012 NFL Mock Draft: Players That Must Excel at Combine to Become First-Rounders
January 27, 2012

Darren Carroll/Getty Images
Every year, players attend the NFL Scouting Combine to try to improve their draft stock.
And, every year, several succeed in jumping into the first round of the draft.
With plenty at stake this season, let's take a look at three players who could potentially jump into the first round of the 2012 NFL Draft with a stellar performance at the combine.
1. Indianapolis Colts: Andrew Luck, QB, Stanford 
This is pretty much a lock. The Colts need a quarterback of the future, and Luck is that guy.
2. St. Louis Rams: Justin Blackmon, WR, Oklahoma State
This is another lock, barring a trade. The Rams need to surround Sam Bradford with talented offensive weapons.
3. Minnesota Vikings: Matt Kalil, OT, USC
Charlie Johnson isn't getting it done at left tackle.
4. Cleveland Browns: Robert Griffin III, QB, Baylor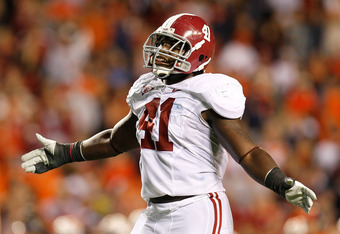 Kevin C. Cox/Getty Images
Colt McCoy hasn't progressed as much as the Browns would like, so picking RGIII is a no-brainer.
5. Tampa Bay Buccaneers: Morris Claiborne, CB, LSU 
With Ronde Barber likely on his way out, Claiborne would be a fantastic successor.
6. Washington Redskins: Ryan Tannehill, QB, Texas A&M 
There are a ton of teams looking for help at quarterback.
But, the problem with the 2012 NFL Draft class is that there aren't very many first-round quarterback candidates.
After Andrew Luck and Robert Griffin III, Tannehill is probably the best prospect at the position.
So, if he goes out and lights up the combine, he'll probably tempt a team to select him in the mid-to-late first round.
I don't see the Redskins necessarily taking him at No. 6, but they could trade down and get him later in the first round.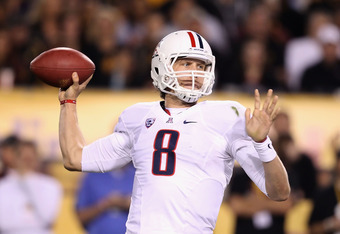 Christian Petersen/Getty Images
7. Jacksonville Jaguars: Riley Reiff, OT, Iowa 
Guy Whimper failed to keep pressure off rookie Blaine Gabbert last season, and the Jaguars probably won't re-sign him this offseason.
8. Carolina Panthers: Michael Brockers, DT, LSU 
The Panthers need to get better at stopping the run, otherwise Cam Newton and the offense won't be able to improve this team's record.
9. Miami Dolphins: Jonathan Martin, OT, Stanford 
First order of business: get Matt Flynn. Second: protect him.
10. Buffalo Bills: Courtney Upshaw, DE/OLB, Alabama 
The Bills need some major pass-rushing help. Upshaw can provide plenty of that.
11. Kansas City Chiefs: Quinton Couples, DE, North Carolina 
The Chiefs are strong up the middle of the defensive line, but could use some more help rushing the passer.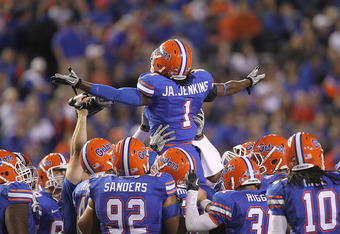 Mike Ehrmann/Getty Images
12. Seattle Seahawks: Trent Richardson, RB, Alabama 
Marshawn Lynch is a free agent. Even if Seattle re-signs him, this team needs more help in the backfield.
13. Arizona Cardinals: Devon Still, DT, Penn State
The Cardinals need to shore up their interior line. Still is the best player to fill that need.
14. Dallas Cowboys: Dre Kirkpatrick, CB, Alabama 
In a division with Hakeem Nicks, Victor Cruz, Jeremy Maclin and DeSean Jackson, the Cowboys need a solid secondary.
15. Philadelphia Eagles: Luke Kuechly, LB, Boston College 
The Eagles neglected their linebacker corps in creating the "Dream Team." Look for them to address that position in this draft.
16. New York Jets: Nick Foles, QB, Arizona 
Foles is in a very similar situation to Tannehill. If he performs lights-out at the combine, he could sneak into the first round.
He'll be helped out the most if Tannehill struggles, since that would make Foles the third best prospect at the quarterback position.
Still, he needs to go have a great combine and put himself in the best position possible for a high draft pick.
The Cleveland Browns have the No. 22 overall pick and could be a good fit for Foles.
The Jets need someone to challenge Mark Sanchez, and if they don't get Peyton Manning, Foles could be that guy.
17. Cincinnati Bengals (from Oakland): Alshon Jeffery, WR, South Carolina 
The Bengals snagged A.J. Green in the first round last year. Getting another young wide receiver to pair with Green and Andy Dalton would really be a plus for Cincinnati.
18. San Diego Chargers: Kendall Wright, WR/KR, Baylor 
Wright would be a great complement to Vincent Jackson and would help shore up a shaky Chargers' special teams unit.
19. Chicago Bears: David DeCastro, OG, Stanford 
The Bears absolutely must keep Jay Cutler upright in 2012.
20. Tennessee Titans: Michael Floyd, WR, Notre Dame 
Even when Kenny Britt is healthy, the Titans still have a major need at wide receiver.
21. Cincinnati Bengals: Lamar Miller, RB, Miami (FL) 
If the Bengals lose Cedric Benson, finding another running back will be of utmost importance.
22. Cleveland Browns (from Atlanta): Nick Perry, OLB/DE, USC 
This defense needs more pass rush. Getting a USC linebacker prospect seems like a great move.
23. Detroit Lions: Peter Konz, C, Wisconsin 
Eventually, Dominic Raiola will need to be replaced. Until then, Konz can play a guard position.
24. Pittsburgh Steelers: Mike Adams, OT, Ohio State 
The Steelers need to cut down the number of times Ben Roethlisberger gets hit, or he'll miss more and more games as his career progresses.
25. Denver Broncos: Mark Barron, SS, Alabama 
The Broncos need a backup plan for when Brian Dawkins retires. Barron is the best safety in the draft.
26. Houston Texans: Fletcher Cox, DT, Mississippi State 
The Texans can do better than Shaun Cody at nose tackle.
27. New England Patriots (from New Orleans): Janoris Jenkins, CB, North Alabama 
Jenkins has had some character issues in college that might keep him off some teams' draft boards entirely.
But, he has first-round talent. If he can just make it through the interview process at the combine without sending up any red flags, he should be taken towards the end of the first round.
However, if he struggles physically and doesn't perform well in the interview room, he could fall to the second or third rounds.
But, if he does well, the Patriots are so desperate for secondary help that they won't be able to pass him up here.
28. Green Bay Packers: Whitney Mercilus, DE/OLB, Illinois 
The Packers need a guy who can get a pass rush opposite Clay Matthews. Mercilus led college football in sacks in 2011, so it's a perfect fit.
29. Baltimore Ravens: Vontaze Burfict, MLB, Arizona State 
Burfict is a mean-tempered middle linebacker. That sounds a lot like Ray Lewis to me.
30. San Francisco 49ers: Mohamed Sanu, WR, Rutgers 
Michael Crabtree isn't working out. The Niners need to get some receiving threats for Alex Smith.
31. New York Giants: Dwayne Allen, TE, Clemson
Jake Ballard is a decent tight end. Allen could be great.
32. New England Patriots: Alonzo Dennard, CB, Nebraska 
Seriously, the Patriots need major secondary help.