Power Ranking Every NBA Arena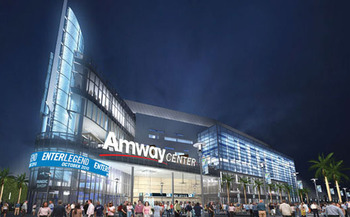 Just as the Staples Center is proudly sponsored by Staples, every team in the NBA is named after some sort of company.
Although the name itself is not really all that important, every NBA team is home to one of these places that are commonly known as arenas.
Every NBA venue may not be a Mozart and there are certainly better arenas than others, but they are all great places that are home to a fantastic sport called basketball.
So sit back and eat your popcorn or whatever it is you kids eat these days, but most of all, enjoy this power ranking of every NBA arena.
29. Power Balance Pavillion (Arco Arena), Sacramento Kings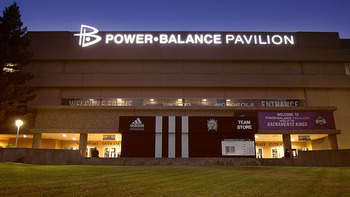 Capacity: 17,317
Construction Cost: $40 million
Just looking at this picture of the Power Balance Pavilion would have most people wondering if an NBA basketball team actually plays there.
28. Bradley Center, Milwaukee Bucks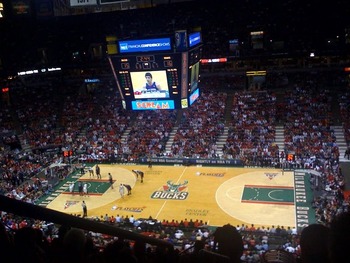 Capacity: 18,717
Construction Cost: $90 million
This arena may not have anything on Wrigley Field, but it is still one of the oldest arenas in the NBA. That is kind of hard to believe due to the fact that it was built in 1988.
27. Oracle Arena, Golden State Warriors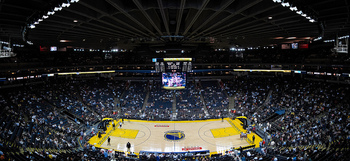 Capacity: 19,596
Construction Cost: $121 million
The Oracle Arena is the oldest in all of the NBA and they certainly have some of the greatest fans, but other than that, the arena is pretty mediocre at best.
26. The Palace of Auburn Hills, Detroit Pistons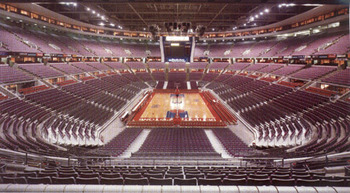 Capacity: 20,067
Construction Cost: $70 million
The Palace of Auburn Hills (or better known simply as The Palace) may very well have the coolest name of all of the arenas, but that does not make it the best. Not even close.
The Palace does hold the most people, so at least Pistons fans can brag about that.
25. Prudential Center, New Jersey Nets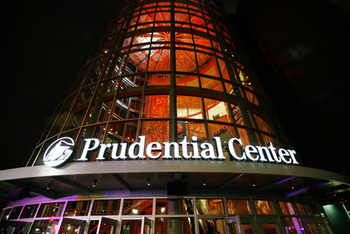 Capacity: 18,711
Construction Cost: $375 million
Although the Nets just started playing here in 2010, their new home is being built in Brooklyn as we speak.
24. New Orleans Arena, New Orleans Hornets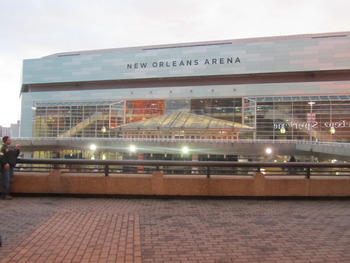 Capacity: 18,500
Construction Cost: $114 million
Luckily for Hornets fans, this place does not look as bad inside as it does on the outside.
23. Quicken Loans Arena, Cleveland Cavaliers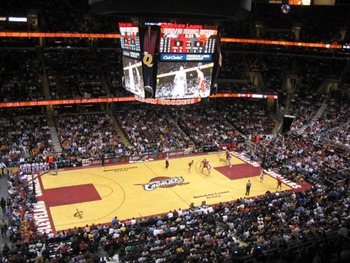 Capacity: 20,562
Construction Cost: $100 million
Without LeBron James, Cleveland fans just do not have that much to look forward to anymore. At least their arena isn't the worst in the world.
22. Wells Fargo Center, Philadelphia 76ers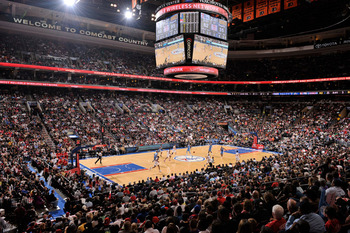 Capacity: 20,444
Construction Cost: $210 million
This place has been named bank after bank.
There is nothing outside of the ordinary with this arena. However, people say this place does have amazing acoustics for concerts.
21. Verizon Center, Washington Wizards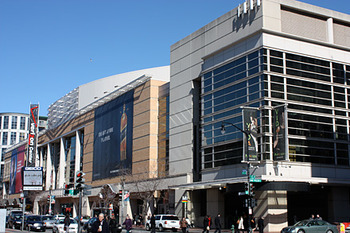 Capacity: 20,278
Construction Cost: $260 million
There really isn't that bad of a seat in the house at this arena. Unfortunately, a Wizards game isn't the hottest ticket in the world.
20. Chesapeake Energy Arena, Oklahoma City Thunder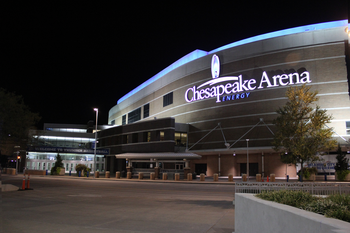 Capacity: 18,203
Construction Cost: $89.2 million
The Thunder's fans are what really make this arena.
Having Kevin Durant and Russell Westbrook play at this arena every home game is a big reason for that.
19. US Airways Center, Phoenix Suns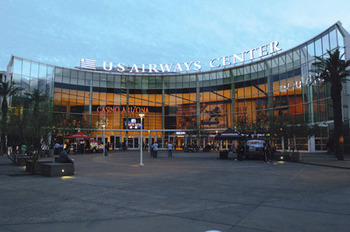 Capacity: 18,422
Construction Cost: $157 million with renovations
Having two NBA All-Star Games hosted here since 1995, US Airways Center must not be too shabby.
18. TD Garden, Boston Celtics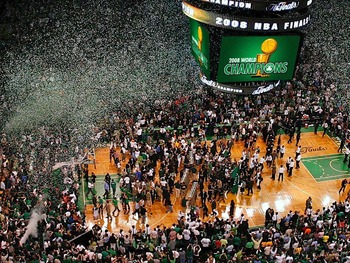 Capacity: 18,624
Construction Cost: $160 million
Since 1995, the Garden has had its fair share of excitement.
As everyone may know, the Celtics were crowned NBA champions in 2008, and they also made it to the finals in 2010, but the history at this TD Garden goes way beyond that.
17. Philips Arena, Atlanta Hawks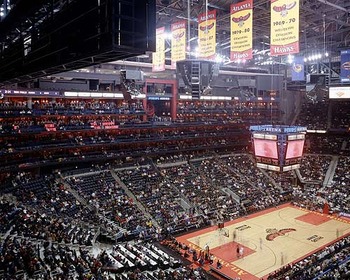 Capacity: 18,729
Construction Cost: $213.5 million
The Hawks are an up-and-coming team that are starting to become one of the better teams in the NBA.
As they get better and better, the Hawks could only hope for more fans to show up to the games.
16. Toyota Center, Houston Rockets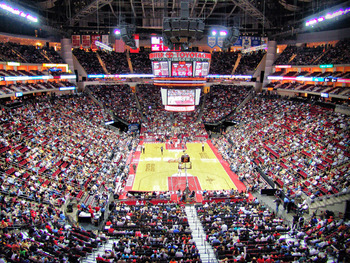 Capacity: 18,043
Construction Cost: $202 million
Being a newer arena, the Toyota Center is rather nice, and the Rockets are finally giving their fans something to cheer about this year.
15. EnergySolutions Arena, Utah Jazz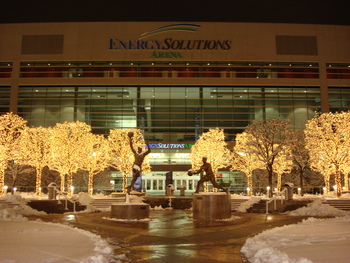 Capacity: 19,911
Construction Cost: $93 million
The statues of Karl Malone and John Stockton outside of the arena are what really make this place so great.
Amazing fanfare for the Jazz does not hurt either.
14. Air Canada Centre, Toronto Raptors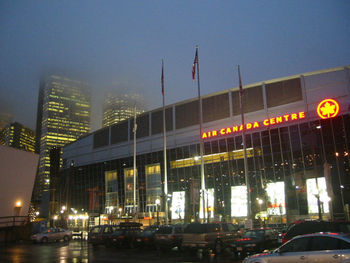 Capacity: 19,800
Construction Cost: $265 million
Besides the fact that this arena is located in Canada, which is a huge inconvenience, this is a great arena with a really good atmosphere.
13. Target Center, Minnesota Timberwolves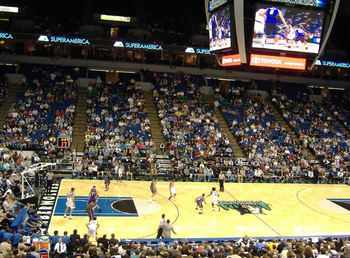 Capacity: 19,356
Construction Cost: $104 million
The Timberwolves are finally starting to put together a good team that will match very well with their arena, which is definitely above par.
12. Rose Garden, Portland Trail Blazers
Capacity: 19,980
Construction Cost: $262 million
Being the most popular team in town, the Trail Blazers get more than their fair share of fans every home game. Not to mention, these fans are extremely loud to go with the Rose Garden that has beautiful red seating.
There is just something about the red that really makes the arena pop.
11. AT&T Center, San Antonio Spurs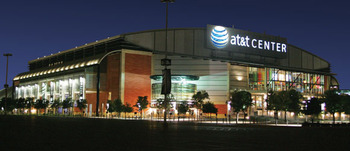 Capacity: 18,581
Construction Cost: $186 million
AT&T Center has been the home to many legendary Spurs teams, which has created a great amount of memories for these beloved fans.
10. Time Warner Cable Arena, Charlotte Bobcats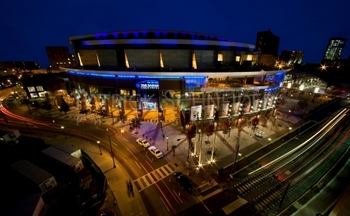 Capacity: 19,077
Construction Cost: $260 million
Time Warner Cable Arena was opened in 2005. Therefore, it is a very new arena that has its fair share of technological advancements.
This place is ginormous to say the least. Bobcat fans are very lucky to be blessed with this arena.
9. FedExForum, Memphis Grizzlies
Capacity: 18,119
Construction Cost: $250 million
The FedExForum looks good on the inside and even better on the outside, with its framed glass at the main entrance.
This place simply just lights up the night.
8. Pepsi Center, Denver Nuggets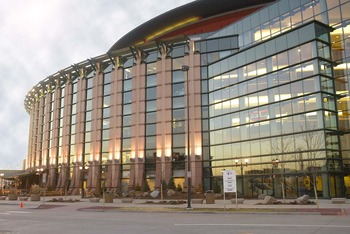 Capacity: 19,155
Construction Cost: $160 million
Although the Broncos take the spotlight in Denver, the Nuggets are not too far behind.
The Pepsi Center is an absolutely amazing place that does not really have a bad seat in the whole entire building. The fans of Denver also make the Pepsi Center a great environment to be in.
7. American Airlines Center, Dallas Mavericks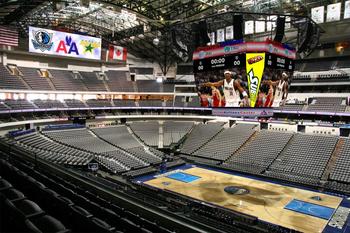 Capacity: 19,200
Construction Cost: $420 million
American Airlines Center is easily one of the most technologically advanced arenas in the NBA.
What better place to go with a great team like the Dallas Mavericks?
6. The Amway Center, Orlando Magic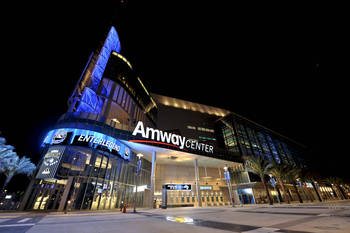 Capacity: 18,846
Construction Cost: $480 million
The Orlando Magic have to be happy with their basketball arena. Whatever technological advancements other arenas have, the Amway Center completely puts them to shame.
Just the arena alone has added a serious boost to the Magic's ticket sales.
5. American Airlines Arena, Miami Heat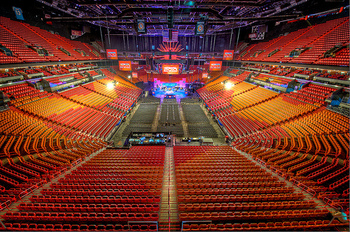 Capacity: 19,600
Construction Cost: $213 million
The inside of American Airlines Arena is just as good as any other NBA arena, if not better.
With the unique scoreboard that changes colors and the flames that run through the seating, this arena looks great from head to toe.
4. United Center, Chicago Bulls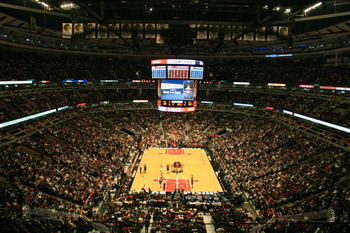 Capacity: 20,916
Construction Cost: $175 million
The United Center is filled with the presence of Michael Jordan and all of the other Chicago greats through posters and banners. Not to mention, the statue of Jordan is one of a kind.
This arena is huge on the inside, which doesn't even compare to the magical moments that went down at this place.
3. Conseco Fieldhouse, Indiana Pacers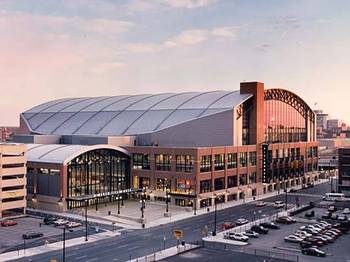 Capacity: 18,165
Construction Cost: $183 million
The architects who designed Conseco Fieldhouse definitely knew what they were doing.
Although this arena is ranked at No. 3 on this list, there are a lot of people out there who would argue it's the best arena in the entire NBA.
2. Staples Center, Los Angeles Lakers/Clippers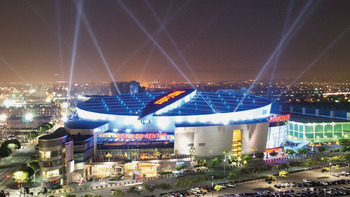 Capacity: 19,079
Construction Cost: $375 million
Staples Center is arguably one of the most popular NBA arenas and it is home to arguably one of the most successful franchises in the history of the NBA.
Luckily for the Clippers, they get to share this stage with this franchise. Sorry Clippers, but the Staples Center is home to the Lakers; you are just lucky enough to not have your own arena so you can play there.
1. Madison Square Garden, New York Knicks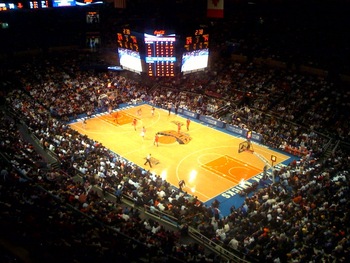 Capacity: 19,763
Construction Cost: $123 million
Madison Square Garden is the most historic arena out of them all and because of this history, it is hard not to rank MSG No. 1.
Whether you are a Knicks fan or not, it is tough to find reasons on why this arena isn't the best of all time.
Keep Reading