Senior Bowl 2012: Studs and Duds Through the First Half of the Week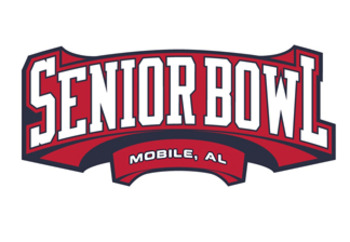 No two days are alike at the Senior Bowl in Mobile, Ala. One day's top performer can be another day's disappointment. However, players at the 2012 Senior Bowl have pretty much stayed true to form all the way through the first three days of practice.
Some have disappointed greatly, while others have made themselves some extra money in the form of impressing scouts and rocketing up draft boards.
Here are the best and worst of the first three days at the Senior Bowl.
South Stud: Brandon Weeden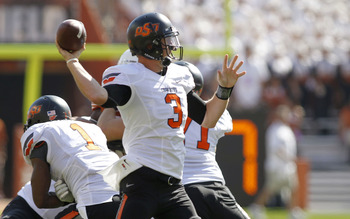 Erich Schlegel/Getty Images
Perhaps no player has improved his draft stock more than the 28-year-old quarterback from Oklahoma State. Weeden has gone from a late-round risk to one of the top quarterback prospects available.
The questions about his age are still there, but with each stellar workout the age issue seems less important.
Weeden is the best quarterback prospect at the Senior Bowl and it's not even close.
South Dud: Dwight Jones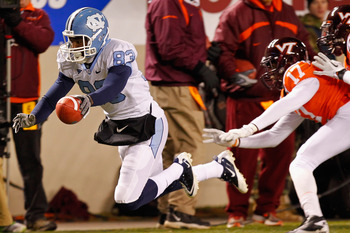 Geoff Burke/Getty Images
One of the most disappointing efforts by a projected second-rounder this year has been turned in by UNC's Dwight Jones. He really seems disinterested in what amounts to his first major job interview in front of hundreds of NFL scouts.
Jones has dropped passes, ran lazily and failed to get down the field on multiple occasions. It's been a very disappointing week for the 6'3" wide receiver prospect.
South Stud: Courtney Upshaw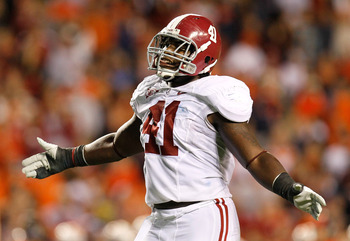 Kevin C. Cox/Getty Images
Alabama's Courtney Upshaw just gets after it on every opportunity. His effort has almost become old hat since he's one of the more consistent players in Mobile. Upshaw's draft stock is probably as high as it will get, but that's not at all a detriment to one of the best players at the Senior Bowl.
Upshaw is a star in every sense of the word.
South Dud: Jeff Fuller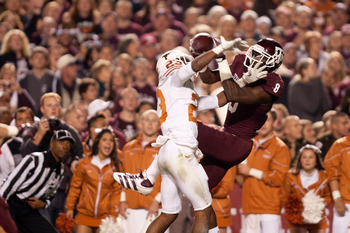 Darren Carroll/Getty Images
At 6'4" and 217 pounds, it was expected that former Texas A&M Aggie Jeff Fuller would have a good week at the Senior Bowl. However, it has been a pretty disappointing week for the mid-round prospect.
Fuller simply cannot separate and has had issues with catching the ball all week long. He has shown some flashes at times, but the bad has outweighed the good by a considerable amount.
South Stud: Cordy Glenn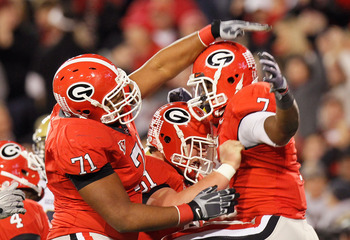 Kevin C. Cox/Getty Images
Former Georgia Bulldog offensive tackle Cordy Glenn has had a really good week in Mobile. He's easily one of the most consistent blockers on the South team.
Glenn is one of the bigger prospects at the Senior Bowl. At 6'5" and 346 pounds, the Riverdale, Georgia, native has NFL scouts abuzz about his future.
North Stud: Mike Adams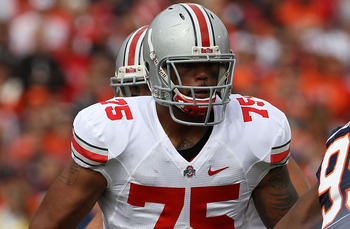 Jonathan Daniel/Getty Images
As close to a mirror image as possible, Glenn's counterpart from the other team has been Mike Adams. Adams is two inches taller than Glenn and about 20 pounds lighter, but he's been just as dominant in practice.
Adams might not move as well as Glenn does, but when he locks on to defenders there's no getting past the former Buckeye.
North Dud: Alfonzo Dennard
Eric Francis/Getty Images
The former Cornhusker was injured in Wednesday's drills, but his two-plus days of workouts did nothing to help his draft stock. Some have suggested that Dennard will actually have to move to safety in the NFL based on his workouts in Mobile.
One respected expert, Russ Lande of Sports Management Worldwide, says Dennard's stock has dropped. Another expert, Ryan Lownes of draftcountdown.com, says Dennard may have dropped from a second-round prospect to a third-rounder.
North Stud: Kirk Cousins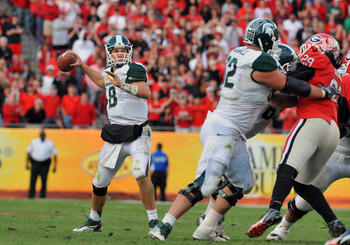 Al Messerschmidt/Getty Images
Kirk Cousins has been the top performer at quarterback for the North squad. He's getting looks from a lot of scouts and experts, and has made some spectacular throws.
Cousins' arm is still a tad underrated. He's making just about every throw and he puts enough zip on the ball to be considered a top-six or -seven quarterback prospect in the draft.
The former Michigan State Spartan will likely start for the North team on Saturday.
North Dud: Chris Polk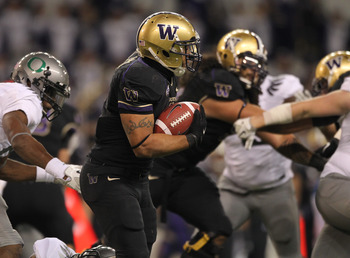 Otto Greule Jr/Getty Images
Former Washington Huskie running back Chris Polk has had a very disappointing showing at the Senior Bowl so far. Polk has gained some weight and just looks sloppy.
On Wednesday, ESPN draft expert Todd McShay opined, "He (Polk) just has not shown that same explosiveness and burst that I was used to seeing at Washington."
North Stud: Bobby Wagner
Utah State's Bobby Wagner has been a pleasant surprise all week. The 6'0", 241-pound linebacker has shown strength with open-field tackles and has been technically sound in just about every drill has been through.
Wagner is currently a second-round projection at NFLDraftScout.com. Following his week in Mobile, his stock should go nowhere but up.
Keep Reading