Washington Capitals: Has Alex Ovechkin Turned the Corner Heading into 2012?
January 26, 2012

Justin K. Aller/Getty Images
Leading up to the NHL's All-Star break, there have been few players discussed as often as Alex Ovechkin, due to both his performance on the ice and his decisions off of it.  
On Sunday, Ovechkin played his best game of the season when the Capitals took on the Pittsburgh Penguins on national television, notching a goal and two assists in a hard-fought 4-3 overtime loss. However, Ovechkin's play also earned him the longest suspension of his career, as he was banned without pay from the Caps' next three games for his airborne hit on Zbynek Michalek.  
After learning of his suspension, Ovechkin made headlines by opting to skip the NHL All-Star Game in Ottawa this weekend, as he said he didn't believe he deserved to be there during an interview at Tuesday's practice.
The suspension could not have come at a worse time for the Capitals, as the team is already playing without two of its most important pieces in Nicklas Backstrom and Mike Green.  
Though the suspension is obviously a setback that will challenge Washington's mettle, it comes at a time when Ovechkin has been playing his best hockey of the season and finally started to look like the force that once won two league MVP awards.  
Unfortunately, since Ovechkin's resurgence is on hold for at least another two games, it's still unclear as to whether the 26-year-old has actually regained his superstar form.  
On the positive side, since Christmas day, Ovechkin has nine goals and 15 points in 14 games, including a number of highlight-reel tallies that the hockey world had grown accustomed to seeing from the Russian machine.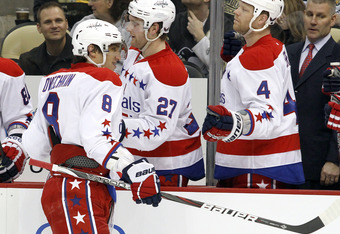 Justin K. Aller/Getty Images
More importantly, Ovechkin has been playing with passion on a much more consistent basis, frequently delivering bone-crushing hits such as the one that landed him on the suspension list.
While the Capitals obviously miss the skill and game-breaking qualities that Green and Backstrom possess, Ovechkin is the player opposing teams design their game plans around and the Caps are simply a different team when he's in the lineup.
Fortunately, the Capitals looked good in Ovechkin's absence, knocking off the defending Stanley Cup champion Bruins thanks to Mathieu Perreault's hat trick, so there's reason to believe the team, like its captain, is finally beginning to believe in itself.  
If the Caps can even win one of their two remaining games without Ovechkin, the team's confidence will only be higher when he and his injured comrades return to the ice.  
Moving forward, Ovechkin has shown flashes of the brilliance that made him one of the game's most dangerous scorers, so coach Dale Hunter has to be hoping that his mercurial captain continues to improve, rather than regress as he did after his two-game suspension in 2009-10.  
The Caps' postseason hopes will likely depend on it.