2012 NFL Mock Draft: Where Will RGIII and Heisman Contenders End Up?
January 25, 2012

Ronald Martinez/Getty Images
The typical favorite big name players heading into the NFL Draft are the ones who were regarded as Heisman Trophy candidates this past season. This draft will be no different than the rest, as it will feature many of those players, including the 2011 winner, quarterback Robert Griffin III of the Baylor Bears.
Sometimes these players can slip out of the first round, as they can sometimes be noted as better college than NFL talent. This group has a mix of both, and there will be plenty going within the first round.
The following is a breakdown of the 2012 NFL Draft, and where this past season's Heisman candidates could end up.
1. Indianapolis Colts (2-14): Andrew Luck, QB, Stanford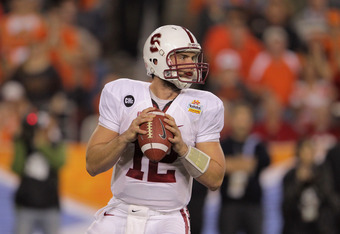 Doug Pensinger/Getty Images
With quarterback Peyton Manning missing this entire past season, the Colts were given the opportunity to draft his successor in Stanford Cardinal quarterback Luck.
While Luck never won the Heisman, he was the runner up for the trophy in both 2010 and 2011. He has been considered by many as not only the best quarterback, but the best player overall in the draft.
During his three-year career at Stanford, Luck accumulated 9,430 yards through the air, while passing for 82 touchdowns and just 22 interceptions. Even more impressive, he had a career passing percentage of 67 percent.
It will remain to be seen what happens with Manning, but there is no doubt that Luck will be the man taken by Indy this draft.
2. St. Louis Rams (2-14): Justin Blackmon, WR, Oklahoma State
With quarterback Sam Bradford ready to return in healthy form next season, the addition of Oklahoma State wide receiver Justin Blackmon will put this team in a great position to win.
He had 121 receptions for 1,522 yards with 18 touchdowns this past season. He is also coming off a huge game in the Fiesta Bowl against the Stanford Cardinal, where he had eight receptions for 186 yards and three touchdowns.
3. Minnesota Vikings (3-13): Matt Kalil, OT, USC
The Vikings need to do a lot, but adding an offensive tackle like Kalil of the USC Trojans will be a great addition to protect quarterback Christian Ponder.
This will get the team one step closer, but they still need to find many more pieces until they can return to contender status.
4. Cleveland Browns (4-12): Robert Griffin III, QB, Baylor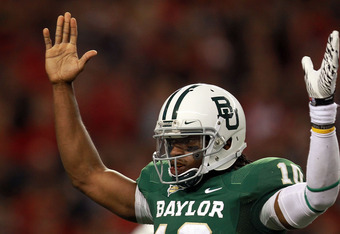 Ronald Martinez/Getty Images
With the Browns starting to get a feel for how quarterback Colt McCoy will fit into their long-term future, their position in this season's draft has present them with a tough decision.
With the fourth overall pick, the team needs to take Baylor quarterback Griffin III. The Heisman Trophy-winning quarterback is a game-changer, and that is something the team needs.
This team has been making changes at the quarterback position over and over again, so hopefully Griffin will be the final move in this series of new men under center.
Getting a guy like Griffin under center will give the Browns a guy who can take this team to new heights, and will be able to increase the output of this offense.
5. Tampa Bay Buccaneers (4-12): Morris Claiborne, CB, LSU
With Ronde Barber approaching 37 years old, the Bucs will need to start focusing on the future of this defense. A player that would be an excellent addition is LSU Tigers cornerback Claiborne, who will be the key piece to improving this team's defense. 
6. Washington Redskins (5-11): Trent Richardson, RB, Alabama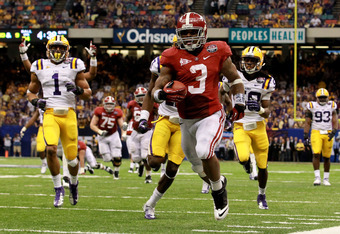 Ronald Martinez/Getty Images
One of the runner ups in this year's Heisman Trophy race was Alabama Crimson Tide running back Richardson.
The team has some young options in their backfield in Ryan Helu and Evan Royster, but they could really get a game changer in Richardson.
The Tide back is coming off of a great season, where his team won the BCS title. He also had a great individual season, gaining 1,679 yards on 283 carries with 21 rushing touchdowns. In the title game over LSU, he had 96 yards and a score.
The Redskins are many moves away from becoming a contender, but the addition of a possible franchise running back will certainly be a step into the right direction.
7. Jacksonville Jaguars (5-11): Dre Kirkpatrick, CB, Alabama
The Jaguars will be looking to add a wide receiver or maybe a quarterback, but there are not that many pieces at this spot in the draft. The Crimson Tide had a shutdown cornerback in Kirkpatrick.
He would be a great piece to add to this Jaguars' defense that was among the 10 best defenses this past season.
8. Carolina Panthers (6-10): Jonathan Martin, OT, Stanford
The Panthers will need to continue to improve their protection on the offensive line, and a player that would be a nice addition would be Cardinal offensive tackle Martin. 
9. Miami Dolphins (6-10): Riley Reiff, OT, Iowa
With new head coach Joe Philbin taking the reins in Miami, it will remain to be seen who he will go with under center between quarterbacks Chad Henne and Matt Moore. One place he will need to continue improving upon is at offensive tackle, and Reiff of the Iowa Hawkeyes could come in and provide starter minutes right away.
10. Buffalo Bills (6-10): Tyrann Mathieu, CB, LSU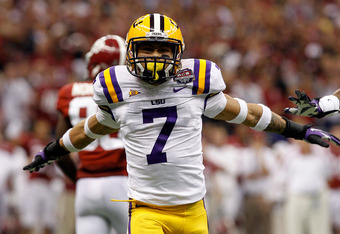 Chris Graythen/Getty Images
The Bills could use some help on defense as they were pretty inconsistent in stopping their opposition. Adding cornerback Mathieu of the LSU Tigers would be a huge upgrade for this team.
They already have big-play threats in linebacker Nick Barnett and safety George Wilson, but they are in need of some additional help in their secondary.
Mathieu was one of the best shutdown corners in college football this past season, and was just one of two defensive players to be considered a Heisman contender this past season.
The Bills have plenty of pieces on offense, but this defense is something that still needs to be worked on.
11. Kansas City Chiefs (7-9): Devon Still, DT, Penn State
If quarterback Matt Cassel, running back Jamal Charles and cornerback Eric Barry didn't go down this season, who knows how good this team could have been. In what is already a great run-defense, the Chiefs could benefit from bringing in a guy like defensive tackle Still from Penn State.
12. Seattle Seahawks (7-9): Melvin Ingram, DE, South Carolina
The Seahawks are heading on the right track, but Pete Carroll can continue to improve this defense by bringing in a defensive end like Ingram of the South Carolina Gamecocks.
13. Arizona Cardinals (8-8): Courtney Upshaw, LB, Albama
The Cardinals are in an interesting position this offseason, as they will be looking for a few pieces to put themselves over the top. They need some pieces on defense, so adding a threat like Crimson Tide linebacker Upshaw will be a step in the right direction to getting at least things fixed on the other side of the ball.
14. Dallas Cowboys (8-8): David DeCastro, OG, Stanford
The Cowboys need to add some protection to their line, so offensive guard DeCastro out of Stanford will be a great piece to add to protect quarterback Tony Romo and open up the run game for the Cowboys in 2012.
15. Philadelphia Eagles (8-8): Quinton Coples, DE, North Carolina
Coach Andy Reid can never have too many defensive threats, though, and defensive end Coples of the North Carolina Tar Heels will be a piece that could help put this defense over the top quickly.
16. New York Jets (8-8): Mark Barron, S, Alabama
Coach Rex Ryan needs to improve his secondary, and no one will fulfill that role better than Crimson Tide safety Barron. This pick would give the Jets a potential budding star to partner with cornerback Darrelle Revis—especially in this pass-heavy division.
17. Cincinnati Bengals, from Oakland (8-8): Luke Kuechly, MLB, Boston College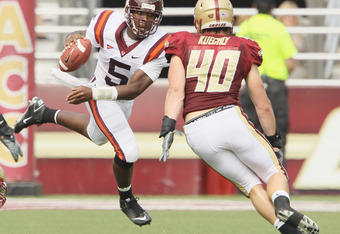 Elsa/Getty Images
The Bengals are making some noise as a young team, and they could do some more this season with their pick from the Raiders in drafting linebacker Kuechly from Boston College. 
Kuechly was one of just two players who were up for the Heisman this season, and he could really help put this team into the right direction on defense. The offense is strong, and they could really benefit from adding a vintage linebacker like the junior out of BC.
18. San Diego Chargers (8-8): Alfonzo Dennard, CB, Nebraska
Nebraska Cornhuskers' cornerback Dennard will give this team some youth in their secondary, and a solid option for their future at cornerback.
19. Chicago Bears (8-8): Michael Floyd, WR, Notre Dame
The one thing the Bears desperately need is a wide receiver, and one player who will help them in a huge way is Notre Dame's Floyd. The addition would give quarterback Jay Cutler a big target in the passing game.
20. Tennessee Titans (9-7): Nick Perry, DE, USC
The Titans are still a team in rebuilding, but one place where they must improve is on the defensive line. USC defensive end Perry would be a great addition to this team, and he could come in and provide some starting minutes right away.
21. Cincinnati Bengals (9-7): Lamar Miller, RB, Miami
The Bengals don't need too many pieces to alter this team, but one position that they will likely be interested in changing is running back. Cedric Benson has been pretty inconsistent, so the University of Miami's Miller will be a solid piece to add as a serious big-play threat in their backfield.
22. Cleveland Browns, from Atlanta (10-6): Kendall Wright, WR, Baylor
With Griffin already taken, the Browns would be wise to take his favorite target in Wright. The Bears' wide receiver would give them another huge-play threat and could quickly turn this team around.
23. Detroit Lions (10-6): Zach Brown, LB, North Carolina
The Lions are in a tough position because they possibly need a running back to replace Jahvid Best if he is forced to retire due to injuries. The team could improve its linebacker depth, so, the addition of Tar Heels linebacker Brown will give the team some much-needed relief behind their strong front four.
24. Pittsburgh Steelers (12-4): Cordy Glenn, OG, Georgia
The aging Steelers are going to need some much-needed replenishment on the offensive line, and they could do just that with Georgia Bulldogs offensive guard Glenn.
25. Denver Broncos (8-8): Fletch Cox, DT, Mississippi State
Cox, a defensive tackle from Mississippi State, would be an excellent addition to coach John Fox's defense. The Broncos were strong last year on the defensive side of the ball, but they could really use another threat to stop opposing quarterbacks and running backs.
26. Houston Texans (10-6): Alshon Jeffery, WR, South Carolina
The Texans' could really benefit by adding another wide receiver to their team this season. Gamecocks' wide receiver Jeffery would be a nice pairing to Andre Johnson, and it would give quarterback Matt Schaub a nice set of options down the field.
27. New England Patriots, from New Orleans (13-3): Dontari Poe, DT, Memphis
The Patriots have not been too pretty on defense this year. They have an aging defensive line, and they could really do themselves a favor by bringing in some youth. Look for them to grab defensive tackle Poe of Memphis to give the team some depth to their line.
28. Green Bay Packers (15-1): Janoris Jenkins, CB, North Alabama
The Green Bay Packers don't need a whole lot, but they could really look to improve their defense.
The Packers were miserable in stopping the passing game this season, and they could benefit from adding some depth to their secondary. A surprise pick that they could make is cornerback Jenkins from North Alabama. 
29. Baltimore Ravens (12-4): Vontaze Burfict, LB, Arizona State
With Ray Lewis announcing that he will be returning next season, the Ravens are presented with a perfect opportunity to draft his successor and allow Lewis to shape him. That player is linebacker Burfict of the Arizona State Sun Devils.
Burfict is known to be a ridiculously talented player, but his head is a little loose. He needs a guy like Lewis who can buckle him down, and make him play like the player that he can be.
30. San Francisco 49ers (13-3): Kellen Moore, QB, Boise State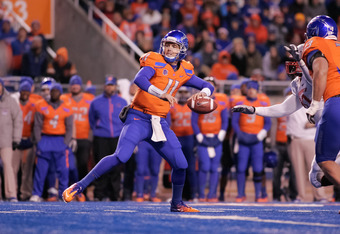 Otto Kitsinger III/Getty Images
This one is going out on a limb, but the 49ers may decide to address their quarterback situation this offseason by drafting quarterback Moore out of Boise State.
This would be a pretty big risk for the 49ers, but if coach Jim Harbaugh sees Heisman contending quarterback as an option to take over under center this next season or down the line.
Quarterback Alex Smith did a fine job for the pieces he had, and considering what many had expected of him. It will just remain to be seen if the 49ers will be wanting to lock him down long-term or leave their options open down the line.
Many have put Moore out of the first round, but he is a very talented quarterback who could potentially do great things in the NFL.
Teams may decide to see how far he slips, but with not that many needs in the draft, the 49ers may see it as an option they might as well go with. 
 31. New England Patriots (13-3): Andre Branch, LB, Clemson
The Patriots will continue their youth replenishment by taking linebacker Branch of the Clemson Tigers.
Coach Bill Belichick could really get a lot of use out of him after having 10.5 sacks this past season. The team does have Jerod Mayo, but the team is always looking for young stars who can make a difference for this team.
32. New York Giants (9-7): Michael Brockers, DL, LSU
The Giants have a great offense with a ton of weapons, and a great defense that has been able to stop some of the best offenses in the league this season.,
While they don't need much, they could really benefit from adding another threat on their defensive line in LSU defensive lineman Brockers.
Brockers would give the Giants some youth at the position to keep this defense fresh and a huge strength for years to come. He likely wouldn't fit as a starter right away, but he could certainly add some nice depth to this strong defensive unit.
Jeff Chase is a Featured Columnist for the Chicago Cubs and Arizona State football.