2012 NFL Mock Draft: Full First Round Breakdown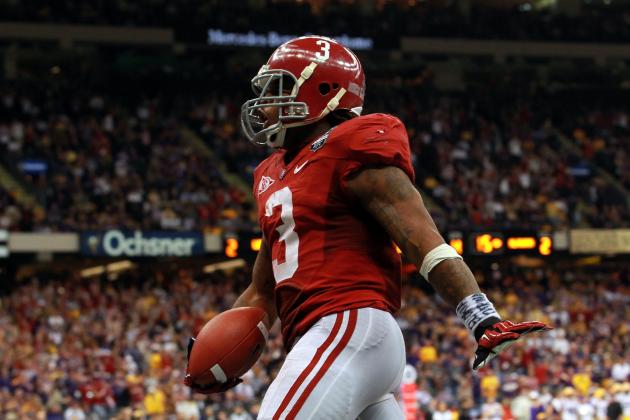 Ronald Martinez/Getty Images

With the Super Bowl right around the corner, the 2012 NFL Draft is going to come quick.
With a few all-star games under our belts, we've been able to see what some prospects have been able do. While some players have cemented their status as a high draft pick, others have taken a serious hit in their stock.
Here is a look at a 2012 NFL Mock Draft with a full first round breakdown.
Begin Slideshow

»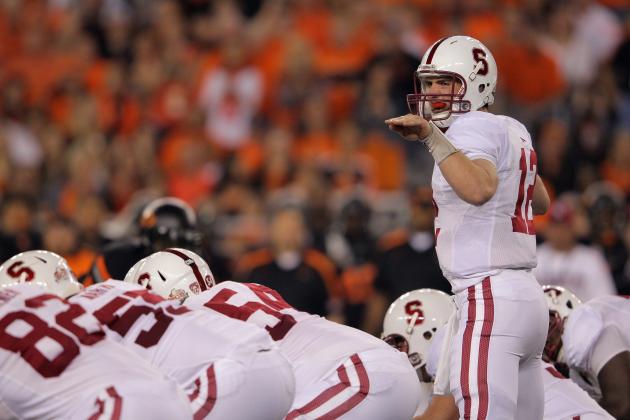 Doug Pensinger/Getty Images

Selection: Andrew Luck, Quarterback, Stanford
It's unlikely that the top overall draft pick will change from now through April as Andrew Luck is the top quarterback prospect, and the Indianapolis Colts look ready to find Peyton Manning's replacement.
Luck is good enough to come in and be one of the top quarterbacks in the NFL right away. He has everything you could want in a quarterback prospect, and Indianapolis would be foolish to not draft him.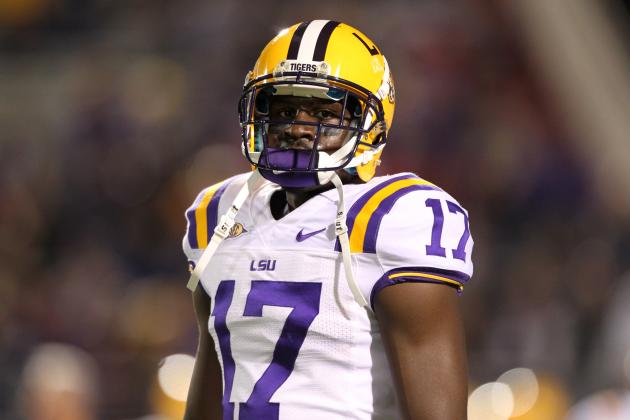 Joe Murphy/Getty Images

Selection: Morris Claiborne, Cornerback, LSU
This is where things get a little strange. Many people, myself included, have the St. Louis Rams trading this pick to a team like the Cleveland Browns, Washington Redskins or Miami Dolphins.
However, upon further review, what would St. Louis gain from that other than some draft picks? Instead of moving down in the draft, why wouldn't they draft for a huge need they have?
Some would just wide receiver Justin Blackmon here, but I'm going with Claiborne, who may be a better cornerback prospect than Patrick Peterson. He'll instantly improve the secondary for the Rams, and St. Louis can spend a second-round pick on a wide receiver.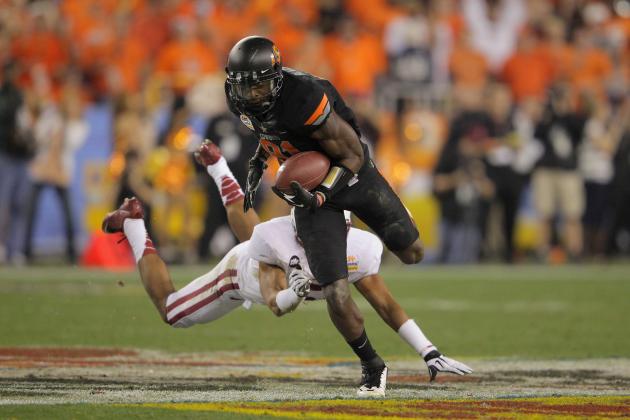 Doug Pensinger/Getty Images

Selection: Justin Blackmon, Wide Receiver, Oklahoma State
Now that Morris Claiborne is gone, the Minnesota Vikings have some decisions to make. Do they shore up their offensive line or help Christian Ponder develop with a receiver?
Matt Kalil would definitely be an option, but I think Minnesota will take the top receiver in the draft with this pick. They've put their future with Ponder and they need to get him a legitimate No. 1 receiver.
Blackmon is that player, and he'll be able to produce at a high level right away. He'll also allow Percy Harvin to get back to being a playmaker rather than a No. 1 receiver.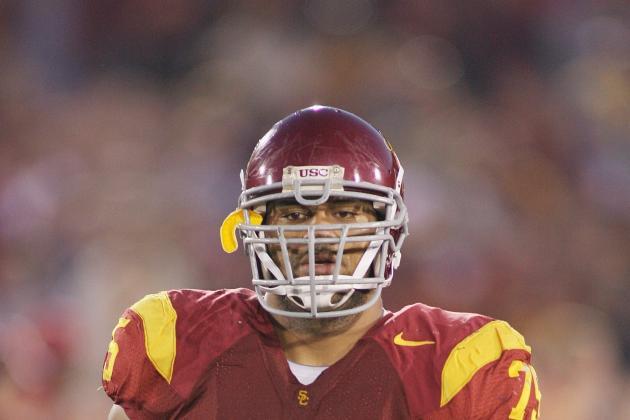 Jeff Golden/Getty Images

Selection: Matt Kalil, Offensive Tackle, USC
The first trade of the mock draft has the Cleveland Browns trading the fourth pick to the Buffalo Bills. Why?
Well, Cleveland could go for Robert Griffin III, but I think they'll give Colt McCoy a little more time before throwing him to the curb. Trent Richardson is another option, but Cleveland could use multiple draft picks, and I think the Bills would be willing to give up quite a bit to get the top offensive lineman in this year's draft.
Kalil is an extremely athletic prospect who reminds some of a more raw Jake Long. If Kalil even comes close be being as good as Long, he'll absolutely be worth trading up for.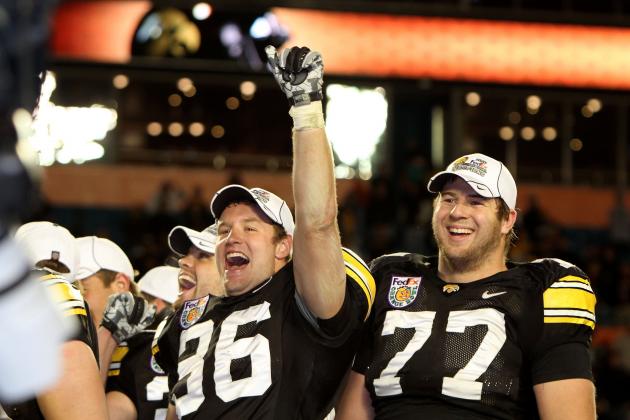 Doug Benc/Getty Images

Selection: Riley Reiff, Offensive Tackle, Iowa
This may seem like a reach for Reiff, but I believe Reiff is a guy that can step in and instantly perform at a high level for many years.
Reiff has an NFL-ready body and can be effective in both the pass and run game. The Tampa Bay Buccaneers need some help along the offensive line to keep Josh Freeman upright, and Reiff can provide that.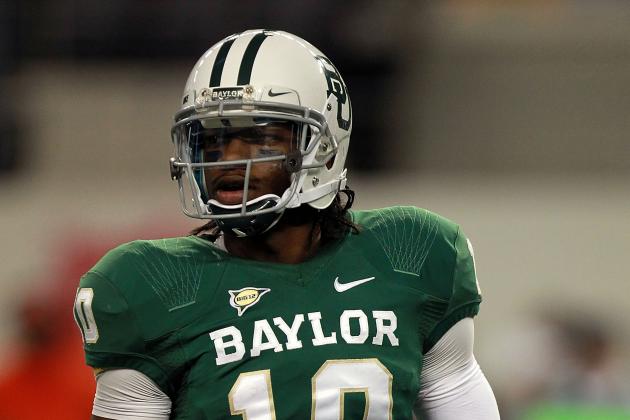 Ronald Martinez/Getty Images

Selection: Robert Griffin III, Quarterback, Baylor
It's possible that Griffin will go second in the draft, but he could also possibly land right in the laps of the Washington Redskins. That would obviously be the best choice for Washington since they wouldn't have to give up anything to land their future franchise quarterback.
It wouldn't be too surprising if Griffin has a better statistical year than Andrew Luck simply due to his great ability to make plays outside of the pocket. He'll be a likely Rookie of the Year candidate and should be an instant leader and produce for the Redskins.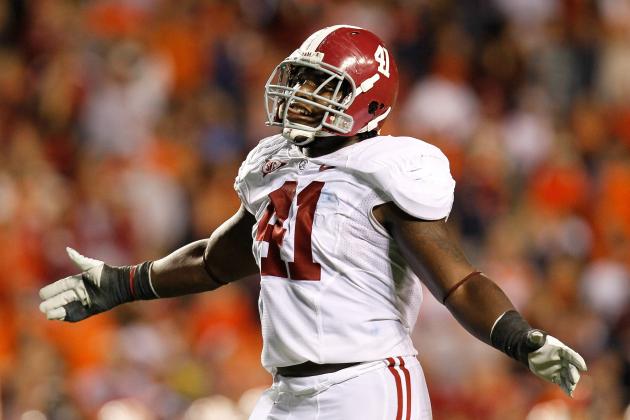 Kevin C. Cox/Getty Images

Selection: Courtney Upshaw, Outside Linebacker, Alabama
Few players were as impressive during the Senior Bowl than Upshaw, who definitely saw his stock rise with his dominant performance.
While the Jacksonville Jaguars could look for a receiver with this pick, the receiver class is relatively deep and they could find one in the second or third round. Instead, look for Jacksonville to improve their defense with one of the better overall linebackers in the draft class.
Upshaw should improve the Jaguars defense right away.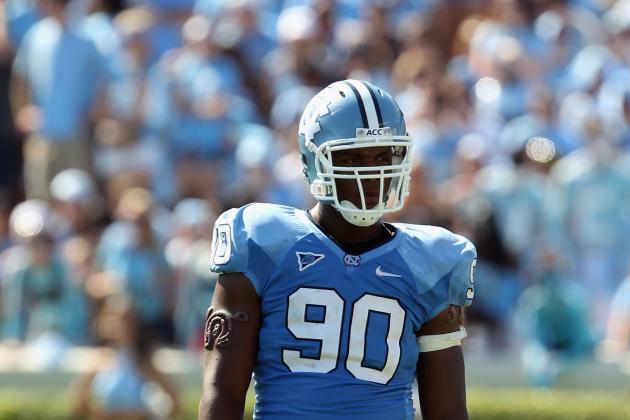 Streeter Lecka/Getty Images

Selection: Quinton Coples, Defensive End/Outside Linebacker, North Carolina
Few players have been so up-and-down draft boards this year like Coples has. He started the 2011 season as a top-5 pick before dropping out of the first round in many mock drafts because of the lack of effort he showed during the regular season.
However, after a fantastic Senior Bowl week, Coples has once again risen up draft boards. He is a true boom-or-bust pick as he could either be the next great pass rusher like Julius Peppers or a complete flop.
If he works and gives 100 percent, he'll be an absolute steal with the eighth overall pick.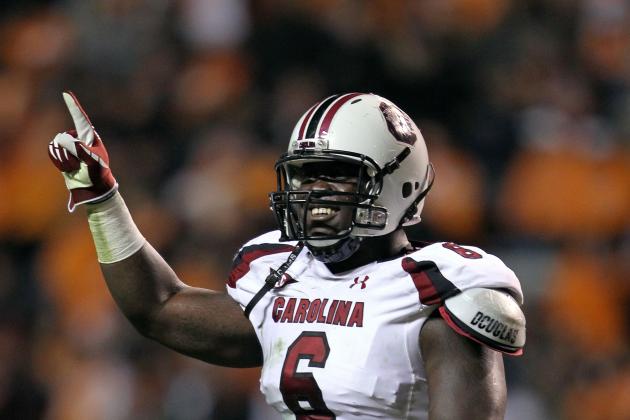 Andy Lyons/Getty Images

Selection: Melvin Ingram, Defensive End/Outside Linebacker, South Carolina
Ingram is another player who enjoyed a positive all-star game week.
He continues to rise up draft boards because of his numerous pass rushing moves. His repertoire is rather complete for such a rookie, and he could have a similar impact as Von Miller or Aldon Smith as a rookie.
If the Carolina Panthers can put together a solid draft, they could be a sleeper team in the NFC next year. Ingram is a good place to start for them.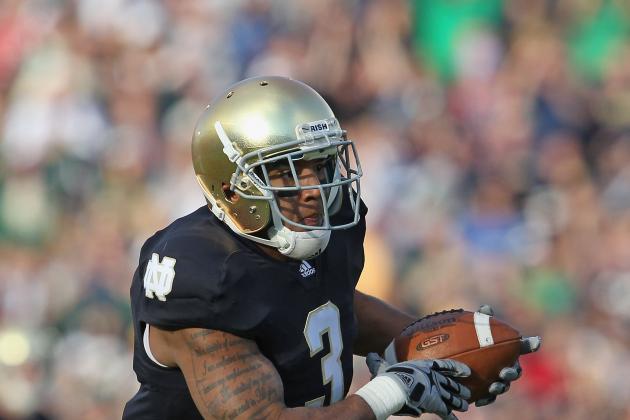 Jonathan Daniel/Getty Images

Selection: Michael Floyd, Wide Receiver, Notre Dame
For trading down with the Buffalo Bills, the Cleveland Browns get that elite receiver that Colt McCoy so desperately needs.
Floyd will combine with Greg Little to form one of the better young receiving duos in the league. There isn't a receiver that is as NFL-ready as Floyd is, and while off-field issues may scare away some teams, he'll definitely be worth the chance for Cleveland.
McCoy has been waiting for a player like Floyd to join his team, and now that he'll have him, look for McCoy to have a breakout year.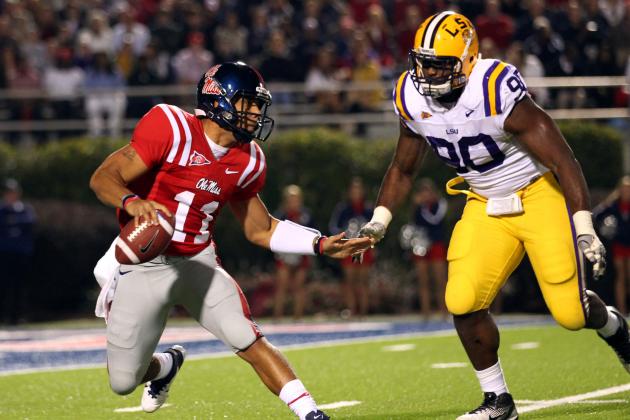 Joe Murphy/Getty Images

Selection: Michael Brockers, Defensive Tackle, LSU
I originally had Brockers as a top-10 pick, but I believe he'll drop due to concerns about his experience.
While those are legitimate concerns, one look at this kid will tell you that he could be the best defensive player in this draft when it is all said and done. Sure, it will take some time for him to fully grasp the NFL game, but once he does, the rest of the league needs to look out.
Don't be surprised if Brockers spends the majority of his rookie year on the bench, but trust me Kansas City Chiefs fans, it will be worth the wait.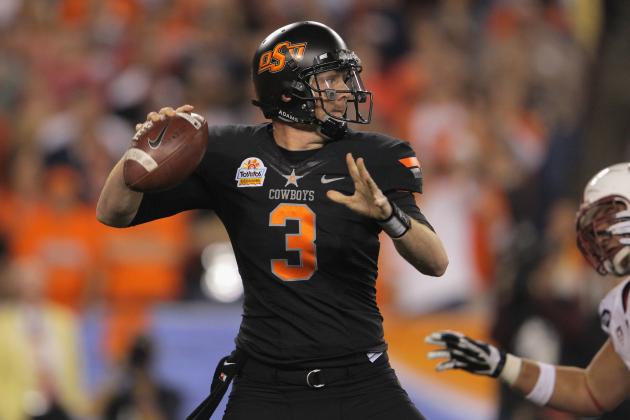 Doug Pensinger/Getty Images

Selection: Brandon Weeden, Quarterback, Oklahoma State
This pick by the Seattle Seahawks is going to anger some people, but let's look at the facts for a second.
Yes, Weeden is older than you want from a rookie quarterback. However, that is really the only knock on his game.
He's poised, accurate, can make all the throws and was extremely productive in college. For a team like Seattle who has some nice pieces already, a quarterback like Weeden could really put them into contention as a playoff team.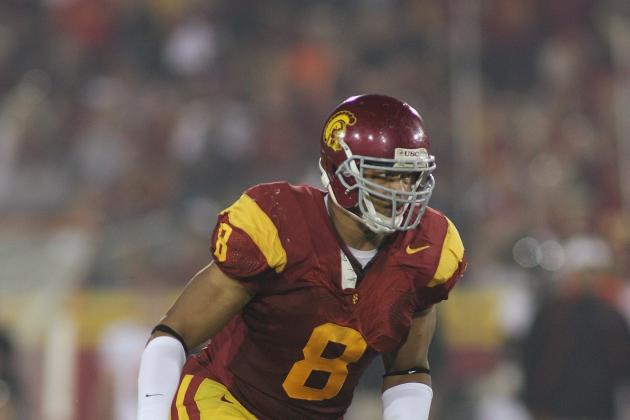 Jeff Golden/Getty Images

Selection: Nick Perry, Outside Linebacker, USC
With the health and age of Joey Porter beginning to take a toll on his performance, its absolutely time for the Arizona Cardinals to find a replacement for him.
A player like Perry would be a great fit for Arizona's 3-4 defense as his pass rushing abilities would definitely be a plus. Perry would also team with Patrick Peterson to give the Cardinals two extremely young and talented defensive players.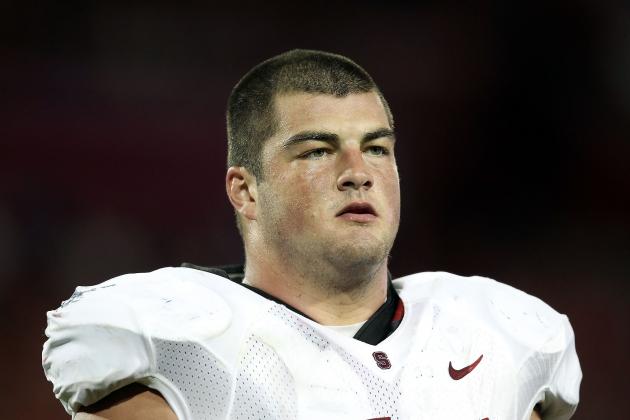 Christian Petersen/Getty Images

Selection: David DeCastro, Offensive Guard, Stanford
The Dallas Cowboys will look extremely hard at a cornerback with this pick, but there simply won't be one worth taking this high. Also, there should be plenty of quality defensive backs available in the second round for them to choose from.
Instead, the Cowboys will take the best offensive guard in the country. DeCasto is far too talented for Dallas to pass on. He'll combine with Tyron Smith to give Dallas the best young offensive lineman duo in the league.
A player with DeCastro's skill set comes along once every ten years, and Dallas would be foolish to pass on him.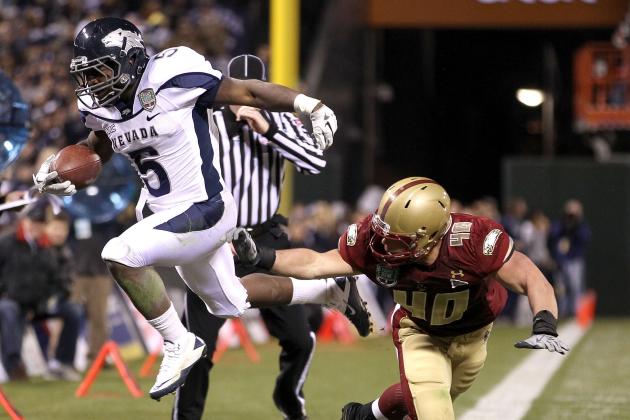 Ezra Shaw/Getty Images

Selection: Luke Kuechly, Middle Linebacker, Boston College
The one thing that Philadelphia really needs to find in this draft is some stability at the linebacker position.
As far as stability and production go, no one is better than Kuechly. He has a nose for the football and always seems to be making big plays. He'll be an instant upgrade over every other linebacker on the roster for Philadelphia.
While his ceiling isn't as high as guys like Dont'a Hightower or Vontaze Burfict, he's a much, much safer pick.
Ronald Martinez/Getty Images

Selection: Trent Richardson, Running Back, Alabama
It will be a shame that a player with Richardson's talent would fall this far in the draft, but such is the nature of the NFL these days. Running backs simply don't get drafted as high as they used to unless they are an extremely rare prospect.
While Richardson is definitely rare, I still wouldn't put him in the same class as Adrian Peterson coming out of college. With that said, he will definitely be able to produce at a high level as a rookie and will be an upgrade over Shonn Greene and LaDainian Tomlinson.
The New York Jets could actually be an ideal situation for Richardson as he will have a powerful offensive line to run behind.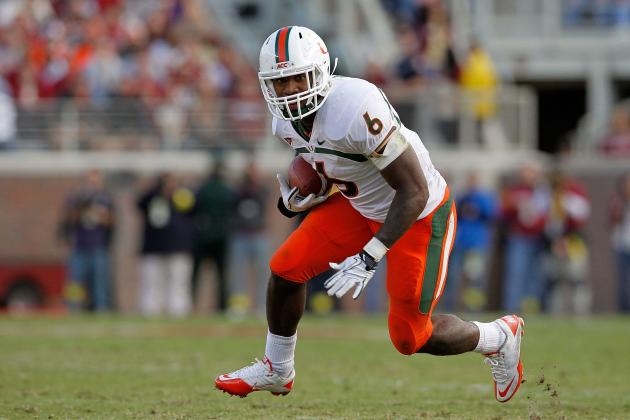 Mike Ehrmann/Getty Images

Selection: Lamar Miller, Running Back, Miami
The Cincinnati Bengals would have to be bummed that they will barely miss out on Trent Richardson, but Miller will be a nice consolation prize for them.
There isn't much to not like about Miller's game, as he can make big plays, catch the ball out of the backfield and could become an every down type of back in the NFL.
With a young offensive core of Miller, A.J. Green and Andy Dalton, the Bengals will be a force to be reckoned with for many years.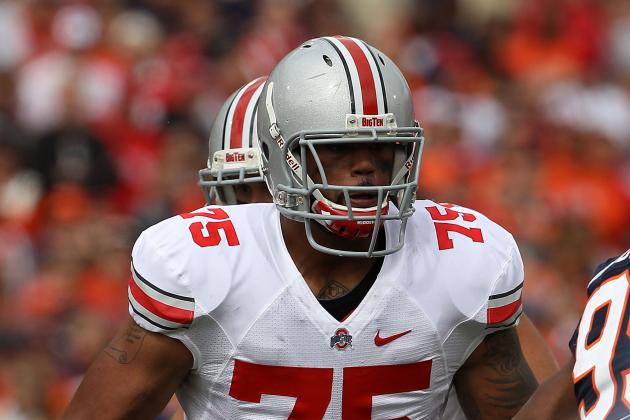 Jonathan Daniel/Getty Images

Selection: Mike Adams, Offensive Tackle, Ohio State
I actually wouldn't be surprised if Adams lands himself right outside of the top-10 on draft day because of an impressive Combine.
However, since the Combine has yet to take place, I'll keep him being drafted by the San Diego Chargers. San Diego has a need at both left and right tackle, and Adams could really fill in at either position right away.
If the Chargers lose Vincent Jackson, they will take a hard look at a guy like Kendall Wright or Alshon Jeffery.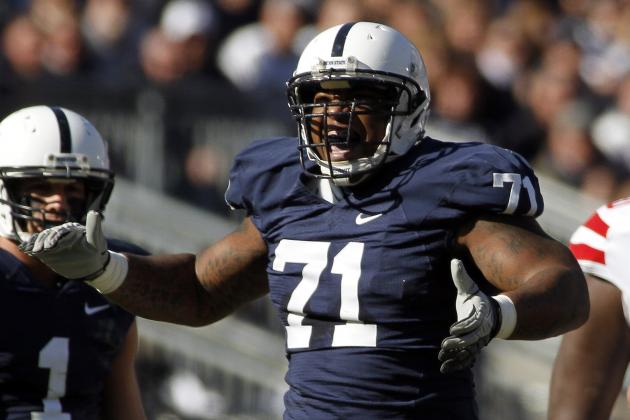 Justin K. Aller/Getty Images

Selection: Devon Still, Defensive Tackle, Penn State
The reason that the Chicago Bears had such a dominate defense for so many years was because they were able to get penetration up the middle from a guy like Tommie Harris.
Last year, their defense was good, it just wasn't Chicago good. Drafting a player like Still would be a huge boost for the Bears. He's a physically sound player who looks ready to produce from day one.
With guys like Brian Urlacher and Lance Briggs beginning to show signs of aging, a young, talented defensive player will be a key in this draft.
Mike Zarrilli/Getty Images

Selection: Dre Kirkpatrick, Cornerback, Alabama
Before being arrested, Kirkpatrick looked like he could very well get drafted in the first 10 picks.
However, teams are huge on character these days, and arrests are a major red flag for NFL teams. I mean, just look at what happened to Randy Moss because of character issues.
The Tennessee Titans could lose Cortland Finnegan to free agency, so adding a cornerback through the draft will definitely need to happen. Kirkpatrick will likely turn into a fantastic player for Tennessee, and they won't be upset at all that he fell to them with the 20th pick.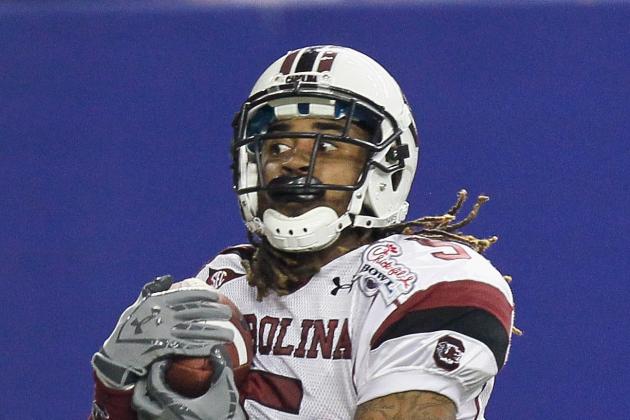 Kevin C. Cox/Getty Images

Selection: Stephon Gilmore, Cornerback, South Carolina
Losing Johnathan Joseph was a huge hit to the Cincinnati Bengals last year. Look for them to attempt to find a replacement in this year's draft.
Their first attempt will be Gilmore who has great body size and ability to make an impact from at the start of his career. There will be a learning curve for Gilmore who will need to improve his overall footwork, but once he does that, he should be a very successful player.
With Lamar Miller and Gilmore as first-round picks, the Bengals would have to be considered as a major contender in the AFC.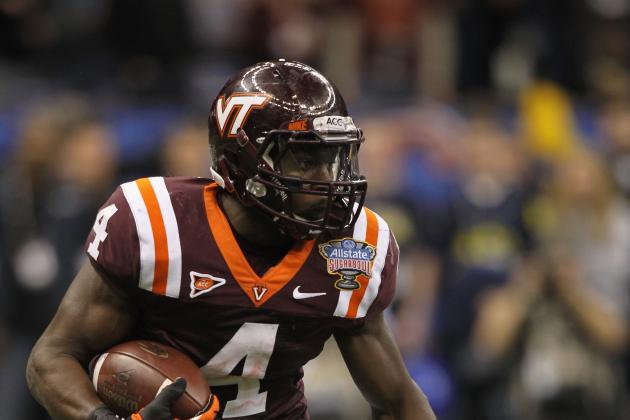 Matthew Stockman/Getty Images

Selection: David Wilson, Running Back, Virginia Tech
Thanks to trading down so the Atlanta Falcons could draft Julio Jones last year, the Cleveland Browns will have their second pick of the first round.
With that pick, they'll address their second biggest need, a talented running back. With Trent Richardson and Lamar Miller off the board, Cleveland will have to settle for Wilson.
Wilson is a tough runner who also has the ability to bounce outside and beat defenders with his speed and quickness. He has good hands as a receiver and will greatly help a poor offense in Cleveland.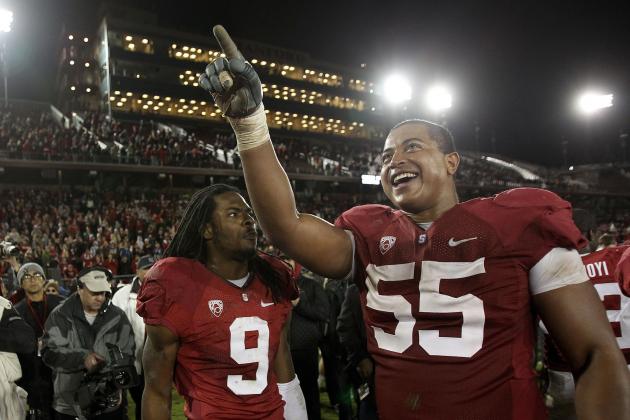 Ezra Shaw/Getty Images

Selection: Johnathan Martin, Offensive Tackle, Stanford
The Detroit Lions could go with a cornerback like Janoris Jenkins, but character is still an issue for him.
With a solid foundation of players for the Detroit Lions, they'll stay away from a player with character concerns and instead draft Martin to help protect Matthew Stafford.
With Jeff Backus looking older and older with each snap, the Lions should look for a replacement sooner than later. Martin may take a year or two to fully develop, but once he does, he should be a solid player on the offensive line for Detroit.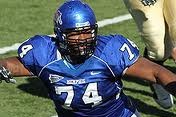 Selection: Dontari Poe, Defensive Tackle, Memphis
There isn't a more developmental pick in the first round than Poe out of Memphis.
This is an extremely raw kid, but his ceiling is extremely high. Poe has a rare set of physical skills, but just needs to learn how to properly learn them.
There wouldn't be a better place for him to learn than with the Pittsburgh Steelers. If he can commit his mind to the game of football, he could become the best overall player in this draft.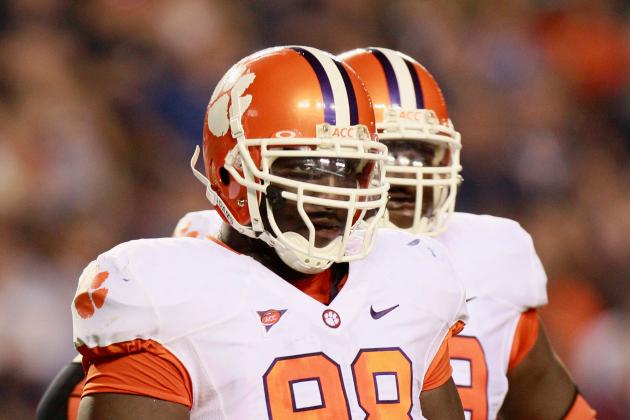 Kevin C. Cox/Getty Images

Selection: Brandon Thompson, Defensive Tackle, Clemson
Thompson is another player who is enjoying improved draft stock because of a strong Senior Bowl showing.
He may not be able to produce much as a pass rusher right away, but with Von Miller and Elvis Dumervil, the Denver Broncos don't really need another pass rusher. What they need is a guy who can stop the run, and that is one area that Thompson really excels at.
He's almost a perfect fit for Denver, and the Broncos will be thankful that they'll be able to draft him this late in the draft.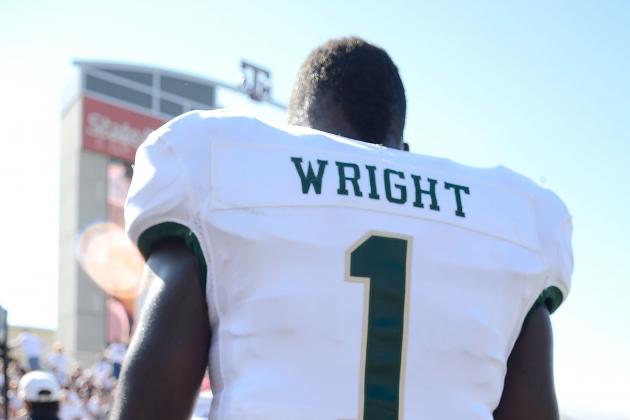 Sarah Glenn/Getty Images

Selection: Kendall Wright, Wide Receiver, Baylor
The Houston Texans boast a rather complete team, but they could still use a legit No. 2 wide receiver across from Andre Johnson.
While Alshon Jeffery was the pick for Houston in my previous mock draft, I now see Wright as a better fit. He is a guy who can impact a game in numerous ways and he would really compliment Johnson nicely.
An offense that boasts Johnson, Wright and Arian Foster almost seems unfair.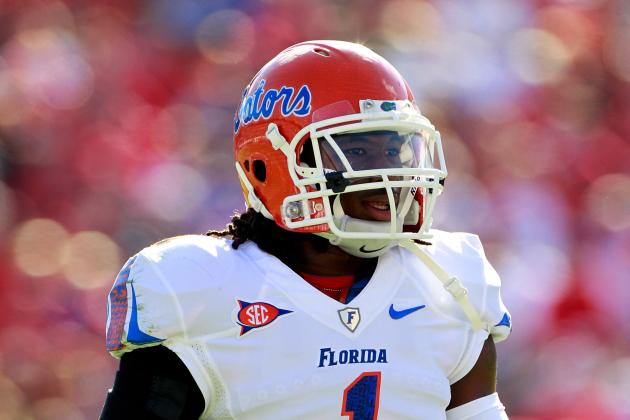 Sam Greenwood/Getty Images

Selection: Janoris Jenkins, Cornerback, North Alabama
Players with character concerns have never really been an issue for the New England Patriots, which is why they'll look to boost their defense with a player like Jenkins.
As far as overall talent, Jenkins has everything you want from a shutdown cornerback. The only real knock on him is his lack of physicality, but the Senior Bowl helped to shred some of those notions.
If the Patriots can keep Jenkins motivated, he could be the steal of the first round.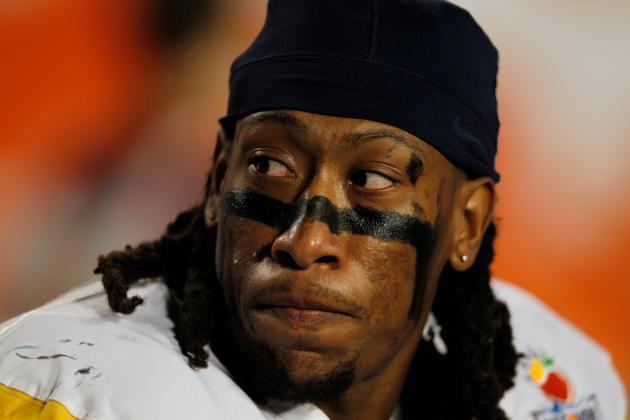 Streeter Lecka/Getty Images

Selection: Bruce Irvin, Outside Linebacker, West Virginia
The Green Bay Packers desperately need to add a player that can get after the quarterback. It doesn't matter if he can do anything else defensively, as long as he can rush the quarterback, he'll fit in perfectly in Green Bay.
Irvin has a long ways to go as a complete linebacker, but one thing he does show right now is a great burst off the line of scrimmage and the ability to put pressure on the quarterback. As long as he can pin his hears back and attack, he should be able to make an impact as a rookie.
With Clay Mathews on the opposite side, Irvin will find an ideal situation with the Packers where he could really succeed.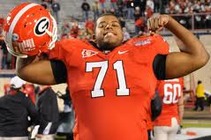 Selection: Cordy Glenn, Offensive Guard, Georgia
With the possibility of Ben Grubbs leaving via free agency, the Baltimore Ravens will look to draft a young offensive lineman as a possible replacement.
Behind David DeCastro, Glenn is the next best offensive guard prospect in the draft. He plays extremely well in tight areas and his athleticism and quick hands would be a near perfect fit for Baltimore's run-first offense.
He may not start right away, but he could become one of the better guards in the league in a few years.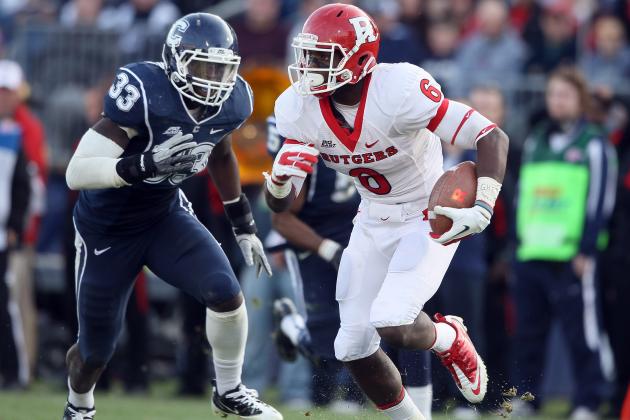 Elsa/Getty Images

Selection: Mohamed Sanu, Wide Receiver, Rutgers
The only pick that I can see the San Francisco 49ers making in the first round is an offensive pick. They improved in 2011, but they still have plenty of room to grow.
Sanu is a guy that would be a great target for Alex Smith. He may not be ready from day one to be a top target, but over the course of the year, he could very well develop into a top receiver.
Sanu has a unique talent to go up and get the ball at its highest point and he would be a great compliment player to Michael Crabtree and Vernon Davis.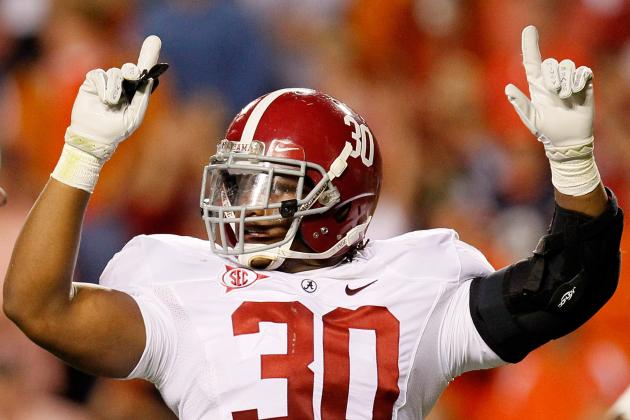 Kevin C. Cox/Getty Images

Selection: Dont'a Hightower, Middle Linebacker, Alabama
Vontaze Burfict was my initial choice for the New York Giants, but upon further review, I feel that Hightower is a better pick for this team at middle linebacker.
While Burfict's ceiling is much higher than Hightowers, Hightower looks unlikely to be a complete bust. The Giants defense is so young and talented that adding a guy who can do it all at middle linebacker would be an excellent pick.
Hightower looks like a guy who could possible roam the middle of the field for New York for a long, long time.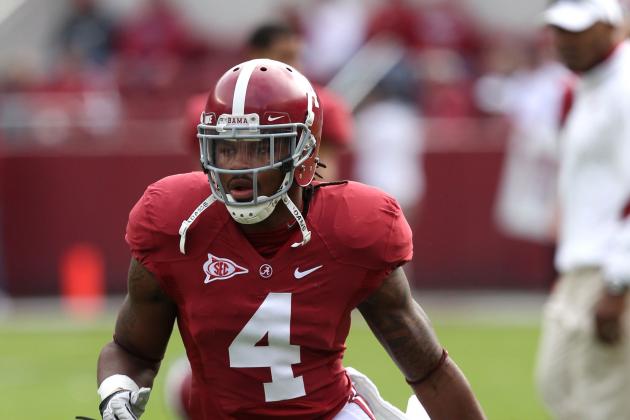 Mike Zarrilli/Getty Images

Selection: Mark Barron, Safety, Alabama
With their second pick in the first round, the New England Patriots will again address their defense.
A player like Barron has the ability to make big plays due to his instincts and ability to play at the line of scrimmage. He's easily the top safety prospect in the draft this year.
While he may never turn into a Pro Bowl player, he has all the makings of being a very good starter for years and years.