Prince Fielder and Albert Pujols: How Have They Impacted AL Contender Rankings?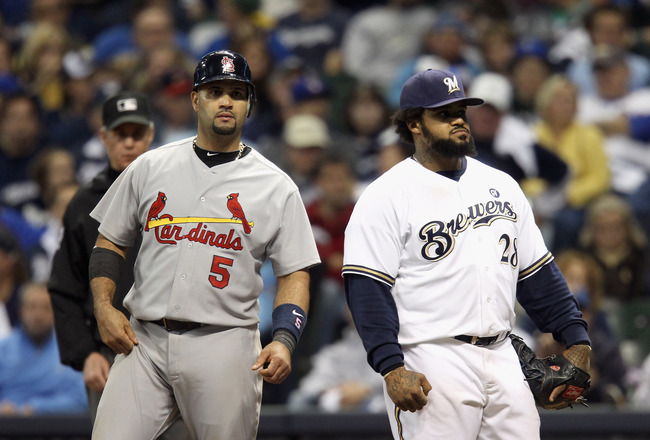 Christian Petersen/Getty Images
Prince Fielder has signed with the Detroit Tigers, returning to where his father played a majority of his career, while Albert Pujols is in Los Angeles with the Angels.
No doubt, these two are in the top three or four of all first basemen in Major League Baseball.
With both signings, however, the American League will be even tougher to win, while the National League just got a little easier.
No longer are the New York Yankees and Boston Red Sox the hands-down favorites to win the American League with their giant payrolls. There's new company at the top in the Angels and Tigers.
So, how do the top teams in the American League stack up against each other, position-by-position?
The following slideshow will do a position-by-position analysis for the top teams in the American League—the Yankees, Red Sox, Tigers, Angels and Texas Rangers.
Note: The players listed are projected starters in the field and the rotation, and guys who will start the season in the bullpen. Some of these will not be the same once the season starts.
Catcher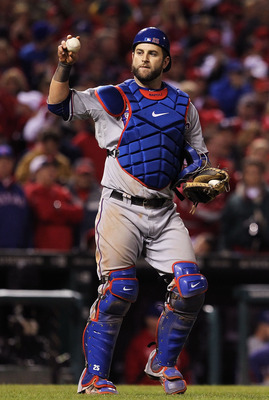 Jamie Squire/Getty Images
No name immediately jumps off the list at catcher between Jarrod Saltalamacchia (Red Sox), Russell Martin (Yankees), Mike Napoli (Rangers), Chris Iannetta (Angels) and Alex Avila (Tigers).
However, once you look deeper into the numbers, it becomes obvious who has the advantage.
Napoli hit .320 with 30 home runs and 70 RBI, doing so in only 113 games last year. Placed in the middle of the Rangers' lineup, then they are even more deadly. While playing catcher (also DH'd and played first base), he threw out 36 percent of would-be base stealers. With a 4.9 offensive wins above replacement and 0.6 defensive wins above replacement, Napoli definitely held his own behind the plate.
Avila had a great season last year as well at catcher. He hit .295 with 19 home runs and 82 RBI. He also threw out 32 percent of base stealers and only had five errors in 133 games behind the plate. His total wins above replacement was 5.4.
Saltalamacchia is still trying to find his niche in Boston. After having gone from Atlanta to Texas to Boston, he's seemed to have finally found a home. Last year, he hit .235 with 16 home runs and 56 RBI. He threw out 31 percent of base stealers last year, only committing six errors in 96 games behind the plate. However, with a 0.7 total wins above replacement, his numbers need to improve should he hope to stay in Boston.
Martin was a small surprise for the Yankees last year. He hit .237 with 18 home runs and 65 RBI. As a catcher, he threw out 30 percent of base stealers and committed 10 errors. His wins above replacement finished at 1.3, however, I think all of his numbers are due in fact to him having to share time with long-time Yankee Jorge Posada. With Posada now gone, I see Martin's numbers getting better.
Finally, Ianetta hit .238 with 14 home runs and 55 RBI last year for the Colorado Rockies. However, it's not his bat why the Angels brought him in. Last year, Ianetta threw out 30 percent of base stealers and had a 2.6 wins above replacement. Needing a good veteran to help teach Hank Conger, Ianetta will be able to show him the ropes and set the Angels up for the future. This year, Ianetta's job is going to be to manage the Angels' pitching staff and do what he can at the bottom of the order. If he can do that, then he and the Angels will have a lot of success.
Advantage: Mike Napoli by only a slim margin over Alex Avila. Both players have newly-acquired first basemen that will provide them with more opportunities at the plate. The key will be what they do behind the plate.
First Base
Patrick McDermott/Getty Images
There are four guys on this list that could be in the Hall of Fame discussion once they retire. Looking for an advantage between Mark Teixeira (Yankees), Adrian Gonzalez (Red Sox), Albert Pujols (Angels) and Prince Fielder (Tigers) could be tough.
The Rangers' Mitch Moreland is the fifth first baseman on this list, but still has a long way to go to reach the company of the other four. Last year, Moreland hit .259 with 16 home runs and 51 RBI. The one problem Moreland faces is that he's never sure where he's going to play (outfield, first base or DH). So, he's not able to make as much of a difference as the other guys on a consistent basis. That's why it's no surprise that he had a minus-0.2 wins above replacement last year.
For Teixeira, he's been a top-flight hitter since he came into the league. Except for his first year in the league, Teixeira has hit 30-plus home runs and 100-plus RBI every season. Last year, his wins above replacement was a low 2.4, although he's above a 4.0 most other years. And, with a .997 fielding percentage, Teixeira knows how to get it done at first.
Gonzalez had success in his first season in Boston last year. He hit .338 with 27 home runs and 117 RBI, also leading the league in hits with 213. He also had a .997 fielding percentage, and had a 6.9 wins above replacement.
Fielder was just signed by the Tigers, returning to where his father once played. Last year, Fielder hit .299 with 38 home runs and 120 RBI. His defense is a little questionable with a .990 fielding percentage, but still had a 5.2 wins above replacement. However, his defense will have to improve for him to have that same kind of number in Detroit.
The newly signed Pujols is perhaps the best player in the game. Last year, he hit .299 with 37 home runs and 99 RBI. He had a .992 fielding percentage and had a 5.4 wins above replacement.
Advantage: Prince Fielder—with Miguel Cabrera before or after Fielder in the lineup, he'll likely see better pitches than Pujols. However, if Pujols ends up with better numbers, it won't be too much of a surprise. It's like choosing between winning a $100 million lottery or $101 million lottery.
Second Base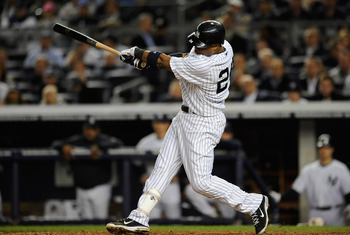 Patrick McDermott/Getty Images
The list of second basemen is a pretty good one, well, with the exception of one team.
Robinson Cano (Yankees) and Dustin Pedroia (Red Sox) are definitely at the top of the list, while Ian Kinsler (Rangers) and Howie Kendrick (Angels) are not that far behind.
For the Tigers, there's still a question mark in Ramon Santiago, as he hit .260 with five home runs and 30 RBI. I'm sure the Tigers are still in the market for a second baseman and could still make a move. Keep in mind, they have Ryan Raburn as well, so they could go that route.
Kendrick hit .285 with 18 home runs and 63 RBI. His position either in the No. 2 spot or No. 7 spot will benefit the Angels. At second base, he had a .992 fielding percentage last year and had a 4.3 wins above replacement.
Kinsler is a good player in his own right, hitting .255 last year with 32 home runs and 77 RBI. His .984 fielding percentage left a lot to be desired, but still had a 5.4 wins above replacement mark.
Pedroia was the MVP in 2008 and has consistently put up good numbers for the Red Sox. Last year, he had a .307 average with 21 home runs and 91 RBI. In the field, he won a Gold Glove with a .990 fielding percentage and had a 6.8 wins above replacement mark, good enough for fifth in the American League.
Cano has really come on strong the last three years. Last year, he hit .302 with 28 home runs and 118 RBI. In the field, he had a .987 fielding percentage with a 4.6 wins above replacement mark. Set in the middle of the Yankees' order, Cano will get more and more opportunities to produce for the Bronx Bombers.
Advantage: Robinson Cano—he's just hitting on all cylinders and was one of the driving forces for the Yankees last year. Although Pedroia meant a little more to his team, Cano will continue to get more RBI opportunities due to being in the heart of the Yankees' order.
Shortstop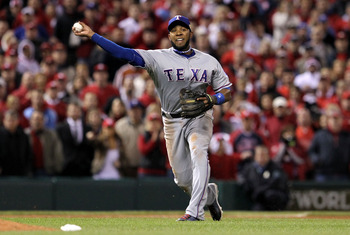 Jamie Squire/Getty Images
The shortstop position has a mix of veterans and guys who are still learning their way around the game.
Leading the charge is future Hall of Famer Derek Jeter (Yankees), followed by Elvis Andrus (Rangers), Mike Aviles (Red Sox), Erick Aybar (Angels) and Jhonny Peralta (Tigers).
Jeter was still productive in his 17th season last year. He hit .297 with six home runs and 61 RBI. In the field he had a .972 fielding percentage and had an overall mark of 0.7 in wins above replacement, mainly because his defensive wins above replacement was minus-1.3.
Andrus is one of the young ones on the Rangers' roster. Last year, he hit .279 with five home runs and 60 RBI. However, where he made the biggest difference was on the basepaths as he stole 37 bases. His fielding leaves a lot to be desired as he committed 25 errors, but he did have a 3.5 mark in wins above replacement.
Aviles was traded to the Red Sox from the Kansas City Royals last year at the trading deadline. Overall, he hit .255 with seven home runs and 39 RBI. His wins above replacement was at zero last year, which doesn't bode well for the Red Sox. I wouldn't be surprised if Aviles doesn't stay as the starter throughout the season.
Aybar hit .279 with 10 home runs and 59 RBI. In the field he committed 13 errors, which ranks in about the middle of the league. His wins above replacement mark was at 4.7, which isn't bad considering his mediocre offensive numbers.
Peralta showed he liked Detroit more than Cleveland last year, hitting .299 with 21 home runs and 86 RBI. Add in the fact that he only committed seven errors in the field, giving the Tigers a very good shortstop. With a 4.4 wins above replacement mark, Peralta is starting to show that he'll be in the Tigers' lineup for years to come.
Advantage: Jhonny Peralta—with the addition of Prince Fielder, Peralta is in a much better position. Jeter is aging and Andrus has to work on his defense, so Peralta gains the advantage here.
Third Base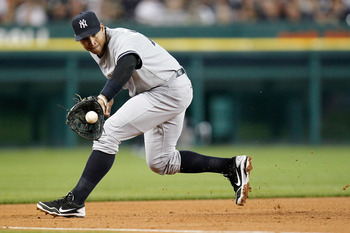 Gregory Shamus/Getty Images
Ah, third base. One of the strongest positions between the five teams.
When looking at the players at third, you wonder who's going to get shut out of the All-Star Game. Between Alex Rodriguez (Yankees), Kevin Youklis (Red Sox), Adrian Beltre (Rangers), Miguel Cabrera (Tigers) and Alberto Callaspo (Angels), there's a lot of good players at the hot corner.
Callaspo is probably the one player who doesn't really belong on this list. Last year, he hit .288 with six home runs and 46 RBI. On defense, he committed 15 errors and had 4.5 wins above replacement mark. He's not going to be asked to do much, with Albert Pujols in town. All he needs to do is ensure he improves his defense.
Rodriguez is clean—now. After admitting to using performance-enhancing drugs a few years ago, Rodriguez has still been one of the best third basemen in the league. Last year, he hit .276 with 16 home runs and 62 RBI in 99 games. He only committed six errors at third, and had a 2.7 wins above replacement mark.
Youklis hit .258 with 17 home runs and 80 RBI. He committed nine errors at the hot corner. His wins above replacement mark was 4.3. With Adrian Gonzalez coming to town last year, Youklis moved exclusively to third base, at least giving him more RBI opportunities.
Beltre actually had a good year last year, after getting a huge contract, which is the first time in his career he was good at the plate in a non-walk year. He hit .296 with 32 home runs and 105 RBI. He committed 11 errors at third base and had a 5.2 wins above replacement mark. He showed good signs last year in a non-walk year and I see no reason why he won't do the same again this year.
Cabrera moved to third base with the acquisition of Prince Fielder. Last year, he hit a league-leading .344 with 30 home runs and 105 RBI. Those home run and RBI numbers will likely be higher with Fielder in the lineup. His wins above replacement mark was at 7.1, good enough for fourth in the American League.
Advantage: Miguel Cabrera—really no question here as Cabrera is the best of this group. His trouble will be changing to third base, where he played for some time with the Florida (now Miami) Marlins.
Left Field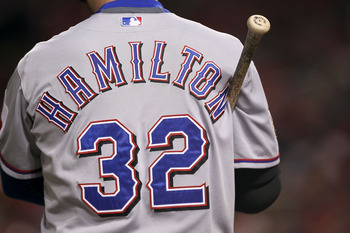 Ezra Shaw/Getty Images
Speed, power, defense. The left field position has all of these in Brett Gardner (Yankees), Carl Crawford (Red Sox), Josh Hamilton (Rangers), Vernon Wells (Angels) and Delmon Young (Tigers).
Gardner is the fastest one of the bunch. Enjoying his time as the Yankees' leadoff hitter, Gardner stole 49 bases last year. The one area he needs to work on to be more effective at the top of the order is his average (.259) and on-base percentage (.345). On defense, he had five errors in 345 chances. His wins above replacement mark was at 4.4.
Crawford was the prized free-agent acquisition last season for Beantown. Last year, he hit .255 with 11 home runs, 56 RBI, only garnering 129 hits and 18 steals. That's a far cry from the 369 hits and 107 stolen bases he had the last two years. On defense, he only committed three errors in 239 chances. His wins above replacement was zero—not exactly what the Red Sox were hoping for.
Hamilton has turned his life around in Texas. Last year, he hit .298 with 25 home runs and 94 RBI. His wins above replacement was 3.6. Being in the middle of the order, the Texas offense goes through Hamilton. As he goes, the Rangers will also go.
Wells is aging and it showed when he hit .218 last year with 25 home runs and 66 RBI. His major problem is getting on base and that hurt both him and the Angels. Hopefully, with Albert Pujols now on the team, Wells can make the necessary improvements. His wins above replacement was minus-0.3, which means he was better to be out of the starting lineup.
Finally, Young seems to have a fresh start in Detroit. After being traded to the Tigers last year, he hit double the home runs (8) in 40 games, than he hit in 84 games with Minnesota. His wins above replacement was at zero, but that will change this year with a full season in Detroit.
Advantage: Josh Hamilton—being in his free-agent year, Hamilton knows he has to have an outstanding season to get the big bucks he wants. Although no help has come in on the offensive side like it has in Los Angeles and Detroit, Hamilton still will make a big difference for the Rangers.
Center Field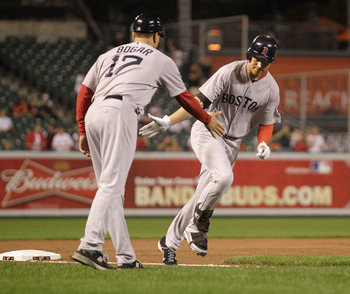 Rob Carr/Getty Images
Speed is the key in center field. And, for the five teams, the speed doesn't get much better than Curtis Granderson (Yankees), Jacoby Ellsbury (Red Sox), Peter Bourjos (Angels), Austin Jackson (Tigers) and either Craig Gentry or Julio Borbon for the Rangers.
Granderson showed a lot of power last year as well. He hit .262 with 41 home runs and 119 RBI. He also led the league in runs scored with 136. On defense, he was superb, only committing three errors. His wins above replacement mark was at 5.2.
Ellsbury also showed some power last year, hitting .321 with 32 home runs and 105 RBI. Ironically, he came into last year with only 20 career home runs. On defense, he was equally as good, committing no errors in 394 chances. His wins above replacement was second in the league at 7.2.
Bourjos is expected to be the Angels' center fielder for many years to come. With that said, he still has a few years to go before he reaches the levels of Granderson and Ellsbury as he only hit .271 last year, although he did knock 11 triples. His defense is solid, only committing four errors last year, while his wins above replacement mark was at 5.0.
Jackson is a product of the Yankees, but came to Detroit for Granderson. His biggest flaw is his strikeout numbers. To be a good leadoff hitter in the league, Jackson can't be striking out 181 times in a season. His 22 stolen bases are nice, but he's got a lot more to prove in this league.
Finally, whether it's Gentry or Borbon, neither will hit much for average, but will get a few stolen bases. This could be the one weakness in the Rangers' lineup and if they hope to overcome the Angels or Tigers this year, some improvement is needed in that area.
Advantage: Jacoby Ellsbury—power, speed and defense. What more do you want in your center fielder?
Right Field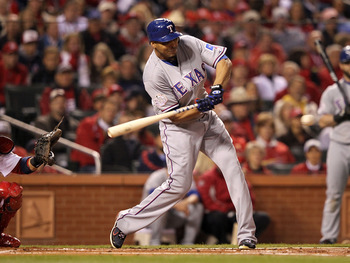 Jamie Squire/Getty Images
There are some question marks and some sure things in right field in Nick Swisher (Yankees), Nelson Cruz (Rangers), Torii Hunter (Angels), Brennan Boesch (Tigers) and Ryan Sweeney (Red Sox).
Swisher has been a consistent hitter his entire career, well at least in the home run and RBI department. Last year, he hit .260 with 23 home runs and 85 RBI. He only committed one error last year and had a 3.4 wins above replacement mark.
Cruz is the darling of the group, batting .263 with 29 home runs and 87 RBI. In the field, he committed six errors and had a 1.4 wins above replacement mark. He'll sit behind Josh Hamilton in the order and should continue to get opportunities to produce at the plate.
Hunter is 35 years old, which is 50 in center field years. Last year, he hit .262 with 23 home runs and 82 RBI. He committed three errors in the field last year and had a wins above replacement mark at 2.2. This year may be one of Hunter's last and he'll have to prove that he needs to stay, or else the Angels might ship him elsewhere in an effort to win now.
Boesch should get more playing time this year, helping him to improve on his 16-home run, 54-RBI effort from last year. His wins above replacement mark was at 1.4, but should again be better this year with more playing time.
Sweeney is a new addition to the Red Sox and will compete with Darnell McDonald for the starting spot in spring training. Either way, this is not a very strong position for the Red Sox, but it's one they need to see how it pans out, instead of trying to buy a top-flight right fielder.
Advantage: Nelson Cruz—but, this advantage is due to there not being much competition for the top spot at this position.
Designated Hitter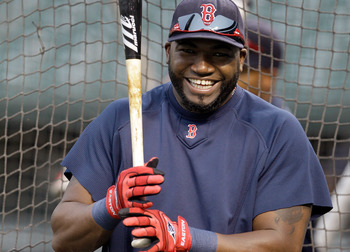 Rob Carr/Getty Images
You gotta love the American League. You don't have to watch pitchers wave at three pitches and put their teams down one out.
There's a lot of strong designated hitters in this group, including Andruw Jones (Yankees), David Ortiz (Red Sox), Michael Young (Rangers), either Kendry Morales or Mark Trumbo (Angels) and either Clete Thomas or Brandon Inge—well, maybe not the latter.
The combo of Inge and Thomas is there because of the signing of Prince Fielder. It's really up in the air who will be there since Tigers' manager still isn't sure who will be there, either.
Jones had 13 home runs and 33 RBI, and has a lot of improvement to do in getting on base. Whether it's his age or weight, Jones looks like he's come to the end of his career. Will it end this year or does he have a couple more in him?
Big Papi is one of the most lovable players in all of baseball. Last year, he hit .309 with 29 home runs and 96 RBI. Right in the middle of the Red Sox order, Ortiz will be on the top or very close to the top of his game the rest of his career.
Young moved to the designated hitter role last year with the addition of Adrian Beltre. Last year, he .338 with 11 home runs and 106 RBI. One thing Young provides the Rangers is his versatility, playing every position on the infield for the Rangers, as well as playing the DH-role. This year should be no different for him with 2.4 wins above replacement.
Then there's Morales and Trumbo. Pick your poison. There's going to be a great player on the bench every night for the Angels. Morales was out last year with an injury, while Trumbo had 29 home runs and 87 RBI. The Angels can't really go wrong with whoever they put in the order. Maybe they can teach one of them to play the outfield.
Advantage: David Ortiz—playing in a smaller park, Ortiz is always going to have an advantage and will have it in this group.
Starting Pitching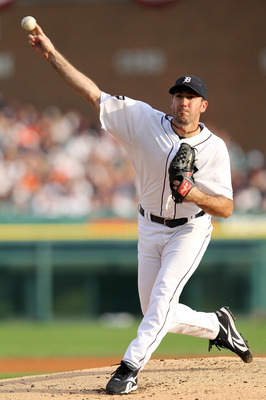 Leon Halip/Getty Images
The starting rotation is a hard one to gauge. At the top of each rotation is Jon Lester (Red Sox), CC Sabathia (Yankees), Yu Darvish (Rangers), Jered Weaver (Angels) and Justin Verlander (Tigers).
Verlander is the reigning American League Cy Young and MVP, winning 24 games and striking out 250. Weaver finished second in the Cy Young voting with 18 wins and 198 strikeouts. Sabathia is one of the few big-name free-agent pitchers that has succeeded in New York. Last year, he had 19 wins and 238 strikeouts.
Lester had a decent year with 15 wins and 182 strikeouts, but could've had more before the Red Sox epic collapse last year. Darvish is a bit of a wild card coming over from Japan. While many think he is a legitimate ace, I still will have to see it for myself. My prediction is that he will be a No. 2 starter at best.
The Tigers have the least impressive of the rest of the lineups with Doug Fister, Max Scherzer, Rick Porcello and Jacob Turner rounding out the rotation. The first three won a total of 37 games for the Tigers last year, with the rookie Turner being the wild card. Being thought of as a big-time prospect, many fans wonder if Turner can have a better showing the Porcello did in his rookie season.
The rest of the Red Sox rotation has strong arms in Josh Beckett and Clay Buchholz, with question marks in Daniel Bard and Alfredo Aceves. Aceves moves in from the bullpen where he acquired 10 wins a year ago, while Bard is doing the same, but had an abysmal 2-9 record. The key for the rotation is going to be Buccholz, who needs to show he can go further into the season.
The Yankees made a key move this offseason, acquiring Michael Pineda from the Seattle Mariners, to go along with Ivan Nova, Freddy Garcia and A.J. Burnett. Yes, A.J. Burnett is listed last. He'll be the No. 5 starter in New York. Nova stormed onto the scene last year with a 16-4 record, while Garcia was consistent in the No. 4 spot. One player not mentioned, Phil Hughes, will try to insert his name into the mix, likely going after Burnett's spot. If that happens, that becomes another starter who signed for big bucks and didn't make it in New York.
The Rangers have a few sure things in their rotation after Darvish in Colby Lewis and Neftali Feliz. After that, you have three players competing for two spots in Matt Harrison, Derek Holland and Alexi Ogando. Based on last year's numbers, I have to give the nod to Holland and Ogando. But that's the good thing about spring training—all the players will get an opportunity to compete for a spot.
The Angels improved their rotation as well this offseason with the signing of C.J. Wilson. Couple that with Dan Haren, Ervin Santana and Jerome Williams. That's four pitchers total that have the ability to get close to 200 strikeouts. Williams will come into the No. 5 spot with a lot to prove.
Advantage: Los Angeles Angels—there's just too much power in that rotation. Williams is the only question mark and he's in the No. 5 spot. Every other team has more than one question mark at certain spots, with the Rangers having the biggest question mark in Darvish.
Bullpen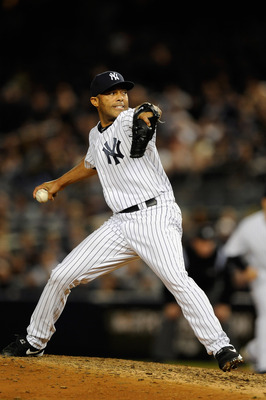 Patrick McDermott/Getty Images
As far as the bullpen, it always starts with the closer.
And, the New York Yankees have the best ever in Mariano Rivera. Jose Valverde (Tigers), Jordan Walden (Angels), Andrew Bailey (Red Sox) and Joe Nathan (Rangers).
Rivera is never a question mark, and Valverde and Walden showed what they were made of last year. Nathan and Bailey have injury issues to overcome, so it will be interesting to see what they do this year with new teams.
The Red Sox bullpen doesn't look great name-wise with Mark Melancon, Matt Albers, Franklin Morales, Michael Bowden and Andrew Miller tabbed to be out there. But, then again, you never know until you get in the season, and you never know if there is a signing or trade before the season starts that changes the entire outlook of the bullpen.
The Yankees' bullpen is one of my favorites in the league with David Robertson, Rafael Soriano, Boone Logan, Cory Wade and Pedro Feliciano. The main thing that will have to be figured out this year (or even next year) is who will succeed Rivera. Will it be Robertson or Soriano? Or, somebody else?
In the bullpen for the Tigers is Joaquin Benoit, Octavio Dotel, Phil Coke, Daniel Schlereth and David Pauley. Benoit was a free-agent signing for the Tigers a year ago and Coke has been effective in his relief appearances. I'm not totally sold on Dotel as he's not done too much in his big-league career.
While the Angels don't have great relief pitchers, they have serviceable relief pitchers in LaTroy Hawkins, Scott Downs, Hisanori Takahashi, Rich Thompson and Bobby Cassevah. Downs is my favorite of the bunch with a 1.34 ERA last year.
The Rangers have a strong bullpen beginning with Mike Adams and Kohi Uehara. Scott Feldman and Mark Lowe are also serviceable in the pen. Adams and Uehara are on par with two parts of the Atlanta Braves' big three in the bullpen, giving the Rangers one of the strongest bullpens in the league.
Advantage: New York Yankees—they're the best group of relievers in the league. Many will argue with this, but Robertson showed what he was made of last year, and we all know what Soriano is capable of.
Final Conclusions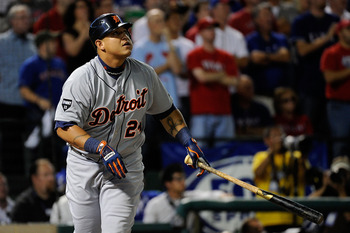 Kevork Djansezian/Getty Images
Based on the numbers, I've come to the conclusion that the Rangers and Yankees are very balanced in pitching and hitting, while the Tigers have the offensive advantage, and the Red Sox and Angels have a pitching advantage.
The Rangers manage to win win they have to, only coming up short in the World Series. Will Yu Darvish be the answer to their shortcomings in the Fall Classic? Do they need more offense?
The Yankees are very balanced, but are going to look to Michael Pineda to do what A.J. Burnett can't do—win games. If Pineda can be a good No. 3 starter, then the Yankees could take another world title.
The Red Sox are simply in the conversation because you never know what they will do. However, losing Jonathan Papelbon really hurt the bullpen and the collapse of last year is still going to be fresh on the minds of many.
The Angels have some offensive questions outside of their logjam of players at first base. The bullpen has a few question marks as well, with the starting rotation being very strong. However, even with a strong rotation, the hitting still has to happen, as we saw last year with the failures of the Philadelphia Phillies.
One thing is for sure, the Tigers were able to make it to the American League Championship series last year with some minor weaknesses at the plate. If Prince Fielder was on the roster last year, then I believe the Tigers go to the World Series.
Plus, let's not forget that Victor Martinez is out for most of the season. But, what if he comes back in time for the postseason? The Tigers offense all of a sudden becomes one of the best put on the field in years.
With that said, I believe the Tigers will win the American League and represent the league in the World Series.
Keep Reading