MMA Moves That Shouldn't Have Worked but Did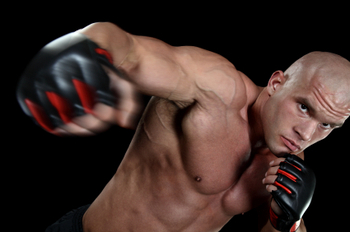 The beauty of mixed martial arts is that the unexpected can happen at any moment. One second, you're dancing around the octagon, dominating your opponent with an arsenal of attacks, and just when you think everything is going your way—when you truly believe that you've somehow obtained faster-than-human reflexes—you're staring up at the ceiling.
What happened? Well, mixed martial arts did. In this sport, it only takes a momentary slip of concentration to taste bitter defeat; sometimes, you can't even comprehend that you were knocked out cold, Jet Li style by a move that shouldn't have worked but did.
Here are six standout moments in MMA when moves traditionally reserved for Hollywood actually worked against professional mixed martial arts fighters.
The Jab Heard Round the World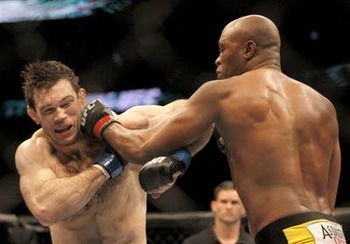 UFC 101 was home to one of the most spectacular and effortless knockouts ever produced by the UFC. Anderson Silva moved up in weight to challenge Forrest Griffin in a light heavyweight bout that would prove disastrous for the former Ultimate Fighter winner. Silva displayed quick reflexes, bobbing and weaving through Griffin's attacks.
What followed could only be described as a jab performed while moving backwards that sent Griffin to the canvas, producing a highlight-reel knockout that has solidified the dominance of the spider.
Spinning-Wheel Kick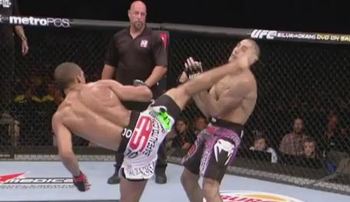 The UFC's return to Rio de Janeiro hosted a title fight between featherweight champion Jose Aldo and Chad Mendes, but it was the Edson Barboza and Terry Etim fight that displayed one of the most unorthodox and unexpected knockouts in mixed martial arts. An exciting three rounds culminated in a spinning-wheel kick by Barboza that earned him Knockout of the Night honors and dropped Terry Etim Apollo-Creed style.
The "Showtime" Kick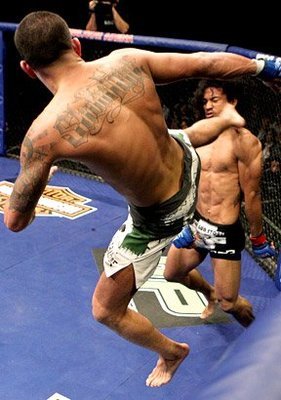 Before the WEC was absorbed by the UFC, a final event was held featuring Anthony "Showtime" Pettis and WEC lightweight champion Ben Henderson. This fight made a clear statement that these two fighters would be legitimate threats to the current UFC lightweight contenders.
After five rounds of back-and-forth action, Pettis pushed off the octagon fence with his right foot, made a shearing motion with his left leg and proceeded to knock Henderson down with a powerful right leg strike. The "Showtime Kick" was born.
Front-Kick Knockout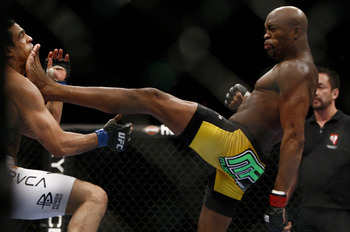 It's no surprise that Anderson Silva earns another spot on this list with his highlight-reel knockout of Vitor Belfort. A front kick to the chin sealed the spider's victory, adding to his already impressive list of octagon victims.
The Crane Kick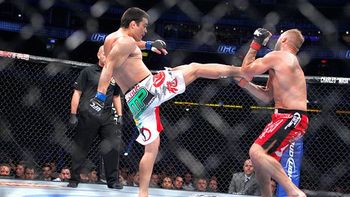 In Randy Couture's last bout in the UFC, he faced a dangerous karate striker in Lyoto Machida. When Machida pulled off a jumping crane-kick knockout, it was reminiscent of the final scene of the classic movie, The Karate Kid.
"If done right, no can defense."
The Cartwheel...kick?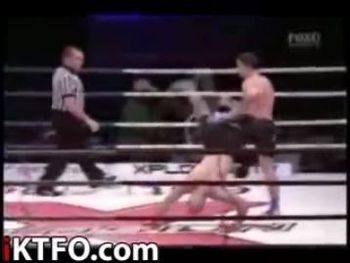 The best way to describe this kick is a blend of Capoeira and that cartwheel you tried to perform in second grade but failed at miserably.
Brian Ebersole, however, pulled off this kick in such spectacular fashion in a 2009 bout at XFC: Return of the Hulk, that it knocked his opponent, Shannon Forrester, out cold. Call it luck, because when Ebersole attempted this move against Chris Lytle in the UFC, it didn't have the same effect.
Then again, how many times can you expect a cartwheel kick to work against a professional fighter? Most likely just one time.
Keep Reading