Flip Saunders Fired: Wizards' Problems Go Deeper Than Just the Head Coach
January 25, 2012

Rob Carr/Getty Images
Flip Saunders has been shown the door in Washington, but that will not be the end of the Washington Wizards' problems.
The Wizards do not have the proper player personnel to succeed in the NBA.
With one of the NBA's youngest rosters, the Wizards showed their lack of maturity in deciding to not listen to Saunders anymore.
Washington's NBA-worst 2-15 record can't fully be blamed on coaching. The players are the ones who execute the game plans, and the Wizards have shown they are an incredibly undisciplined team.
As a whole, the Wizards manage only 88.65 points a game (fourth-worst in the NBA). Washington doesn't get any better with its shooting, as the Wizards nail 41.4 percent of their shots for second-worst.
Defensively, the Wizards allow 99.69 points a night (26th) while opponents make 46.3 percent of their shots (tied for 27th).
Point guard John Wall still isn't hitting his shots (37.9 percent) while having an abysmal 1.81/1 assist-to-turnover ratio. Wall is not adjusting to the NBA game, electing to drive to the basket without setting up his teammates or himself for a proper shot.
As a rookie, Wall only made 40.9 percent of his shots, which isn't good.
Shooting guard Nick Young had a breakout year in 2010-11 and was one of the most sought-after restricted free agents. He scored over 17 points a game last year on 44 percent shooting. 
Jonathan Daniel/Getty Images
This year, Young is hitting 40 percent of his shots. With his 6'7" frame, Young would be good at driving the ball inside to score if his shots aren't falling.
While center JaVale McGee is a great shot blocker (2.9 rejections a game), he still makes fundamental mistakes that are maddening.
Power forward Andrey Blatche has also regressed this year, shooting 38.9 percent from the field and adding 10.9 points a game.
Veterans like Rashard Lewis underperformed on the hardwood while neglecting to show any sort of leadership in the locker room.
The Wizards' players are showing no ownership at all. Shooting 41.4 percent as a team shows they are not willing to make the extra pass (29th with 16.7 assists a game) and are content settling for bad attempts. A paltry 72.5 percent at the free-throw line demonstrates a lack of concentration.
An undisciplined group who is not willing to play as a team will never get anywhere no matter who is the coach. Some of these players might have to be moved soon.
Wall is showing he isn't an effective point guard with over four turnovers a game. Moving him to shooting guard wouldn't make any sense either because of his poor shooting.
Young was signed for a one-year deal and takes too many bad shots.
With Wall and Young, the Wizards should trade one or both of them so they could get more team-oriented players.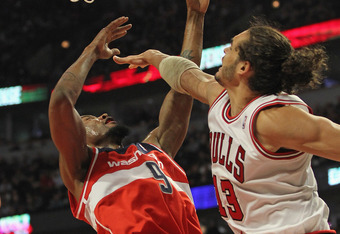 Jonathan Daniel/Getty Images
Lewis is a bad contract that should be amnestied so the Wizards could sign a reliable small forward.
As for the rest of the roster, the bench is a disaster.
Some of the blame should go to general manager/president Ernie Grunfeld, who drafted Washington's current starters and didn't elect using the amnesty clause on the ineffective Lewis.
The Wizards' problems will not end with ousting Saunders. Non-disciplined and unfit players who were drafted or brought in by Grunfeld have not panned out.
As long as Grunfeld is running the show, the Wizards will not be a contender.
Bob Bajek is an NBA Featured Columnist. He is also a freelance reporter and can be followed at Patch.com and Twitter.