Kevin Love's New Deal Puts Pressure on the Timberwolves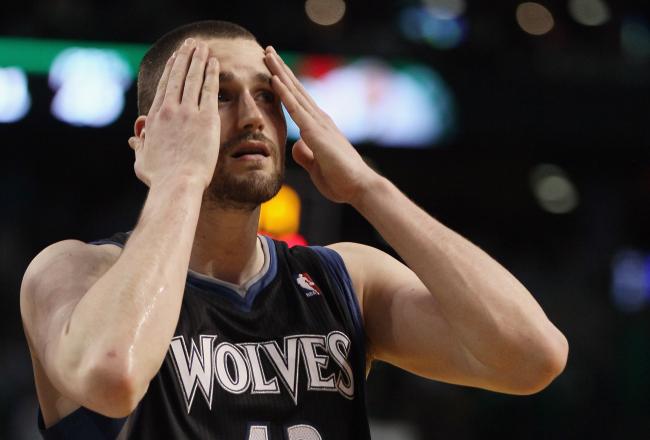 Elsa/Getty Images
So, the Timberwolves did the right thing—sort of. By coming to terms with All-Star power forward Kevin Love, Minnesota got rid of a major distraction and locked in one of their two key players (the other, of course, is international love bug Ricky Rubio). The Timberwolves are rebuilding. The definition of rebuilding? Setting into place a structure that's stable.
Owner Glen Taylor craves flexibility. As much as anything, this means the ability to work within the limited financial parameters that small-market teams like the Wolves pushed for in the CBA negotiations. The irony, of course, is that a team like Minnesota needs cornerstones like Love in order to have any shot at long-term relevance. Quixotic General Manager David Kahn can tinker all he wants, but he needs a foundation.
The deal Love has agreed to, though, turns the tables and Taylor's unwillingness to commit, if nothing else to the idea that teams need to make long-term investments. Love wanted the $80 million over five years that Thunder guard Russell Westbrook got last week. The team offered $62 million for four years. The agreement? $60 million over four years, with a player option for the last season.
In other words, Love has signed the first non-max mini-max. He can now actively start assessing where the team is headed and whether or not Kahn is doing what it takes to follow through on this season's early promise. It's the same approach that LeBron James took with the Cavaliers, most prominently.
Suddenly, in the summer of 2015, Love could hit the market with no strings attached. It's a lot less painful than negotiating restricted free agency and possibly playing for a qualifying offer. And it's still a lot of money.
Taylor wanted to exert the power of the front office. Instead, the script was flipped on him. He didn't want to throw too much money at Love because he didn't know what the future might bring—and certainly, part of that was wanting to make sure the Timberwolves could afford Rubio down the line. Except this attempt to plan ahead, or maybe just secure the leeway to get more middling swingmen, neglected the obvious: Without Kevin Love, there is no future.
Kevin Love would have given this team stability. It would have made it easier to go ahead and start thinking about a Love-Rubio tandem for the ages. Certainly, this deal calms things for now. But it also just pushes the issue down the road a few years so that both Love and Rubio will be weighing their options around the same time. Both will be looking at Kahn and wondering if he's getting the job done. By refusing to knuckle under and just pay his best player, Taylor has put the front office on the hot seat.
And let's not underestimate the degree to which Rubio himself is very much a wait-and-see proposition. This first month has been a blast, sure, but Ricky Rubio isn't perfect. Rick Adelman is a vast improvement over Kurt Rambis; Derrick Williams will amount to something, that's for sure. Love, though, has got the best of both worlds. He can play hard, help the Wolves win and up his stock.
If Kahn doesn't show what he can do to make the team better, then Love will shove "flexibility" right back in the organization's face. It's yet more proof that the owners, in seeking to play hardball, may have only strengthened the players' position. Teams may hold the purse strings, and yet talent wins out in the end.
If it's a choice between Kevin Love and David Kahn, Love wins every time. Unfortunately for the Timberwolves, the lots may have already been cast. And Glen Taylor will be right back where he started.
This article is
What is the duplicate article?
Why is this article offensive?
Where is this article plagiarized from?
Why is this article poorly edited?

Minnesota Timberwolves: Like this team?