Peyton Manning and the 15 Biggest Names on the NFL Trading Block in 2012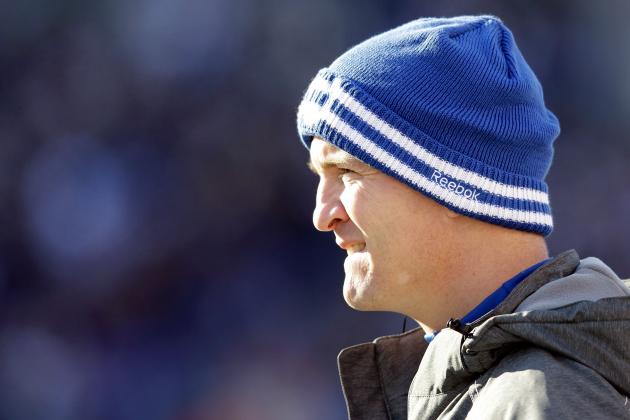 Rob Carr/Getty Images

Part of the fun for every NFL fan who follows a team that isn't participating in Super Bowl XLVI is speculating about the personnel moves that fan's team should be making in preparation for the 2012 NFL season.
Well, personnel moves and speculation go hand in hand, and that is something we are going to dive into. Which are the biggest names that are floating around in the rumor mill that are going to be made available for trade in the NFL?
Since these fall under the domain of rumors and speculation, these will not be players who have stated that they want out nor is there heavy documentation to back up any of these claims. In some cases, a player needs to turn around his public image or, in other cases, a team needs to restock their bare cupboard of draft picks.
Whatever the reason, there is some degree of logic behind each player selected. On to the presentation of the 15 biggest names on the trading block this spring.
Begin Slideshow

»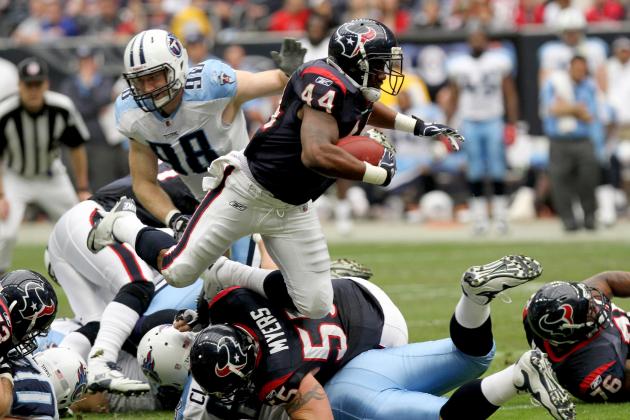 Thomas B. Shea/Getty Images

Ben Tate had a very impressive 2011 season, as he saw extensive action due to Arian Foster getting hurt during the season. Tate wound up with 175 rushes for 942 yards, averaging 5.4 yards per rush. In addition, he had six rushes of at least 20 yards and scored four rushing touchdowns.
When the Texans played the Baltimore Ravens in the playoffs, they gave the ball to Foster exclusively. Tate didn't get a single carry in the game, firmly establishing who is on top of the pecking order.
Tate still has two years under his contract and is very affordable; his 2012 salary is only $490,000. There are plenty of NFL teams that would love to have a back of Tate's ability for that price.
The question is, what are they willing to give up to acquire him?
The Texans should put some feelers out there and see what comes back.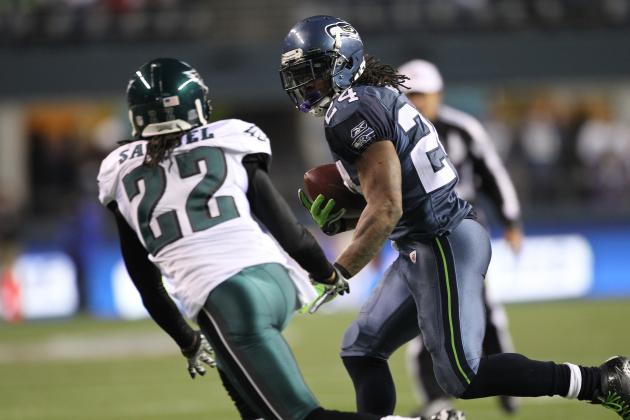 Otto Greule Jr/Getty Images

The Philadelphia Eagles attempted to trade Asante Samuel twice during the past year but came up empty both times. They came close to trading Samuel to the Detroit Lions back in August, but when they insisted on a first-round draft pick, the deal fell apart.
Samuel is the victim of a very crowded and talented secondary, manned by the likes of Nnamdi Asomugha and Dominique Rodgers-Cromartie. Samuel is the odd man out, so he will likely be playing elsewhere in 2012.
The Eagles, however, will have to be more realistic about what they get back in return. While Samuel was earning $5.9 million in 2011, his salary jumps to $8.4 million in 2012. As a result, the asking price has to come down due to the huge salary cap hit.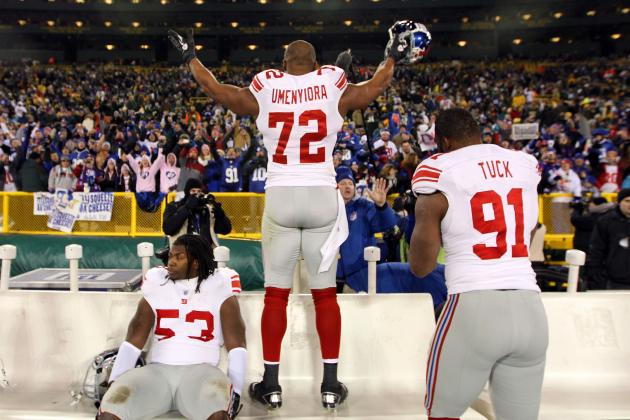 Jamie Squire/Getty Images

The New York Giants attempted to trade Osi Umenyiora during the 2011 season, but they didn't find any takers for what they were asking for (a first-round draft pick). With the impressive run that the Giants made in the playoffs, Umenyiora has been able to display his talents to the rest of the league, and no doubt his stock will be boosted due to the additional exposure.
If the Giants win the Super Bowl and he has a big game, maybe New York will reverse course and take him off the market.
One thing's for sure: The Giants have a tremendous pass-rush with Jason Pierre-Paul, who led the Giants with 16 sacks.
Umenyiora was second for the Giants with nine sacks, and that is what will make him very appealing on the trade market.
Umenyiora made $3.125 million in 2011; in 2012, he is due to earn $3.975 million. If the Giants are unwilling to give him a new deal, along with an extension, you can bet there will be more than a few teams ready to bring him on board.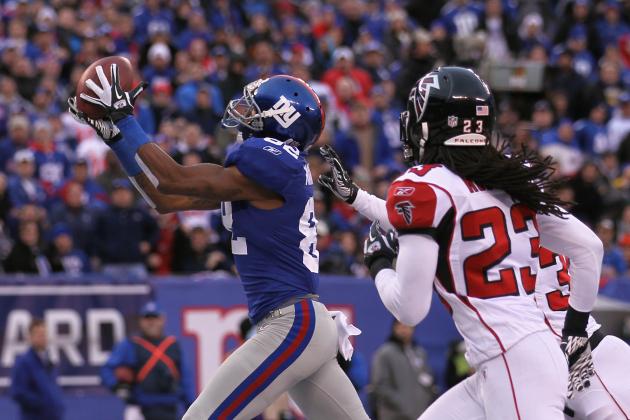 Nick Laham/Getty Images

It wasn't that long ago that Dunta Robinson was considered one of the top corners in the NFL. Robinson signed a big deal to join the Atlanta Falcons, and it is safe to say that he hasn't come close to returning his value.
Perhaps a change of scenery is needed or a defense that will allow him to flourish, because he has been struggling in Atlanta for the last two years running.
One obstacle will be Robinson's contract. He is slated to make $6 million in 2012, of which $5 million is guaranteed. Not sure how much the Falcons could get for him, but if some other team is willing to take on that contract and surrender a late-round pick, I imagine the Falcons would be quite agreeable.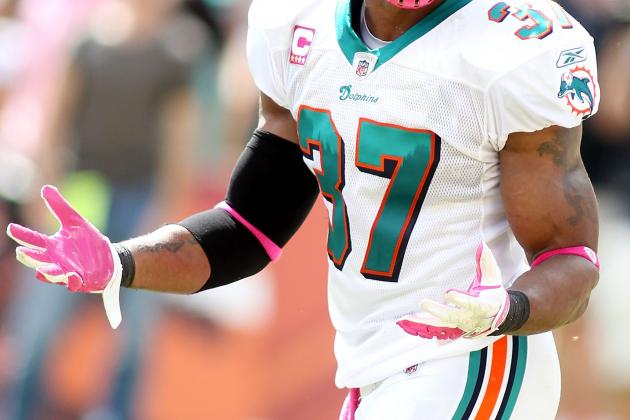 Marc Serota/Getty Images

According to this article by the South Florida Sun-Sentinel, the Miami Dolphins are faced with a decision on what to do with safety Yeremiah Bell.
The Dolphins hope that Bell will agree to restructure his contract. If not, then Miami will either have to release him or see if they can find a trade partner.
Bell is due $4.3 million in 2012, but in total he will cost the Dolphins $6.2 million against the salary cap, which makes him a potential liability. For teams hurting at safety, they could do a lot worse than Bell. He has led Miami in tackles every year for the last four years running.
The other question is, how important is Bell to Miami's new defensive coordinator (who, as of yet, hasn't been identified)?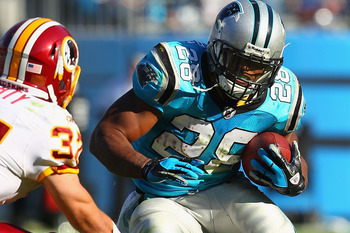 The Carolina Panthers had the No. 7-ranked offense in 2011 thanks to the abilities of Cam Newton.
The defense, however, was the big problem in Carolina, as they were ranked No. 28 and held the Panthers back.
When you have a running quarterback like Cam Newton, it places less emphasis on a running-back-by-committee approach. As a result, you pick a back you can trade away for either draft picks or players you need on defense.
The most tradable running back on the Panthers is Jonathan Stewart, in that he can probably bring the most back in exchange to the team.
This is something where the Panthers could at least put a few feelers out there in the market and see what kind of nibbles they get. It can't hurt to try.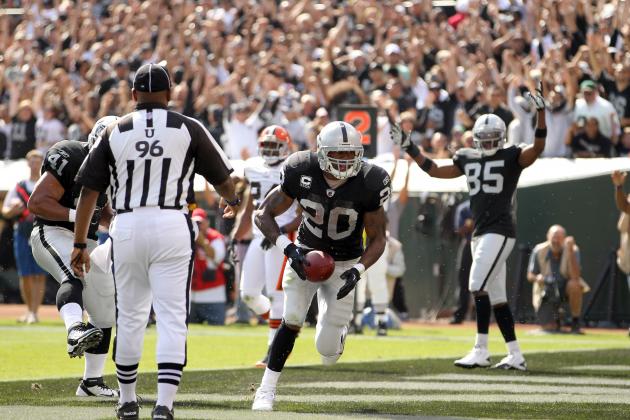 Ezra Shaw/Getty Images

It does seem rather strange to bring up Darren McFadden as a potential player to be traded, but these aren't exactly the best of times for the Raiders. Due to the trades executed by Al Davis (R.I.P.) and Hue Jackson, the Raiders don't really have many draft picks to work with in 2012.
Enter Darren McFadden.
McFadden is as talented a running back as any in the NFL—the main problem is his durability. However many games you can get out of him every year, you know you are going to have strong production coming from your running back.
The main question is, though, how many games will you get from McFadden in any given year?
So far, McFadden hasn't been able to play in all 16 games in any NFL season since he came into the league. The Raiders proved that they could still be effective moving the ball with Michael Bush at running back.
The other way to look at it is, who would bring back more in a trade, McFadden or Bush?
Case closed.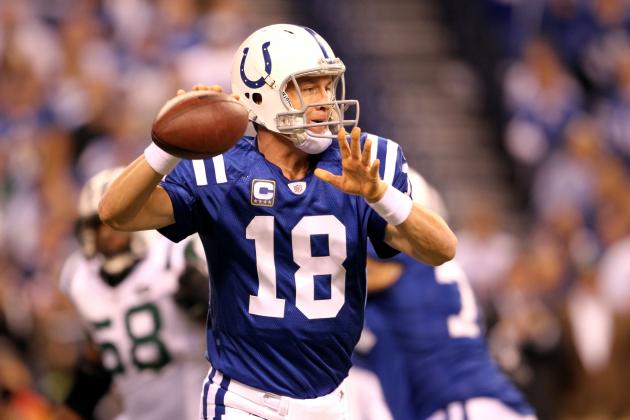 Andy Lyons/Getty Images

I realize that Peyton Manning seems out of place in this presentation.
But what if a deal could be worked out with either the Miami Dolphins or Arizona Cardinals that the Colts work out a trade with some other team before the signing bonus deadline arrives, with the understanding that the new team and Manning can work out a new contract?
Perhaps it is too far-fetched for some, but why can't the Colts explore the market to see what they could get for Manning, rather than just outright releasing him (which is where things appear to be headed now)?
If the Colts do release him, then anybody can swoop in and sign him to a new deal. If the Colts can engineer a trade and the trading partner has an exclusive window to work out a new deal, then they can remove every other team from consideration.
In case football fans have forgotten the total compensation Manning would cost the Colts, the figure is $35.4 million. That is the combination of his option payment and his 2012 salary. With the Colts needing help at so many positions, that $35.4 million would go a long way toward plugging up a number of holes.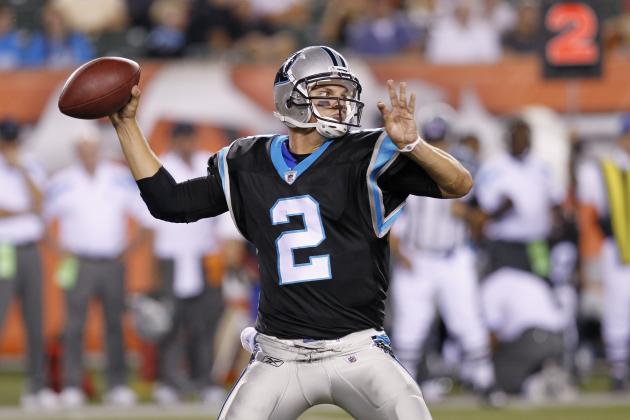 Joe Robbins/Getty Images

Now that Cam Newton's rookie season is over, we can say that the Cam Newton experiment worked, while the Jimmy Clausen experiment failed. Since the Panthers invested in young quarterbacks with high draft picks two years in a row, it is safe to say that Clausen will probably be traded away so that the Panthers can recoup something from their investment.
It is doubtful that the Panthers are willing to pay Clausen a ton of money just to hold a clipboard. They will try to find another team that is willing to give him a shot to compete for a starting job. Not sure how much Carolina will get in return, but another year of standing there on the sidelines seems like such a waste.
In 2012, Clausen would still be affordable, as he is only slated to make $490,000. But in 2013, he has an escalator clause that kicks in to his contract, which would bring his salary up to $2.85 million.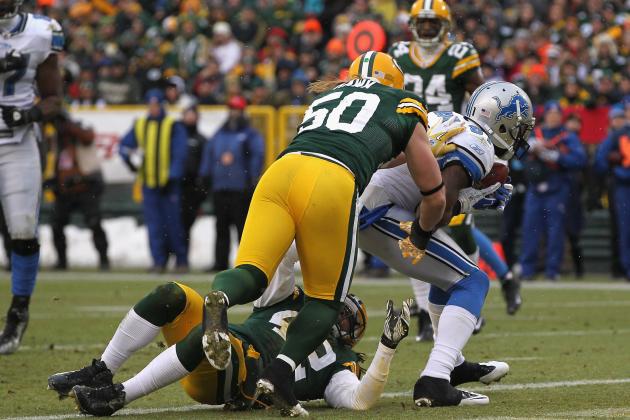 Jonathan Daniel/Getty Images

If the Green Bay Packers get any phone calls about linebackers that they might make available for trade, general manager Ted Thompson might want to explore what interest other teams might have in LB A.J. Hawk.
Per an article from the Milwaukee Journal Sentinel, Hawk's game has regressed in the past year. His performance across the board bears this out: In 14 games, he made only 84 tackles, 1.5 sacks and didn't create nor force a single turnover.
According to Pro Football Focus, they ranked all inside linebackers in 3-4 schemes, and Hawk finished the year at No. 35. Factor all of that in with a salary of $4.4 million in 2012, and you have a team looking to unload somebody or trying to see what they can get for him.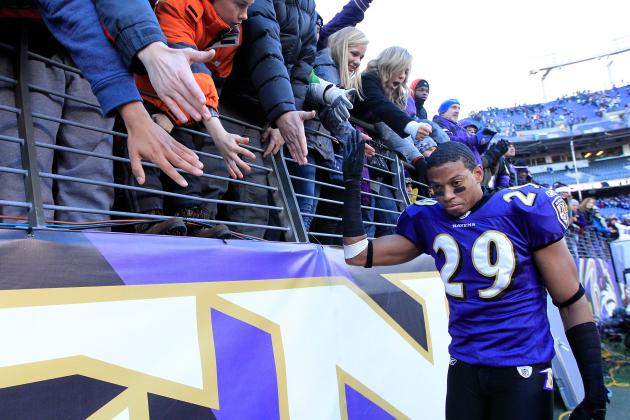 Chris Trotman/Getty Images

Baltimore Ravens corner Cary Williams is a restricted free agent coming into the 2012 NFL free agency period. The Ravens have been doing a solid job of stockpiling talent at corner, and as a result, Williams might be expendable.
But due to his being a restricted free agent, let's say that mysterious Team X signs him to a reasonable contract offer. The Ravens have the ability to match the offer. They find out that Team X really wants Williams, so the Ravens then turn around and trade him to Team X for a draft pick or two.
Williams' starting job will be up for competition with Jimmy Smith, so this might make sense for the Ravens to explore.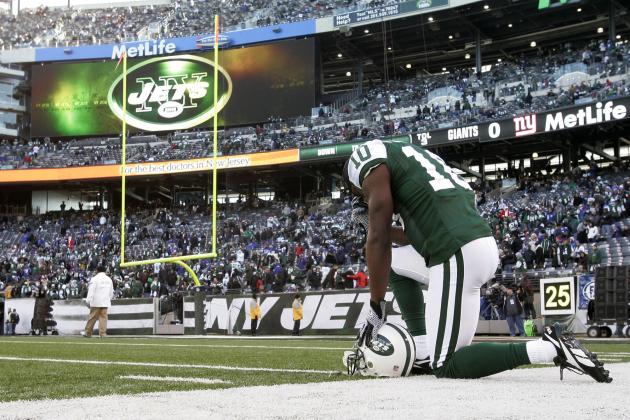 Rich Schultz/Getty Images

The New York Jets are an absolute mess.
LaDainian Tomlinson spoke out about all of the problems with the team and in the locker room. Joe Namath came out and blasted the team, and got some things off of his chest. Offensive coordinator Brian Schottenheimer has left for the St. Louis Rams, and the Jets now have Tony Sparano to run the offense.
The question is, how much damage did Santonio Holmes do to his reputation with the team and to his personal relationship with Mark Sanchez?
For now, it is too early to tell, but maybe we will have a better idea of what the Jets are thinking when we see what positions they address during the draft.
It would not surprise me to see Holmes playing somewhere else in 2012. So what do the Jets get for trading him away?
Holmes will be earning $7.75 million in 2012.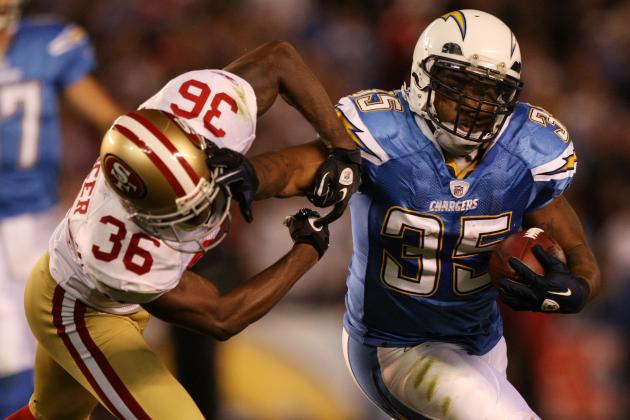 Donald Miralle/Getty Images

According to an article from the Sacramento Bee, San Francisco 49ers corner Shawntae Spencer is open to moving on to another team in 2012. He was not very happy with losing his starting job and wants to go somewhere where he can start. (The 49ers gave his job to Tarell Brown.)
Spencer is due to receive $3.2 million in 2012. He is 30 years old, so he presumably still has some years left to play at a reasonable level.
While some followers of the 49ers think that the team will just release him, they can at least make some calls around the league to see what kind of interest teams have in Spencer. As teams are going with five defensive backs—and sometimes even more based on down and distance—somebody with all of that starting experience will draw interest from some teams around the league.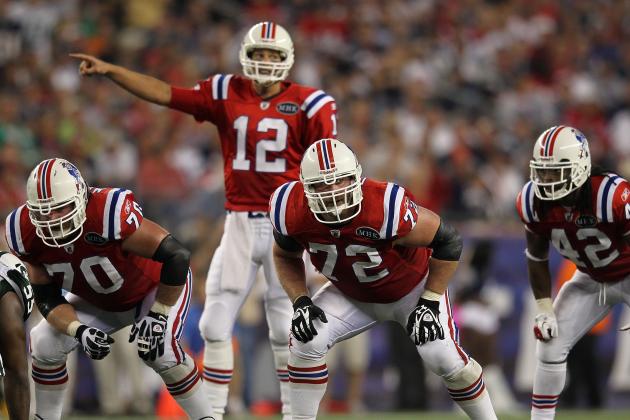 Jim Rogash/Getty Images

One thing Bill Belichick is able to do with all of his extra draft picks is stockpile talent, and he can come up with a succession plan for the veteran players who are starting to get up there in age.
Belichick already put the wheels in motion when he drafted Nate Solder and Sebastian Vollmer, who look like they will be able to step in and assume the starting tackle jobs whenever Belichick feels they are ready.
Could that time start with the 2012 season?
Matt Light is already 33 years old. He is set to earn $3.5 million in 2012, and he will cost the Patriots $6.5 million in salary cap. That makes Light a reasonable trade chip for Belichick to explore. We all know how open he is to trading veteran players for draft picks, and there are a number of teams that are not thrilled with their left tackle situation.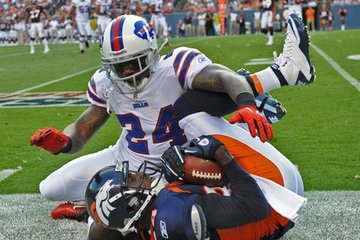 Terrence McGee is one of the senior citizens on the Buffalo Bills. McGee is going to be entering his 10th year in the NFL, and many Bills fans wonder if his body is still up for all the wear and tear. Over his career, McGee has been a solid corner, but hasn't really received the credit he deserves from a national perspective.
From 2003 to 2008, McGee played in at least 14 games every season for the Bills. That number has sadly been trending down ever since 2009, as he has played in 11 games (2009), nine games (2010) and just six games last season (2011).
The Bills are due to pay McGee $3.6 million in 2012 and then another jump up to $4.6 million in 2013. They moved a player with comparable experience, Lee Evans, to Baltimore last year, so it would seem like a prudent thing for the Bills to see what they could get in return for McGee.