2012 NFL Draft: 5 Draft Prospects Dallas Cowboys Should Target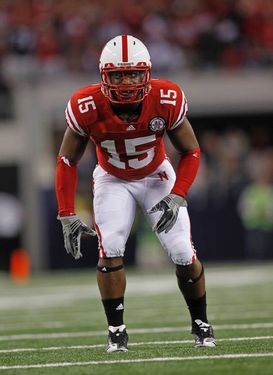 Nebraska CB Alfonzo Dennard
The Dallas Cowboys proved once again that they don't come to play in critical games. After an up and down season, the Dallas Cowboys lost four out of their last five games, including two crucial contests against their NFC East rival, the New York Giants.
The Cowboys had to win their last game in order to win the NFC East and return to the playoffs. Instead, they rushed the ball for a dismal 49 yards and had two turnovers in a 31-14 blowout victory for the Giants, and finished the season at an even 8-8.
The Tony Romo-led Cowboys finished seventh overall in passing yards per game during the regular season, and rookie running back DeMarco Murray led the ground game with 897 yards.
After finishing the season ranked 23rd overall in passing yards allowed per game, I have created a list of five players the Dallas Cowboys should target in the 2012 NFL draft.
Begin Slideshow

»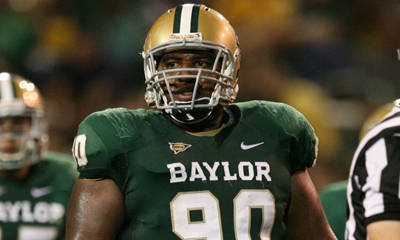 Baylor's NT Nicolas Jean-Baptiste
At 6'2" and 335 pounds, Baylor nose tackle Nicolas Jean-Baptiste is a physical specimen. In 12 games this season, Jean-Baptiste gathered 30 tackles and four sacks playing in the Big 12.
Jean-Baptiste outweighs every defensive lineman on the Cowboys current roster, but with help from a training staff and preseason workouts, Nicolas will be able to cut down a few pounds, making him quicker and more agile.
Look for Jean-Baptiste to go in the late fifth round in the upcoming NFL draft.
Boise State's OLB/DE Shea McClellin
Listed at a lean 6'3", 258 pounds, Shea McClellin played both the outside linebacker and defensive end positions for the Boise State Broncos this past season.
The Cowboys' leading tackler and interceptions leader was linebacker Sean Lee. Gerald Sensabaugh was second in tackles with 30 fewer, while Terrance Newman tied Lee in interceptions.
McClellin provided 50 tackles, seven sacks and two interceptions on the year. McClellin's work ethic and strong play will be a great addition to the Cowboys front line and secondary.
Expect McClellin to go in the late fourth round.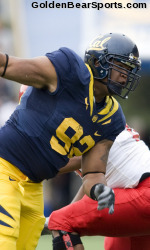 California's DL Trevor Guyton
Cal's defensive lineman Trevor Guyton was one of the Pac-12's best this year. After finishing the previous season with a Top 20 defense, Cal's Trevor Guyton became an everyday player, starting all 12 games.
Throughout his career at California, Guyton is tied for first among active Golden Bears in forcing three fumbles, is second overall in tackles for loss with 22.5 for 91 yards, and is second overall in sacks, recording 10 for a net loss of 66 yards.
Guyton even has one touchdown after a 19-yard fumble return.
Guyton's athletic ability is top-caliber, and standing at 6'3" and 280 pounds, Guyton will be tough to handle for many offensive linemen. Expect Guyton to be selected in the third round.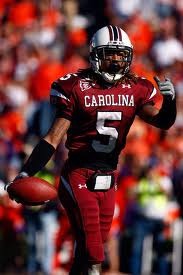 South Carolina's CB Stephon Gilmore
Stephon Gilmore is one of the most highly touted cornerbacks in the SEC. Being a starter since his freshman year, Gilmore possesses excellent hands and great ability to read the quarterback.
Gilmore packs a powerful punch in the secondary and is known for his peerless tackling skills.
Having 46 tackles on the year—with a game-high of 10, including one sack and three interceptions—Gilmore will provide a sudden impact for the Dallas Cowboys.
Standing 6'1" and weighing 193 pounds, Gilmore will provide a good matchup with the taller wide receivers in the NFL. Don't expect Gilmore to go any later than the second round in the 2012 draft.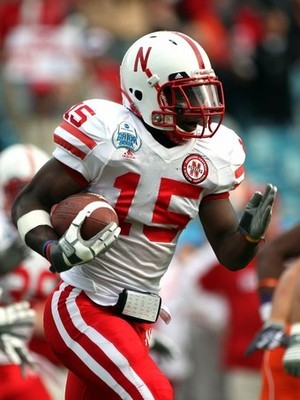 Nebraska's CB Alfonzo Dennard
Alfonzo Dennard was possibly one of the most consistent shutdown corners the college game had to offer this season.
Although on the rather smaller side at only 5'10", Dennard carries 210 pounds of solid muscle. His leaping ability is above-average, and he can run the 40-yard dash near the 4.4-second level.
Playing in 10 games this season, Dennard had only 23 tackles. However, this number is low simply because not many quarterbacks threw in his direction.
This could be a tough get for Dallas, but if they land this highly talented and athletic corner, their defense is sure to excel.