MLB Free Agency: Why Red Sox Should Trade for Starter, Avoid Roy Oswalt
January 25, 2012

Jamie Squire/Getty Images
The Boston Red Sox traded away their starting shortstop to the Colorado Rockies last week to reportedly free-up cap room to go after another starting pitcher and sign an additional outfielder.
The Sox added veteran outfielder Cody Ross to platoon in right field with Ryan Sweeney earlier this week, but that still leaves a starting pitcher to be added.
The best remaining free agent on the market is Roy Oswalt. He was a dominant pitcher for the Houston Astros for years and won the most games in team history.
Oswalt then played for the Philadelphia Phillies for the past couple of seasons but was plagued nagging injuries, most notable a bad back, He hasn't been as dominant as his days with Houston.
This could be a product of his older age and years of being the horse for the Astros' rotation.
Oswalt would be a good addition to a Red Sox clubhouse but the risk of signing him isn't worth the reward. One of the problems for this Red Sox rotation is staying healthy. It would not be smart to bring in an aging starter who has a history of getting hurt the past couple of seasons.
Oswalt would probably only command a one-year deal but the Red Sox should look for a more long-term option at the back end of their rotation that already includes ace Jon Lester, Josh Beckett and Clay Buchholz.
The only other quality starter left on the market in Edwin Jackson. But the Red Sox' best option is to explore a trade for a younger, proven starter.
They were very much in on Gio Gonzalez before he was traded to the Washington Nationals which indicates the Red Sox are willing to part with the necessary prospects that it would take to get a quality starter.
The Sox have been linked to another Houston pitcher, Wandy Rodriguez. But a conflicting report says the Red Sox aren't really all in on him.
Another name being thrown around is Gavin Floyd of the Chicago White Sox.
However, these names wouldn't be much of an upgrade over Oswalt or Jackson and would be pricey—which has been a concern for the Red Sox this offseason.
If the Red Sox are going to give up prospects, they should make sure they know what kind of pitcher they are getting in return.
The Yankees just made two big deals, one for a young, up-and-coming star in Michael Pineda, that have shaped a very talented starting rotation to go with a solid lineup.
The Red Sox must answer.
While they may have to wait until the trade deadline to get one, the time to start those discussions is now.
These names I'm about to throw out haven't been linked to the Red Sox. However, I do think they are worth exploring.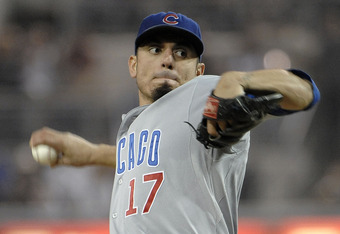 Denis Poroy/Getty Images
Matt Garza
Garza has experience pitching in the AL East at a high level and still is relatively young. Theo Epstein and Ben Cherington have chemistry so maybe they would be able to get something done. Theo knows the Red Sox farm system very well however, so he will be asking for a lot for Garza.
Matt Cain
Cain is a very solid starter for the San Francisco Giants and has been overshadowed by Tim Lincecum the past few seasons. Lincecum is in line for a big payday which may leave Cain on the outside when his contract is up. He is young, proven and would look great in a Sox uniform.
Jair Jurrjens
Jurrjens has been the ace for the Atlanta Braves the past couple of seasons and is a talented, young starter. He would fit beautifully in a rotation with Beckett, Lester and Buchholz. It would probably take a similar package to what they offered for Gio Gonzalez but the deal would be worth it. While his durability is questioned by some, the risk is worth the reward with Jurrjens.