Senior Bowl 2012: Defensive Studs That Will Dominate
January 25, 2012

Eric Francis/Getty Images
When players take the field for the Senior Bowl, the only thing that will be on their mind is how to improve their NFL Draft stock. This is their last great chance to make a lasting impressing in game action before the Scouting Combine in February. 
This year's game is riddled with a great defensive prospects who can make an impact at the next level. There are even a few players that can sneak into the first round if they are able to have a dominant performance. 
With that in mind, here are some defensive studs that will own the competition on Senior Bowl Saturday.
Janoris Jenkins, CB, North Alabama
Jenkins was a first-round talent last year when he was at Florida. He still has that potential, but his stock has taken a hit due to some off-field issues that led to his dismissal from the Gators. 
By all accounts, Jenkins was a model citizen at North Alabama this season. While it isn't a glamorous,  major college football program, Jenkins had a great season with the team by doing virtually nothing. Opposing teams never threw in his direction because they respected his talent too much. 
Right now, he looks like a second round pick because of the baggage. If he is able to convince teams that he is a changed man, he can move into the first round. 
Vinny Curry, DE, Marshall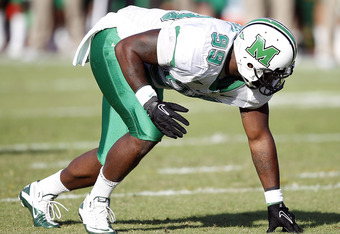 Bob Levey/Getty Images
This draft is loaded with top-tier defensive linemen, but Curry might be the most underrated player in the group. He has the size, at 6'5", 245 pounds, and his resume at Marshall speaks for itself. 
In the last two seasons, Curry has accumulated 23 sacks, 40 tackles for loss and nine forced fumbles. The biggest knock against Curry is that he played at Marshall, so he did not get a lot of national exposure. That will change on Saturday, when he lines up with the best seniors in the country. 
All signs point to Curry being a second round selection, though a great performance can push him into the bottom of the first round. 
Alfonzo Dennard, CB, Nebraska
Dennard is a well-known commodity to football fans. He was one of the top cornerbacks in the country in 2011 and is expected to be a first round selection in the NFL Draft. 
There are still some questions that he will have to answer in this game if he wants to secure his spot in the draft. He is a small at just 5'9", but his speed and quickness makes him a menace for opposing wide receivers. 
Nothing that happens this week is going to push Dennard out of the first round—unless he gets hurt—but he can move himself into the top half of the round by showing off his skills against top senior wide receivers.