MMA's 10 Examples of When "Keeping It Real" Goes Wrong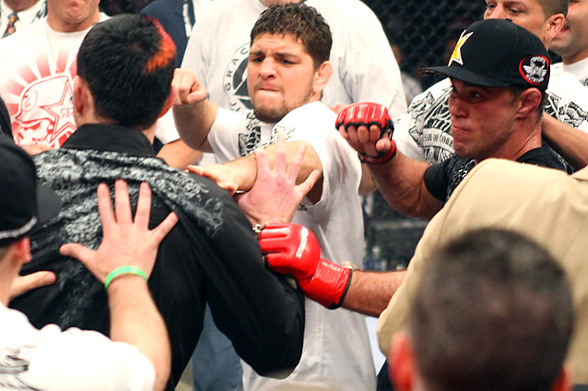 In the world of mixed martial arts, a lot of hot-tempered fighters with too much testosterone often make questionable and otherwise poor judgment calls.
These acts have tampered with the foundations of their career and also elicited many highlights that are still talked about today.
Wildman Jason "Mayhem" Miller is perhaps the best example of what happens when "keeping it real" goes wrong—a term coined by the legendary Dave Chappelle.
You'd think that Miller would take a second to think "maybe stepping in the cage full of fighters and demanding a match is not the best course of action."
However, had it not been Mayhem and many of these other fighters here, these great moments in MMA history would not have been produced: the good, the bad and the ugly.
Begin Slideshow

»
The colorful Jason "Mayhem" Miller quickly only saw red as the entire Cesar Gracie crew pounced on the unassuming "Bully Beatdown" host.
Miller stepped into the cage just moments after Jake Shields had upset Dan Henderson, looking for his rematch against the submission whiz, who topped Mayhem in a previous five-round tilt.
Needless to say, Shields, Gilbert Melendez and Nick and Nate Diaz did not take kindly to the crass gesture and responded with a not-so-friendly welcoming party for Miller.
In the now-defunct EliteXC promotion, Nick Diaz and KJ Noons had become familiar rivals.
Their initial battle saw the Hawaiian earn a TKO victory over the Stockton fighter after several lacerations were opened up on Diaz's face, due to the boxing skills of Noons.
After racking up several wins in the organization, Diaz was looking to get his rematch against the 160-pound champion, that is, until all hell broke loose.
In every fight, Robbie Lawler, if anything, always has a puncher's chance.
However, against K-1 veteran Melvin Manhoef, the UFC and PRIDE veteran found himself in dire straits early on.
Manhoef blasted away at the lead leg of Lawler. Just as it appeared that an end was imminent, Manhoef foolishly dropped his guard looking for the big knockout blow.
The Dutchman paid for his overzealous nature, as "Ruthless" stunned him with a right hand, dropping him to the canvas where the Miletich product sealed the knockout victory with ground-and-pound blows.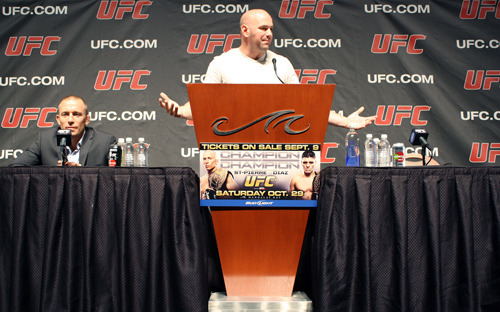 mmajunkie.com
Although it all worked out in the end, it was a tumultuous few weeks for the UFC and everybody involved, thanks to Mr. Diaz.
The enigmatic fighter no-showed two press conferences helping to promote his welterweight collision with champion Georges St-Pierre at UFC 137.
The head honchos responded by removing Diaz from his main event tilt with the Canadian, costing him tons of earnings in the process.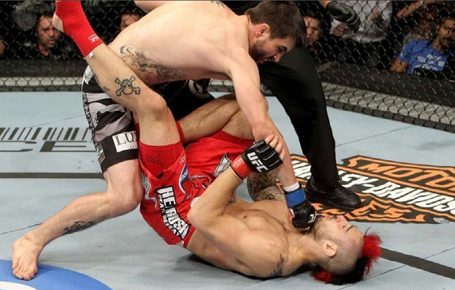 Welcome to England, Carlos. I'm gonna knock you out, stamp your passport, and send you back home. He's gonna step in there thinking he can fight me like he has fought everybody else, and I'll hit him one time and change his mind - if he's still awake.

I could beat him any day of the week, whenever, wherever. I don't see anything in his game that concerns me. He's not gonna hurt me with his striking, if he even lands a punch. He's scrappy and he's wild.

I could close my eyes and throw a punch in any direction and it would still hit him in the face. He needs to be sitting down with his coach and figuring what else he can do for a career.

This is the top of the ladder, this is as far as he goes, send some job applications out for something else.
That's a direct quote taken from the blabber mouth Brit, Dan Hardy, who was subsequently knocked out inside of the first round in his battle against Carlos Condit at UFC 120.
A respected veteran of the sport, Jorge Rivera may have bitten off a little bit more than he could chew in his middleweight bout with Michael Bisping at UFC 127.
After releasing several disparaging videos online, the Brit proceeded to pummel Rivera in their bout.
Albeit "The Count" scored an illegal knee in the first stanza, Bisping rocked and dropped "El Conquistador" in the second, sealing the TKO finish and then began spitting and yelling in the corner of the Bostonian.
Following a controversial decision loss to former "World's Strongest Man" Mariusz Pudzianowski, James Thompson was probably not the right man to hand the mic to.
Well...they didn't hand it to him so much as the scrawny announcer had no choice but to allow the behemoth to say his peace, which was littered with both the truth and obscenities galore.
Needless to say, the PRIDE vet was a bit perturbed when the judges rendered the decision to their native Polish product.
KSW, however, did make amends since then, ruling the bout a no-contest.
Whilst under the PRIDE banner, both Quinton Jackson and Wanderlei Silva were the top dogs of the organization.
After his victory against Kevin Randleman, Jackson wasted no time in calling out the light heavyweight great in Silva, who served as the promotion's undisputed champion.
With a "I ain't nobody's punk" mentality, the Brazilian pounced into the ring where a near-melee ensued.
In their two subsequent battles thereafter, Silva deftly finished Jackson, with their second encounter resulting in a brutal knockout, courtesy of a knee to the face.
In his second battle with then-UFC light heavyweight champion Chuck Liddell, Jackson made a humble prediction that he would be able to finish off the kingpin in the third round.
However, the "Iceman," full of bravado, thought it better that he would be able to wilt the Memphis native in one.
As it turns out, Liddell was right about the fight finishing in the first, as "Rampage" stormed through Liddell, knocking him out in less than two minutes of action. Damn.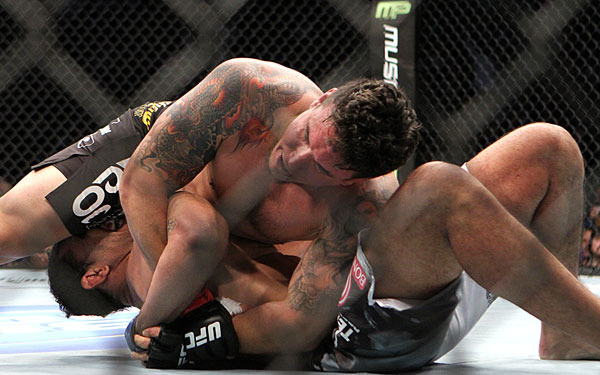 Yahoo! Sports
This past December, Antonio Rodrigo Nogueira had finally earned his anticipated rematch with rival Frank Mir.
After being blasted by the Las Vegas fighter in their first tilt, for which Nogueira said he was riddled with injury, the Brazilian wanted to storm through the former heavyweight champion in their second encounter.
Nogueira rocked and dropped Mir early in the fight, courtesy of his powerful right hand. Looking to seal an impressive finish, "Minotauro" opted to go for the submission rather than the seemingly imminent knockout win.
Wrong.
Mir was able to recover after Nogueira attempted to lock in a fight-ending guillotine choke. Mir reversed position, swept Nogueira and locked in a tight kimura.
With no intentions of tapping, Nogueira proceeded to have his arm broken by the powerful submission whiz, who now owns two decisive victories over the PRIDE veteran.