5 Players Dallas Should Consider in First Round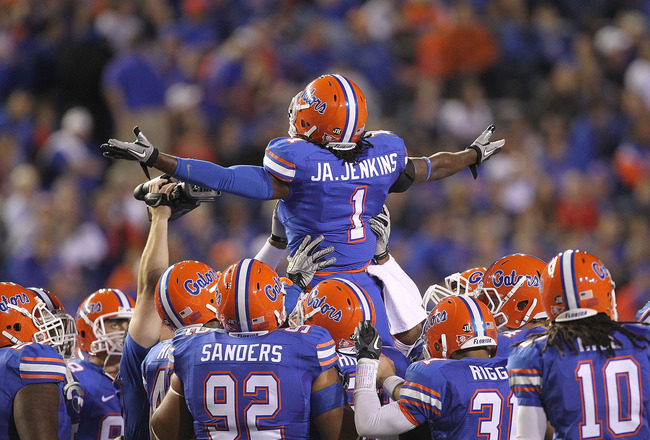 Mike Ehrmann/Getty Images
Much attention is being paid at this point to the NFL draft.
The Dallas Cowboys have sat at home this postseason, as deficiencies on defense and the offensive line led them to missing the playoffs. Specific needs of the Cowboys include cornerback, defensive end, offensive guard and center.
Even though the Cowboys' 8-8 record brings them a No. 14 pick that doesn't give them the biggest difference-makers, they can still come away with a quality first-round draft pick.
The choice for Jerry Jones is to decide which position to address and which talented player to take in the first round.
Read along to see which five players are most worthy of the Cowboys' consideration.
Dre Kirkpatrick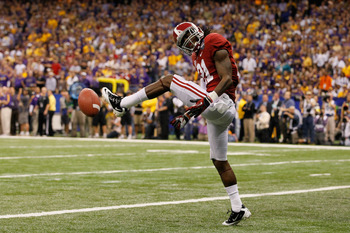 Kevin C. Cox/Getty Images
Dre Kirkpatrick is a dynamic cornerback from Alabama.
He has good size (6'2", 215 pounds) and is aggressive. Also, he has long arms.
Kirkpatrick is a solid cover cornerback. He had 24 solo tackles and nine pass deflections in 2011. In 2010, he was fourth on the team in tackles with 54.
He's solid in coverage. He keeps up well after receivers make moves on him. Also, he is good at making tackles right after the catch.
Kirkpatrick doesn't use the best technique when tackling, but he's fairly strong. He didn't have any interceptions his senior season but could develop the skill, since he is good at winning jump balls.
An issue with Kirkpatrick is that he has been arrested for marijuana possession, but when have character concerns stopped Jerry Jones from making a pick?
Kirkpatrick is rated in the top 10 among draft prospects by CBSSports.com and ESPN.
While he currently seems out of reach for the Cowboys, Kirkpatrick could drop if teams ahead of them choose to address other concerns. Another possibility is trading up for Kirkpatrick.
Peter Konz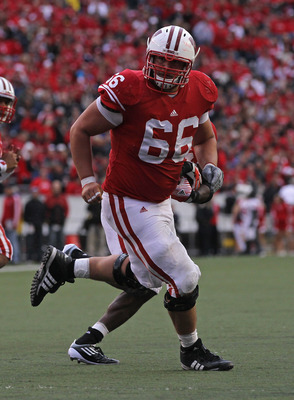 Jonathan Daniel/Getty Images
Peter Konz would be a fantastic pick to help the offensive line.
Phil Costa struggled in 2011. He botched six snaps against the Washington Redskins in Week 3.
At 6'5" and 315 pounds, Konz is a big, physical guy. He's aggressive and quick.
Konz can get down to take up guys at the second level. Also, Konz gets off the snap quickly to block on his feet.
Konz missed the last three games of the 2011 season due to an ankle injury.
He was a first-team All-Big Ten selection.
Janoris Jenkins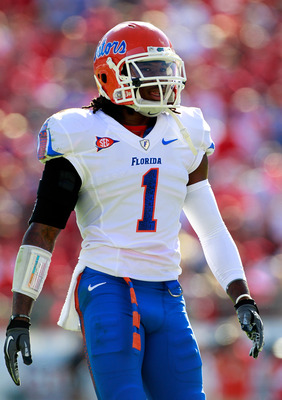 Sam Greenwood/Getty Images
Janoris Jenkins is an extremely talented cornerback, who merits the Cowboys' attention despite his criminal background.
He spent the last season at North Alabama. There, he made the Associated Press All-American second team. Jenkins had 53 tackles and two interceptions in 2011.
Jenkins was a star in his three years at Florida.
In 2010, he had 44 tackles, six tackles for loss, three interceptions and eight pass deflections. His tenacious play, along with the fact that he played through a torn labrum in his right shoulder almost all season, earned him a first-team All-SEC spot.
In 2009, he had 38 tackles and two interceptions.
Jenkins is a dynamic talent.
He possesses great awareness and is amazing at anticipating quarterback reads. He's fast (runs a 4.46-second 40-yard dash) and backpedals quickly. Despite being only 5'10", Jenkins can jam receivers and make hard hits.
His criminal background is a concern.
Jenkins was arrested in 2009 after being in a fight and fleeing from police. Will Muschamp kicked him off the Florida team in spring 2011 after two marijuana possession arrests in three months.
Even with his criminal record, Jenkins is such a dynamic talent that Jerry Jones should give him a long look.
David DeCastro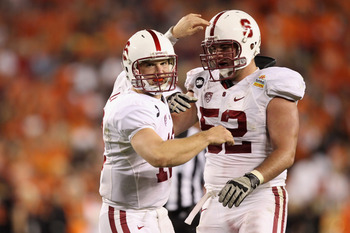 Christian Petersen/Getty Images
David DeCastro would make a nice addition to a Cowboys interior offensive line that was plagued with injuries in 2011.
DeCastro, who CBSSports rates as its top offensive guard prospect, was part of a Stanford offensive line that allowed only nine sacks in 2011. Also, Stanford averaged 207.5 yards rushing per game while supporting the Andrew Luck air show.
DeCastro, who is 6'5" and 312 pounds, isn't a physical specimen, but he makes up for his comparative disadvantage in strength with great technique, toughness and awareness.
He's great at detecting the blitz. Despite not being a great athlete, he can get outside quickly to pull blocks. Also, DeCastro gets up off the snap quickly and doesn't let rushers beat him on the first move.
DeCastro is a tenacious blocker. He can block with one hand and can help a tackle block. Stanford loves using him to block on outside runs.
His outside blocking ability would be very well-suited for Cowboys rushing schemes.
Quinton Coples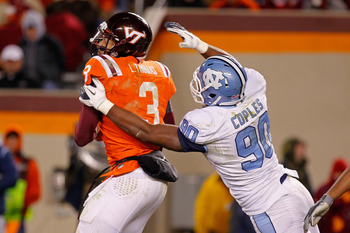 Geoff Burke/Getty Images
Quinton Coples is such a great prospect that CBSSports.com compares him favorably to Julius Peppers, who, like Coples, was a North Carolina Tar Heel.
Coples is dynamic and has demonstrated the ability to play both defensive end and tackle. At both positions, Coples is capable of being a consistent presence in the opposing backfield.
Coples put up solid numbers at both end and tackle.
In his first two seasons at North Carolina, he had 10 tackles for loss and 6.5 sacks. In 2011, he racked up 59 tackles, 15 tackles for loss and 10 sacks.
Coples was named first-team All-ACC. He had 1.5 sacks and a forced fumble against Tennessee in the Music City Bowl.
Coples is a big, strong guy at 6'6" and 285 pounds. He runs a nice 4.76 40-yard dash. Also, Coples has a good speed burst after the snap and is a solid bull rusher. Coples has incredible strength and can lay out heavy hits.
Further, Coples has long arms and can grab ball carriers and take them down.
He could be the aggressive defensive end that Rob Ryan needs.
Keep Reading

Dallas Cowboys: Like this team?