UFC 143: 10 Reasons We Love Watching Nick Diaz Fight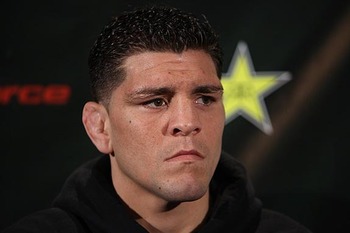 sherdog.com
With UFC 143 around the corner, it's time to get excited to see a welterweight collision between Carlos Condit and Nick Diaz.
These two dynamos will be battling for the UFC's interim title, as champion Georges St-Pierre remains sidelined mending from injury.
Condit, a former WEC champion, has risen through the ranks thanks to both his technical prowess and his ability to finish a fight at any given moment, while eliciting roars from the fans.
The same can be said for Diaz, who consistently is among the most exciting fighters in the world. He's arguably the most colorful and controversial figure in the sport but the fact remains, we love watching him fight.
Pound-for-Pound, One of the Most Exciting Fighters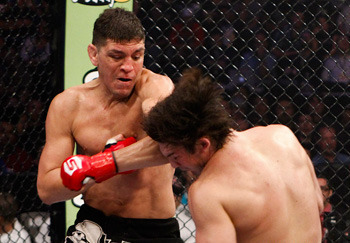 Say what you will about Nick Diaz. He's brash. He's confrontational. He's short tempered—but the fact remains that this polarizing figure, win or lose, will always put up unforgettable performances.
Though there is a technical acumen that has been cultivated over the years, Diaz will throw himself into harms way in order to produce a fan-friendly affair against any man he faces and for that, the Stockton fighter is respected by all in that sense.
Boxing Skills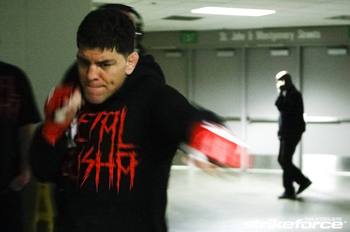 Although he hails from a traditional background in Aikido and has since developed into an apt jiu-jitsu stylist, Diaz's boxing has become one of his best assets.
The 28-year-old has honed his skills over the years under trainer Richard Perez and sparring partner Andre Ward—the current WBA, WBC and The Ring super middleweight champion.
His long jab, ripping body hooks and combinations against the cage have become a Nick Diaz trademark and have since made career highlights of Marius Zaromskis, Frank Shamrock and Paul Daley.
Jiu-Jitsu Prowess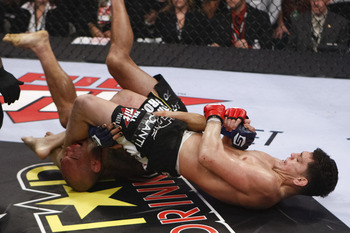 If you're beginning to wilt on the feet, Diaz has shown that taking the fight to the ground is not your best course of action.
Under the famed Cesar Gracie, only three men have been bestowed the honor of black belt: Dave Terrell, Jake Shields and Nick Diaz. It carries a high level of prestige when Cesar feels you are worthy of the ascension, as it became a long and arduous process for any of his students.
However, Diaz has shown that he is more than worthy of the accolade, as submission victories over Josh Neer, Scott Smith, former Pride champion Takanori Gomi and former Shooto champion Hayato Sakurai would indicate.
Diaz Comes to Fight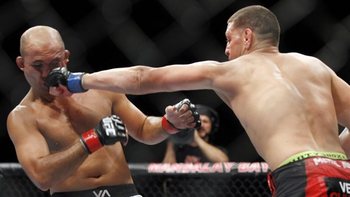 It's part of the reason why the enigmatic fighter is coveted as a fan friendly fighter.
No matter the stakes or who he's up against, Diaz will always come to finish a fight. In his battle with a former two-time world champion in BJ Penn last October, Diaz stalked and proded at the heavy handed Hawaiian, wilting him against the fence with digging hooks to the head and body.
In the end, Diaz was a bit tattered, but he left the bout knowing that he won decisively and in impressive fashion, having battered and bruised Penn worse than any other man has done before.
Expect Something Crazy to Happen When Diaz Fights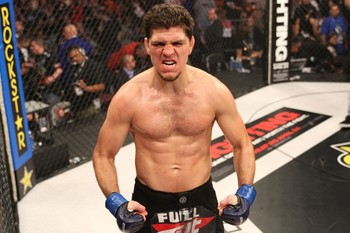 Whether it's talking to his opponents mid-fight, the in cage staredowns or post-fight drama, there is always some drama to be found when Diaz steps inside the Octagon.
The Californian has become well regarded for his fighting prowess as much as his general perceived notion of "craziness" which is both warranted and found at times.
High Intensity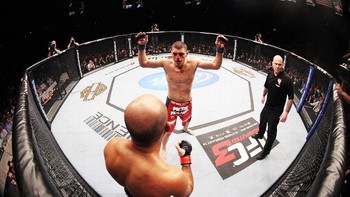 With all the drama that Diaz cultivates before it's time to step into the ring, the 28-year-old creates a high intensity atmosphere come fight time, for both he, his opponent and the attending crowd.
It may not be by design, but it's become the way that Diaz has promoted himself, endearing fans with his verbal and unfiltered assault on his opponents.
Fast Pace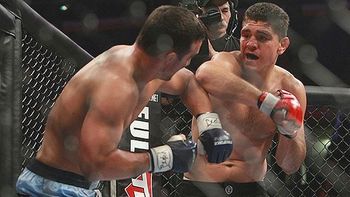 With his regular participation in triathlons, Diaz's conditioning has become just as big a weapon as his other traits as a mixed martial artist.
An endurance athlete in every sense of the word, Diaz puts an unrelenting pace on his opponents which few are even remotely able to match.
No Regard for His Opponents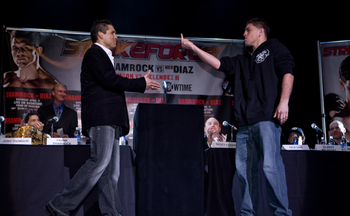 allelbows.com
Like trainer Cesar Gracie touched on during the UFC's Prime Time show, Nick Diaz understands something that few fighters are able to grasp.
The fight happens well before the two step into the cage.
Once the bout is signed and both signature are on the dotted line, then it's on.
No more friendship, no more camaraderie and certainly no more mutual respect.
No Problem Saying What's on His Mind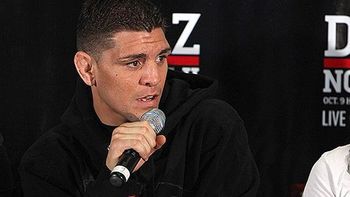 Georges St-Pierre is the proverbial golden child of the UFC.
In the eyes of his most loyal fans, he can do no wrong and likely bathes in minerals and bath salts that have little specs of gold in them, which keeps his aura both rich with color and glowing.
I may have delved a little too far there, but the point has been made nonetheless: regardless of St-Pierre less than stellar performances as of late and his poster-boy image, his loyal legion are always quick to defend the soft-spoken Canadian.
One man who has shown a complete disregard for St-Pierre is Nick Diaz, who has stated on several occasions that GSP's knee injury was fabricated and that St-Pierre as a person is no more than your ordinary, run of the mill female dog.
Needless to say, it wasn't all so pleasant delivered.
With Diaz's lack of respect for his opponents, it enables him to speak freely just about anything.
Colorful and Memorable Interviews
What happens when a fighter indirectly suggest an interviewer should be slapped? Well, his popularity reaches an all-time high and makes him regarded as the sports most coveted anti-hero. That's what happens.
Keep Reading