Giants vs. Patriots: 6 Reasons This Rematch Is Not Super Bowl XLII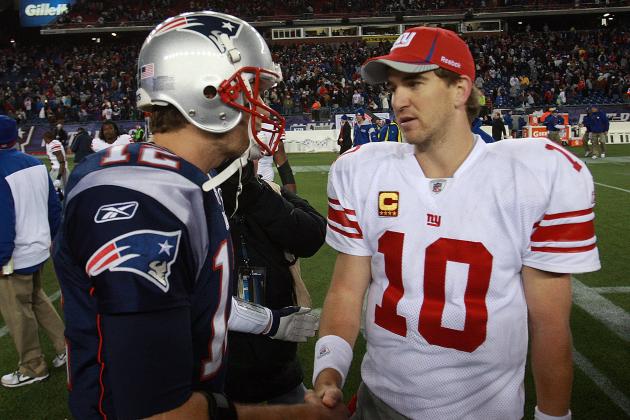 Jim Rogash/Getty Images

When the New York Giants and New England Patriots took care of business in their respective conference championships, many were excited to witness the rematch of a Super Bowl that not many will soon forget.
Super Bowl XLII combined one of the greatest finishes ever with one of the biggest upsets in Super Bowl history. Eli Manning engineered a game-winning drive that culminated with a touchdown pass to Plaxico Burress in the final minute of play.
Tom Brady admits that he still cannot watch tape of that game, and that's just one of the reasons this year's game will much much different.
Here are six more.
Begin Slideshow

»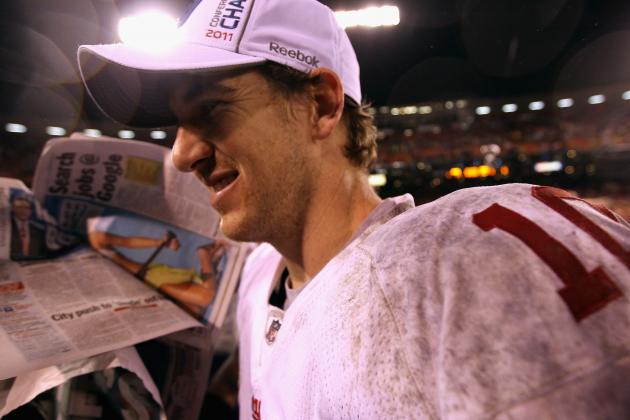 Ezra Shaw/Getty Images

During that 2007 run, many dubbed it as the coming out party for Eli Manning. To that point, he had accomplished very little and his statistics were underwhelming.
Now, he's coming off the best year of his career in which he set a couple franchise and NFL records. He tossed for 4,933 yards, just 151 short of Dan Marino's record, and set the NFL record for most fourth-quarter touchdown passes with 15.
He was the ultimate clutch player for the Giants this season, leading five fourth-quarter comebacks and six game-winning drives.
One of those game-winning drives came against the Patriots in Foxboro.
In the last Super Bowl, the Giants were hoping Eli didn't make a crucial mistake to cost them the game.
This time around, they will be relying on him a ton to move the ball.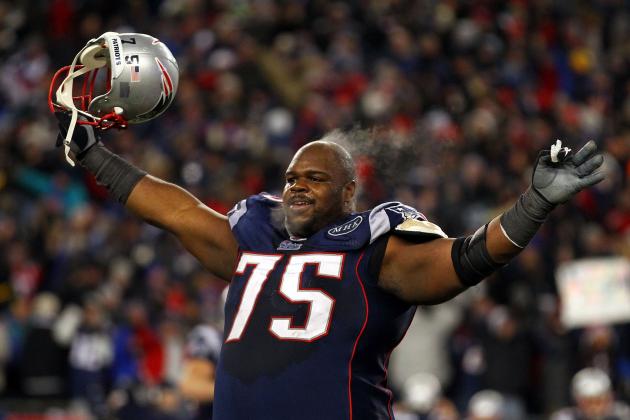 Al Bello/Getty Images

The Patriots defense is so much worse this time around than it was last time. They gave up a ton of yards and rarely came up with big stops.
They finished the regular season 31st in passing yards allowed (second most in NFL history), 17th in rushing yards allowed and 15th in points per game allowed.
They played very well so far this postseason, but let's be real—the Broncos and Ravens are not exactly the offensive machine that the Giants are.
The Giants should be able to move the ball with relative ease playing in the dome in Indianapolis.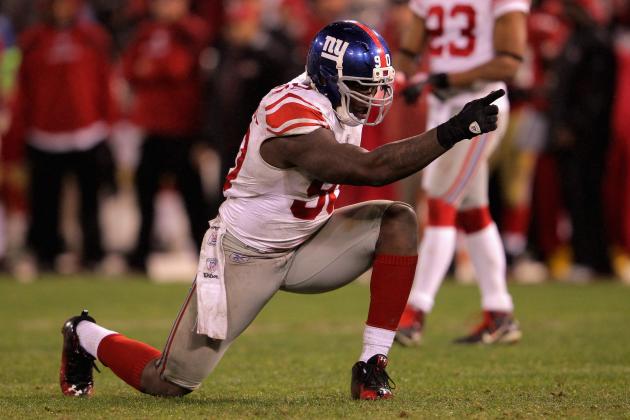 Doug Pensinger/Getty Images

I hate to say this, but the 2011 version of the Giants pass rush is actually better than that 2007 version that disrupted Tom Brady so much.
The Giants have Jason Pierre-Paul, Justin Tuck, Osi Umenyiora, Mathias Kiwanuka and Chris Canty who can all rush the passer very effectively.
Yes, in 2007, the Giants had 53 sacks to this year's total of 48, but 11.5 in 2007 came from players other than the front four, as opposed to 6.5 this year.
If you take those out, you have an exact tie at 41.5 for the front fours, but remember how little time the Giants had the entire front four healthy this season. Justin Tuck missed four games and Osi Umenyiora missed seven.
Imagine how many sacks they could have racked up with a healthy unit all year?
The 2007 version was great with Michael Strahan, but this year's version has proven they can dominate when healthy.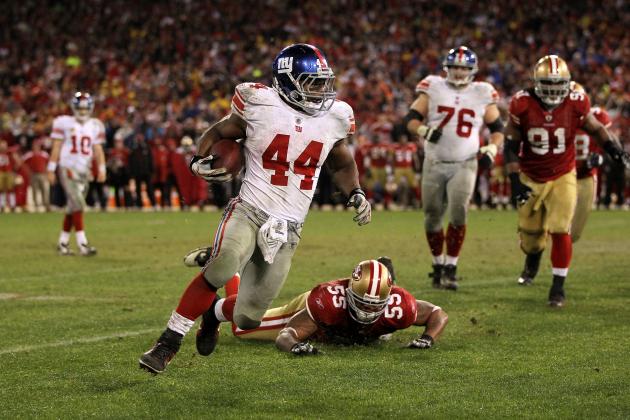 Jamie Squire/Getty Images

This year, the Giants run game was embarrassing, finishing dead last in the NFL at 89 yards per game.
One of the biggest reasons they were able to slow down Tom Brady and the highest scoring offense of all time in Super Bowl XLII was their ability to have long, sustained drives that chewed up the clock.
I'm not saying the Giants will not be effective running the ball, because they can against the Pats defense, but it will definitely not be as good.
The 2007 offensive line was far and away better than this year's.
The Giants have to hope Eli continues to be dynamic on third down and limit Brady's opportunities to score.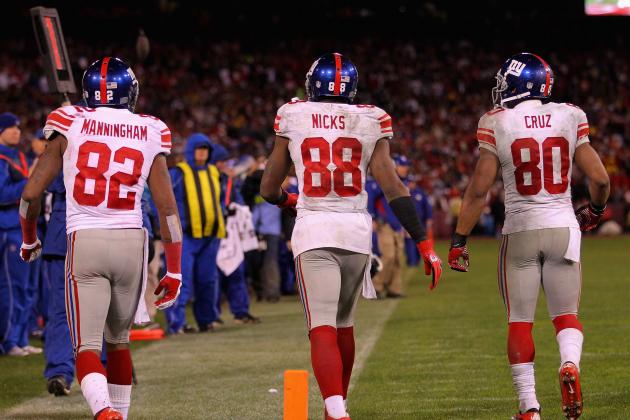 Doug Pensinger/Getty Images

Thanks to a trio of wide receivers who were not on the team in 2007, the Giants offense is one of the most explosive in the NFL.
All three receivers—Hakeem Nicks, Mario Manningham, and Victor Cruz—are capable of going the distance on a single play.
What has to be scaring the Patriots right now is the fact that the Giants beat them in the regular season, and Nicks did not even play in the game.
Bill Belichick was able to game plan for the weak passing offense of the Broncos, but Joe Flacco had over 300 yards and two (should have been three and the game winner) touchdowns.
What do you think Eli is going to do to that defense?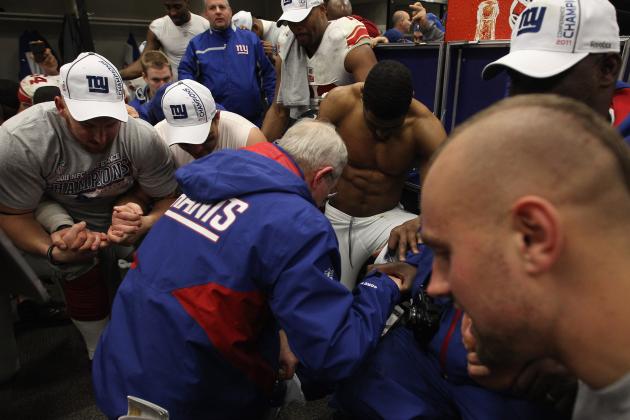 Ezra Shaw/Getty Images

You could get into many more reasons why this is a much different contest than the incredible one we witnessed in the winter of 2008, but it comes down to these five main ones, plus the actual number of player turnover the two teams have had.
According to ESPN, there are 15 remaining players from the Giants and just seven remaining players from the Patriots who played in Super Bowl XLII.
That means of the 106 active players from both teams, only approximately one-fifth of them remain.
So while you will see the high-profile, familiar faces of the matchup, i.e. Tom Brady vs. Eli Manning, this will be a very different game than the previous version four years ago.