The NFL's First Mock All-Division Team Tournament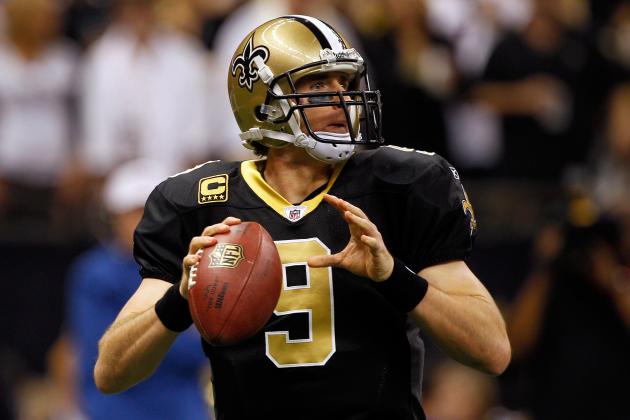 Chris Graythen/Getty Images

Introducing....the first ever all-division team NFL tournament! For those of you who don't know what I'm talking about (which is probably all of you) let me explain:
There are eight divisions in the NFL. What I have done in this slideshow is create an all-division team for each division consisting of a roster filled with its best players.
Each team will play another team in its conference and the losers will be eliminated. Then the remaining teams in each conference will play each other, and the winners of each conference will play in a Super Bowl-type game. Whichever division's team wins will be crowned king. So without further ado....the NFL all-division team tournament!
Begin Slideshow

»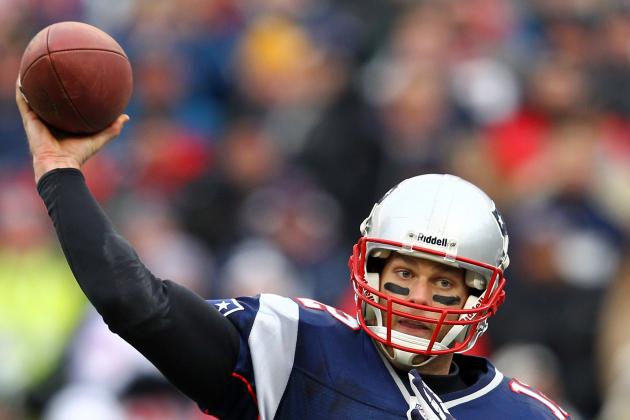 Al Bello/Getty Images

The roster:
QB: Tom Brady
HB: Fred Jackson
FB: John Conner
WR: Wes Welker, Stevie Johnson
WR: Brandon Marshall, Deion Branch
TE: Rob Gronkowski, Aaron Hernandez
T: Jake Long, D'Brickashaw Ferguson
G: Andy Levitre, Brian Waters
C: Nick Mangold
DE: Andre Carter
DT: Paul Soliai
DT: Vince Wilfork
DE: Kyle Williams
OLB: Cameron Wake
MLB: Jerod Mayo
OLB: Calvin Pace
CB: Darrelle Revis, Kyle Arrington
CB: Vontae Davis, Sean Smith
S: Yeremiah Bell
S: George Wilson
K: Steven Gostkowski
P: Zoltan Mesko
KR/PR: Joe McKnight
HC: Bill Belichick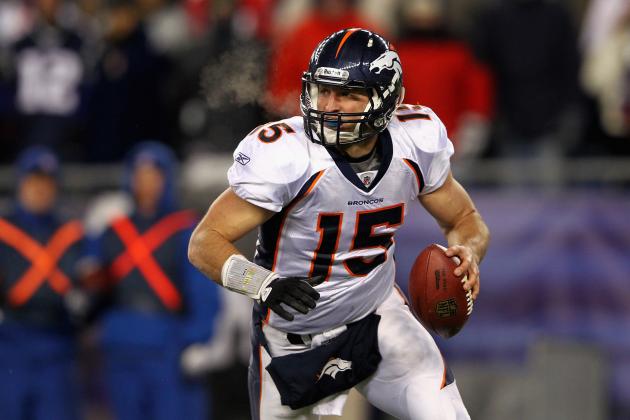 Al Bello/Getty Images

The roster:
QB: Tim Tebow
HB: Ryan Mathews
FB: Marcel Reece
WR: Dwayne Bowe, Demaryius Thomas
WR: Vincent Jackson
TE: Antonio Gates, Kevin Boss
T: Jared Veldheer, Brandon Albert
G: Stefan Wisniewski, Chris Kuper
C: Nick Hardwick
DE: Elvis Dumervil
DT: Brodrick Bunkley
DT: Richard Seymour
DE: Tamba Hali
OLB: Von Miller
MLB: Derrick Johnson
OLB: Shaun Phillips
CB: Champ Bailey, Stanford Routt
CB: Brandon Flowers, Brandon Carr
S: Tyvon Branch
S: Eric Weddle
K: Matt Prater
P: Shane Lechler
KR/PR: Jacoby Ford
HC: John Fox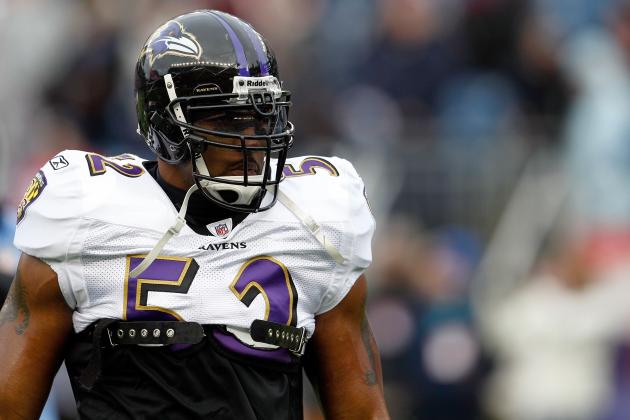 Rob Carr/Getty Images

The roster:
HB: Ray Rice
FB: Vonta Leach
WR: Mike Wallace, Antonio Brown
WR: A.J. Green
TE: Jermaine Gresham, Heath Miller
T: Joe Thomas, Andrew Whitworth
G: Marshall Yanda, Ben Grubbs
C: Matt Birk
DE: Terrell Suggs
DT: Haloti Ngata
DT: Geno Atkins
DE: Carlos Dunlap
OLB: James Harrison
MLB: Ray Lewis
OLB: Rey Maualuga
CB: Joe Haden, Leon Hall
CB: Lardarius Webb, Ike Taylor
S: Ed Reed
K: Phil Dawson
P:Sam Koch
KR/PR: Antonio Brown/Josh Cribbs
HC: John Harbaugh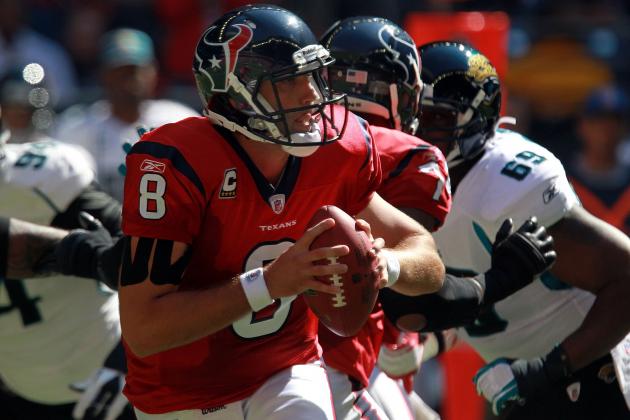 Ronald Martinez/Getty Images

The roster:
QB: Matt Schaub
HB: Maurice Jones-Drew
FB: Greg Jones
WR: Andre Johnson, Nate Washington
WR: Reggie Wayne, Pierre Garcon
TE: Owen Daniels, Jared Cook
T: Michael Roos, Duane Brown
G: Jake Scott, Wade Smith
C: Chris Myers
DE: Jeremy Mincey
DT: Terrance Knighton
DT: Jurrell Casey
DE: J.J. Watt
OLB: Daryl Smith
MLB: Brian Cushing
OLB: Paul Posluszny
CB: Jonathan Joseph, Derek Cox
CB: Cortland Finnegan, Jerraud Powers
S: Antoine Bethea
S: Michael Griffin
K: Rob Bironas
P: Pat McAfee
KR/PR: Marc Mariani/Jacoby Jones
HC: Gary Kubiak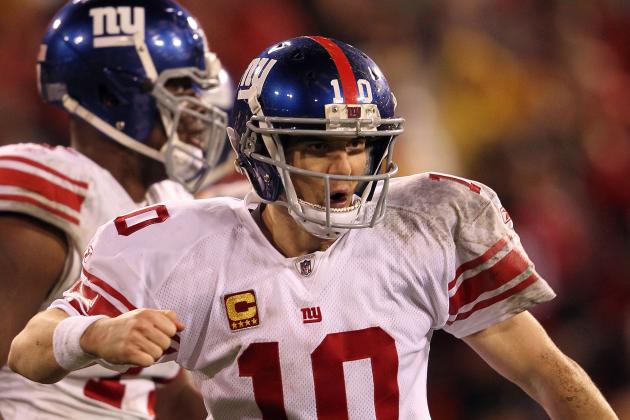 Jamie Squire/Getty Images

The roster:
QB: Eli Manning
HB: LeSean McCoy
FB: Darrell Young
WR: Hakeem Nicks, Dez Bryant
WR: Victor Cruz, Jabar Gaffney
TE: Jason Witten, Jake Ballard
T: Jason Peters, Tyron Smith
G: Evan Mathis, Chris Snee
C: David Baas
DE: Jason Pierre-Paul
DT: Justin Tuck
DT: Jay Ratliff
DE: Trent Cole
OLB: DeMarcus Ware
MLB: London Fletcher
OLB: Brian Orakpo
CB: Nnamdi Asomugha, Asante Samuel
CB: Corey Webster, Josh Wilson
S: Kenny Phillips
S: O.J. Atogwe
K: Dan Bailey
P: Steve Weatherford
KR/PR: Brandon Banks
HC: Tom Coughlin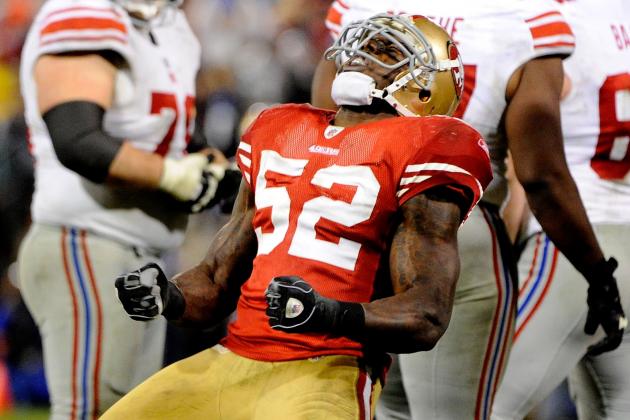 Thearon W. Henderson/Getty Images

The roster:
QB: Alex Smith
HB: Marshawn Lynch
FB: Michael Robinson
WR: Larry Fitzgerald, Brandon Lloyd
WR: Michael Crabtree, Doug Baldwin
TE: Vernon Davis, Zach Miller
T: Russell Okung, Joe Staley
G: Mike Iupati, Harvey Dahl
C: Jason Brown
DE: Chris Long
DT: Justin Smith
DT: Calais Campbell
DE: Chris Clemons
OLB: Aldon Smith
MLB: Patrick Willis
OLB: NaVorro Bowman
CB: Carlos Rodgers, Brandon Browner
CB: Richard Sherman, Patrick Peterson
S: Kam Chancellor
S: Earl Thomas
K: David Akers
P: Andy Lee
KR/PR: Patrick Peterson
HC: Jim Harbaugh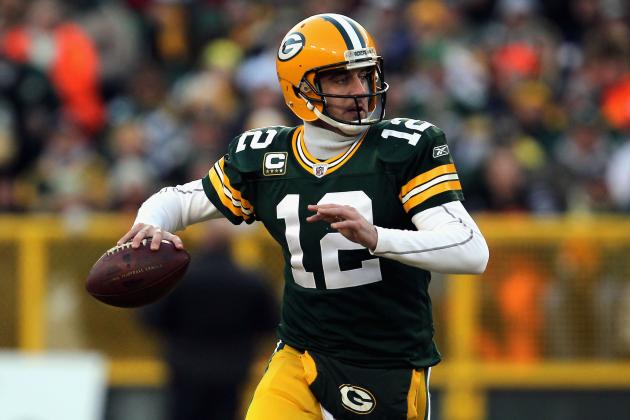 Jonathan Daniel/Getty Images

The roster:
QB: Aaron Rodgers
HB: Adrian Peterson
FB: Jim Kleinsasser
WR: Calvin Johnson Jr., Greg Jennings
WR: Jordy Nelson, Percy Harvin
TE: Jermichael Finley, Brandon Pettigrew
T: Jeff Backus, Bryan Bulaga
G: Steve Hutchinson, Josh Sitton
C: John Sullivan
DE: Cliff Avril
DT: B.J. Raji
DT: Ndamukong Suh
DE: Jared Allen
OLB: Clay Matthews
MLB: Brian Urlacher
OLB: Lance Briggs
CB: Charles Woodson, Chris Houston
CB: Charles Tillman, Tim Jennings
S: Morgan Burnett
S: Louis Delmas
K: Robbie Gould
P: Adam Podlesh
KR/PR: Percy Harvin/Devin Hester
HC: Mike McCarthy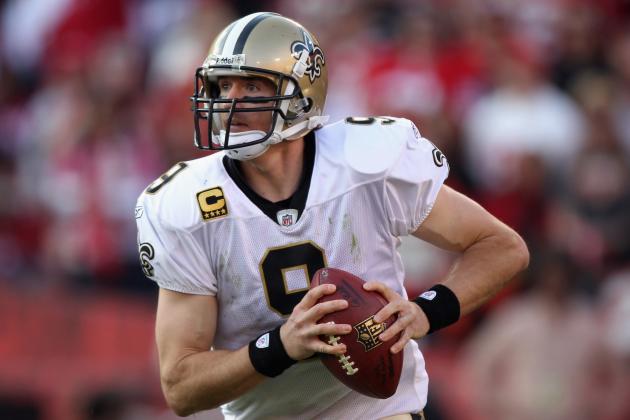 Jed Jacobsohn/Getty Images

The roster:
QB: Drew Brees
HB: Michael Turner
FB: Jed Collins
WR: Steve Smith, Marques Colston
WR: Roddy White, Julio Jones
TE: Jimmy Graham, Tony Gonzalez
T: Jordan Gross, Donald Penn
G: Jahri Evans, Carl Nicks
C: Ryan Kalil
DE: Charles Johnson
DT: Corey Peters
DT: Brian Price
DE: Adrian Clayborn
OLB: James Anderson
MLB: Jonathan Vilma
OLB: Curtis Lofton
CB: Chris Gamble, Jabari Greer
CB: Aqib Talib, Brent Grimes
S: Malcolm Jenkins
S: Thomas DeCoud
K: Matt Bryant
P: Jason Baker
KR/PR: Eric Weems/Darren Sproles
HC: Sean Payton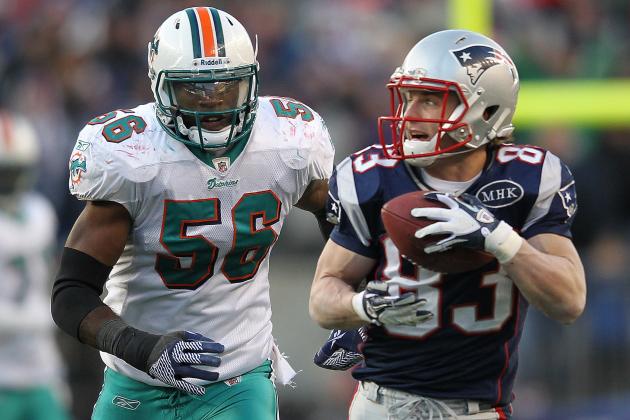 Jim Rogash/Getty Images

The potent aerial attack presented by the AFC East, led by QB Tom Brady, receivers Wes Welker and Brandon Marshall, and tight end Rob Gronkowski, meets the AFC West's dominant pass rush led by defensive ends Tamba Hali and Elvis Dumervil (as well as linebacker Von Miller) and strong running game highlighted by running backs Tim Tebow (oh wait...he's technically a quarterback) and Ryan Mathews.
The Result:
The result is not too pretty. Jake Long and D'Brickashaw Ferguson are able to handle Hali and Dumervil while Tom Brady's quick passes and talented receivers show up corners Champ Bailey and Brandon Flowers. Brady is hit a few times and is sacked twice but in the end the AFC East has too much offensive firepower for the AFC West.
Though the AFC West's offense tries to fight back and is able to put some points up, their real strength is the defense and Brady, Fred Jackson, and the rest of the AFC East's offense have been able to get past it.
AFC East 30 AFC West 17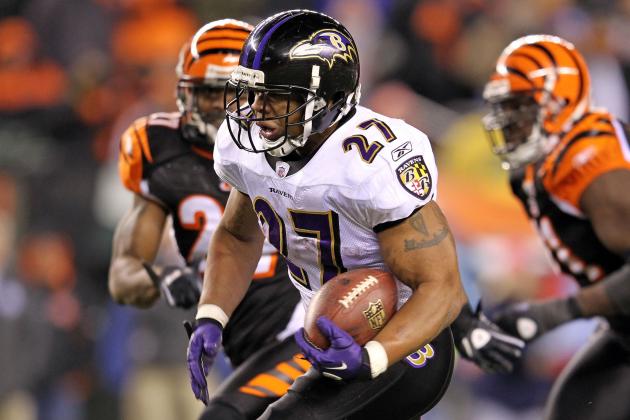 Andy Lyons/Getty Images

By combining Ravens and Steelers players, the AFC North may have created the tournament's best defense, led by linebacker Ray Lewis. The offense is no pushover either; running back Ray Rice can make things happen in the running or passing game and receivers Mike Wallace and A.J. Green give defensive backs nightmares.
Representing the AFC South at quarterback is Matt Schaub, and his talented receiving corps includes the likes of Andre Johnson, Reggie Wayne, and Nate Washington as well as Owen Daniels at tight end. However, they don't pose much of a threat for the AFC North.
The Result:
2011 was a year where the AFC South was a resounding disappointment (except for maybe the Texans), and they are quickly knocked out of the tournament due to a lackluster defense and offense that has been held in check by the AFC North's dominant defense. Running back Maurice Jones-Drew manages 100 yards from scrimmage, but it isn't much help.
AFC North 24 AFC South 13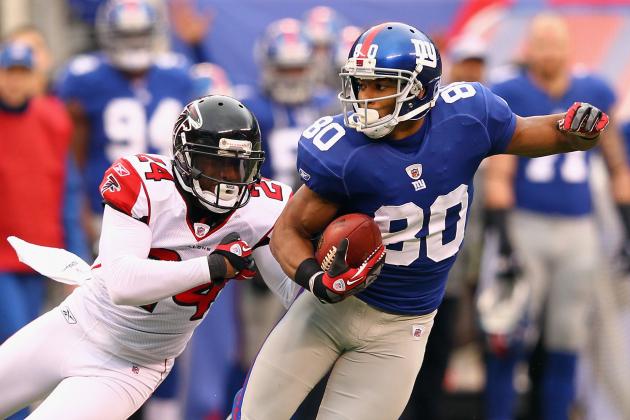 Al Bello/Getty Images

NFC East quarterback Eli Manning gets to bring his two favorite receivers in Hakeem Nicks and Victor Cruz to the fight, and with LeSean McCoy in the backfield the offense is a force to be reckoned with. Meanwhile with Justin Tuck, Jason Pierre-Paul, Jay Ratliff, Trent Cole, and DeMarcus Ware headlining the tournament's most fearsome pass rush, the NFC West enters as a heavy underdog.
Quarterback Alex Smith of the NFC South has Larry Fitzgerald and Vernon Davis but not much else in the passing game, so running back Marshawn Lynch is a key player. The hard-hitting defense poses a threat to Eli Manning's well-being, but in the end they aren't able to bail the South out.
The Result:
Manning has beaten the 49ers defense before and although they now have help Manning has huge upgrades at the offensive tackle position and he is able to dissect the defense and put up nearly 300 passing yards (over 100 and a pair of TDs to Victor Cruz) while LeSean McCoy puts up roughly 50 yards on the ground. It is a sloppy game by both offenses, but the NFC East sets the dial on "Cruz" Control and comes up with a convincing win.
NFC East 27 NFC West 19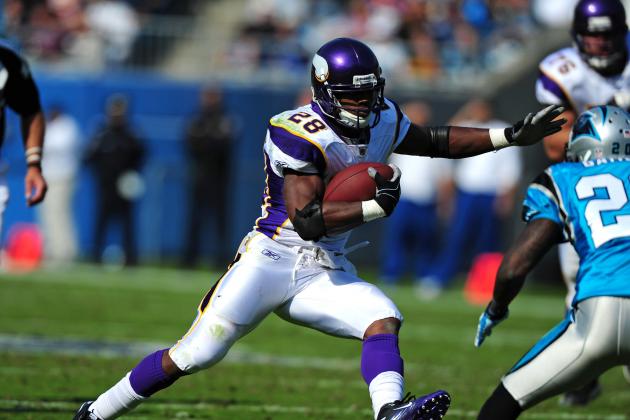 Scott Cunningham/Getty Images

The NFC North has a solid defense, but offense is its biggest strength. It seems like there won't be enough touches to go around between Adrian Peterson, Calvin Johnson Jr., Jordy Nelson, and Percy Harvin. The secondary will struggle against Drew Brees, the league's most accurate short-medium range passer, but luckily the North brings pass rushers Ndamukong Suh, Cliff Avril, and Jared Allen to the table.
The NFC South, meanwhile, is led by Drew Brees but gives him new weapons to utilize in Roddy White and Steve Smith, both huge upgrades from Marques Colston and Robert Meachem. Michael Turner will provide a stable ground game, and the defense can boast probably a better secondary than the NFC North.
The Result:
However, in a game dominated by offense Aaron Rodgers comes out on top, throwing for over 400 yards as the NFC North pulls out a win over Drew Brees (who also threw for over 400 yards) and the NFC South. Both teams perform well but in a game where both defenses were getting steamrolled the NFC North proved to be simply unstoppable.
NFC North 38 NFC South 31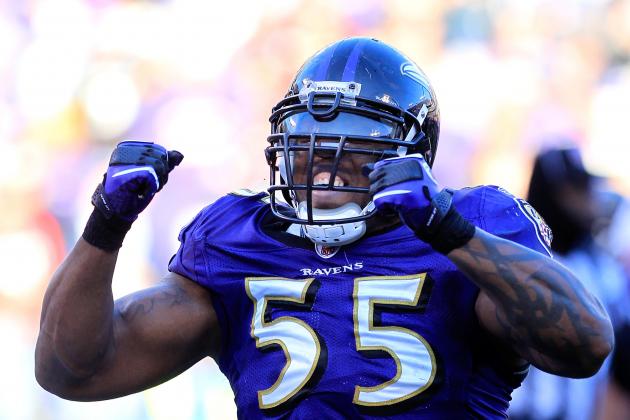 Chris Trotman/Getty Images

Tom Brady and the AFC East are coming off of a convincing win over the weaker AFC West, but they will face the tournament's best defense in the AFC North. They do have an elite receiving corps and the league's best tight end, but they will have their hands full with the AFC North's defense as a whole. Meanwhile they boast a solid defense to match the North's solid O, but all the fans want to see is Tom Brady vs. Ray Lewis.
The AFC North, led by linebacker Ray Lewis, boasts Terrell Suggs, James Harrison, and Troy Polamalu to rush the passer while ball hawk Ed Reed lurks in the secondary. Ben Roethlisberger and Ray Rice are reliable on offense, but the AFC North will be relying on defense to win this matchup.
The Result:
Defense wins championships. Lardarius Webb, Joe Haden, and Leon Hall rough up Wes Welker, Brandon Marshall, and Stevie Johnson at the line of scrimmage the entire game and although Marshall is not very affected (he has almost 100 receiving yards) Tom Brady can't get the ball out of his hands and is hit and sacked several times while also throwing two picks. Brady also throws two touchdowns but the AFC North manages the game on offense and dominates on defense, earning the win.
AFC North 20 AFC East 14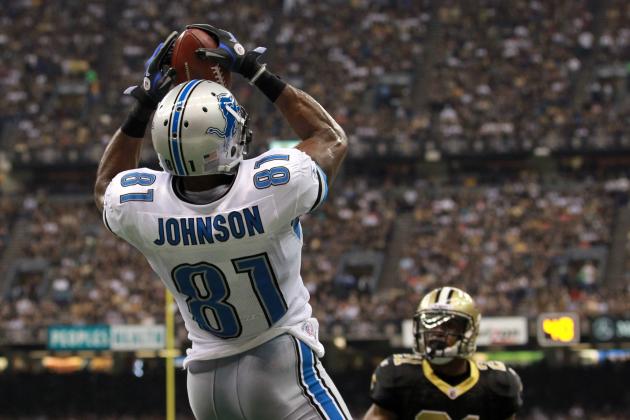 Ronald Martinez/Getty Images

The NFC East, with the league's best pass rush, comes into the game with one goal: taking out Aaron Rodgers. They have the firepower to put up points on offense, but the defense will need to make some plays on Rodgers to keep the NFC North from running away with the game.
Rodgers, meanwhile, will have to get used to being either on the run or on his back for most of the game. Luckily, when he gets in trouble he has the game's best receiver in Calvin Johnson Jr. to bail him out, but he must be efficient and careful with the football. Adrian Peterson will also have to make his mark on the game.
The Result:
Eli Manning plays his heart out and gets 100 yards through the air to both Hakeem Nicks and Victor Cruz while LeSean McCoy has over 100 yards from scrimmage, but he is out-dueled by Aaron Rodgers, who is seemingly unfazed by being sacked three times. Rodgers puts three passing touchdowns on the board and though it is a close game, the NFC North proves itself to be the best offensive division in the NFC.
NFC North 37 NFC East 34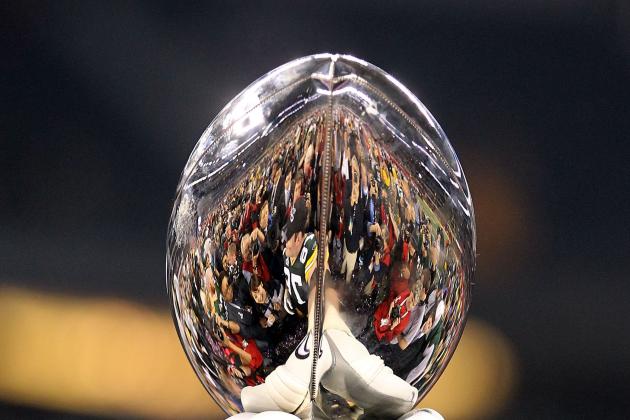 Ronald Martinez/Getty Images

It's been a long road for both teams to get to the championship. And whatever they're doing up north, it must be good. The AFC and NFC North have made it to the title game.
The AFC North has overcome the AFC East's powerful offense and disposed of the disappointing AFC South, and now they enter the title game with their fate resting in the hands of all 11 players on the defense as well as quarterback Ben Roethlisberger and running back Ray Rice.
The NFC North, meanwhile, is centered around offense, which it lives and dies by. The defense isn't bad, but it isn't a unit capable of carrying the team. Aaron Rodgers will be playing possibly the largest role of any member of the team.
The Result:
Truly this is a game for the ages. Aaron Rodgers throws an early pick which Ed Reed returns 30 yards before lateraling to fellow Raven Lardarius Webb for the score. However, soon afterwards B.J. Raji crushes Ben Roethlisberger, who coughs up the football. This leads to a field goal by kicker Robbie Gould.
Ray Rice takes a screen pass from Roethlisberger all the way midway through the second quarter, but just before the half ends a short pass to Percy Harvin turns into a 60 yard gain, allowing Adrian Peterson to run in for the score from only a couple yards out as halftime arrives.
In the second half, Aaron Rodgers throws touchdowns to Megatron and Jordy Nelson, putting the NFC North up 24-14 as they begin to get into a rhythm. Luckily for the AFC North, Ben Roethlisberger is able to get the ball to A.J. Green in the end zone to cut the lead to three going into the fourth quarter. A field goal by Phil Dawson ties the game, and with just over two minutes left in the game, Charles Woodson trips up and allows Ben Roethlisberger to hook up with Mike Wallace, who burns the defense for a 57 yard score. The AFC North is now up 31-24.
Aaron Rodgers, relatively untested in the clutch, begins at his own 20 and immediately hits Greg Jennings for 14 yards. The defense holds on the next two downs, however, but on the verge of a three-and-out Rodgers gets the ball to Jordy Nelson for 11 yards and another first down. However, Nelson doesn't get out of bounds and the clock runs. With just over a minute left in the game the Packers steadily make their way to the AFC North's 34 yard line. Rodgers hits Harvin with a short pass, and Harvin...FUMBLES the ball! He scoops it back up, but the blunder means the clock will continue ticking. The next play, Rodgers rolls out and tries to find Calvin Johnson downfield but before the ball is released Terrell Suggs comes up with a huge sack.
Now, with 20 seconds left, a ticking clock, and almost 50 yards to go the NFC North hurls it deep. The pass is batted down by Joe Haden. 14 seconds remain and it is fourth down. Rodgers slings it to Calvin Johnson, knowing it is all or nothing, and the ball is tipped before falling into the hands of a player who lies in the end zone for a few seconds before realizing what has happened. Finally, a triumphant Lardarius Webb stands and faces a cheering crowd, having come up with the interception that seals the deal for the AFC North.
AFC North 31 NFC North 24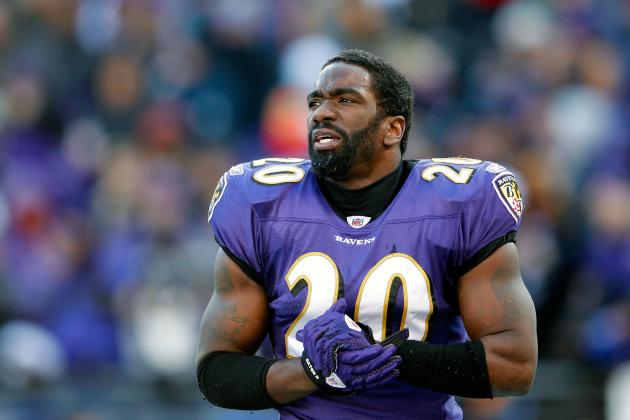 Rob Carr/Getty Images

In the first ever NFL all-division tournament, there was certainly no shortage of big plays, blowouts, or close games. However, despite the NFC North's high-octane offense, the AFC North proves that defense wins championships as they defeat Aaron Rodgers and the NFC North 31-24 on a late-game pick by Lardarius Webb.
Scores:
AFC East 30 AFC West 17
AFC North 24 AFC South 13
NFC East 27 NFC West 19
NFC North 38 NFC South 31
AFC East 14 AFC North 20
NFC East 34 NFC North 37
AFC North 31 NFC North 24
This is the first time I have ever attempted such an article as this, and I thank you all for taking the time to read. Any comments or suggestions for any future tournaments are greatly appreciated.