2012 NFL Mock Draft: Fan Favorites Miami Dolphins Should Avoid with Each Pick
Donald Miralle/Getty Images
Over the next few months, all Miami Dolphins news coverage will be dominated by mock drafts and speculation about which collegiate prospects the 'Fins should target in the 2012 NFL draft.
But, you might not see discussion about which prospects the Dolphins should avoid.
The last thing this franchise needs is another draft class studded with busts like Pat White, Chad Henne and Patrick Turner.
So, which prospects should Jeff Ireland and Co. avoid on draft day? Here's a look at a Miami Dolphins "Anti-Mock Draft."
First Round: Vontaze Burfict, ILB, Arizona State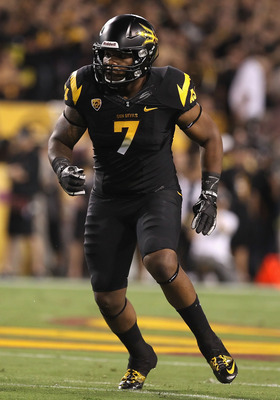 Christian Petersen/Getty Images
Vontaze Burfict has the makeup of a NFL stud.
The 6'3", 250-pound linebacker boasts an uncanny combination of instinct, athleticism and intensity. He is flat-out ferocious on the field, and based on the comments from my latest mock draft, has garnered the admiration of many Dolphins fans.
However, Burfict should not—and probably will not—be on Miami's radar in the first round of the 2012 NFL draft. There are rumors that the team will transition to a 4-3 defensive alignment next season, which eliminates the need for an inside linebacker. Plus, the Dolphins already have a pair of great inside linebackers in Karlos Dansby and Kevin Burnett.
Drafting Burfict might sound nice, but it's illogical.
Second Round: Brock Osweiler, QB, Arizona State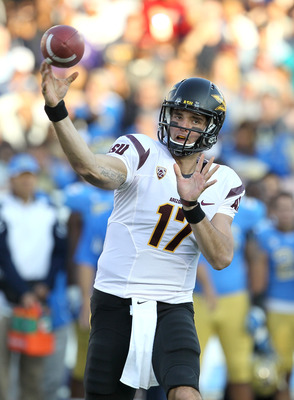 Stephen Dunn/Getty Images
No, I don't have a vendetta against Arizona State. It is purely coincidental that there are two former Sun Devils here.
Anyway, ASU quarterback Brock Osweiler is starting to gain steam as the pre-draft process commences. His measurables alone will have NFL teams drooling. Osweiler is a towering 6'8" and weighs in at a solid 240 pounds.
Some draft analysts are suggesting that Osweiler could be a first-round pick—but that is completely ludicrous. Osweiler led the Sun Devils to a pedestrian 6-7 record in his first and only season as a starter. He posted respectable numbers (4,036 yards, 26 TD, 13 INT), but didn't overwhelm.
We see prospects come out of nowhere every year (Blaine Gabbert comes to mind), and while Osweiler might have NFL-starter potential, there's no way the Dolphins should use a high draft pick on such an unproven player.
Third Round: Brandon Weeden, QB, Oklahoma State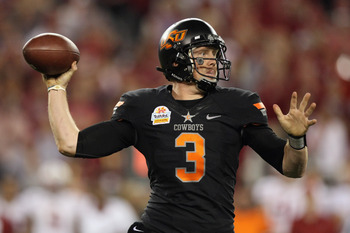 Donald Miralle/Getty Images
Everybody is drinking the Brandon Weeden Kool-Aid right now. Russ Lande of the Sporting News reports that Weeden is the best quarterback at the Senior Bowl, and might even work his way into the first round.
However, history suggests that the Dolphins should stray far away from the 28-year-old quarterback.
First of all, there seems to be this assumption that because of Weeden's maturity and arm strength, he is bound to succeed in the NFL. But he is no less risky of a pick than any other quarterback in this draft class.
Second, we've seen other quarterbacks post huge numbers in Mike Gundy's offense. Remember Zac Robinson and Bobby Reid? Neither matched Weeden's incredible stats, but both excelled in OK State's offense only to fall by the wayside in the NFL.
Third, look at other minor league baseball players turned NFL quarterbacks—their track record isn't good. Chris Weinke and Drew Henson were both collegiate standouts, but neither became anything more than backups in the pros.
Finally, Weeden's age does matter—for the Dolphins, anyway. This team is searching for a quarterback to be the face of the franchise for years to come. Weeden, like every other rookie quarterback, will take some time to develop. By that time, though, he might already be 31 or 32 years old.
Fourth Round: T.Y. Hilton, WR/KR, Florida International

Florida International's T.Y. Hilton is an electric wide receiver with great hands, great speed and great return skills. Some of you local Dolphins fans might remember Hilton from his days at Miami Springs High School, where he terrorized opposing defenses.
Hilton enjoyed similar success at FIU. This past season, he reeled in 72 receptions for 1,038 yards and seven touchdowns.
Miami's offense still needs more explosive assets, but Hilton is not the most ideal fit. Hilton wouldn't dethrone Davone Bess as a returner or as a slot receiver, so the 'Fins should use this pick on a more pressing need.
Fifth Round: Daniel Herron, RB, Ohio State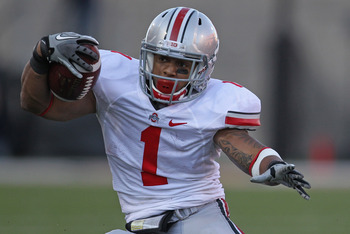 Jonathan Daniel/Getty Images
In 2010, Ohio State running back Daniel Herron burst onto the national radar with an outstanding season. He ran for over 1,000 yards, averaged over five yards per carry and registered 16 touchdowns.
Herron appeared primed for stardom, but his role in a pair of scandals derailed his career. After sitting out half of the 2011 season, Herron returned to active duty and picked up where he left off, rushing for 675 yards in just seven games.
Despite his success at Ohio State, the Dolphins should stay away from Herron. He weighs in at a lanky 183 pounds and doesn't look like anything more than a situational third-down back with off-the-field baggage.
Sixth Round: Marc Tyler, RB, USC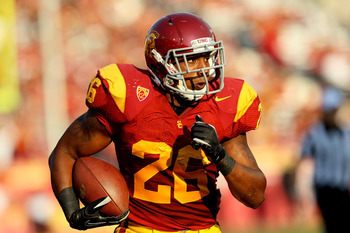 Stephen Dunn/Getty Images
Marc Tyler is one in a long line of blue-chip high school running back prospects who disappointed at USC. Despite mediocre collegiate production and a boneheaded incident, Tyler's name recognition and flashes of brilliance will have NFL teams interested.
After watching players like Joe McKnight and Chauncey Washington struggle in the NFL, it's nearly impossible to support drafting Tyler. He wasn't particularly productive in college, so there's little reason to believe he will turn it around at the next level.
Plus, Jeff Ireland might be discouraged from drafting former Trojans after whiffing miserably on Patrick Turner in 2009.
Seventh Round: Adewale Ojomo, DE, Miami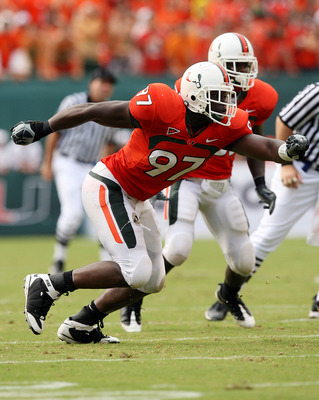 Doug Benc/Getty Images
The Dolphins have not drafted a University of Miami Hurricane since 2004 when they selected Vernon Carey in the first round. That trend could end this year, but the Dolphins should avoid defensive end Adewale Ojomo.
Ojomo only weighs in at 270 pounds, making him far too light to play defensive end or defensive tackle in the NFL. If he can pack onto his frame, then he might have a chance. However, it won't be easy for Ojomo to reach an acceptable weight and retain his athleticism.
Keep Reading

Miami Dolphins: Like this team?