Detroit Red Wings: Why Valtteri Filppula's Season Is Not a Fluke
January 25, 2012

Tom Szczerbowski/Getty Images
Valtteri Filppula is having a breakout year.  He will obliterate his career-best numbers in goals, assist and points, which are 19, 28 and 40, respectively.  He already has 15 goals and 24 assists on the season.
Some wonder if this is a one-year fluke and if Filppula will return to being a 35 to 40-point scorer in the future.  Have no fear; this is not a fluke season but one where Filppula is finally breaking out of his shell to reach his potential.
Over the past several seasons, Filppula has started the season as one that many predicted would have a breakout year.  Year after year, though, he did not live up to those predictions.  While he was not playing poorly, he was not the 25 goals and 70 points a season scorer that the team thought that he could be. 
Filppula has always had the talent.  He is a fast skater with good puck-handling skills.  Early in his career he was on the third and fourth lines and his responsibilities were more defensive.  Once he had a chance to move up, he still maintained that defense first approach.  While admirable, he failed to fully utilize his offensive talents.
This season he has been in attack mode.  The key move happened with coach Mike Babcock moving him to the wing, a more natural position.  While he has spent time there in the past he would always eventually be moved back to center.  The move to the outside and the security that he will stay there most of the time has really boosted him.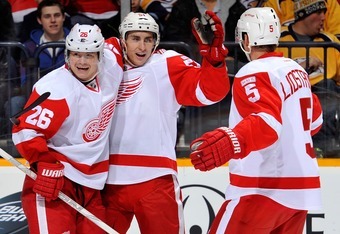 Frederick Breedon/Getty Images
Part of the change in Filppula this season has been his aggressiveness.  Earlier in his career he seemed almost afraid to shoot the puck.  He was focused on defense and if he got the puck he was quick to pass it.  Looking for his own shot did not seem to be on his mind.  Now he is looking to score in the offensive zone.  He does not simply fire shots from the outside anymore but is willing to get closer to the net and into traffic in order to score.
Beyond just taking more shots, he has focused on aiming those shots better.  With an increased confidence, new attitude and more aggressive play he has improved greatly.  Once known for the constant clank of the puck off the glass after missing a shot, he now is a sure fire shot.  He has averaged a .123 shooting percentage throughout his career, that has jumped to .188 this season.
The key component that shows this is not a fluke season can be seen in his consistency.  Often when a player has a fluke season they go hot and cold throughout a season.  While it may add up to impressive numbers at the end of the season, most of the damage is done in a few games.
Filppula has not had that cold streak.  His points per game have stayed consistent from month to month and that consistency has been key for him.  There has only been one time this season where he has gone pointless for more than three games and that happened back in November.  With that consistency comes confidence.  He plays like someone who owns the ice now.
He has maintained his scoring pace while still maintaining his dedication to defense, making  him a valuable asset to the team.  His play has led to an increase in minutes and more time on the power play.  More ice team is usually going to lead to more scoring.
Players who have fluke seasons are often surprises.  The only surprise with Filppula is that is has taken so many seasons.  He was expected to be this type of player and now that he has taken on a new, more aggressive mentality he is living up to his potential.  With the success he has had this season; there will be no turning back to the old Valtteri.  The new and improved model is here to stay and more seasons like this will be the norm.
PJ Sapienza is a featured columnist for the Detroit Red Wings and a writer of many other sports. He is also taking part in a Polar Plunge for Special Olympics and would greatly appreciate your support. You can also follow him on Twitter.