2012 NFL Draft: 5 Underrated Prospects the Philadelphia Eagles Should Consider
Al Messerschmidt/Getty Images

Very few teams in the NFL in the last few years have been better at identifying underrated prospects and turning them into NFL starters very quickly. Last season, the Eagles had four starters on offense and defense that were drafted in the latter portion of the draft in the last two years.
Andy Reid has made a name for himself as somewhat of a draft guru. Reid and company have had solid drafts and utilized every single round of the draft. Lately, the Eagles have had more success in the last couple rounds of the draft than they have in the first two rounds.
This year, the Eagles have three picks in the first two rounds to try and capitalize some of the premiere talent in this year's draft class.
The Eagles aren't high on needs this year outside of middle linebacker, but they could use some more young talent to keep the Eagles the inconsistent playoff team they have been over the last decade under Reid.
Begin Slideshow

»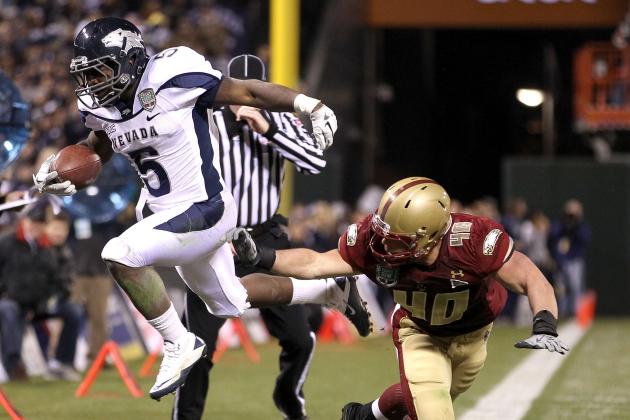 Ezra Shaw/Getty Images

Definitely not the most underrated prospect in the draft class, but the All-American middle linebacker out of Boston College is starting to get some unfair criticism.
Critics are claiming that he isn't quick enough or strong enough to be a starting middle linebacker at the next level.
The issue of Kuechly's strength is non-existent. When you compare him to one of the top middle linebackers in the NFL right now, Patrick Willis, they're almost identical in size with Kuechly being one inch taller and Willis just three pounds bigger at an even 240.
Some critics will also look at Kuechly's speed numbers where he's being projected at about 4.80 in the 40 as being too slow. It was never an issue in college as he racked up 191 total tackles and 102 solo stops in 2011 to lead the nation in both categories.
Kuechly isn't an athlete at linebacker, he just just a complete football player. He's consistently around the football and gets around blocks with ease. He's a solid tackler who always drives the ball carrier backwards and rarely misses a tackle.
He also posses good coverage skills in the middle of the field. He isn't the defender you want covering tight ends and running backs down the field, but he takes perfect position and takes away the short route to eliminate the easy dump off passes for quarterbacks.
Kuechly is exactly the type of player the Eagles need to complete their defense. He isn't a speed demon on defense, he just gets the job done week in and week out. He could come in and take over the middle linebacker spot from day one and add some stability to the Eagles run defense right away as a rookie.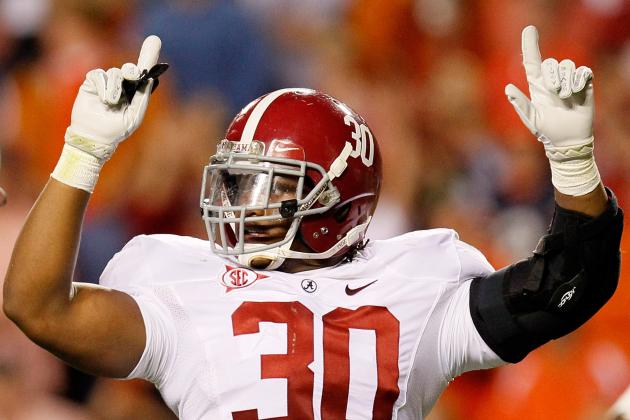 Kevin C. Cox/Getty Images

If Luke Kuechly is Plan A for the Eagles in the first round of the upcoming draft, Dont'a Hightower should be Plan B.
Clearly, the Eagles No. 1 need this offseason is a run-stuffing middle linebacker, and Hightower is another capable MIKE coming out of the draft.
The 6'4", 260-pound punishing tackler out of Alabama could be exactly what the Eagles defense needs, some MEAN. Hightower is projected as more of a 3-4 linebacker, but he has enough athleticism to make it as a middle linebacker in the 4-3 as well.
Hightower is projected to have just as good, if not better, speed number at the combine then the No. 1 rated middle linebacker, Luke Kuechly.
He would be a dominating physical presence for the Eagles run defense. He's an outstanding tackler who delivers punishment on every tackle he makes while still maintaining good discipline at the same time.
He's also an outstanding blitzer which have made him more of a fit in a 3-4 scheme in some experts mind, but he could also thrive in a more aggressive 4-3 defense as well.
His coverage skills aren't too shabby either. He doesn't have the speed and cover skills to stay with the Vernon Davis's of the NFL by himself, but he can hold his own against most tight ends and backs as long as he isn't left on an island by himself.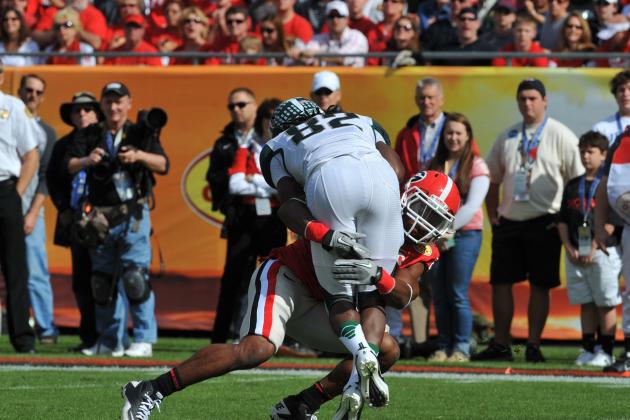 Al Messerschmidt/Getty Images

As the No. 9 ranked corner coming out of the draft according to cbssports.com, Brandon Boykin is the most underrated cornerback in the draft.
His size at just 5'10", 183 pounds will draw some concern from some scouts, but his playmaking ability will more than make up for him being just average size for a defensive back.
Boykin isn't just a defensive back prospect, but a return specialist as well. He's the only player in the history of the SEC to have three 100-yard plays in his career. His ability to take it the distance in the kick return game and also his ability to play the ball make him a dynamic playmaker on both special teams and defense.
Boykin is still a little raw as a press man corner and likely won't be ready to lock up with the league's best receivers right away. He's a player who could develop into a start in a couple years while serving a s a backup and a nickel or dime back.
His ability as a return man and his potential as a top-notch corner down the road make him a potential steal for the Eagles in the third round.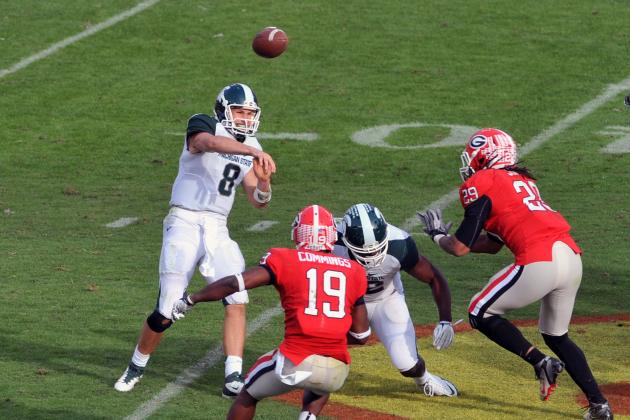 Al Messerschmidt/Getty Images

It's still unclear what the Eagles plan to do at the quarterback position.
Mike Kafka was both the second-string and third-string quarterback last season and showed some potential to be a solid backup in 2012.
If the Eagles plan on promoting Kafka to Michael Vick's backup, they will need a quarterback of the future to groom while Michael Vick finishes out the prime of his career in the next few seasons or until he takes one too many unnecessary shots. Whichever comes first.
If the Eagles plan on drafting a quarterback in the 2012 NFL draft as a eventual replacement for Vick then they should look no further then Michigan State's Kirk Cousins.
Cousins' intangibles are off the charts, and his technique and arm are pretty solid as well. He has demonstrated outstanding footwork on his throws and usually leads his receivers so they have the chance to gain extra yards after the catch instead of having to come back to the ball to make the catch.
Cousins' leadership skills and footwork make him a definite future NFL starter where the sky will be the limit for him.
He has good arm strength and accuracy that should only get better if he has the chance to work with a quarterback guru like Andy Reid for a couple seasons.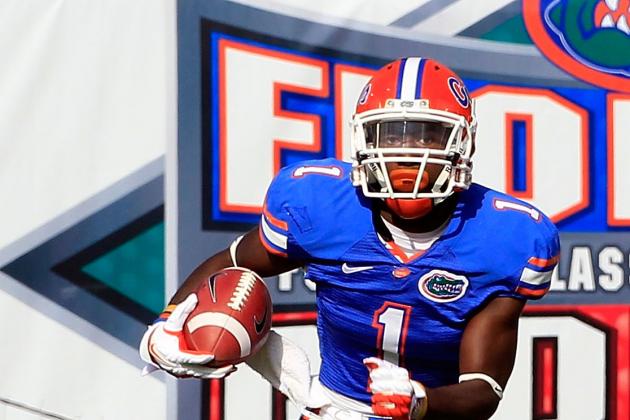 Sam Greenwood/Getty Images

The Eagles have a need for a speedy third-string running back who can also return kickoffs in 2012.
The Eagles kickoff return game has been mediocre at best. Eagles fans have been celebrating kick returns that reach the 25-yard line like most other teams celebrate returns that reach midfield and beyond. Clearly the Eagles need a playmaker in the return game to give them a boost.
Chris Rainey of Florida fills the need and then some for the Eagles.
Rainey is a dynamic speed back capable of making plays in the running game and the passing game on offense while being a special teams ace as well.
Rainey finished with over 1,200 total yards on offense in his senior season at Florida and six career blocked punts. He's a player who Eagles special teams coach Bobby April can really play with on special teams. He can be used on almost any special teams formation and will be an immediate impact on not just offense.
Rainey would be a great find for the Eagles in the fifth round of the draft to help boost a return game that was really lacking in 2011.