2012 NFL Pro Bowl: One Player from Each Team Cheated out of Hawaii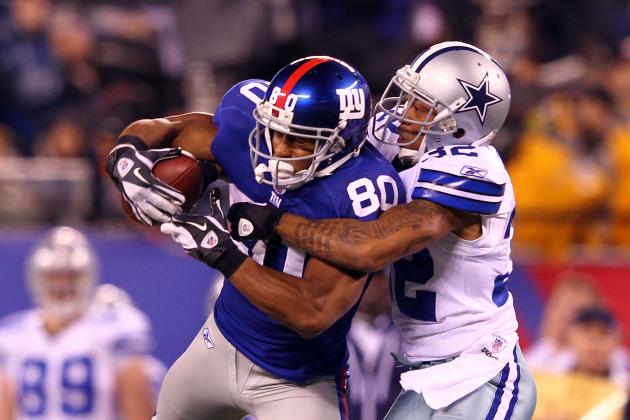 Al Bello/Getty Images

It's that time of year again—all of the best players from around the NFL will fly over the Pacific and meet in Honolulu for the 2012 NFL Pro Bowl.
However, the Pro Bowl is not really about accurately gauging the best players from each team. It's more of a glorified popularity contest.
Well, at least that's what you're telling yourself if you're an NFL player who put together a very productive season only to be ignored by the many fans who filled out ballots.
The media darlings, such as the New England Patriots and the Green Bay Packers, basically had their way with voters, while team's like the St. Louis Rams, Tennessee Titans and Buffalo Bills went completely ignored.
That's why this article is going to look at each NFL team and pick one player who could have made the Pro Bowl, but fell short for whatever reason.
For many of these players, it's understandable why they didn't quite make it, but they still deserve some recognition nonetheless.
So let's begin...
Begin Slideshow

»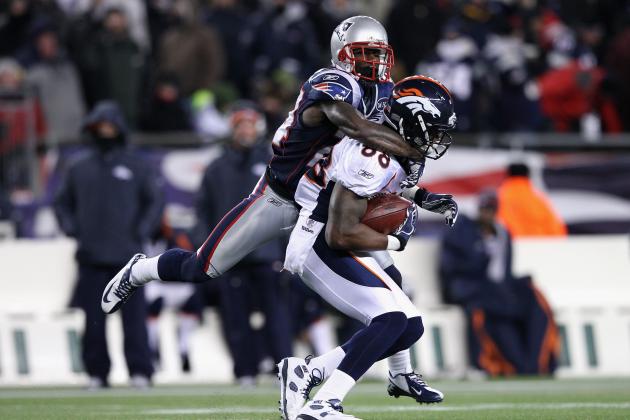 Elsa/Getty Images

The New England Patriots were well represented in the Pro Bowl voting, as eight of their players were elected.
However, none of them will be making the trip since they are set to play in the Super Bowl one week after the Pro Bowl game.
It's hard to make a case saying that New England was overlooked at all, but it certainly would not have been outrageous if cornerback Kyle Arrington was elected.
The four-year veteran led his team in tackles (88) and interceptions (seven), resulting in a surprisingly productive season after his first three years in the league were very mediocre.
Marc Serota/Getty Images

The underachieving New York Jets (8-8) did not have as much swagger in 2011 as they did during their first two seasons under head coach Rex Ryan.
The Jets will have four players representing them in Hawaii (D'Brickashaw Ferguson, Nick Mangold, Brandon Moore, Darrelle Revis), which is probably all they deserve.
And while their offense was underwhelming, it doesn't change the fact that tight end Dustin Keller put together a solid year with 815 yards and five touchdowns.
It can be argued that he is much more deserving of a Pro Bowl bid than Cincinnati's Jermaine Gresham (569 yards, six touchdowns), who is replacing Rob Gronkowski of the Patriots.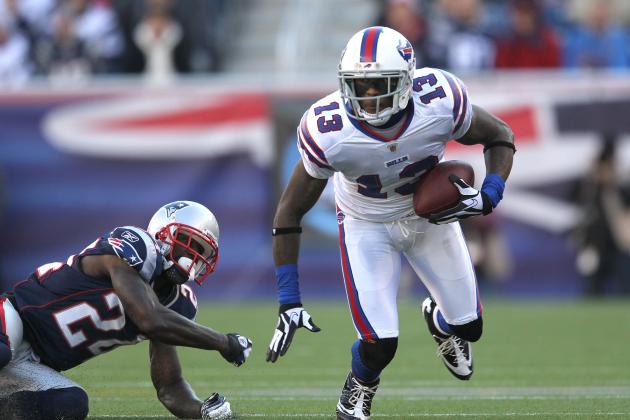 Jim Rogash/Getty Images

The Buffalo Bills started 2011 on a hot streak, going 4-1 in the first five weeks, but they cooled off down the stretch and finished with a modest 6-10 record.
As the Bills cooled off, so did wide receiver Stevie Johnson, who just barely broke the 1,000-yard barrier (1,004).
Even so, Johnson was one of the most consistent performers on the Bills offense and finished with seven touchdowns on the year.
It's understandable why guys like A.J. Green and Wes Welker were chosen over him, but he still deserves some recognition for a solid 2011 campaign.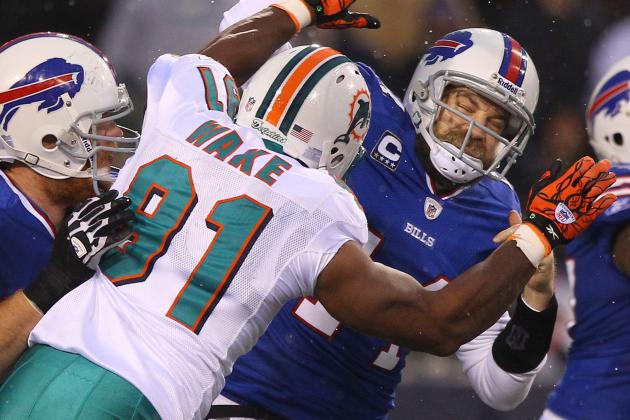 Tom Szczerbowski/Getty Images

Considering they only went 6-10, the Miami Dolphins gained solid recognition with three Pro Bowlers (Jake Long, Brandon Marshall, Paul Soliai).
Even so, outside linebacker Cameron Wake put together a respectable year, with 42 tackles and 8.5 sacks.
After spending years in the Canadian Football League, Wake emerged out of nowhere in 2010 and recorded 14 sacks and earned a Pro Bowl bid with Miami, so it's good to see that this Cinderella story is no fluke.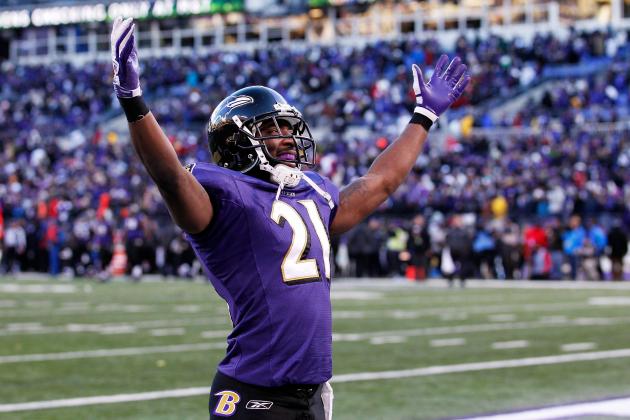 Rob Carr/Getty Images

Even though his coverage skills have been questioned in the past, Ravens cornerback Lardarius Webb led his team in interceptions (five) and racked up 67 tackles.
Also, his pair of interceptions during the AFC Divisional playoff game against Houston helped advance the Ravens to AFC Championship game against New England.
He picked off Tom Brady in the Championship game and finished with three total interceptions in just two playoff games.
Honorable Mention: Ed Dickson, TE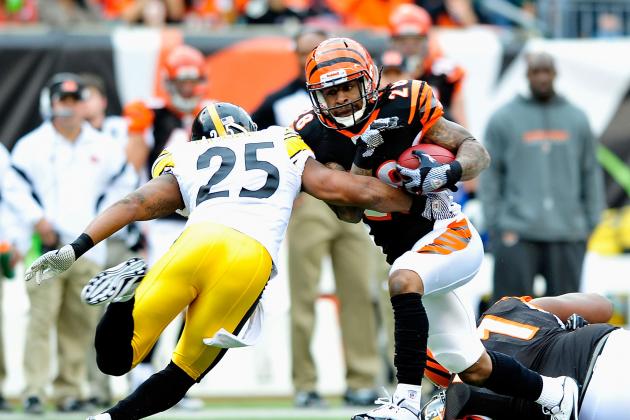 Grant Halverson/Getty Images

Free safety Ryan Clark put together an admirable season in Pittsburgh, but it's almost impossible to expect him to stand out with Troy Polamalu playing right next to him.
Clark had just one sack and one interception, but he also led the Steelers in tackles (100).
There's no shame in being outvoted by Ed Reid and Eric Weddle, but it was still a solid year for Clark regardless.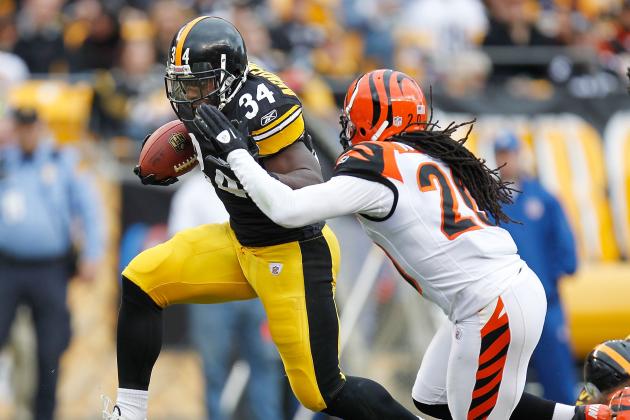 Gregory Shamus/Getty Images

Free safety Reggie Nelson of the Cincinnati Bengals picked off four passes and recorded 85 tackles in 2011, as well as forcing two fumbles and recording two sacks.
It's safe to say that he was a key piece to a solid secondary that finished ninth overall against the pass.
Much like Ryan Clark of the Steelers, Nelson suffered from the misfortune of being in the same conference as Ed Reid and Eric Weddle, which is why he'll be staying home from Hawaii this weekend.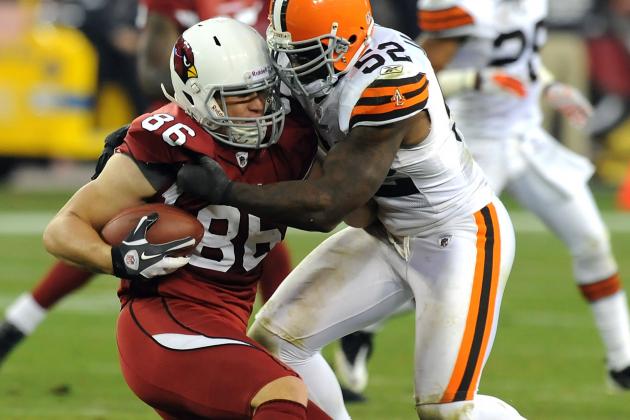 Norm Hall/Getty Images

Cleveland Browns middle linebacker D'Qwell Jackson finished second in the NFL in tackles (158) behind only London Fletcher, so it's hard to make sense out of him not getting a Pro Bowl bid.
Like many of the players who were overlooked, Jackson is an afterthought due to playing for an inept team.
Put Jackson on the Pittsburgh Steelers or New England Patriots, and he's suddenly a perennial Pro Bowler.
Honorable Mention: Phil Taylor, DT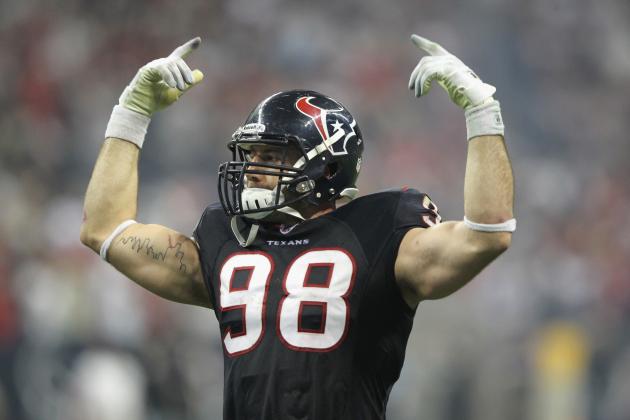 Jamie Squire/Getty Images

Connor Barwin had some hefty competition at outside linebacker in the AFC with Tamba Hali and Von Miller.
However, Barwin had 47 tackles and led the Texans with 11.5 sacks.
It was a breakout year for Barwin, which is probably why the three-year pro was ignored by the voters. If he keeps it up, however, he won't have to wait long before he's under the Honolulu sun.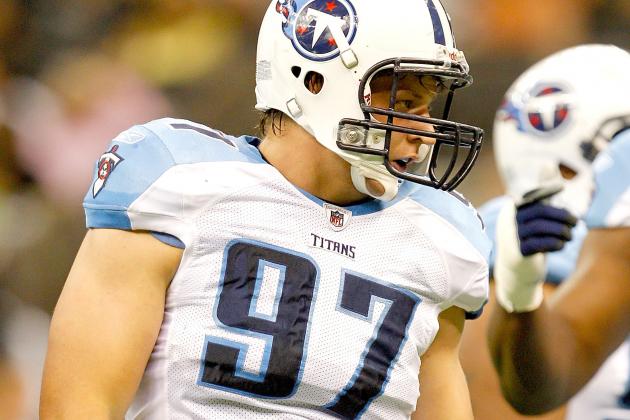 Sean Gardner/Getty Images

Is it possible to have a name like "Karl Klug" and play any other position besides defensive tackle?
Probably not.
Klug had a great rookie season in 2011 with seven sacks and two forced fumbles, as well as 20 total tackles.
However, Klug was not the only one ignored. In fact, the entire Tennessee Titans roster was overlooked, as they have zero Pro Bowlers to show for the season.
It just proves how unfair the Pro Bowl is when a 9-7 team like the Titans is completely ignored, while a 7-9 team like the Seahawks had five players elected.
Honorable Mentions: Chris Johnson, RB; Nate Washington, WR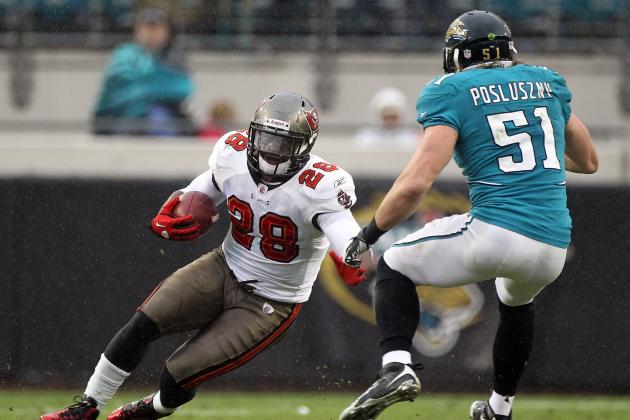 Sam Greenwood/Getty Images

The Jacksonville Jaguars sent two Pro Bowlers to Hawaii (Maurice Jones-Drew, Montell Ownes), which is fairly solid representation for a 5-11 team.
However, one player left out was middle linebacker Paul Posluszny, who finished with 119 tackles (ranked 12th in the NFL), two sacks and two interceptions.
It was Posluszny's fourth straight season with over 100 tackles, but he continues to be ignored despite being one of the better middle linebackers in the game.
Honorable Mention: Jeremy Mincey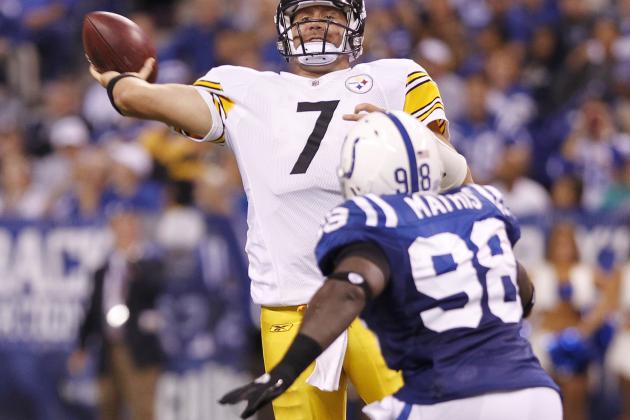 Joe Robbins/Getty Images

Robert Mathis put together a much better season for the Indianapolis Colts than Dwight Freeney, but Freeney was somehow elected to the Pro Bowl over Mathis.
Mathis finished with 9.5 sacks compared to Freeney's 8.5 and had 43 tackles compared to Freeney's 19.
It's understandable why Freeney was elected, as he's the more popular player with a more established career, but that doesn't change the fact that Mathis had the better year.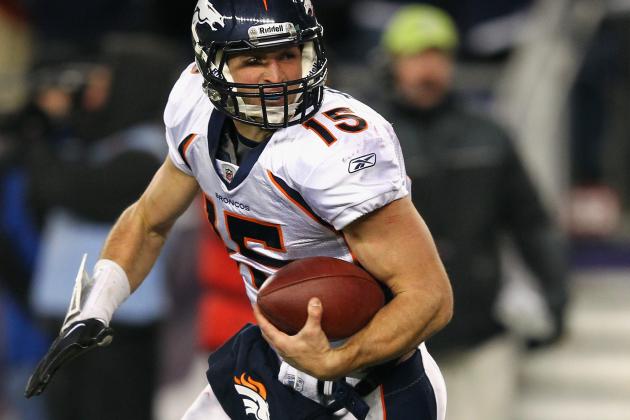 Al Bello/Getty Images

The Denver Broncos were ridiculously over-represented with six total Pro Bowlers, which is outrageous for an 8-8 team.
So it's not that they were overlooked in anyway whatsoever, but if we had to pick one Broncos player who was arguably left out of the mix, then it has to be quarterback Tim Tebow.
Tebow had modest, but solid stats in his 11 starts (12 touchdowns, six interceptions, 1,729 yards), and there's no denying that he played a major factor in advancing his team into the playoffs.
The Broncos had a 1-4 record to start the season with Kyle Orton as their quarterback, but they went 7-4 and managed to squeeze into the postseason once Tebow took over.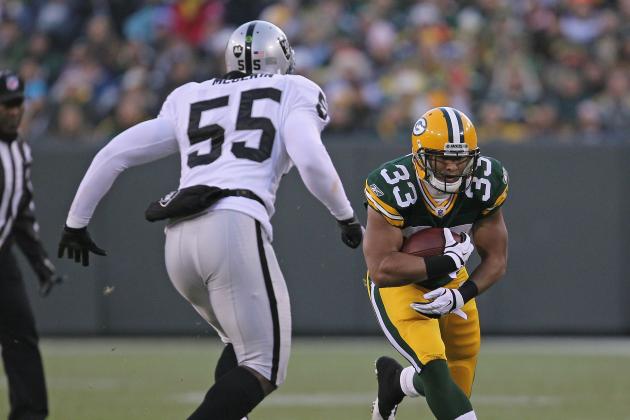 Jonathan Daniel/Getty Images

The Oakland Raiders had four players elected to the Pro Bowl (Jon Condo, Sebastian Janikowski, Shane Lechler, Richard Seymour), which is a respectable number of representatives for an 8-8 team that fell short of the postseason.
However, middle linebacker Rolando McClain put together an impressive year and deserved a Pro Bowl bid just as much as any other player on the Raiders.
McClain finished second on his team in tackles (99) and also recorded five sacks.
He showed solid improvement over his rookie year in 2010, so look for him to have a breakout year in 2012, which could ultimately result in his first Pro Bowl.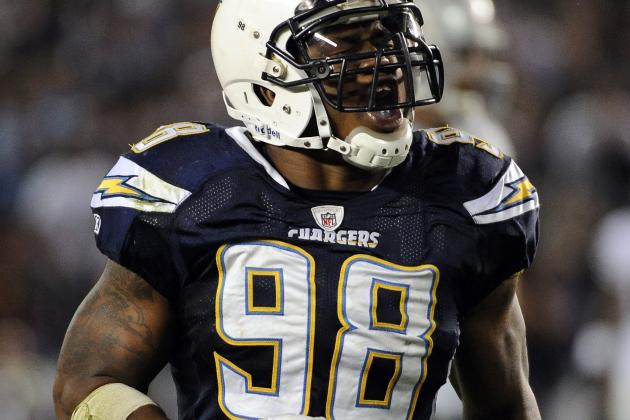 Harry How/Getty Images

Outside linebacker Antwan Barnes led the San Diego Chargers in sacks with 11. Coming in second-place was Cam Thomas, with only four.
As the only pass-rush threat for the Chargers, he certainly stood out in the eyes of San Diego fans, but considering it was a breakout year for him after five years of mediocrity, it's understandable why he was ignored by the voters.
If he continues his productivity, he'll almost inevitably make a Pro Bowl in 2012, as he plays for a team respected enough to have five Pro Bowlers despite falling short of the playoffs with an 8-8 record.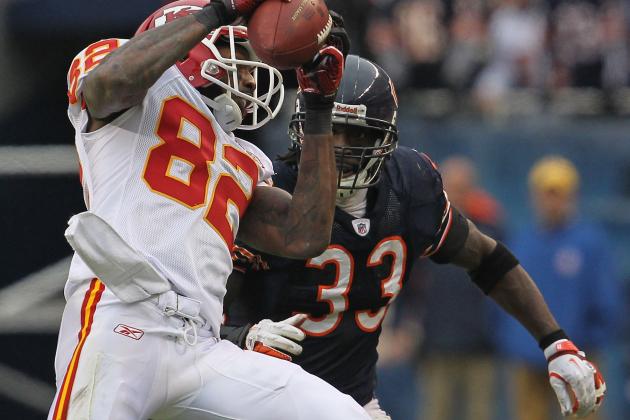 Jonathan Daniel/Getty Images

Dwayne Bowe was rightfully left out off the AFC roster as he plays in a conference being represented by A.J. Green, Mike Wallace, Brandon Marshall and Vincent Jackson.
However, Bowe put together his third 1,000-yard season in four years and is constantly ignored as one of the elite receivers in the NFL, despite that fact that he has settled for mediocrity at the quarterback position for almost all of his career.
Bowe finished the 2011 season with 1,159 yards and five touchdowns, but he's capable of much more, which is why he's surely eager to hit free agency.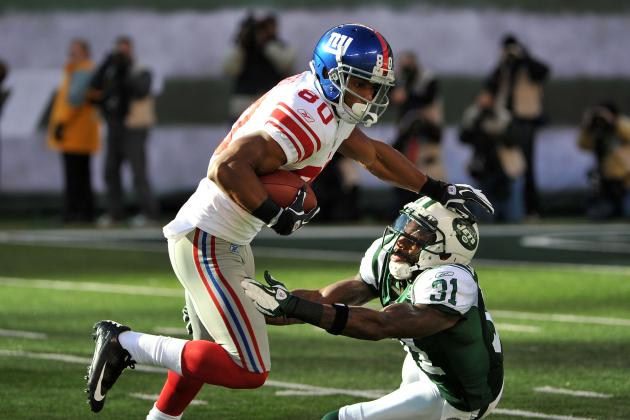 Christopher Pasatieri/Getty Images

New York Giants receiver Victor Cruz finished second in the NFC in receiving yards (1,536) and plays for a team that's in the largest market in the United States, yet he failed to be elected to the Pro Bowl, which seems almost impossible given the circumstances.
On top of that, Hakeem Nicks, who was the more popular of the two entering the season, also racked up the yardage (1,192), only to be ignored.
In fact, the Chicago Bears failed to make the playoffs and are being represented by six players, while the NFC Champion Giants were only granted two Pro Bowlers (Eli Manning, Jason Pierre-Paul).
One thing's for sure—the Pro Bowl voters won't be doubting the Giants again next season. Expect gross over-representation a year from now.
Honorable Mention: Hakeem Nicks, WR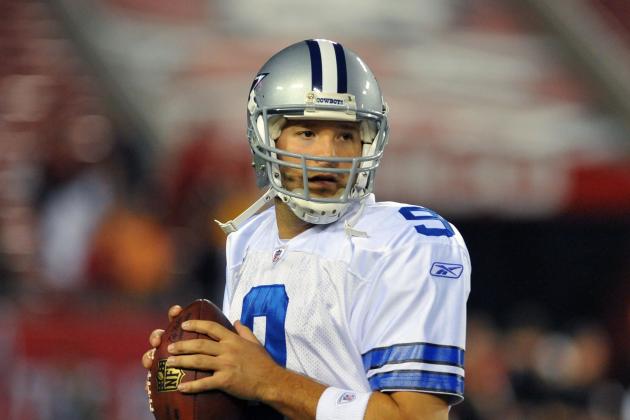 Al Messerschmidt/Getty Images

The NFC is the dominant conference in today's NFL as far as quarterbacks are concerned, which is why Dallas Cowboys quarterback Tony Romo was left out of the mix.
In a pass-happy 2011 season that produced three different 40-touchdown quarterbacks (Aaron Rodgers, Drew Brees, Matthew Stafford) who all happened to be in the NFC, it was tough for any quarterback to make the cut, regardless of his productivity.
Having said that, Romo certainly pieced together a phenomenal year, with 4,184 yards and 31 touchdown passes.
Honorable Mention: Jason Witten, TE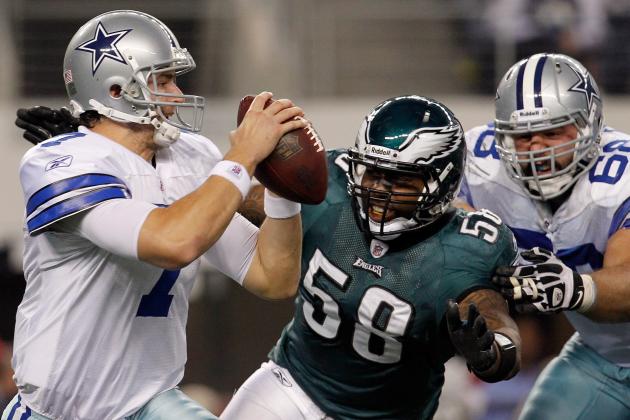 Tom Pennington/Getty Images

Despite an underwhelming overall performance by the Philadelphia Eagles in 2011, there were still some players who stood out and carried their weight.
The Eagles' shortcomings in 2011 were mainly due to them being a defensively-challenged team, but defensive end Trent Cole is one player who was an exception.
In his seventh NFL season, Cole recorded 41 tackles and 11 sacks, making it the fourth double-digit sack season of his career.
Unfortunately for Cole, Jason Babin was playing on the opposite side of him, and it's particularly difficult to get recognition when your teammate finishes the year with 18 sacks.
If the NFC didn't have an absolutely dominant pass rush (the top three sack leaders combined for 59.5 sacks), then Cole would likely be on his way to Hawaii.
Honorabel Mention: Asante Samuel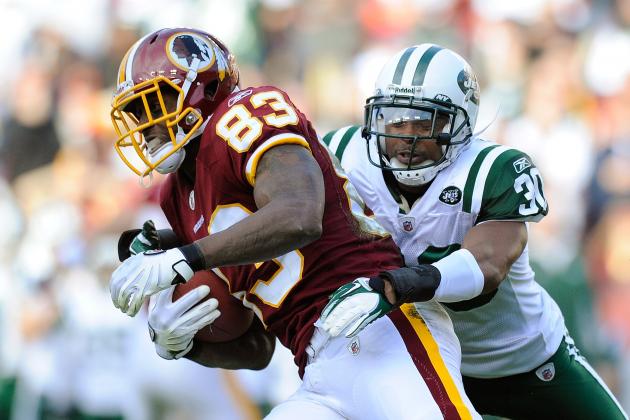 Patrick McDermott/Getty Images

Washington Redskins tight end Fred Davis witnessed his popularity among voters plummet after being suspended for the final four games of 2011 for drug use.
However, regardless of how we view him on a personal level, he still put together a solid year and deserves some recognition.
Despite missing four games, Davis still finished the year with 796 yards and three touchdowns. He surely would've exceeded Pro Bowler Tony Gonzalez's 875 yards had he not missed any games.
The suspension prevented his stellar season from reaching its true climax, but hopefully, he'll mature as a human being and continue to improve throughout his career.
Honorable Mention: Ryan Kerrigan, DE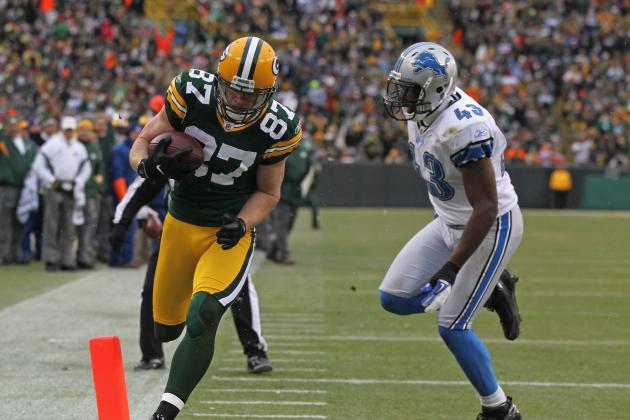 Jonathan Daniel/Getty Images

The Green Bay Packers finished the 2011 season with a remarkable 15-1 record, which resulted in seven of their players being voted to the Pro Bowl.
Even though there will be plenty of yellow helmets on the field in Honolulu, one unjust aspect that's hard to ignore is the fact that Packers receiver Greg Jennings earned a Pro Bowl bid over fellow Packers receiver Jordy Nelson.
Jennings failed to even exceed 1,000 yards (949), but finished with a respectable nine touchdowns, while Nelson beat him by a landslide in both categories—1,263 yards and 15 touchdowns.
Sure, Jennings missed three games due to a sprained knee and could have come close to matching Nelson's numbers had he played.
However, since when are players excused from injuries in the eyes of the voters? The same courtesy wasn't granted to Steven Jackson of the Rams or Adrian Peterson of the Vikings.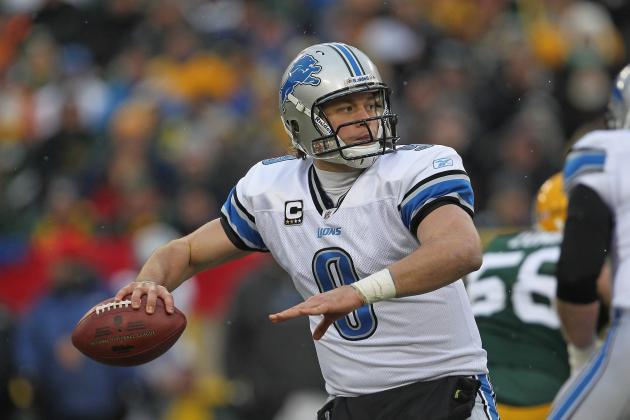 Jonathan Daniel/Getty Images

The Detroit Lions finished with a 10-6 record and made the playoffs, but their only representation in Hawaii is wide receiver Calvin Johnson.
Adding to the frustration is the fact that the Chicago Bears, their NFC North rivals who failed to make the playoffs altogether, had six players elected to the Pro Bowl.
But the person who was truly cheated, perhaps more so than any other player in the NFL, was Lions quarterback Matthew Stafford.
Stafford had an absolutely elite season with an astonishing 5,038 and 41 touchdown passes.
If a quarterback exceeds 5,000 yards or 40 touchdowns, just one of the two, then they need to be in the Pro Bowl. If there are not enough roster spots, then the NFL needs to make an exception and allow it.
Sure, Cam Newton had a phenomenal rookie year with 35 total touchdowns and Eli Manning carried his team through the season, but neither of them had an individual performance more impressive than Stafford's in 2011.
The fact that Newton, or any quarterback not named Stafford, was promoted to the Pro Bowl to take Manning's place, is absurd.
Honorable Mentions: Brandon Pettigrew, TE; Cliff Avril, DE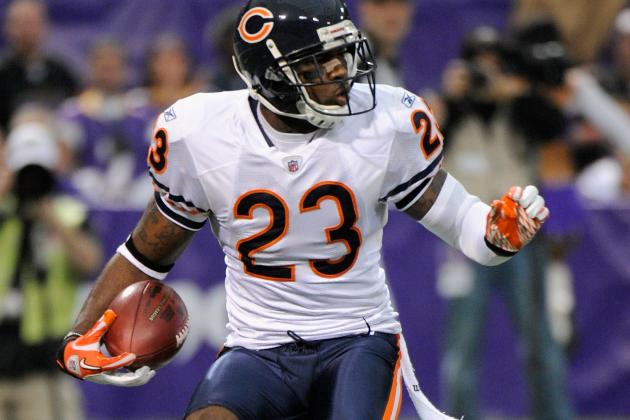 Hannah Foslien/Getty Images

How in the world does a team that finished third in their division end up with six total Pro Bowl players?
It's hard to find a player on the Chicago Bears who was overlooked, as the team basically had their way with the voters, but Devin Hester somewhat fits the bill as a kick returner.
Patrick Peterson of the Arizona Cardinals is representing the NFC in the return game. Peterson clearly outplayed Hester in 2011, but Hester still had a solid year with 1,207 yards and three touchdowns combined between kick and punt returns.
Given Hester's highly successful history as a kick returner, it's almost unbelievable that the voters went with the obvious choice in Peterson rather than the popular choice in Hester.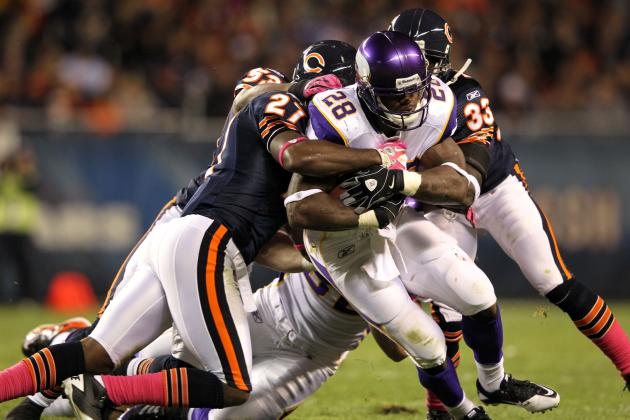 Jamie Squire/Getty Images

The Minnesota Vikings finished in last place in the NFC North with a 3-13 record, so it was inevitable that some of the players would be overlooked.
However, despite missing four games due to injury, running back Adrian Peterson realistically could have been a fair selection.
In 12 games, Peterson finished with 970 yards and 12 rushing touchdowns, which certainly made him more deserving than Matt Forte of the Chicago Bears, who finished with 997 yards and only three touchdowns in an equal amount of games.
Sure, Forte exceeded Peterson in yardage, but what would you rather have—the extra 27 yards or the extra nine touchdowns?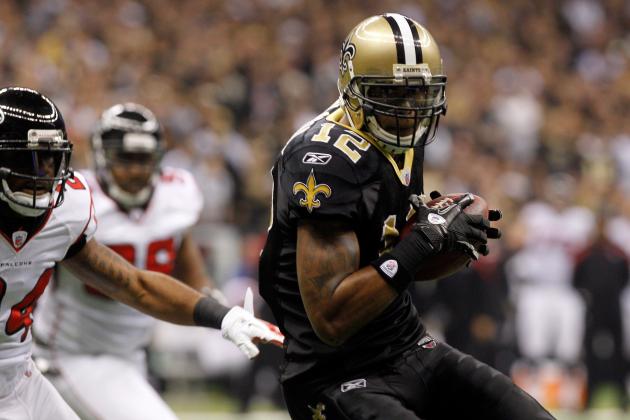 Chris Graythen/Getty Images

The New Orleans Saints had five players elected to the Pro Bowl, and three of them are starters (Jahri Evans, Carl Nicks, Jimmy Graham), which means basically a little over a quarter of the NFC's starting offense will be made up of Saints.
The Saints had another solid campaign in 2011, resulting in a 13-3 record, so that certainly gained the attention of voters.
However, even a team like New Orleans had some players overlooked.
Wide receiver Marques Colston missed two games completely due to injury, but he still managed to put up 1,143 yards and eight touchdowns.
At the very least, he was more deserving than Greg Jennings of the Packers, who didn't even exceed 1,000 yards (949).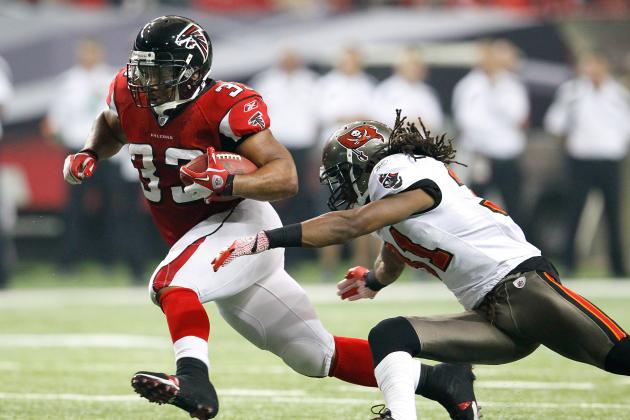 Kevin C. Cox/Getty Images

The Atlanta Falcons finished the year with a 10-6 record, but they still fell embarrassingly short of their aspirations to be Super Bowl champions.
Perhaps their failure to meet the media's preseason quota resulted in some members of the team being overlooked, particularly running back Michael Turner.
Turner finished as the NFC rushing champion with 1,340 yards and finished third overall in the NFL behind only Ray Rice (1,364) and Maurice Jones-Drew (1,606).
He also finished with 11 touchdowns, so it's not as if he was incapable of scoring, unlike Matt Forte, who finished with only three rushing touchdowns and inexplicably made the Pro Bowl over Turner.
Frankly, there's not even a slightly reasonable explanation for Turner's absence in the Pro Bowl game. He deserved a spot over Forte, Marshawn Lynch and Frank Gore—all three were solidified onto the NFC roster over Turner.
The only Pro Bowl running back in the NFC who actually earned a spot over Turner was LeSean McCoy of the Philadelphia Eagles, who finished with 1,309 yards and 17 rushing touchdowns.
Honorable Mention: Curtis Lofton, MLB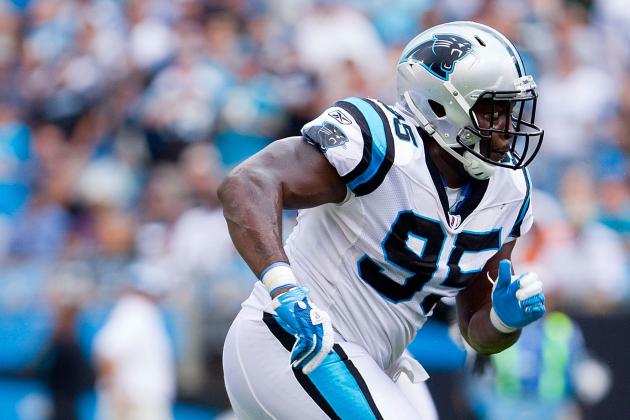 Brian A. Westerholt/Getty Images

Carolina Panthers defensive end Charles Johnson had a breakout year in 2010 after he made 62 tackles and 11.5 sacks, which resulted in the Panthers offering him a six-year contract worth $72 million in the offseason.
The enormous contract may have been a bit of an overreaction by the Panthers front office given the fact that Johnson was an average player for the first three years of his career prior to his dominate 2010 season.
Luckily for Carolina, Johnson wasn't a total fluke. He didn't put up the same numbers he did in 2010, but this past season, he was still able put up 40 tackles and nine sacks.
Considering the NFC sack leaders were Jared Allen (22), DeMarcus Ware (19.5) and Jason Babin (18), Johnson's nine sacks were not nearly enough to earn him a spot on the Pro Bowl roster.
It was a tough year for defensive ends in the NFC. The top three were so dominant that it resulted in many solid players being overlooked, including Johnson.
Wesley Hitt/Getty Images

After the 2010 season, the Tampa Bay Buccaneers were known as an up-and-coming team with plenty of future superstars ready to light it up in the near future.
However, as many of us have discovered, the NFL is anything but predictable.
The once-promising team took 10 steps backwards and are now the undisputed bottom-dwellers of the NFC South, which is why offensive guard Davin Joseph was their only Pro Bowler from the 2011 season.
It's not that the Buccaneers, who finished with a 4-12 record, were underrepresented. One Pro Bowl player sounds about right for a regressing team that struggled all across the board.
That's why it's hard to find a player on the team who was overlooked, but if it was anyone, then it's tight end Kellen Winslow.
Winslow finished the year with 763 yards and two touchdowns, which is not too far off from Pro Bowler Tony Gonzalez, who had 875 yards.
Winslow was the exception on a team that greatly underachieved.
Ezra Shaw/Getty Images

The San Francisco 49ers won the NFC West title with a 13-3 record, and they will be the most represented team at the Pro Bowl with an NFL-high nine players.
With nine total Pro Bowlers, no one can say that the 49ers were overlooked by the voters, but even so, they still have one player who was arguably excluded from the mix—outside linebacker Aldon Smith.
Smith was a rookie out of Missouri and has a shot at winning Defensive Rookie of the Year after recording 14 sacks, 37 tackles and two forced fumbles.
If Smith can continue to develop, then he has plenty of Pro Bowls to look forward to in the future.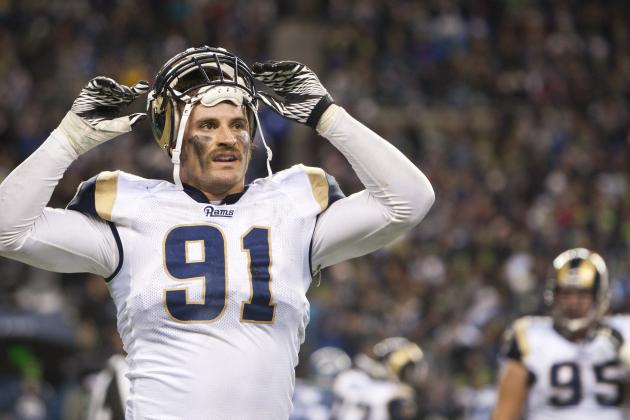 Jay Drowns/Getty Images

After an abysmal 2-14 season, the St. Louis Rams were completely ignored by the Pro Bowl voters despite having a few players who were arguably qualified.
One of those players is defensive end Chris Long, who finished the 2011 season with 37 tackles and 13 sacks.
Pro Bowlers Jared Allen, Jason Babin and Jason Pierre-Paul were all rightfully selected ahead of Long, but there is no excuse for Julius Peppers being selected as a replacement for Pierre-Paul instead of Long.
Peppers finished with 37 tackles and only 11 sacks in 2011.
Also, running back Steven Jackson is one of many NFC running backs who deserved a Pro Bowl bid over Matt Forte. Jackson missed basically three games and still finished with 1,145 yards and five touchdowns.
Honorable Mentions: James Laurinaitis, MLB, Steven Jackson, RB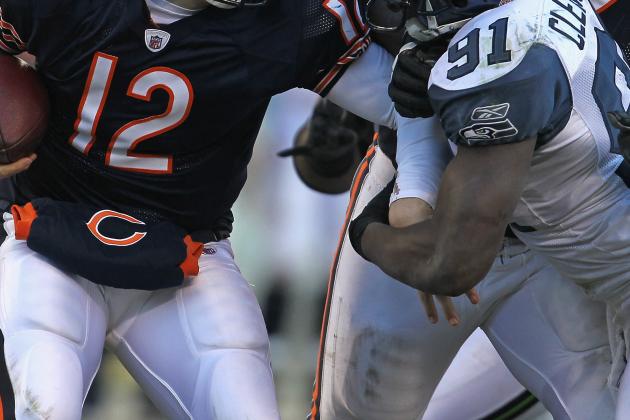 Jonathan Daniel/Getty Images

The Seattle Seahawks finished with a 7-9 record and somehow ended up with five Pro Bowlers, which is simply outrageous considering the 9-7 Titans had zero, while the NFC Champion Giants had only two.
However, while no one should feel sorry for Seattle, defensive end Chris Clemons still had a worthy year with 51 tackles and 11 sacks.
Clemons was basically the only pass rush threat on the team, considering the second-place leader in sacks for Seattle was linebacker Leroy Hill, who finished with only four sacks.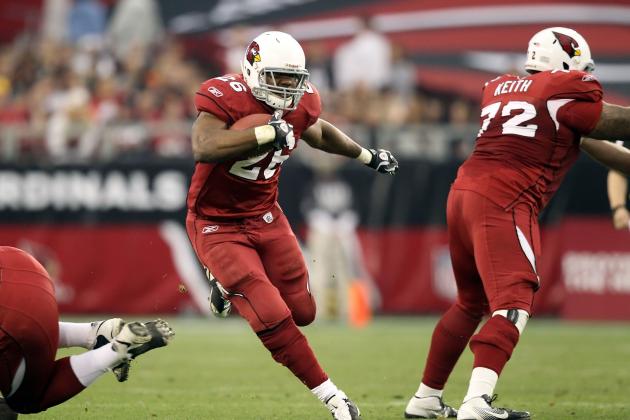 Christian Petersen/Getty Images

What do Steven Jackson, Adrian Peterson, Michael Turner and Beanie Wells all have in common?
They are all NFC running backs who are more deserving of a Pro Bowl bid than Matt Forte of the Chicago Bears.
The Arizona Cardinals will have some representation in Hawaii with Larry Fitzgerald, Adrian Wilson and Patrick Peterson; however, Wells was another member of the team that deserved a look.
Wells bounced back from an embarrassing 2010 season and rushed for 1,047 yards and 10 touchdowns in 2011, making it the first 1,000-yard season of his three-year career.