10 Biggest Game-Changing Transfers in College Basketball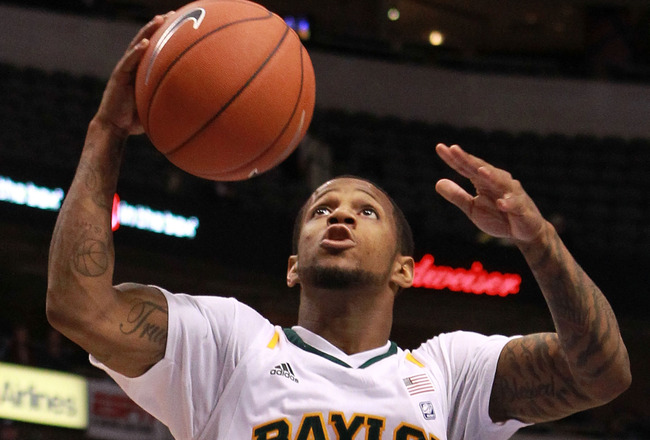 Ronald Martinez/Getty Images
In this era of college basketball, the one-and-done recruit is king. They only stick around for one year, and generally it's difficult to expect a college freshman to lead a team to a national championship.
One of the more overlooked aspects of the game is the transfer. Players transfer for a host of reasons. Some don't like the region they chose to live in. Some don't get along with the coach. Some don't get the playing time or the role they desired. Some are in junior college and some just don't fit in.
A transfer is generally a player that is coming in with a higher level of experience, and a lot of times may be in a better position to contribute immediately.
Here are the 10 most impactful transfers this year. As always, if there is anyone who you feel has been left off the list unjustly, feel free to chime in.
10. Matt Carlino: Brigham Young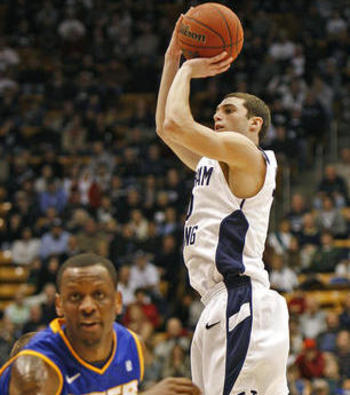 Carlino has added an element to BYU's mix.
After never suiting up for UCLA, Matt Carlino had to wait until mid-December to do so for BYU.
In his first 12 games as a Cougar, he is scoring 12.6 points per game along with 4.5 assists and 3.3 rebounds. He is shooting 42.6 percent from three-point range.
Carlino is third on the team in scoring and leads the team in assists and steals.
BYU is 9-3 since Carlino's debut and 17-5 overall. They are in third place in one of the hottest races in college basketball with Saint Mary's and Gonzaga. Carlino gives them a shot to take the West Coast crown.
9. DeVoe Joseph: Oregon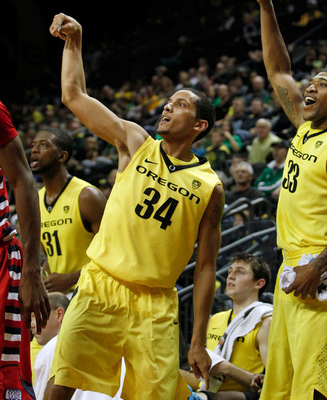 Joseph is having a great season for the Ducks.
DeVoe Joseph turned into a solid shooter and scorer at Minnesota, but he decided to leave in the middle of his junior year. That left him with just a partial season of eligibility.
So far, Joseph has made the most of it, leading the Ducks in scoring and steals.
In 14 games, he is scoring 14.6 points with 3.5 rebounds and 1.5 steals per game, shooting 43.2 percent on threes. Oregon is 11-3 since Joseph's insertion into the lineup.
Currently, the Ducks are 15-5 and in second place in the Pac-12.
8. Kevin Dillard: Dayton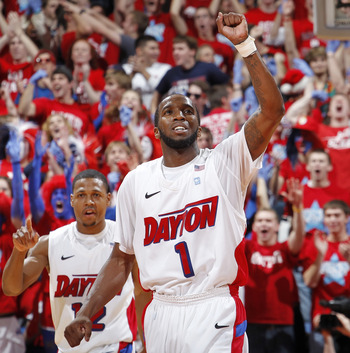 Dillard has Dayton flying to the top of the A-10.
Joe Robbins/Getty Images
Kevin Dillard was a very good player at Southern Illinois and at Dayton he's picked up right where he left off.
He is the team's leading scorer at 12.3 points per game, and he is averaging 5.8 assists and 1.8 steals.
Not only is he statistically the best performer, he is also the team's leader. He has a surprising Flyers team standing atop the Atlantic 10 standings and with a 14-5 record.
In three huge games, against Xavier, Temple and Saint Louis, Dillard averaged 16.7 points and 8.3 assists. Dayton won all three games.
7. Lamont Jones: Iona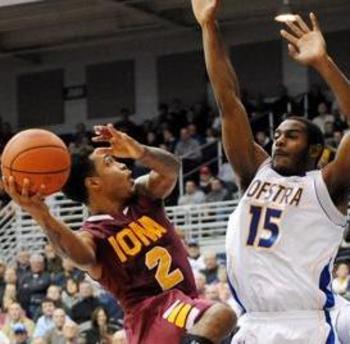 Jones is another weapon for the Gaels.
Lamont Jones transferred from Arizona to Iona, and he has become a key contributor in the Gaels' high-flying attack.
Teaming up with point guard Scott Machado and forward Michael Glover, Jones is averaging 15.3 points, 3.5 assists and 3.3 rebounds per game.
Jones ranks second on the team in scoring, assists and steals.
Iona is a mid-major program that has a chance to make some real noise in March. If they do, Jones will be a huge reason why.
6. Chaz Williams: Massachusetts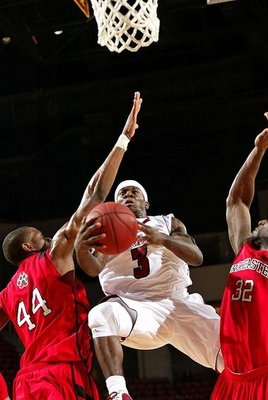 Williams is doing it all for UMass.
Chaz Williams was a pretty good player at Hofstra, but since his arrival with UMass, he has taken his game to another level.
Williams has put the Minutemen on his back and carried them to 15 wins, equaling their win total from all of last year. They are also in the A-10 hunt, in second place behind Dayton.
He leads the team in scoring and assists, at 15.9 points and 5.9 assists per game. He's also averaging 3.6 rebounds, 2.2 steals and is shooting 39.5 percent from three-point range.
Williams is likely playing his way into consideration for the Atlantic 10 Player of the Year award.
5. Justin Cobbs: California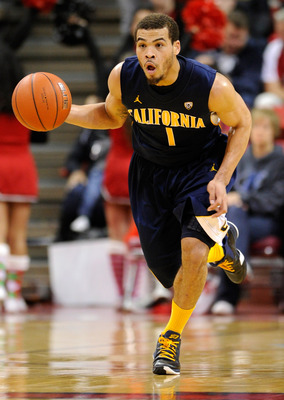 Cobbs solidifies Cal's incredible perimeter attack.
Ethan Miller/Getty Images
Justin Cobbs is the second Minnesota transfer on the list, and Cal is glad he decided to join Allen Crabbe and Jorge Gutierrez.
Cobbs is a good scorer and playmaker, and his presence solidifies the Golden Bears' perimeter game. He is third on the team in scoring at 13.0 points per game, and he leads in assists with 4.8 per game.
He is also lighting it up from the outside, shooting 53.8 percent on threes.
Cobbs has helped to lead Cal to a 16-5 record and has them first in the Pac-12. California is one of the nation's more underrated teams, and Cobbs is one of the more unheralded players.
4. Pierre Jackson: Baylor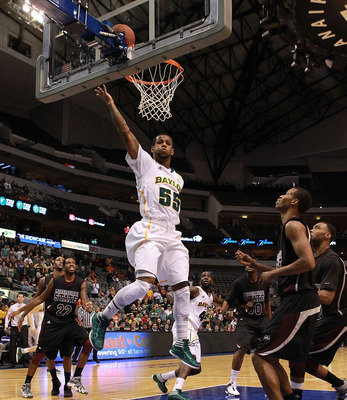 Jackson is a huge part of Baylor's success.
Ronald Martinez/Getty Images
Pierre Jackson is the lone junior college transfer on this list, and he has been a godsend for Baylor.
Jackson is running one of the most talent-laden offensive teams in the nation, and he is incredibly efficient as a scorer and a distributor.
He is scoring 12.6 points per game and dishing out 5.9 assists. He is also getting 1.9 steals a night and is shooting lights-out, at 51.0 percent from the field and 49.3 percent from three-point range.
Over his last five games, Jackson has been great, averaging 15.6 points, 10.4 assists and 2.8 steals. He has knocked down 13 of his 25 threes.
Baylor is a true Final Four threat and Jackson's dynamic play can lead them there.
3. Royce White: Iowa State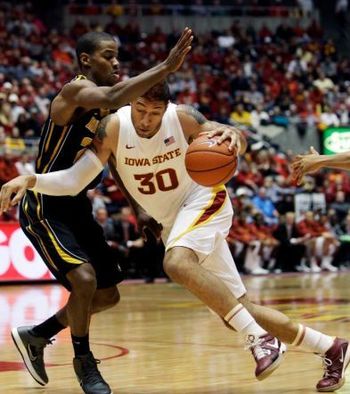 White has quickly become one of the Big 12's best players.
Royce White is the third Minnesota transfer on this list. He never played a single game for the Gophers due to a legal issue, but he is tearing it up for the Cyclones.
White is leading the team in every statistical category and has become one of the nation's most well-rounded players.
He is averaging 13.3 points, 9.3 rebounds, 4.5 assists, 1.2 steals and 1.2 blocks. His only weakness is his 53 percent free-throw shooting.
White has led quite a turnaround for Iowa State. They were 16-16 last year, and he has them at 14-6 this season. They have already won more Big 12 games than all last season.
2. Arnett Moultrie: Mississippi State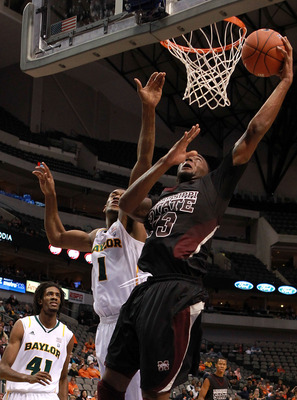 Moultrie has been a phenom on the glass this season.
Ronald Martinez/Getty Images
Arnett Moultrie left UTEP to join Mississippi State. He and Dee Bost are teaming up to form one of the best inside-outside duos in college basketball.
Leading the Bulldogs in scoring and rebounding, Moultrie is putting up 16.4 points and 11.2 rebounds per game. His production is way up from his days at UTEP largely because of his increased efficiency.
Moultrie is shooting 56 percent from the field and 82 percent from the foul line. He is a tremendous athlete, who can jump out of the gym and has great quickness for his size.
Mississippi State was a 17-14 team last year, and Moultrie has helped take them to a 16-4 start this year. The Bulldogs are another team that is overlooked but may not be for long.
In a thrilling overtime win at Vanderbilt, Moultrie scored 21 points, pulled down 14 rebounds and recorded four steals.
1. Mike Moser: UNLV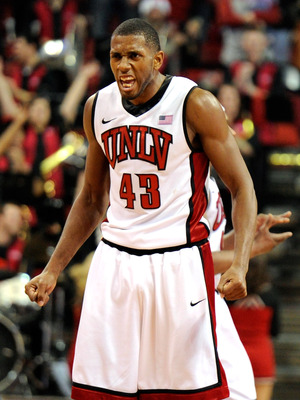 Moser's intensity makes him hard to keep off the glass.
Ethan Miller/Getty Images
Mike Moser has burst on the scene in a way that not many players have. After transferring from UCLA, he led UNLV through a mine field of an early season schedule.
The Rebels played games against Nevada, North Carolina, Wichita State, Illinois and California, going 4-2 in those games. They are 18-3 overall and in second place in the Mountain West.
Moser has been an athletic and energetic phenomenon, scoring 14.0 points and grabbing 11.3 rebounds per game. He is versatile too, with 2.4 assists, 1.8 steals and almost a block per game. He is shooting 79 percent form the foul line and 32 percent on threes.
Moser has helped take UNLV to height not seen since the days of Jerry Tarkanian, and his transfer has impacted that program more than any other in college basketball.
Keep Reading