Super Bowl XLVI Preview: Why This Matchup May Be Most Exciting Ever
January 25, 2012

Jim Rogash/Getty Images
The New England Patriots and the New York Giants are set to meet again February 5th for a rematch of their 2007 showdown.
With their last meeting dubbed by some as the greatest Super Bowl of all time, I believe that this game is set to surpass it.
In 2007, the Patriots were on what appeared to be an unstoppable quest to be the first 19-0 team in the history of the NFL. Tom Brady and company were destroying any defense that dared to line up against them while shattering record after record that had the majority of fans and media experts believing that they would be crowned champions.
However, what they didn't see coming was the New York Giants.
The Giants played the Patriots tough Week 17 of the regular season and gave them one of their closest scares of the season. Obviously, the Patriots were able to come out on top, but it was clearly a small chink in their armor.
New York went in to the Super Bowl with a much different game plan. The Giants' defensive line dominated the Patriots offensive line putting tremendous amounts of pressure on Tom Brady all game long.
Then when it mattered the most, Eli Manning was able to complete the passes to move the Giants down the field and win the game.
They executed the perfect defensive game plan to stop an elite quarterback. No matter how good a quarterback is, they cannot complete any passes from their back.
This loss has haunted Tom Brady and Bill Belichick as well as all Patriots' fans. You will never get him to admit it, but this game means something more to Tom Brady. This matchup against the Giants is more than just a Super Bowl. 
This game means a chance at redemption.
Even though the teams are the same, the players are much different. There are very few players on both sides of the ball that were there in 2007, especially on New England.
The lack of familiar faces changes the game, but also adds some unique elements.
The Giants are coming in to this Super Bowl playing their best football of the season.
The defense wasn't ranked all that well during the regular season, but in three playoff games they have allowed an average of 13 points. They have stood out defensively this postseason even when surrounded by elite defenses like the 49ers and Ravens. 
That Giants' defensive line that gave Tom Brady so much trouble in 2007 is just as scary.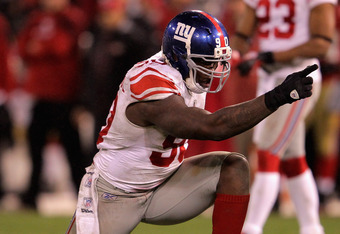 Doug Pensinger/Getty Images
While they no longer have Michael Strahan, they have added the dynamic Jason Pierre-Paul who led the team in sacks this year. Justin Tuck and Osi Umenyiora will be looking to give Brady nightmares just the way they did the last time they met in the Super Bowl.
It isn't all about the defense for the Giants.
Eli Manning has elevated his play of late to have his name mentioned in same conversation as some of the league's best. He has avoided the kind of bad decisions that have earned him so much criticism in the past and replaced them with big time throws that have won the Giants crucial games.
He has certainly had plenty of help with his three top notch wideouts. Hakeem Nicks has continued to improve as one of the league's best receivers and the emergence of Victor Cruz has done wonders for their passing attack. Mario Manningham may not catch the same publicity as his teammates, but his contributions do not go unnoticed.
Of course you can't forget about the two-headed monster the Giants have at running back. Ahmad Bradshaw and Brandon Jacobs may not have been dominant this season, but they will be a crucial part of the Giants success in the Super Bowl.
They are playing at such a high level that many believe they are the favorites regardless of what Vegas has set the lines at.
As impressive as the Giants have been, my motto has always been to never count out Tom Brady and Bill Belichick in any game.
The New England Patriots have faced their fair share of adversity this season. Their secondary has been a complete mess all year long and has been patched together with scraps from other teams. The front seven has been solid, but not dominant enough to cover up their flaws on defense.
With Tom Brady at quarterback it is hard to not have a dominant offense. 
The Patriots' passing attack was ranked second in the NFL this year. Brady had another MVP caliber year.
New England managed to hide so many of their flaws with their elite passing attack. They have a solid crew of running backs, but none of them stand out.
There is no denying that Tom Brady and his weapons in that passing attack have carried the team up to this point.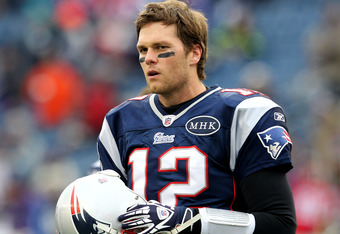 Jim Rogash/Getty Images
New England's defense has been playing better since reaching the postseason. They put together a dominant performance against the best rushing offense in the league in the Denver Broncos and followed that up by going blow for blow with the Ravens' elite defense in the AFC Championship game.
They will never be mistaken for a dominant unit, but it appears that they can be just good enough.
That statement falls right in line with what Bill Belichick is constantly preaching to all of his players. He simply tells them to "do your job". Regardless of how many Pro Bowls you've been to or how much money you make, your expectations are the same.
The coaching that Bill Belichick has done in 2011 may be his best performance yet. 
No one was expecting the Patriots to make it this far. Everyone believed that the defensive woes would eventually catch up to them. Yet somehow, they have managed to find their way to another Super Bowl.
Brady and Belichick make their fifth Super Bowl appearance as a duo looking to avenge the one loss on their record. 
It won't be easy.
The Giants are the best team they will have faced in the postseason and have the tools to stop New England. However, if you haven't learned to not count out the Patriots yet, you never will.
This game is jammed pack full of front page headlines and historical meaning. You can find multiple matchups on the field that deserve their own attention. 
No one knows how this rematch will end, but one thing is for sure.
This will be a Super Bowl that no one ever forgets.