10 Most One-Sided Super Bowls in NFL History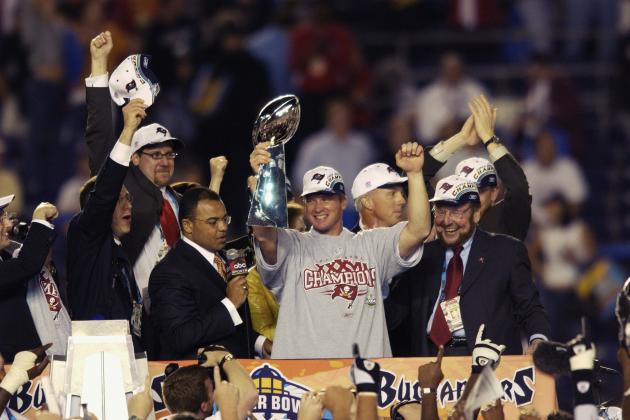 Ezra Shaw/Getty Images

It's truly unfortunate, but not every Super Bowl is so evenly matched.
Not every Super Bowl comes down to a last second field goal—it's just the way it is.
Over the course of the 45 Super Bowls in NFL history, there has been a fair share of Super Bowls that simply were so one-sided.
In that spirit, let's take a look at the top 10 most one-sided Super Bowls in NFL history.
Begin Slideshow

»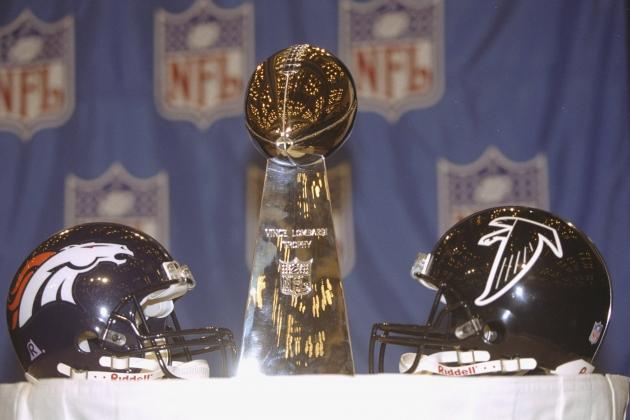 Tom Hauck/Getty Images

John Elway was a man on a mission in Super Bowl XXXIII as he threw for 336 yards and scored two touchdowns on his way to leading the Denver Broncos to a 34-19 victory over the Atlanta Falcons.
Let's put it this way: It was John Elway vs. Chris Chandler—could it be any more lop-sided? I think not.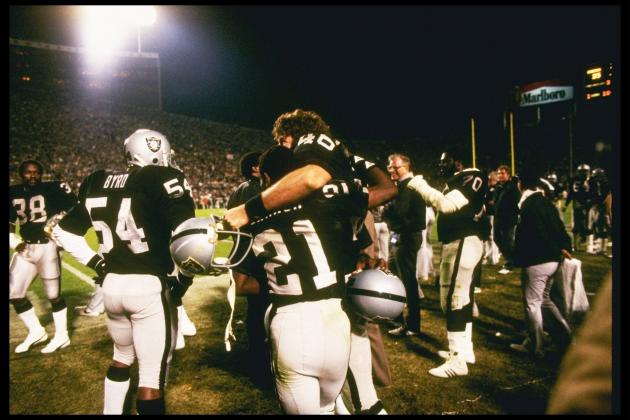 Getty Images/Getty Images

Joe Theismann and the Washington Redskins shouldn't have even bothered to show up in Super Bowl XVIII, as the Los Angeles Raiders simply dominated.
Theismann completed only 16 of his 35 passes while throwing two interceptions, with one of those being returned for a touchdown by Jack Squirek.
For the Raiders, Marcus Allen just ran the ball down Washington's throat for a total of 191 yards and two scores.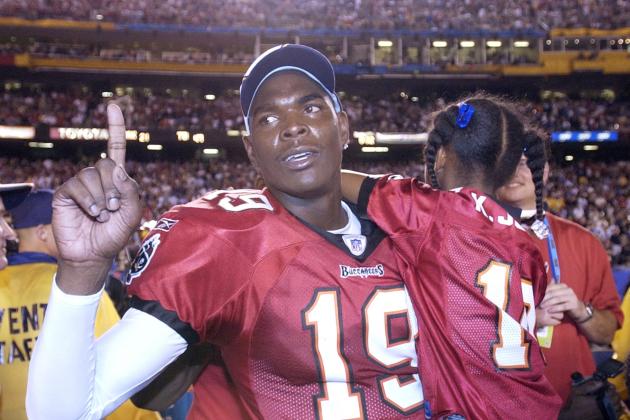 Michael Caulfield/Getty Images

If defensive back Dexter Jackson won the Super Bowl MVP, then you know things got real ugly.
In Super Bowl XXXVII, the Tampa Bay Buccaneers put a real clump on Rich Gannon and the Oakland Raiders offense, as they forced five total interceptions, with three of those being returned for a touchdown.
I guess you could say that Gannon threw five touchdowns in this game, but three of them went to the other team.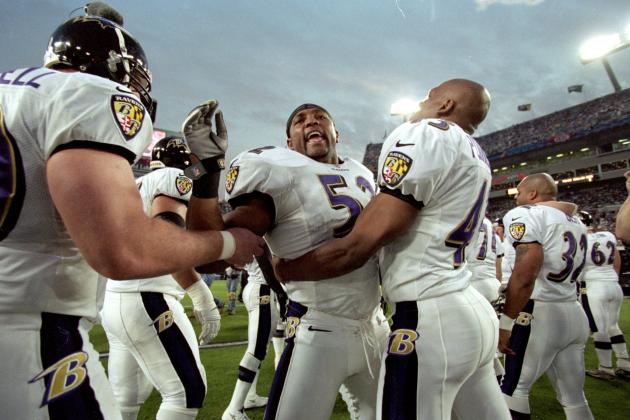 Andy Lyons/Getty Images

I think that it's safe to say that the 2000 Baltimore Ravens were one of the greatest defenses to ever play the game—if not the best.
The Ravens held the New York Giants to just seven points as they forced four Kerry Collins interceptions while Duane Starks returned one of those picks back to the house for a 49-yard score.
The Giants simply were no match for Ray Lewis and the Ravens' suffocating defense.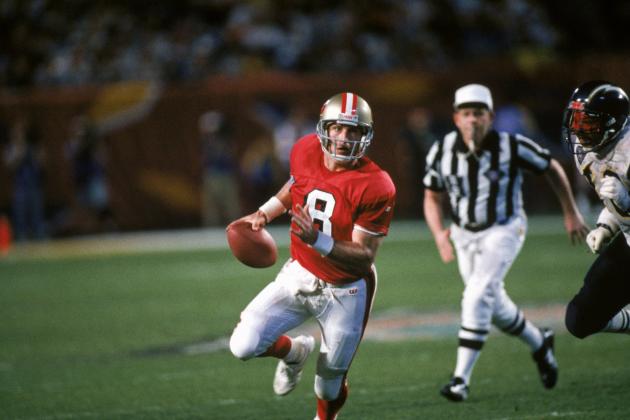 George Rose/Getty Images

In Super Bowl XXIX, Steve Young completed 24 of his 36 passes for 325 yards and threw a Super Bowl record six touchdowns—that's how ugly this one got.
The San Diego Chargers simply did not show up to play in this one as they forgot who Jerry Rice was and didn't seem to cover him, as he caught 10 passes for 149 yards and three touchdowns.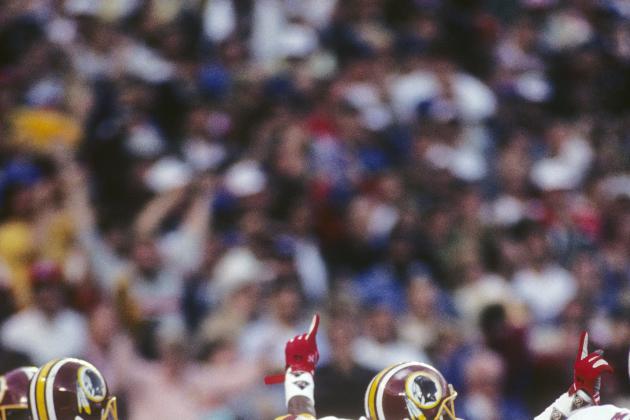 George Rose/Getty Images

Super Bowl XXII is a game that John Elway wished never happened, as he was picked off three times while completing just 14 of his 38 passes and finishing with a putrid 36.8 quarterback rating.
The Washington Redskins ran away with this one, as Doug Williams threw for 340 yards and a touchdown and Timmy Smith accumulated an outstanding 204 yards on the ground and two scores.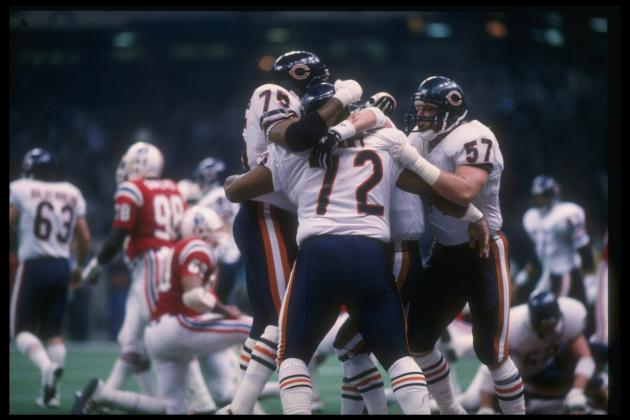 Mike Powell/Getty Images

This game was well over at halftime, as the Chicago Bears posted a 23-3 score over the New England Patriots.
Many believe that the 1985 Bears are the greatest team in NFL history—and their dominance in Super Bowl XX over the Patriots certainly presents a strong case.
The icing on the cake in this one was in the third quarter, when defensive linemen William "Refrigerator" Perry punched in a one-yard touchdown.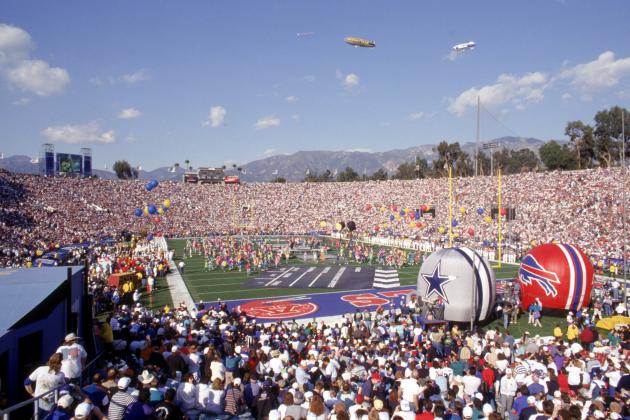 George Rose/Getty Images

When a quarterback finishes the day with only three incompletions and posting a phenomenal 150.9 quarterback rating, you know you had a bad day—just ask John Elway and the Denver Broncos.
In Super Bowl XXI, Phil Simms completed an unbelievable 22 of his 25 passes for a total of three touchdowns while nearly doubling Denver's total points, as the New York Giants ran the Broncos out of the stadium, 39-20.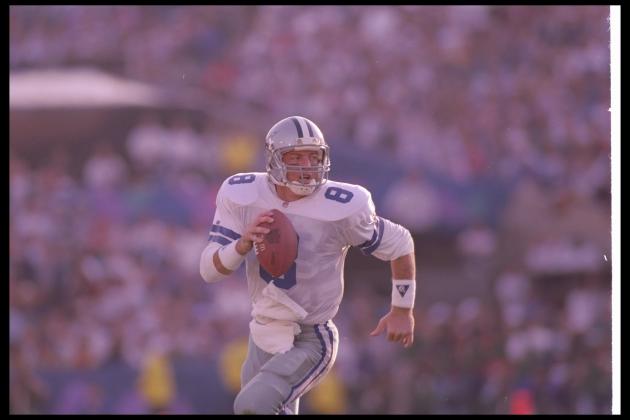 Mike Powell/Getty Images

The Buffalo Bills did not show up to to the Rose Bowl in Pasadena for Super Bowl XXVII—I'm pretty sure that Troy Aikman and the Dallas Cowboys were playing against a bunch of practice squad players.
Aikman completed 22 of his 30 passes for four touchdowns, Emmitt Smith racked up 108 rushing yards, and Michael Irvin was unstoppable, as he snagged six passes for 114 yards and two scores.
Super Bowl XXVII is just another painful moment in Buffalo Bills history.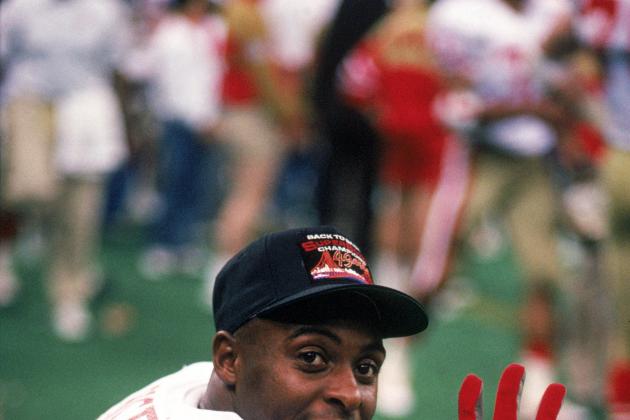 George Rose/Getty Images

Joe Montana and the San Francisco 49ers scored an incredible 55 points, which is the most in Super Bowl history in Super Bowl XXIV over the Denver Broncos.
Montana tossed five touchdowns, while Jerry Rice snagged seven balls for 148 yards and three touchdowns.
On the other hand, John Elway was a joke, as he was picked off two times and completed just 10 of his 26 passes and ended the day with a putrid 19.4 quarterback rating.