Dennis Allen to Raiders: New Coach Is Next in Long List of Quick Firings
January 25, 2012

Doug Pensinger/Getty Images
It's a new year, and that must mean the Oakland Raiders have yet another new head coach.
Fox Sports' Jay Glazer was the first to report that they have decided on Denver Broncos defensive coordinator Dennis Allen. The details of the contract have yet to be determined. Allen was named D-coordinator of the Broncos exactly one year ago today after previously working with the New Orleans Saints secondary.
The hiring of a defensive-minded coach is a rarity for Oakland. Not since bringing John Madden on board in 1969 has Oakland gone in that direction for their head coach.
How long will the first-time head coach last?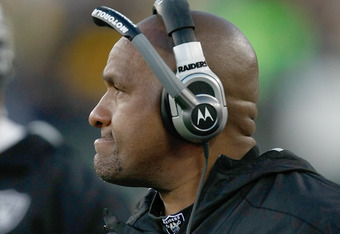 Scott Boehm/Getty Images
It was just a year ago when Oakland hired an ambitious and energetic first-year head coach in Hue Jackson to help get an 8-8 team over the hump. Another .500 season later, and new GM Reggie McKenzie told him to hit the road. He wanted "his" guy.
Since Jon Gruden left in 2001, the Raiders have had seven coaches, including Allen.
Bill Callahan (02-03) went 15-17, Norv Turner (04-05) went 9-23, Art Shell (06) went 2-14, Lane Kiffin (07-08) went 5-15, Tom Cable (08-10) went 17-27 and Jackson ('11) went 8-8.
It's a terrible track-record and something that surely scared away plenty of potential coaches on the market.
So what makes you think a rookie head coach with one year's experience as a coordinator will change anything? Clearly, the bar has been set that 8-8 is not acceptable. Yet with the emergence of his old team in the Broncos and the talented San Diego Chargers in the AFC West, going 7-9 or worse is not only a possibility, but a strong reality with an over-the-hill Carson Palmer under center.
Without any draft picks in the first three rounds, Allen has to pull off one incredible season to keep his team competitive. He'll be praying to the injury gods on a nightly basis.
Sure, it's a new era in Oakland now that Al Davis has passed, but the family mentality is still around, and anything less than the playoffs will result in a pink slip for McCoy. Maybe someday the organization will understand that the key to a winning team is stability in the coaching staff.
But it doesn't look like it will be happening anytime soon.