Golden State Warriors Keep Losing: Loyal Fans Deserve Much Better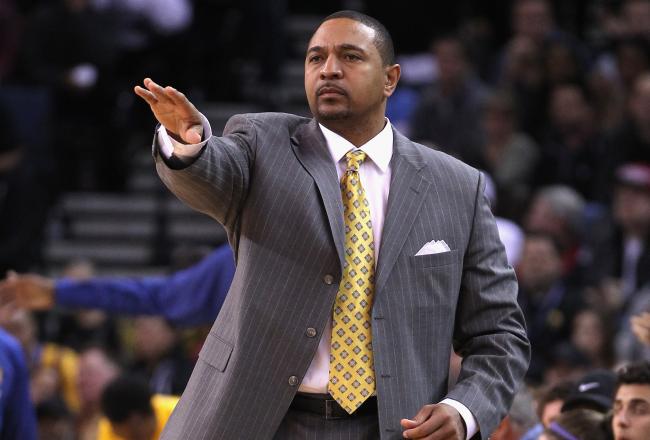 Ezra Shaw/Getty Images
The Golden State Warriors entered the second season of the Joe Lacob-Peter Guber ownership era with high hopes.
Armed with a tough-minded rookie head coach in Mark Jackson, a new assistant GM in Bob Myers and The Logo himself, Hall of Famer Jerry West, in an advisory role, surely the Warriors would be a new-look, playoff-caliber team in 2012.
Uh, nope.
On Monday night, Golden State suffered an absurd, self-inflicted 91-90 loss to the Memphis Grizzlies, in which the Warriors squandered their biggest lead of the season—a 20-point second-half advantage—by committing nine turnovers in the fourth quarter.
The loss was a microcosm not only of Golden State's season to date (5-11 record, 15th place out of 16 Western Conference teams) but also of the Warriors franchise over the past several years. Remember, this is a team that has had a total of two winning seasons and just one playoff appearance since 1994.
A team whose roster has for years been mostly comprised of exciting, talented, offensive-minded shooting guards and wings, many of whom have been undersized and slightly built—that can be a nice formula for scoring points and selling tickets, but not for winning games.
And, while Coach Jackson's squad seems slightly more willing to play defense than previous Warrior teams, there is still no one on the team who appears to enjoy defense or rebounding.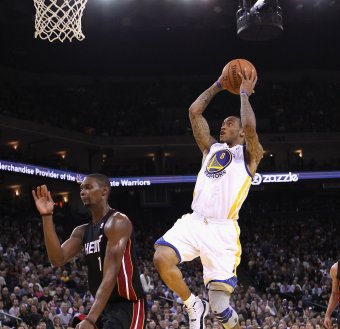 Ezra Shaw/Getty Images
There's also no sign of a closer anywhere. Monta Ellis may be one of the league's most electrifying scorers during the first 45 minutes of a game, but he is not a Michael Jordan or Kobe Bryant with the outcome on the line.
Finally, the management "dream team" inexplicably failed to "amnesty" center Andris Biedrins and his $9 million annual salary. Biedrins is a likable yet hopelessly overmatched center, whose double-double potential seems farther than ever from being realized.
After another dismal showing against the Grizzlies (16 minutes, no shots attempted—and, therefore, no points—two rebounds and three fouls), there may be only three people left who still believe Biedrins will become a legitimate NBA center: Biedrins, his mom and Bob Fitzgerald, the Warriors' irrepressibly optimistic play-by-play announcer ("if Andres Biedrins can just average 12 and eight, or even 10 and seven, the Warriors can contend for the NBA title!").
To be sure, the team's recent travails have been compounded by the seemingly chronic weakness of Stephen Curry's ankles and the absence of Kwame Brown, sidelined by a torn pectoral muscle. Brown was the team's only real power presence inside. Because, you know, the roster was otherwise full of guards and wings.
What should Warriors ownership do
The result of all this is another season of what the incredibly loyal fans at Oracle Arena have witnessed for years: a vastly entertaining, high-scoring outfit that can compete with any team in the league, even pull off the occasional upset, but which more often gets overpowered in the fourth quarter.
Despite this record of sustained futility, the loyal Warriors fans continue to sell out Oracle. Sports Business Journal recently reported that Golden State is one of only 12 NBA teams to have sold over 10,000 season tickets. The other 11 include a who's who of NBA royalty: Dallas Mavericks, Los Angeles Lakers, New York Knicks, Miami Heat, Boston Celtics, Chicago Bulls, Oklahoma City Thunder, Orlando Magic.
If the Warriors ever want to match that upper echelon in something other than ticket revenue, most or all of the roster needs to be overhauled—the sooner the better.
No more stockpiling of slender shooters who think defense is what happens in between the fun parts of the game. No more power forwards who look and play like small forwards. More guys who like to play defense and get rebounds.
Look at the recent transformations of the Thunder, Los Angeles Clippers, Grizzlies and Philadelphia 76ers. It can be done. No fanbase would be more deserving of such a turnaround than that of Golden State.
This article is
What is the duplicate article?
Why is this article offensive?
Where is this article plagiarized from?
Why is this article poorly edited?

Golden State Warriors: Like this team?