The 50 Funniest NFL Commercials of All Time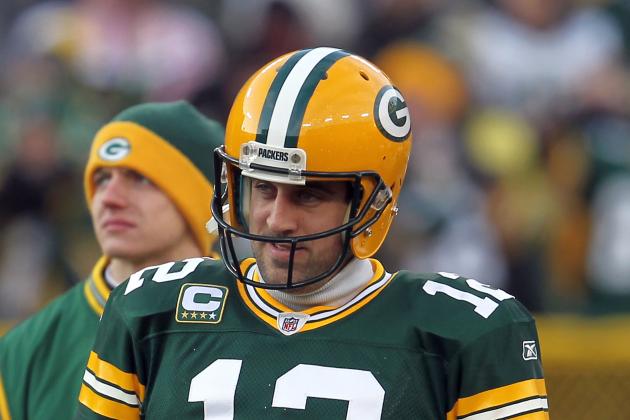 Jonathan Daniel/Getty Images

We often see NFL players on the field with a serious game face playing the game to win. It's pretty rare to see their humorous sides.
That being said, it's not hard to see how these guys are really like off the field because of some of the commercials and advertisements they star in.
Aaron Rodgers, Peyton Manning and Ray Lewis have become fan favorites because of their hilarious NFL ads.
Here are the 50 greatest NFL commercials, not in any specific order, featuring some NFL legends, current NFL players, an NBA superstar, one of the most clutch MLB players of all time and one guy that you probably never thought played in the NFL.
Begin Slideshow

»
Aaron Rodgers' Super Bowl victory meant that he was going to be in a lot more ads. His best one premiered this season in State Farm's State of Imitation series.
Rodgers' commercial poked fun at his touchdown move, which became extremely popular after last season's postseason run.
Unfortunately for Rodgers, he played more like a dancer than an actual quarterback in the NFC Divisional game against the New York Giants.
Clay Matthews' sack celebration ultimately won the favor of the State Farm people as the best Discount Double Check dance.
It's kind of easy to see why the Packers weren't able to repeat this season. Seems like they were more caught up with their celebration moves than the actual game.
Great moves by B.J., by the way. Raji did this dance in the NFC Championship last season.
Serious on the field. Goof off it. Just one of many Peyton Manning ads in this list.
Peyton goes to the fourth floor, eats fruit salad, and decides to take a hike in beautiful San Diego in this hilarious ad.
Speaking of cutting. The most epic moment of all Peyton Manning ads occurred here when he yells, "Cut that meat!"
Anyone with a brother can definitely relate to this. I know I can.
Doesn't this ad just show how ridiculous we fans are?
As great as Peyton Manning is at being a quarterback and as talented as Justin Timberlake is in...doing whatever Justin Timberlake does, both should pursue a career in table tennis after this commercial.
Look at how Timberlake isn't even looking at the game, talking, and still gets the point against Manning.
Superb.
The chicken makes this commercial gold, not Manning. That being said, since Manning is trying to restrain him, we'll put the ad in this list.
Also, this commercial is very personal for me, because the bird has a striking resemblance to my brother.
Barry Bonds thinks steroids get you big.
He doesn't know the half of it.
Tony Romo and Brian Dawkins know what's up.
This is just advertising gold. Watch and enjoy.
I'll never forget how hard I laughed when I first saw this. Everything from the futuristic MVP trophy to Brett Favre's snow-white hair is perfect.
What makes it funnier is that this is still actually very possible.
These ads were image healers for Brett Favre. He was driving people crazy with his indecisiveness at the time.
It was good to see Favre poke fun at himself and understand that his flip-flopping was turning into a joke.
Always fantastic when a person you think takes himself extremely seriously lets his guard down.
Don't know about you, but if I was five years old and I saw this, I'd probably be scared to death of Fatheads.
This commercial was an actual representation of how the Dallas Cowboys were being run under Wade Phillips.
Now you see him, now you don't.
This password won't work in most places, considering these days a punctuation mark is required in most passwords.
Who was happier?
The cheerleader for landing in Larry Fitzgerald's arms, or Larry Fitzgerald for catching a cheerleader?
This commercial is old and it makes one realize that Tom Brady really hasn't been in any ads recently.
Ever since his Super Bowl victory, Drew Brees has been appearing in more ads. This one glorifies his pregame chant, but one driver is not impressed.
A classic and timeless commercial made back when Coke was probably made with real sugar.
No word if Roger Goodell suspended him for that hit.
One of many Troy Polamalu Head and Shoulders commercials. Is that hair insured?
This was made back when LeBron James was revered in Cleveland. The guys at State Farm behind this commercial obviously are unbelievable soothsayers because they predicted The Decision.
Unfortunately for Cleveland residents, James took his talents to South Beach. Even if he chose to play football for the Cleveland Browns, it would've made them happy because of how atrocious that team has been recently.
This was made prior to a Sunday Night Football showdown between the Indianapolis Colts and the New York Giants.
It was Manning vs. Manning, and NBC took full advantage of it to make one of the best ads of all time.
Everything about this ad is hilarious. From Eli throwing Peyton in the closet to the fact Archie is driving them to the game.
After David Tyree and Eli Manning connected on "The Catch" at the Super Bowl, Eli decided he'd do the whole thing over again with a pen and a Toyota salesman. The result was the same.
I play pick-up hockey and we're just not that great of a team.
Sometimes I wish a Sidney Crosby or Evgeni Malkin would just play for my team in one game so that we can absolutely destroy our rivals.
The Toyota salesman got the wish I want, as Eli Manning leads his flag football team to a title.
That awkward moment when this commercial aired in the playoffs and the New York Jets were nowhere to be found.
Another one of Troy Polamalu's Head and Shoulders shampoo. In the earlier one, Brett Keisel was lying about using the product, but in this one, it's Polamalu who denies using the unbelievable shampoo.
This commercial is a mind four-letter word that starts with an F.
Love the scoreboard exploding in the background at the end. Just puts the cherry on top of all the explosiveness of the commercial.
Someone tell Drew Brees to not live in the was, but in the is.
Brian Urlacher and Boston Red Sox star David Ortiz team up to dominate a game of badminton. Vitamin Water supposedly gave them all the talent they needed to defeat a pair of champions.
And boy, do they intimidate them. The commercial gets gruesome when the shuttlecock is lodged into the knee of the opponent. Ouch!
Hmm...PETA might not be happy with this one. But in my eyes it's just a bear attacking another bear. That happens all the time in nature, doesn't it?
The story of the last few years of Donovan McNabb's career wrapped up in one commercial.
Worst feeling ever. This has happened to me on a few occasions in parking structures when my validation card won't be read by the machine.
Drew Brees took me back to those embarrassing moments in this ad.
I was never a fan of Peyton's hair until this commercial. He has a point. It looks very nice.
Yes. More Peyton Manning.
"End zone's the best part."
Looks like I only have one more year left to get those rock-hard abs.
Looks like Peyton Manning would also not be a fan of the Raji dance.
Old Spice with another clever ad. This time they have Brian Urlacher telling the world how much of a wimp he was in the past.
Block! Building kick! Explosion!!!
Yes, folks! Terry Crews used to play in the NFL. In fact, he played seven seasons with the Los Angeles Rams, Washington Redskins, San Diego Chargers and Philadelphia Eagles.
Although his NFL career wasn't as explosive as his Old Spice commercials or his hilarious acting career, he still makes this list.
Personally, these are the greatest commercials, not just for an athlete, but of all time. Every Terry Crews commercial has me saying, "Did that just happen?" or "Wow! What an explosion!"
Another classic Terry Crews commercial where he beats the hell out of odor while experiencing a triple head explosion.
We know from previous ads that Terry Crews' abs and left bicep can talk. In this one, we see that his brain also has a mouth.
However, Crews' mind explodes right in front of his face and he is left regretful for his "powerful mistake."
Ray Lewis finds himself on this list again this time with LaVar Arrington and Clinton Portis in a local Eastern Motors commercial.
The terrible song and the horrendous dubbing are so bad that this ad is actually funny.
A decade ago, this was the coolest song to sing. The ad glorifies manly things men love. That's about it. Great, catchy tune based off a song from Tom T. Hall called "I Love."
Eli and Peyton Manning aren't the only brothers to be on this list.
Billy and Martin Gramatica appeared in this ad this year consoling a fan after a failed field goal kick landed in someone's food.
The Gramatica brothers are absolutely correct, though. It does not get easier, as Billy Cundiff learned the hard way this past Sunday.