Pro Bowl 2012: Defensive Players We Would Like to See on Offense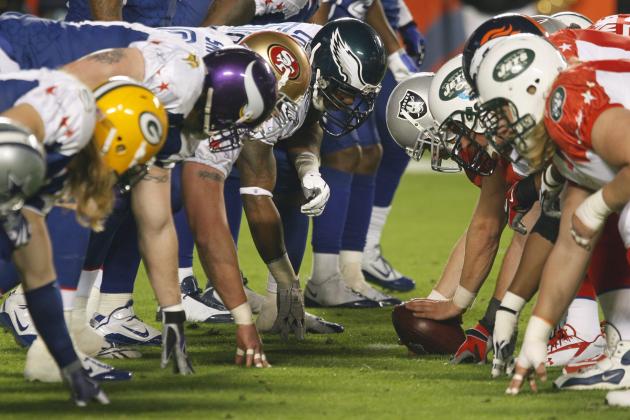 Scott Halleran/Getty Images

The profile of the Pro Bowl has been plummeting in recent years due to a lack of interest by the players and the fans.
For the players, this makes sense. Any rational employee typically does not perform his or her job well once being sent on vacation by their employer.
Roger Goodell has tried to switch things up by changing the location of the game from Hawaii to Florida and then back to Hawaii. He also moved the date of the game to the weekend before the Super Bowl to give it more exposure.
Stilll, unless the players are motivated by something on the field (more than a trophy, bragging rights or a a few bucks), fans are going to continue to lose interest.
So here's my suggestion to get both players and fans enthused about the game again. Simply assign defensive players offensive positions and vice versa. Who would not want to see Philip Rivers try to tackle Brian Urlacher?
This slide show will focus on the defensive Pro-Bowlers who fans would like to see play offense.
Feel free to give suggestions for other players (Pro-Bowlers or not) you would like to see playing both ways.
Begin Slideshow

»
At 6'2'' and 325 pounds, defensive tackle Vince Wilfork has been terrorizing centers his entire career. Now he has a chance to dominate the the middle of the trenches from the opposite side.
Running backs would have a field day if Wilfork is able to get the same push after snapping the ball that he gets when he is lined up at defensive tackle.
In any case, his wide frame would be enough to at least hide the backfield from opposing defenses.
Justin Smith and Haloti Ngata are two of the best defensive linemen in the league. Both are not just excellent run-stoppers, but are able to bully offensive linemen en route to the quarterback.
Now imagine them lining up at guard. It is not like they would have to change their technique much to make the adjustment. All they would need to do is bull rush at the defensive line until they end up in the end zone.
Jared Allen and Richard Seymour would be the bookends of the offensive line. Both stand 6'6", but their greatest advantage would be that they already know every pass-rushing technique in the book.
They have the power and athleticism to be effective run and pass blockers. As long as they resist their animal-like urges to tackle their own quarterback, they just might be pretty good.
Also, do you think Allen would do the calf-rope celebration after pancaking offensive linemen?
Terrell Suggs and Jason Pierre-Paul possess a unique combination of size and power that could really help them convert to many positions. Being that tight ends are among the most versatile players on the field (asked to block, catch passes, and if you are New England, run the ball) it is not hard to imagine T-Sizzle and JPP making the conversion.
Speaking of New England, Suggs and Pierre-Paul could have the potential to make up the most dynamic pair of tight ends after Rob Gronkowski and Aaron Hernandez.
Suggs would be the gritty run-blocker with deceptively soft hands. The athletic Pierre-Paul would be running all over the field making leaping receptions. He would be a matchup nightmare.
Every linebacker would love the opportunity to line up at fullback. Think about it, fullbacks get to lower their shoulders and do a five-yard sprint into the nearest player on every play. Do you think Ray Lewis or London Fletcher would pass on the opportunity to do this for a game?
Looking at size and weight alone, the 5'10, 245-pound bowling ball that is Fletcher seems to have been born to play fullback. The physically bigger Lewis was clearly born to be a linebacker, but it does not take a stretch of the imagination to picture him lined up in between a quarterback and running back.
These two players possess the initial burst, power and fearlessness it takes to be a fullback.
Brandon Browner is an up-and-coming cornerback from Seattle who made his mark this season after accumulating six interceptions. At 6'4" and 221 pounds, he is one of the bigger cornerbacks in the league. His size combined with his leaping ability and ball-hawking mentality would make him a threat in the red zone.
Speaking of big players, there's Julius Peppers. Before you say that it is ridiculous for the 6'7", 287-pound defensive end to be running down the field, remember that he ran a 4.5 second, 40-yard dash during his last year in college. Sure, he has probably slowed down since then, but what quarterback would not dream of throwing the ball to a 6'7" freak of nature who has a vertical leap of 38 inches?
Browner and Peppers would not be the most explosive receiving corp ever assembled, but it would sure make it interesting to watch the fade routes in the back corner of the end zone.
Besides, remember that a defensive player would hypothetically be throwing them the ball and would need as big a target as possible.
This is where things get really exciting. Troy Polamalu and Patrick Willis are the fastest players at their position. Willis is known for being able to catch speedsters such as Chris Johnson before they get to the edge. Polamalu has the unprecedented ability to be in the backfield before the offense even knows that the play has started.
These two behind fullbacks London Fletcher or Ray Lewis would not only be fun to watch, but might just be too hard-hitting a combination for the NFL. Eventually, Roger Goodell would enforce rules prohibiting running backs from lowering their shoulder's on defenseless defenders.
Ed Reed is one of the most exciting players to watch when he has the ball in his hands, so why not give it to him on every play.
Given that Reed is not regularly running quarterback drills, he would probably end up running the quarterback option a majority of the time. Imagine him lined up next to Polumalu in the backfield. Honestly, this would be as dangerous a combo as Tim Tebow and Willis McGahee.
It can also be assumed that Reed is not the most accurate passer. But if Tim Tebow can make it as a quarterback, Reed would not be too shabby.