UNC Basketball: New Starter Reggie Bullock Should Not Be Underestimated
January 24, 2012

Grant Halverson/Getty Images
The North Carolina Tar Heels are going to miss Dexter Strickland. There's simply no point in denying it.
In case you're just now joining us, the Tar Heels announced on Friday that Strickland is done for the season after tearing his ACL against Virginia Tech on Thursday. With him out of the lineup, the Tar Heels will be without a great defender and their best transition threat.
According to Robbi Pickeral of ESPN.com, sophomore guard Reggie Bullock will replace Strickland in the starting lineup, with Stilman White taking over as the team's backup point guard behind Kendall Marshall. It's hardly an ideal scenario, but the Tar Heels will have to make do with what they have.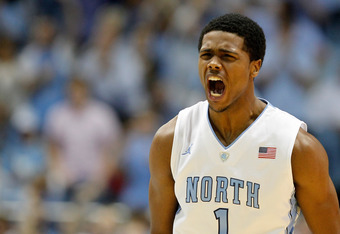 Streeter Lecka/Getty Images
But whatever you do, don't be too quick to underestimate the kind of impact Bullock could have in the starting lineup. He's not Strickland, but he brings a few things to the table.
Bullock is more of a pure shooting guard than Strickland. He's a few inches taller at 6'7," and he is a true sharpshooter. His field goal percentage this season is not as good as Strickland's, but Bullock has much more range. In particular, he's a threat from beyond the arc, as he's knocking down nearly 39 percent of his three-point attempts this season.
Bullock is also an above-average rebounder for his position. He's been playing just under 19 minutes per game this season, but he's managed 4.4 rebounds per game. That's not an insignificant number.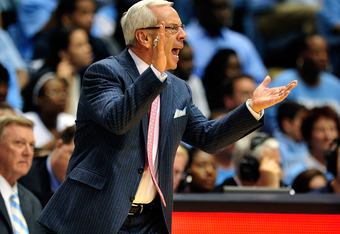 Grant Halverson/Getty Images
Now, the question is whether or not Bullock can handle what is likely to be a significant increase in minutes. He's probably not going to be asked to handle upwards of 30 minutes of action every night, but he can rest assured knowing that Roy Williams is going to need 25 minutes or so from him every night. 
That's where you get nervous about Bullock, as he's only played more than 25 minutes once this season. That was on Thursday against Va Tech, and Bullock responded by scoring six points on 2-of-10 shooting. He was 2-of-7 from beyond the arc.
Bullock is going to have to be better than that down the stretch.
He doesn't need to be great, mind you. The Tar Heels will probably be fine if Bullock steps in and plays good defense, grabs some rebounds and knocks down a few shots in every game that he plays. You'll know he had a good game when you think back and realize you barely noticed him throughout the course of the game.
In essence, Bullock just needs to be himself, albeit for a few more minutes per game. If he can do that, the rest of North Carolina's talented roster will take care of the rest.
Yes, the Tar Heels will still miss Strickland. But if Bullock plays well, Strickland's injury won't prove to be a killing blow.