B/R Exclusive: UFC's Sam Stout Learning to Fill Void Left by Shawn Tompkins
Use your ← → (arrow) keys to browse more stories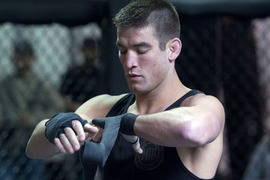 Everyone struggles, everyone falls. It's through those same trials and tribulations that true character is determined. That's where UFC lightweight Sam Stout finds himself now.
Recently, the heavy-hitting Canadian returned to action on January 14, when he took on Thiago Tavares in his native Brazil, as the UFC returned to Rio de Janeiro.
After three rounds of action, Tavares was declared the winner by decision. Though losing fight is heart-rending enough, Stout appeared to suffer even more. In a candid moment, the Ontario native says he's glad it was only an "L" he had to endure in Rio.
"I got off to a slow start, but I started to find my groove as the fight went on and I'll be ready for the next one," Stout told Bleacher Report.
The bout proved especially detrimental for Stout, as it marked his return after suffering the loss of long-time trainer and brother-in-law Shawn Tompkins—a revered figure in the sport of mixed martial arts, who passed away last August due to a heart attack in his sleep.
"It was my first fight without Shawn," recalled Stout. "I'm happy to get that one behind me, to be honest with you. I'm happy to get in there and get through that first fight, because it was something that I was a little bit worried about. I survived it."
Prior to his battle in Brazil, Stout was originally scheduled to face Dennis Siver last October. Stout opted to pull out of the bout in order to mourn the loss of his friend and coach.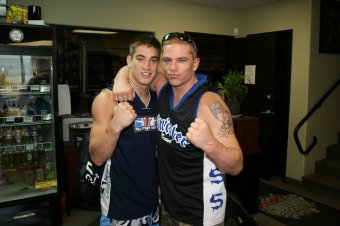 Despite taking that time to grieve, Stout admits that Shawn's death still weighed heavily on his mind in the days leading up to his recent outing in Rio.
"I tried to tell myself that I wasn't going to let it, but really, there's no question that it was in my head," said the 27-year-old. "It was the first fight in my entire career—from my first kickboxing fight—without having Shawn, not only in my corner, but training me for the whole camp.
"It was a big adjustment for me and I'm not going to say that's why I lost, but I don't think it was my best performance and I think that was a big reason as to why."
Familiar faces, such as former title challenger Mark Hominick, were in Stout's corner at UFC 134, but even "The Machine"—another longtime friend and training partner—couldn't fill the vacancy.
"It was weird hearing a different voice calling out combinations and telling me what to do, but Mark (Hominick) did a great job and I think I blame myself more than anything," said Stout.
"There was definitely a point when I'm hearing Mark's voice and I just felt like I couldn't pull the trigger, whereas with Shawn I kind of was just so used to hearing his voice that it was just like second nature to me."
After taking in the sites in Brazil, Stout returned home a few days later and has already started his regular regimen at the Adrenaline Training Center. He is looking forward to a summer Octagon return.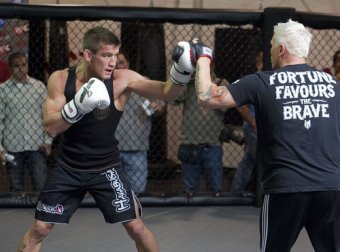 Stout says he still has difficulty, but with the help of teammates like Hominick and Chris Horodecki, among others, Stout is forging ahead. "I feel like I'm getting everything I need, it's just been an adjustment period right now," said Sam.
"It's really not that much different, because all the guys that I'm training with are guys that I've been with for years," Stout said. "We're all trying to do it collectively. No one of us can do what Shawn did, but we figure that the best way to try and do it is for all of us to do it collectively."