New Jersey Devils: Making It Back to the Stanley Cup Playoffs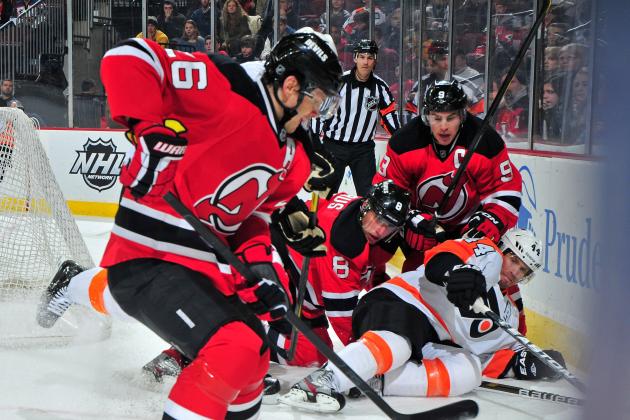 Norman Y. Lono/Getty Images

The New Jersey Devils are in a playoff spot—barely—in the Eastern Conference at the All-Star break, tied for seventh place. New head coach Pete DeBoer said last week they're already in a stretch-run mode for the postseason.
They've already made one move, acquiring forward Alexei Ponikarovsky from Carolina over the weekend. He had the Devils' lone goal in their loss to the Flyers on Saturday afternoon, part of New Jersey's current three-game losing streak.
So how do the Devils ensure themselves of a playoff spot, after missing the postseason dance last year for the first time since 1996?
Begin Slideshow

»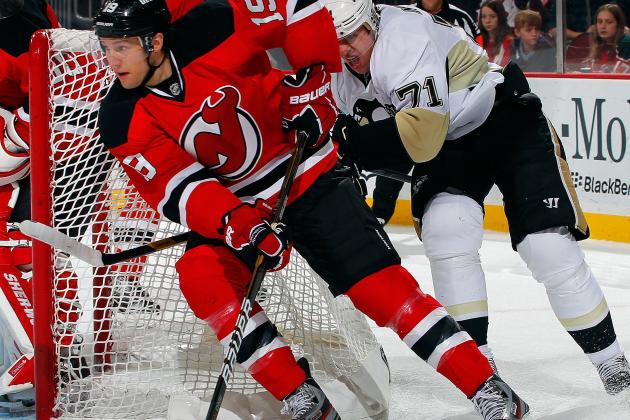 Paul Bereswill/Getty Images

The Devils can't lose their best pieces on the playing board and expect to compete with the best of the Eastern Conference.
Getting Travis Zajac back will be a boon, but it will still take him some time to get back up to full speed after missing so much time due to his Achilles injury. Andy Greene, who could help the Devils' offensive efforts from the blueline, is still recuperating from a damaged foot.
In the meantime, the Devils can't afford to lose any more players. Jacob Josefson just came back last week from a broken clavicle, and now Henrik Tallinder will be out for up to two months due to a blood clot in his lower left leg.
Staying healthy, though, is easier said than done. Injuries are the one thing you just can't predict or prepare for.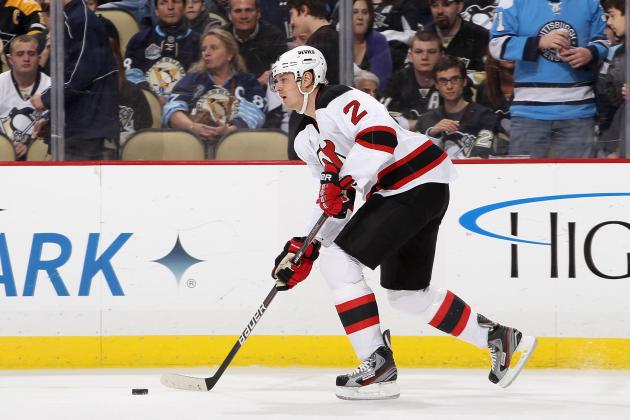 Christian Petersen/Getty Images

The Devils need more blueline production on the scoresheet, something that's been lacking since Scott Niedermayer and Brian Rafalski left years ago.
Kurtis Foster was brought in from Anaheim, and though he only has one goal so far with New Jersey, he still has a big shot that could pay dividends down the stretch.
The Devils, though, would like to have all their defensemen be threats from the point—if not by scoring goals, then at least by setting them up. Adam Larsson is still learning on the job as an NHL rookie at age 19—but look for his apprenticeship to be expedited in the weeks to come, as they'll need points from him, too. He currently has two goals and 15 points in his first 46 NHL games.
The Devils have some talented forwards up front, but they could certainly use a little more production behind them.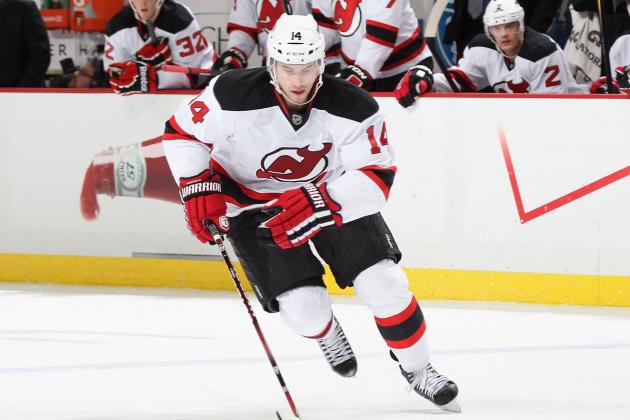 Christian Petersen/Getty Images

The Devils just picked up Ponikarovsky from Carolina for minor-league defenseman Joe Sova and a fourth-round draft choice in June. Perhaps they could deal one of their several minor-league netminders for another player that could help the fourth line, which recently featured defenseman Peter Harrold on one wing.
It would be great to land a big name like an Eric Staal (even though he's struggled this season in Carolina). Odds are, though, that opponents offering a lot might want Zach Parise in return. New Jersey should just say no to that, as well as to any deal that would include budding scorer Adam Henrique, the NHL's Rookie of the Month for December.
Don't look for Martin Brodeur and Ilya Kovalchuk to go anywhere. Brodeur is nearing the end of the line, and the Devils have a lot of money invested in Kovalchuk, who is their best pure sniper, although Patrik Elias is no slouch when it comes to shooting.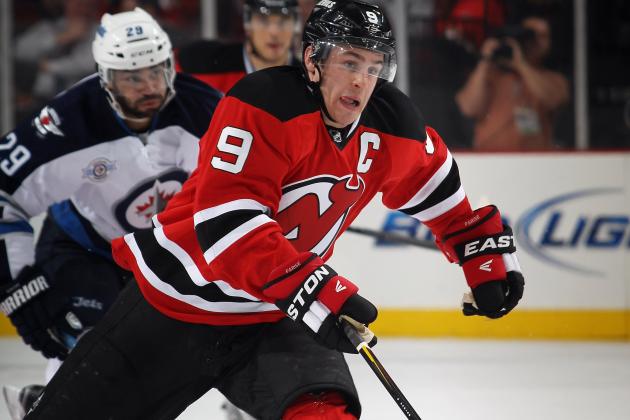 Bruce Bennett/Getty Images

Unless they are absolutely positive they won't be able to resign him in the off-season, the Devils should not deal Zach Parise at the trade deadline next month. They'll need him if they hope to get into the playoffs and past the first round, a feat they haven't reached since 2007, when they were still skating at the Meadowlands.
It's not just his talent—No. 9's drive is second to none, and they'll need that in the postseason, when defenses tighten, checking will be closer, and scoring will be at a premium. Hopefully others will follow his lead down the stretch, so New Jersey can wrap up a playoff spot with time to spare, instead of trying to sweat it out on the last day of the regular season.
Although having to fight for a spot could prove beneficial. Just ask the New York Giants.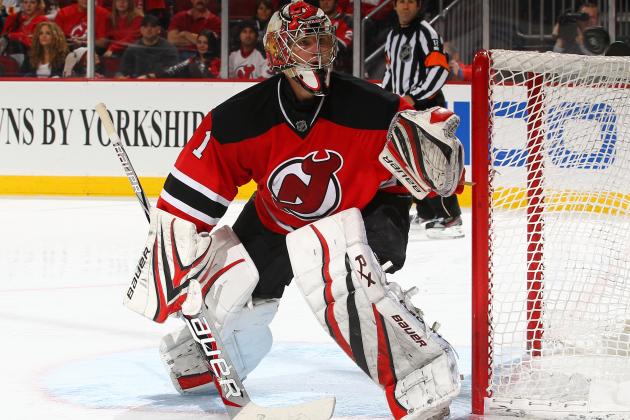 Al Bello/Getty Images

There's no way around it—the Devils are going to need solid goaltending the rest of the way and into the postseason if they're hoping to go anywhere .
Whether that netminding comes from Brodeur or Johan Hedberg—or someone in the minors—is as of yet unclear. And while they'll get some defensive help from their teammates in front of them, it's no great secret that how well the Devils' goalies keep the puck out of the net is going to dictate how long they stick around this spring.
This is especially true if they struggle to score, which has been the case more often than not.
Bruce Bennett/Getty Images

The Devils have done alright so far in beating teams they're supposed to, like Winnipeg, Carolina and Edmonton. The question is, can they do the same against the Bruins, Flyers and New York Rangers? Those are the types of teams they'll undoubtedly see come April, teams that they're also currently 1-6-0 against combined this season.
The Devils have come close in certain games, but just can't seem to get over the hump against some of the better teams in the league.That includes both Boston and Philadelphia, which each rang up 4-1 wins in Newark this month in games that could have gone either way until the third period.
Ceasing to give up shorthanded goals would certainly help New Jersey's cause. What's hurting them now, which is surrendering a league-leading 12 shorthanded goals on the power play, would undoubtedly kill them in a best-of-seven series against a more skilled and higher-scoring opponent.