Juventus Comes Out on Top in Showdown with Roma: Del Piero Provides Firepower
January 24, 2012

Valerio Pennicino/Getty Images
It's been a bit of an off year for Juventus legend and team captain, Alessandro Del Piero. Early on in the season, Andrea Agnelli unceremoniously announced to team shareholders that Il Capitano would be leaving the club after the season.
Since Ale has previously stated that he's got at least a few more years in him, this meant that he was probably not going to end his career in the Black and White. Adding to that, he's been playing in less games and he's been struggling to score.
He's certainly had plenty of chances on goal, but going into the TIM Cup (aka Coppa Italia) match against Roma, he had yet to score at all this season.
That all changed in the 30th minute of today's match. With Juve already up 1-0, Del Piero received the ball just outside of Roma's box. It was from about the same distance as his early shot, which went weakly to the right of the goal.
This time, Del Piero wasn't going to let Roma off that easy. He fired it to the far corner, and the ball beautifully dipped just before it reached the crossbar, falling past Roma's keeper Marten Stekelenburg Juve's second goal. It was a magical moment, and a beautiful goal, for Del Piero.
It was his first of the season, his first under Conte and, most importantly, his first in the new Juventus Stadium. The goal served as a huge morale boost to an already well-functioning Juventus squad, and it emboldened Del Piero throughout the game.
Ale had several other impressive moments, such as his skillful touch while moving the ball around Fernando Gago. Del Piero first held the ball up in the air off his leg, and then played it around Gago. Gago, for his part, fouled Del Piero. He probably learned that move at Real Madrid, but to his credit there was no hand stomping.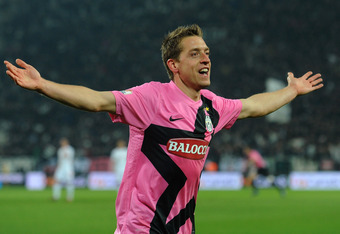 Valerio Pennicino/Getty Images
While the great elder Del Piero put on a clinical performance, the youth of this Juventus squad also put on quite a show.
The first goal of the match, the one that put Juventus up 1-0 before Del Piero's goal, belongs to Emanuele Giaccherini. Yes, he also scored on Saturday against Atalanta. That makes it two goals in four days for the youngster.
It's starting to look like Antonio Conte and Beppe Marotta made a great call when they signed Giaccherini from Cesena. Going back to the goal, it was partially due to a sublime pass from Andrea Barzagli, finding Giaccherini open in Roma's half. Barzagli's vision and passing led to Giaccherini's breakaway, and he had no problem sliding the ball right past Stekelenburg.
Two other youngsters, Marcelo Estigarribia and Luca Marrone, also had good matches, though they both show areas for improvement. Marrone played solidly for most of the night, but later in the game he made a few sloppy passes. Despite a few small errors, Marrone has put in two straight solid performances.
With rumors rampant about a Fredy Guarin or Radja Nainggolan transfer, Conte may need to look no further than his own changing room.
Though since we're on the topic of Nainggolan, it appears that he is coming to Juventus in June. This is nowhere near official yet, but it's somethiing to watch for.
Estigarribia started the game off pretty well, and he was making Rodrigo Taddei's life difficult. Over time, his good start faded. He still played solidly, but he was not necessarily as dangerous as he looked in the beginning.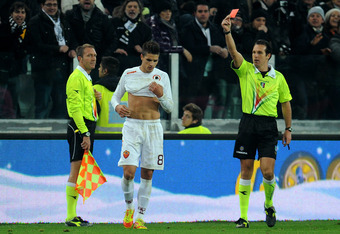 Valerio Pennicino/Getty Images
Marcelo made one notable error today, when his cross from the wings sailed past Juve's strikers. He was given a shot at redemption later in the game, and his cross was indeed correctly placed. Sadly for him, the strikers failed at their header attempts. Regardless, I was glad to see Estigarribia redeem himself.
One other important thing to note about this game was the incredibly physical play, mostly from Roma's side. As ridiculous as it sounds, talented Roma youngster Erik Lamela was actually sent off in the second half for roughing up the Chiellini Family Jewels.
Now, aside from the fact that it was a pointless attack since Giorgio Chiellini is the toughest man In Italy, Lamela will probably be disciplined further by the FIGC. That's the least of his worries though.
The next time Roma and Juve meet, he's going to have to deal with the fury of Chielllini. The man has a bachelor's degree in economics, and heading ability that would make Peter Crouch swoon. Now, Erik Lamela will have to live his life in fear of that man.
If I could be serious for a moment though, it was a despicable thing for one player to do to another. That has no place in the modern game, and Lamela should be disciplined for it.
There was another egregious foul on a Juventus defender later in the game. Minutes after the Lamela attack on Giorgio's soccer balls, Roma icon Francesco Totti kicked Leonardo Bonucci in the shins. Totti was probably just upset that his penalty kick in the last Roma-Juve match was saved by Gigi Buffon. He was also probably jealous of Del Piero, but that's no excuse.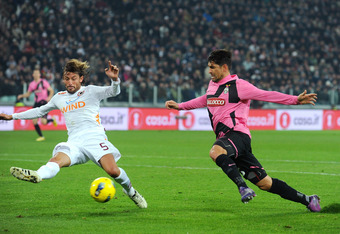 Valerio Pennicino/Getty Images
Speaking of Bonucci and Totti, both men were involved in an almost Roma goal. Totti got past Bonucci and Barzagli (I think it may have been Bonucci's fault, which means it will be overblown and then used to label Bonucci as a failure and terrible human being) and then passed to a teammate, but the linesman put his flag up and the move was called offside.
Because of that play, Bonucci's critics will continue to slam him. Now, it's pretty clear that Bonucci's form has dipped lately, but that's it. Those who want to say that the promising youngster is burnt out or has ruined his chance at Juve, well, try going back and watching Bonucci's play during the first half of the season.
Going to the opposite end of the field, Juve's strikers had a good opportunity to work on their finishing. While Marco Borriello, who started, did not score, he played well enough and he now has a solid performance to build on. He even got cheered by some of the fans (though some whistled and booed) when he was subbed off for Alessandro Matri.
Matri was only in for a short time himself, but he looked very dangerous. Of course, looking dangerous hasn't been his problem lately, scoring goals has. Still, Matri is Matri. The man will surely score once again, it's just a matter of when. After all, he's not Amauri.
Amauri is now an ex-Juve man. The Brazilian who promised us twenty goals last season (and gave us none) has been loaned out to those suckers Fiorentina for the final six months of his wretched contract.
The striker who provided the most excitement, aside from Del Piero that is, was Fabio Quagliarella. The man who injured his cheekbone in the first game after the winter break returned from his short absence. He definitely didn't lose any form while he was out, as he almost scored a goal on his first touch with the ball going just wide of the net.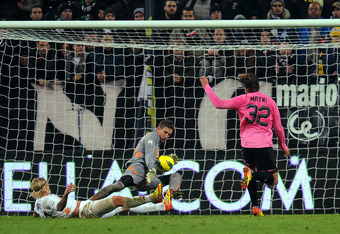 Valerio Pennicino/Getty Images
Finally out of favor, Milos Krasic made a substitute appearance late in the game. Perhaps it was Conte giving him more time, but more likely it was Simone Pepe's injury and Giaccherini's sabbatical to the midfield leading to a small shortage in right wingers.
Krasic looked threatening on his first touch, but he gave up a foul (elbowing his marker) almost immediately after he got the ball. It was an unfortunate moment for Milos, who has had a very rough few months. In fact, I recently wrote an article about Krasic's recent downfall for JuventusFC.com. The article should be up within the next day.
Though he was on the receiving end of that yellow card, Milos was also in position to score a goal late in the game. Fabio Quagliarella had the ball at the corner of Roma's box, and both Matri and Milos were making runs into the box. Matri was closest to Fabio, and he received a lateral pass from the masked Quagliarella.
Simon Kjaer slid in and ended up sending the ball into his own net for an own goal, but nonetheless Quags and Matri displayed skill in the movement. Milos also showed that he could get free in space, indeed my first thought was that Quags should pass to Milos, but Matri came into frame right after and he was closer. That one play probably isn't enough to save Milos though, and his time in Turin is probably soon to be finished.
It was a big win for Juventus. They downed Roma, who have been surging under Luis Enrique, 3-0 in the quarterfinals of the Coppa Italia. They're on to the semifinals, and they have a big momentum boost going into their showdown with third place Udinese. Granted, Roma played pretty badly, so it's not as if Juve were world beaters.
They have what it takes to beat Udinese, but they need to show up as the side that beat Milan and Inter. Conte's men cannot come out like they did against Lecce or Cagliari and expect to beat Udinese.
For now though, the Silver Star is in sight for next year's jersey. One more leg (against either Milan or Lazio, depending on who wins on Thursday) is all that stands between Juventus and the Coppa finals. Praise Conte, and Forza Juve.