MLB's Top 50 Can't-Miss Pitching Prospects of 2012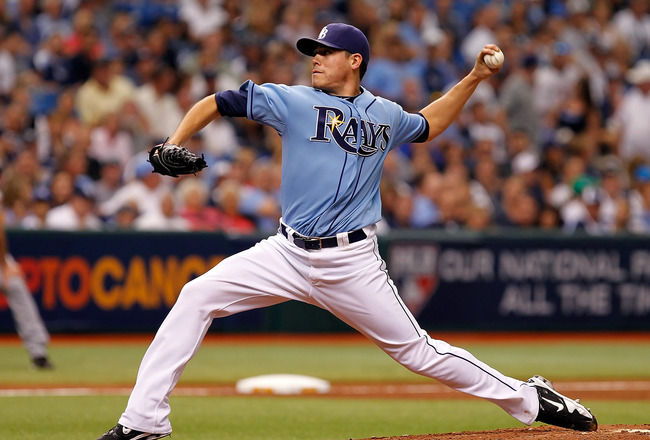 J. Meric/Getty Images
Last week, we took a look at the top MLB hitting prospects for 2012. Much like the practice of signing free agents, figuring out who the hot prospects are is never an exact science. Many variables go into deciding who could possibly be a top-tier prospect.
For pitchers, those variables include velocity, command of the strike zone, repertoire of pitches, craftiness, overall make-up—these are just some of the qualities that scouts and GMs are searching for. However, even with all of the greatest of skills, it's almost never a guarantee.
Year after year, scouts scour baseball fields in every corner of the country and beyond, searching for the next future ace. Will they come from high school or college? Can they be found on a makeshift, rundown field somewhere in the Dominican Republic? Or, will they be honing their skills in Japan?
Here is a list of the current top pitching prospects in baseball right now. With just a couple of exceptions, each pitcher on this list must have made their MLB debut after Sept. 1 or have yet to appear in the bigs.
50. Allen Webster: Los Angeles Dodgers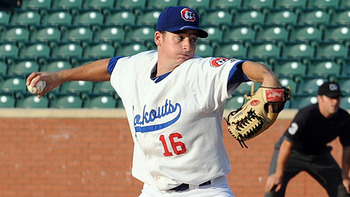 Photo courtesy lasordaslair.com
Drafted in the 18th round of the 2008 MLB Draft by the Los Angeles Dodgers, 21-year-old right-hander Allen Webster continues to impress and surpass other players taken before him, steadily rising through each level over the past three seasons.
Webster was 11-5 last season in 26 starts between Advanced Single-A and Double-A, striking out 135 batters in 145 innings. Webster struggled a bit with Double-A, and will likely find himself there again next season.
49. Casey Crosby: Detroit Tigers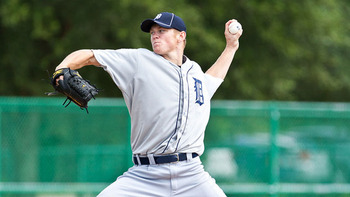 Photo courtesy mlb.com
Starting pitcher Casey Crosby, taken by the Detroit Tigers in the fifth round of the 2007 MLB Draft, has already endured tremendous adversity in his young professional career, undergoing Tommy John surgery and shoulder tendinitis.
Last season, Crosby showed flashes of brilliance with the Double-A Erie Sea Wolves,posting a 9-7 record and 4.10 ERA in 25 starts. Crosby features an excellent four-seam fastball that occasionally touches 98 MPH, a plus curveball and a changeup that continues to be a work in progress. Control is still an issue, with 77 walks in 131.2 innings, so he still needs to show he can command all of his pitches at any given time.
48. Anthony Ranaudo: Boston Red Sox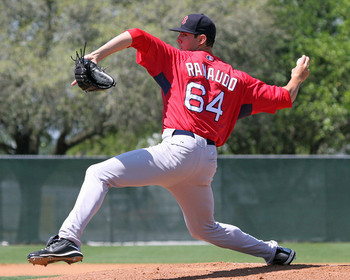 Photo courtesy boston.sportsthenandnow.com
At 6'8" and 235 pounds, Boston Red Sox pitching prospect Anthony Ranaudo certainly presents an imposing presence on the mound. Taken in the first round of the 2010 MLB Draft, Ranaudo features a mid-90s fastball with a curve and changeup.
Ranaudo struck out 117 batters in 127 innings last season between Single-A and Advanced Single-A, and his overall WHIP of 1.268 signifies solid command thus far. He will likely move up to Double-A to start the 2012 season, and it's not a stretch to think that Ranaudo could be seen in Fenway Park by 2013.
47. Trey McNutt: Chicago Cubs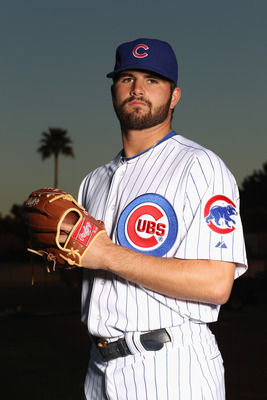 Ezra Shaw/Getty Images
With a blazing fastball and power curveball, Chicago Cubs prospect Trey McNutt has two pitches that are close to major-league ready. However, command is still an issue, knocking McNutt down on this list compared to this time last year.
McNutt, drafted by the Cubs in the 32nd round of the 2009 MLB Draft, spent all of last season at Double-A Tennessee, with mixed results. In 22 starts, McNutt was 5-6 with a 4.55 ERA, giving up 120 hits in 95 innings. McNutt could start the season again at Double-A, and while the Cubs are still high on his potential, they'll want to see more dominance before moving him along.
46. Heath Hembree: San Francisco Giants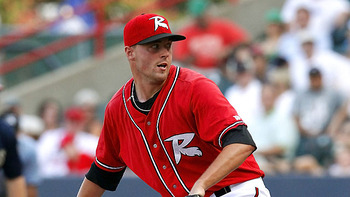 Photo courtesy sanfrancisco.giants.mlb.com
It's hard not to envision San Francisco Giants reliever prospect Heath Hembree as a quality bullpen arm in the very near future.
In 54 appearances between Advanced Single-A and Double-A last season, Hembree posted a 1.86 ERA with 38 saves, striking out 78 batters in just 53.1 innings. It definitely would not be considered a stretch to see Hembree at AT&T Park sometime in 2012.
45. Nestor Molina: Chicago White Sox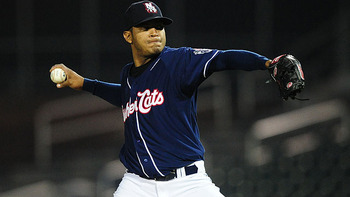 Photo courtesy toronto.bluejays.mlb.com
It's no wonder that the Chicago White Sox coveted Nestor Molina when they traded closer Sergio Santos to the Toronto Blue Jays. Molina, signed out of Venezuela by the Jays in 2007, broke out last year between Advanced Single-A and Double-A, posting a 12-3 record and 2.21 ERA in 23 starts, striking out 148 batters in 130 innings of work.
Molina features outstanding control as well, walking only 16 batters all year. With a 2.21 ERA overall in his brief minor league career, Molina's time at the lower levels may be coming to an end shortly.
44. Deck McGuire: Toronto Blue Jays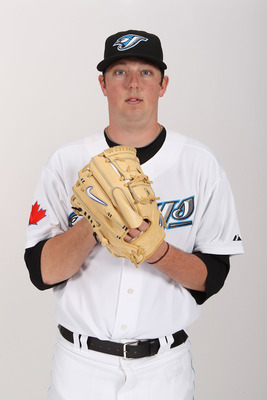 Nick Laham/Getty Images
As the 11th overall pick in the 2010 MLB Draft, Toronto Blue Jays pitching prospect Deck McGuire certainly delivered in his first year of professional ball, posting a 9-5 record and 3.02 ERA in 21 starts between Advanced Single-A and Double-A ball last season.
McGuire has three pitches that he can use effectively at any time, and scouts have cited his poise and durability as key factors that will help him continue to move up the ladder rapidly.
43. Nick Hagadone: Cleveland Indians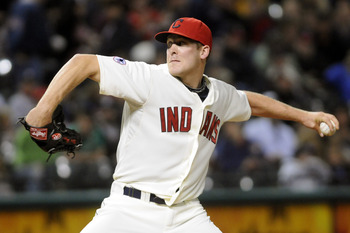 Jason Miller/Getty Images
When the Boston Red Sox drafted Nick Hagadone in the first round of the 2007 MLB Draft, they projected him as a starter, and through his first three years in the farm system, that clearly seemed to be the tact they were taking with their young prospect.
Hagadone underwent Tommy John surgery in 2008, and after going to the Cleveland Indians as part of the deal involving Victor Martinez in 2009, the Tribe transitioned Hagadone to the bullpen.
Hagadone had a solid season in his first full year out of the 'pen in 2011 with a 2.79 ERA between Double-A and Triple-A, earning a callup with the Indians in September. Hagadone will be in the mix for a bullpen slot in spring training, and with his solid three-pitch repertoire, Hagadone seems to have found his happy place in the 'pen.
42. Dellin Betances: New York Yankees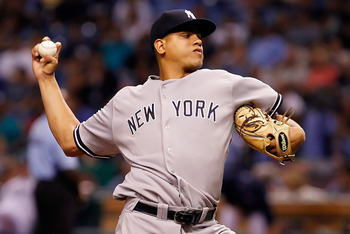 J. Meric/Getty Images
Drafted as an 18-year-old by the New York Yankees in 2006, Dellin Betances has slowly moved up the ranks in the minor-league system, working his way up to Triple-A Scranton-Wilkes Barre late last season before a brief look by the Yankees in September.
Betances will likely start back at Scranton-Wilkes Barre in 2012, and while the 10.1 K/9 rate shows his dominance, his 5.0 BB/9 rate also shows that Betances still needs to work on command as well. Still, with electric stuff, Betances is a prized prospect who is no doubt coveted by the Yankees, who have repeatedly refused to include him in any trade talks.
41. Trevor May: Philadelphia Phillies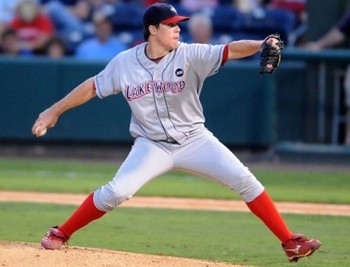 Photo courtesy phillysportscentral.com
With the current stable of arms in the Philadelphia Phillies' rotation, they can afford to take their time with several lower-level prospects, such as right-hander Trevor May.
May's 12.4 K/9 rate at Advanced Single-A Clearwater last season was certainly eye-opening, and he has shown decent command while also keeping the ball in the park, giving up just eight home runs on the season. If May can continue dominating at higher levels, the current Phillies rotation won't be the only topic of discussion in Philly.
40. Sonny Gray: Oakland Athletics
Photo courtesy vanderbilt.edu
While it's a relatively small sample size, Oakland A's pitching prospect Sonny Gray certainly showed why the A's selected him with the 18th overall pick in last year's draft.
In just five starts at Double-A Midland, Gray gave up just one earned run in 20 innings, displaying a mid-90s fastball and sharp breaking curve that scouts believe are already major league ready.
Gray appears to be on the fast track to success, and while 20 innings of work doesn't exactly scream out for the call to the majors, it certainly gives cause for notice.
39. Wily Peralta: Milwaukee Brewers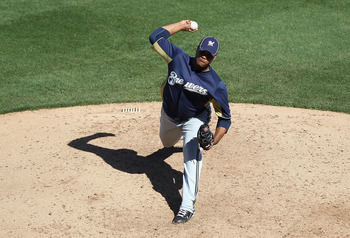 Christian Petersen/Getty Images
The Milwaukee Brewers have been slowly grooming young right-handed pitching prospect Wily Peralta ever since signing him out of the Dominican Republic in 2006, and their patience is definitely paying off.
Peralta posted an 11-7 record and 3.17 ERA in 26 starts last season between Double-A and Triple-A, with especially impressive numbers after his call-up to the Nashville Sounds (a 2.03 ERA in five starts, striking out 40 in 31 innings).
At just 22 years of age, it's not a stretch to think that Peralta could be seen in Miller Park sometime in the 2012 season.
38. Stetson Allie: Pittsburgh Pirates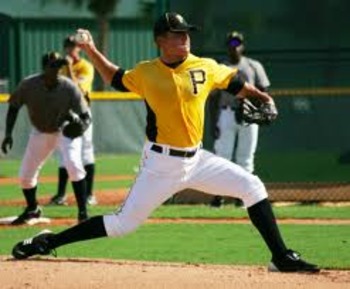 Photo courtesy piratesprospects.com
High heat is a trait that is always in high demand for any major league, and in 20-year-old prospect Stetson Allie, the Pittsburgh Pirates certainly have that in abundance.
Allie has the ability to hit triple digits, however, the problem lies in where the ball will land once delivered. Allie walked 29 batters in 26 innings last season, one more than he struck out. Several scouts believe Allie will end up as a closer at the major league level, but he's clearly still a work in progress.
37. Noah Syndergaard: Toronto Blue Jays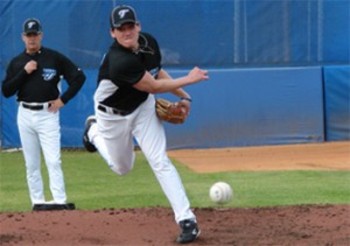 Photo courtesy jaysprospects.com
Working through three levels last season, Toronto Blue Jays prospect Noah Syndergaard, drafted in the first round of the 2010 MLB Draft, sported a nifty 1.83 ERA in 11 starts, striking out 68 batters in 59 innings of work and demonstrating terrific command with a 1.085 WHIP.
Syndergaard already has a low-to-mid 90s fastball and excellent curve, and scouts believe that if he develops a solid changeup, he could easily be a quality mid-rotation starter for the Jays in the near future.
36. Matt Purke: Washington Nationals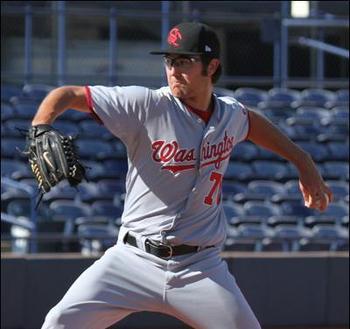 Photo courtesy mlb.scout.com
When fireballing left-hander Matt Purke was drafted in the first round of the 2009 MLB Draft by the Texas Rangers, he was considered a can't-miss prospect out of high school.
Unfortunately for Purke and the Rangers, bankruptcy issues forced MLB to nix a proposed deal on the table, and Purke was left to continue honing his skills at the college diamond of TCU.
While Purke was outstanding in his freshman season, elbow issues marred his sophomore year, and he fell to the Washington Nationals in the third round of last year's draft. Still, Purke is valued as a potential dominant force if he can work through his elbow issues.
35. Tyrell Jenkins: St. Louis Cardinals
Photo courtesy baseballinstinct.com
When three-sport high school star Tyler Jenkins was drafted by the St. Louis Cardinals in the supplemental first round of the 2010 MLB Draft, many thought the pick to be wasted, as Jenkins was widely believed to be headed to Baylor University as a highly-touted quarterback.
However, Jenkins signed on the dotted line with the Cards in August of that year, and while his pro experience thus far is limited, the potential for greatness is there, at least in the eyes of Cards' scouts.
Jenkins features a mid-90s fastball with sink, a plus curve and a developing change. While he hasn't risen past rookie ball as of yet, the Cardinals believe that Jenkins will shine with his athleticism, free and easy delivery and his bulldog-like tenacity on the mound.
34. Zach Lee: Los Angeles Dodgers
Photo courtesy minorleaguebaseball.com
Drafted out of high school with the 28th overall pick in the first round of the 2010 MLB Draft by the Los Angeles Dodgers, Zach Lee did nothing to dissuade the Dodgers' brass from believing they made the right choice.
In his first professional season at Single-A Great Lakes, Lee was 9-6 with a 3.47 ERA in 24 starts, striking out 91 and walking just 32 in 109 innings.
Lee's four-seam fastball doesn't explode into the mitt at 92 MPH, but has terrific late movement. Lee's curveball is also considered a plus pitch, and he's developing a changeup to add to his repertoire. The Dodgers had to come up with some bling to pry Lee away from his commitment to LSU, however, it could very well be money well spent.
33. Zach Wheeler: New York Mets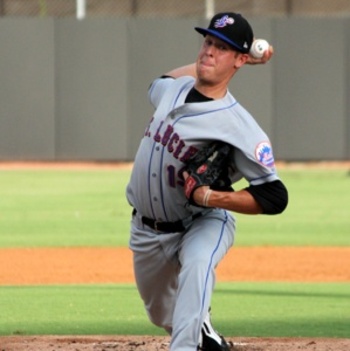 Photo courtesy nypost.com
When prized pitching prospect Zack Wheeler debuted for the St. Lucie Mets last season following the trade that sent New York Mets right fielder Carlos Beltran to the San Francisco Giants, the Mets instantly saw exactly why they coveted Wheeler in the first place.
Wheeler's repertoire includes a fastball that touches 95 MPH, a swing-and-miss curveball and a low 80s changeup. After making slight adjustments to his delivery mid-season, his command was considerably better after joining the Mets.
Along with Matt Harvey, the Mets clearly have two young guns primed to take them into the future.
32. Taylor Jungmann: Milwaukee Brewers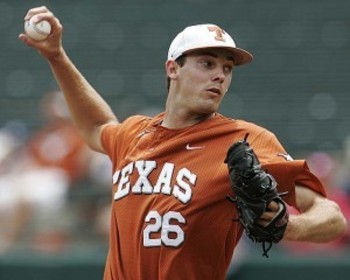 It's easy to see why the Milwaukee Brewers have such a good feeling about their pitching outlook for the next several seasons. With Zack Greinke and Shawn Marcum already at the top of the rotation, prospect Wily Peralta (already mentioned earlier on this list) and last year's 12th overall selection in the draft, Taylor Jungmann, the Brewers have every reason for optimism.
Last year, Jungmann was a Golden Spikes finalist for the Texas Longhorns posting a 13-3 record and miniscule 1.60 ERA. He struck out 126 in 146 innings and held opposing hitters to just a .165 average.
Jungmann's fastball tops out at 95-96 MPH, but he's not afraid to change speeds to keep hitters off balance and his command is outstanding. With his already-developed poise and mound presence, it's not a stretch to think that Jungmann will get a look sometime in 2012.
31. Carlos Martinez: St. Louis Cardinals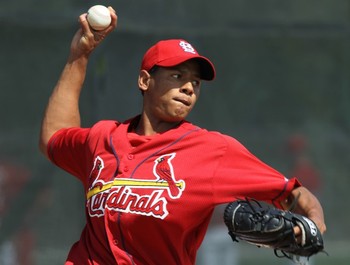 Photo courtesy stltoday.com
He's only 20 years old and he's still raw, but Dominican right-handed pitcher Carlos Martinez can flat-out throw.
Signed by the St. Louis Cardinals for $1.5 million, Martinez struck out 98 batters in 84.2 innings last season between Single-A and Advanced Single-A. With a fastball that sits in the mid-90s and touches 98-99 MPH, Martinez is viewed as a high-risk, high-reward type pitcher. Secondary pitches are what's currently holding him back, but scouts love his smooth delivery and firmly believe that he can and will find success in the near future.
30. Addison Reed: Chicago White Sox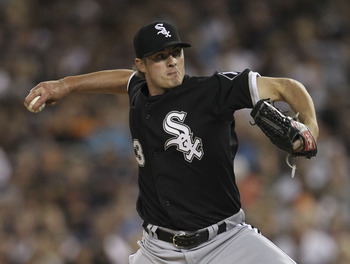 Leon Halip/Getty Images
When the Chicago White Sox announced the trade of closer Sergio Santos to the Toronto Blue Jays in December, it was music to the ears of 23-year-old prospect Addison Reed.
Reed, drafted by the White Sox in the third round of the 2010 MLB Draft, jumped four levels last season in the minors, sporting a nifty 1.26 ERA in 43 appearances, with a lofty 12.8 K/9 rate and an equally impressive 0.728 WHIP.
Reed made his major league debut on Sept. 4, and in six appearances in the month of September did nothing to disappoint, striking out 12 in seven innings against just one walk.
Reed will get the opportunity to earn the closer's role for the White Sox in spring training, and if last year is any indication, he could very well be the ninth inning man for new manager Robin Ventura.
29. Randall Delgado: Atlanta Braves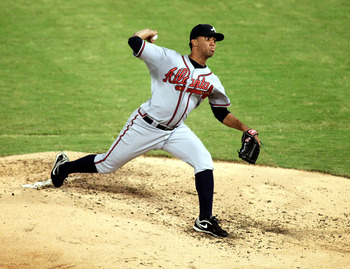 Marc Serota/Getty Images
The Atlanta Braves are absolutely loaded with young pitching talent, and Randall Delgado is just one of the young guns on the top of that list.
Signed out of the Dominican Republic back in 2006, Delgado impressed the Braves with a spot-start MLB debut on June 17 against the Texas Rangers, sporting a lively low-to-mid 90s fastball with late movement and two quality secondary pitches. In seven starts for the Braves, Delgado posted a 2.83 ERA, giving up just 29 hits in 35 innings.
With Derek Lowe traded to the Cleveland Indians, competition for the back end of the starting rotation will be stiff when camp opens in February, and Delgado will be right there in the mix.
28. Mike Montgomery: Kansas City Royals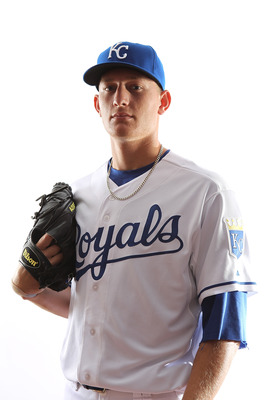 Jonathan Ferrey/Getty Images
Drafted by the Kansas City Royals in the first round of the 2008 MLB Draft, 22-year-old left-hander Mike Montgomery stumbled a bit last season with his jump to Triple-A Omaha.
After jumping three levels of the minors in 2010, Montgomery found the road a bit tougher last year, posting a 5.32 ERA in 27 starts. However, another year at the Triple A level should reveal whether or not Montgomery is a contender or just another pretender.
27. Dillon Howard: Cleveland Indians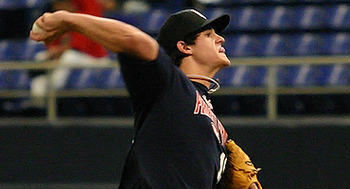 Photo courtesy theclevelandfan.com
Within months after being selected in the second round of last year's draft by the Cleveland Indians, high school phenom Dillon Howard literally became one of the top prospects in the Indians' system after several trades left the cupboard bare. However, that's not to say Howard doesn't deserve it, either.
After striking out nearly two batters per inning in his senior year of high school, Howard would be high on any team's list, regardless of the circumstances. With a mid-90s fastball that touches 97 with late movement and a developing curveball, Howard possesses the type of stuff that has Indians' brass drooling over the prospects of the prospect, so to speak.
26. Jarred Cosart: Houston Astros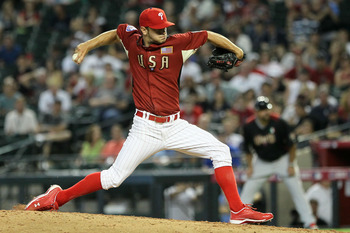 Photo courtesy thegoldensombrero.com
With two trades last season, the Houston Astros' farm system went from bad to decent, and right-handed pitcher Jarred Cosart was part of the reason why.
Obtained in the deal that sent Hunter Pence to the Phillies, Cosart instantly became one of the top-tier prospects for the Astros. Cosart has a mid-90s fastball with late movement, a slow-moving 12-6 curveball that's already considered the best in the Astros' system and a developing changeup.
Cosart has shown excellent command thus far in his minor league career, and at just 21 years of age figures to have a bright future in a city that desperately needs future stars.
25. James Paxton: Seattle Mariners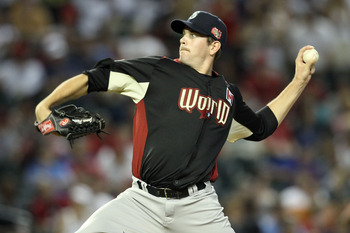 Christian Petersen/Getty Images
Maybe there was a method to the madness for Seattle Mariners GM Jack Zduriencik when he dealt star right-hander Michael Pineda to the New York Yankees. With top prospects Danny Hultzen, Taijuan Walker and James Paxton, the future certainly doesn't look all that bad in the Northwest.
Paxton was forced to sit out a season biding his time after being screwed out of his NCAA eligibility by "family friend" Scott Boras. Keeping in shape in independent ball, Paxton was selected in the fourth round of the 2010 MLB Draft by the Mariners, and was outstanding last year in making the jump to Double-A, posting a 2.37 ERA in 17 starts overall, with 131 strikeouts in 95 innings.
24. Chris Archer: Tampa Bay Rays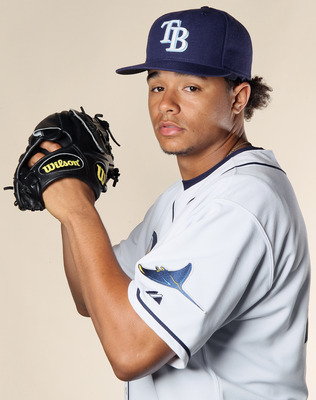 Elsa/Getty Images
When the Chicago Cubs came calling for pitcher Matt Garza, the Tampa Bay Rays added another prized jewel to their already-rich stable of pitching corps in their organization—right-handed prospect Chris Archer.
Archer, 23, was the Cubs' Minor League Pitcher of the Year in 2010. While he stumbled a bit last season in his first year with the Rays (9-7, 4.09 ERA, 1.581 WHIP in 27 starts), Archer's 97 MPH fastball with movement and major league ready slider gives added promise to a stellar Rays' pitching staff for years to come.
23. Matt Barnes: Boston Red Sox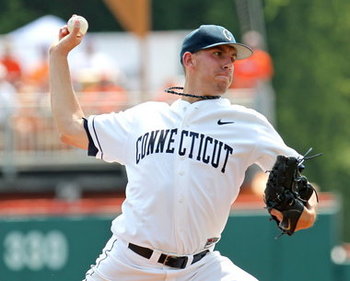 Photo courtesy masslive.com
Drafted by the Boston Red Sox with the 19th overall pick in last year's MLB Draft, UConn right-hander Matt Barnes brings plenty of promise and a blazing fastball.
Barnes led the Huskies last year with an 11-5 record and a 1.93 ERA in 17 starts, striking out 117 batters in 121 innings and holding opposing batters to just a .187 average.
Barnes will likely start his professional career at Low-A Greenville or High-A Salem, but scouts believe that with his experience in college, his poise on the mound and his electric stuff, he should move up the ladder quickly with the Red Sox.
22. Archie Bradley: Arizona Diamondbacks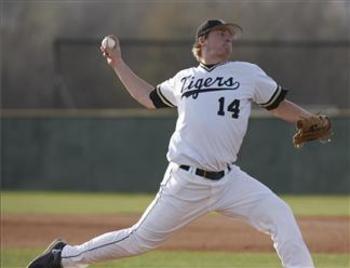 Photo courtesy thegoldensombrero.com
The Arizona Diamondbacks are loaded with young pitching, and they certainly added to that solid corps with the selection of Oklahoma high school right-hander Archie Bradley with the seventh overall selection in last year's MLB Draft.
A 0.29 ERA with 137 strikeouts and 11 walks in 71 1/3 innings during his senior season at Broken Arrow HS certainly opened eyes, not to mention a fastball that sits in the high 90s and a devastating curveball in the mid-80s.
Bradley joins a great young group of pitchers that includes Trevor Bauer, Tyler Skaggs and Pat Corbin.
21. Taijuan Walker: Seattle Mariners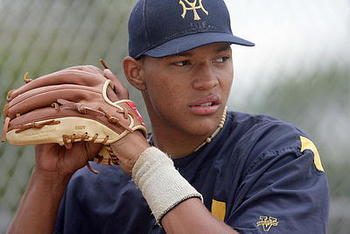 At just 19 years of age, right-handed pitching prospect Taijuan Walker clearly helps to represent the future of the pitching staff for the Seattle Mariners.
Taken in the supplemental (first) round of the 2010 MLB Draft out of high school, Walker's first full professional season certainly didn't disappoint. Pitching for the Clinton LumberKings in the Midwest League, Walker posted a 2.89 ERA in 18 starts, with 113 strikeouts in 96.2 innings and an equally impressive 1.117 WHIP.
Walker uses a low-to-mid 90s fastball with late movement to set up a terrific straight changeup, and is working on his third pitch, a mid-80s curveball that scouts believe Walker will develop a feel for quickly.
20. Matt Harvey: New York Mets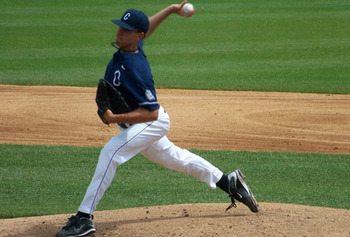 New York Mets right-handed pitching prospect Matt Harvey, selected with the seventh overall pick in the first round of the 2010 MLB Draft, put together a pretty impressive first season.
In 26 starts between Advanced Single-A and Double-A, Harvey was 13-5 with a 3.32 ERA, striking out 156 batters in 132.1 innings. Scouts love the fact that Harvey' 98 MPH fastball freely flows out of his hand, and while he struggled a tad with his promotion to Double-A, the results were nonetheless exciting for Mets fans who have seen a depleted farm system in recent years.
19. Jake Odorizzi: Kansas City Royals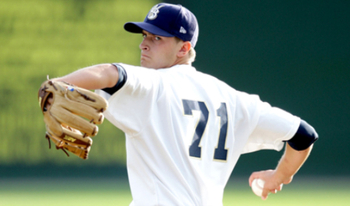 Photo courtesy thegoldensombrero.com
Drafted by the Milwaukee Brewers in the supplemental (first) round of the 2008 MLB Draft, Jake Odorizzi was sent to the Kansas City Royals in the trade for Zack Greinke.
Odorizzi will likely have a quicker route to the majors with Kansas City, and his first full season in the Royals' organization definitely showed promise. In 27 starts, Odorizzi was 10-7 with a 3.73 ERA, striking out 157 batters in 147 innings. Odorizzi will likely start the 2012 season in Double-A after struggling a bit after his promotion last season. However, with an easy delivery, sharp command and a promising three-pitch repertoire, Odorizzi will likely continue moving up quickly with the Royals.
18. A.J. Cole: Oakland Athletics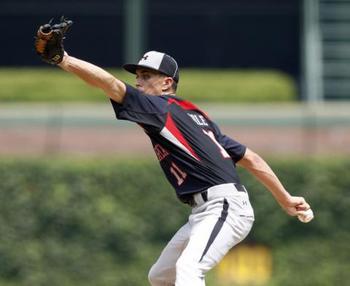 When the Oakland Athletics traded ace Gio Gonzalez to the Washington Nationals, there was small consolation in that the A's received three promising prospects in return—Tom Milone, Bard Peacock and 20-year-old right-hander A.J. Cole.
Cole's first professional season was promising—a 4.04 ERA in 18 starts, striking out 108 batters in 89 innings. He showed sharp command with his 95 MPH fastball, a sharp breaking power curve and changeup, and will likely start the 2012 season in Advanced Single-A or Double-A ball.
17. David Holmberg: Arizona Diamondbacks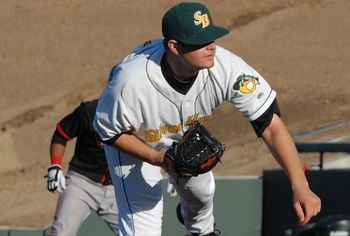 Photo courtersy azcentral.com
In July 2010, interim Arizona Diamonbacks GM Jerry DiPoto pulled off a trade that significantly altered his starting rotation and the farm system, trading Edwin Jackson to the Chicago White Sox for starter Daniel Hudson and young prospect David Holmberg.
The trade worked out quite nicely for the D-Backs, as Hudson settled in as the No. 2 starter in the D-Backs' run to the NL West title in 2011. Holmberg was a prized piece as well.
Holmberg, drafted by the White Sox in the second round of the 2009 MLB Draft, jumped from Single-A to Advanced Single-A last season. While Holmberg's numbers weren't nearly as impressive at the High-A level, he is nonetheless highly regarded by the Diamondbacks.
Holmberg has quietly rocketed up the charts on almost every prospect publication, and while the D-Backs are rich in quality young pitching, Holmberg can continue that progression with a strong 2012 season.
16. Dylan Bundy: Baltimore Orioles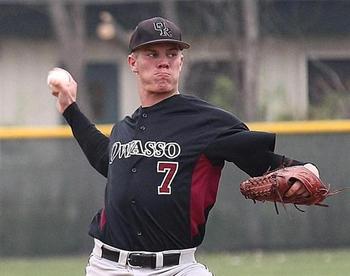 Photo courtesy mlbdraftcountdown.wordpress.com
It's a bit difficult to truly rank a high school pitcher who has yet to throw an inning of professional baseball, especially one rated this high. However, it's hard to ignore the stats turned in by Baltimore Orioles pitching prospect Dylan Bundy.
Bundy, taken by the O's with the fourth overall selection in last year's draft, was the high school National Player of the Year for several different organizations, including Gatordade, Baseball America and USA Today. Bundy put together a senior year at Owasso High School in Owasso, OK that was simply mind-boggling—0.25 ERA and 158 strikeouts in 71 innings.
Bundy features a fastball and cutter that are already plus pitches, and scouts have raved about Bundy's work ethic and strict workout regimen. He will need at least one more pitch to really be dominant at the major league level, but considering his tremendous potential and affable attitude, that likely won't take long to develop, either.
15. Martin Perez: Texas Rangers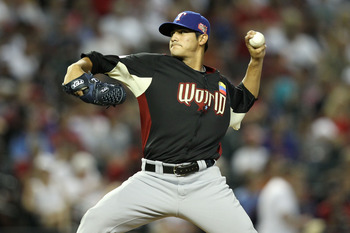 Christian Petersen/Getty Images
Venezuelan left-handed pitching prospect Martin Perez has been turning heads for a while now in the Texas Rangers organization, and he's not even 21 yet.
Perez, who turns 21 on Apr. 4, has seen a rapid progression over the past two seasons, although he hit a bump in the road with a tough last couple of months with Triple-A Round Rock.
That's where Perez will likely land next season, and if he can figure out Triple-A hitters as well as he has in previous levels, he'll continue turning heads in Texas.
14. Liam Hendriks: Minnesota Twins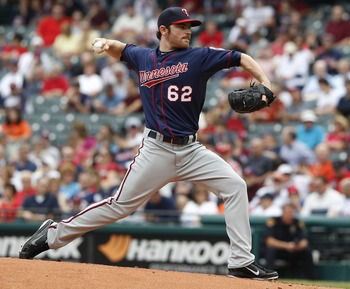 David Maxwell/Getty Images
The Minnesota Twins traveled all the way to the Land Down Under to chase after 22-year-old prospect Liam Hendriks in 2007, and the long journey may turn out to be well worth the effort.
Hendriks saw action for the Twins in the final month of last season, starting four games down the stretch. While Hendriks will likely start the 2012 season back at Triple-A Rochester, his time might not be long before he's back at Target Field.
Hendriks has posted a career ERA of 2.78 in his four minor league seasons, and his 1.089 WHIP and just 12 total home runs given up are numbers definitely favorable for a pitcher-friendly Target Field.
13. Casey Kelly: San Diego Padres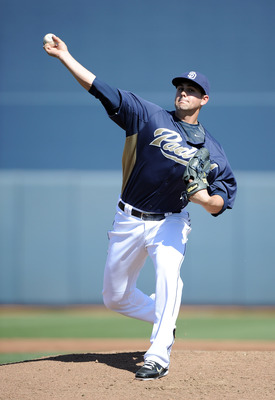 Harry How/Getty Images
In spring training this coming February, the San Diego Padres will be taking a very long look at a young right-hander who has long been considered one of the top pitching prospects in baseball—22-year-old Casey Kelly.
Kelly was the top prospect for the Boston Red Sox when he was sent to the Padres in the deal that netted Adrian Gonzalez, and Kelly instantly became numero uno for the Padres. Struggling at the Double-A level for the Red Sox in 2010, Kelly repeated Double-A for the Padres in 2011, posting a 3.98 ERA in 27 starts.
Kelly has three plus pitches—fastball, curve and changeup, and manager Bud Black will give Kelly a fair shot this spring to see if he is in fact ready for prime time.
12. Drew Pomeranz: Colorado Rockies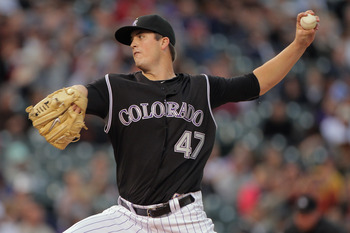 Doug Pensinger/Getty Images
Colorado Rockies general manager Dan O'Dowd has done quite a bit to remake his pitching staff for 2012 ever since the trade deadline last season, trading star pitcher Ubaldo Jimenez to the Cleveland Indians for rookie Alex White and prospect Drew Pomeranz.
Pomeranz, the fifth overall pick by the Indians in the 2010 MLB Draft, was simply outstanding in his first professional season, posting a 1.78 ERA in 20 starts between Advanced Single-A and Double-A ball, with 119 strikeouts in 101 innings.
Pomeranz made his major league debut with the Rockies on Sept. 11, and in four starts was not overmatched, posting a 2-1 record, a 5.40 ERA and 13 strikeouts over 18.1 innings.
O'Dowd brought in Tyler Chatwood and Guillermo Moscoso to join White, Jason Hammel, Jhouylis Chacin and Juan Nicasio, who is returning from neck surgery. However, if Pomeranz shows a strong spring, it's going to be a mighty tough decision for manager Jim Tracy.
11. Tyler Skaggs: Arizona Diamondbacks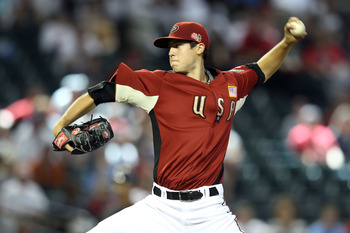 Christian Petersen/Getty Images
As mentioned earlier in this slideshow, interim Arizona Diamondbacks general manager Jerry DiPoto engineered trades that significantly altered the D-Backs' starting rotation and farm system. One of those deals was trading starting pitcher Dan Haren to the Los Angeles Angels for starting pitcher Joe Saunders and prospects Patrick Corbin, Rafael Rodriguez and Tyler Skaggs.
Skaggs, now 20, excelled last season for the D-Backs, posting a 2.96 ERA in 27 starts between Advanced Single-A and Double-A, with 198 strikeouts in 158.1 innings and an equally outstanding 1.105 WHIP.
Skaggs has been mentioned several times as a candidate for the fifth spot in the D-Backs' rotation for 2012, however, with the re-signing of Saunders, Skaggs will likely be given more time to develop. Judging by his progress thus far, that won't be much time at all.
10. Jarrod Parker: Oakland Athletics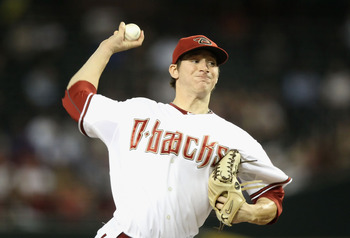 Christian Petersen/Getty Images
Now that 23-year-old right-handed prospect Jarrod Parker is with the Oakland Athletics, is his time now rather than later?
Parker was part of a deep stable of top-tier pitching prospects for the Arizona Diamondbacks when he was dealt to the A's along with Ryan Cook and Colling Cowgill for Trevor Cahill and Craig Breslow.
Parker started the second-to-last game of the regular season for the D-Backs last year, and was brilliant, allowing just four hits in 5.2 scoreless innings. Now, with the A's having rid themselves of both Cahill and Gio Gonzales, Parker will be given every opportunity this spring to show that he is ready.
9. Gerrit Cole: Pittsburgh Pirates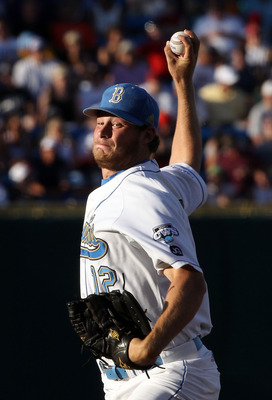 Christian Petersen/Getty Images
It would be pretty hard not to put last year's first overall draft pick in the top 10, but in terms of overall potential and makeup, Gerrit Cole's spot on this list is deserved.
UCLA has pumped out some outstanding players over the years, and Cole is definitely one of those players. With a mid-to-high 90s fastball and two outstanding secondary pitches, Cole joins fellow right-hander Jameson Taillon as one of the best 1-2 pitching prospect punches in the majors.
8. Manny Banuelos: New York Yankees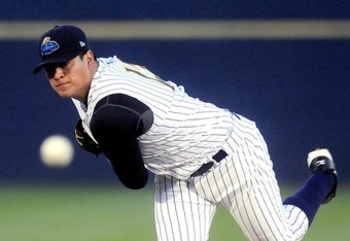 The other half of the Yankees' Killer Bees, 20-year-old left-hander Manny Banuelos, made the jump last year from Double-A to Triple-A, and his next move is up to him.
Banuelos posted a 3.75 ERA in 27 starts, with 125 strikeouts in 129.2 innings, but also walked 71 batters. Banuelos features a low-to-mid 90s fastball with a devastating changeup, but has had his troubles fine-tuning his curveball. Where Banuelos ends up in 2013 will depend on how well he can harness his command next season.
7. Danny Hultzen: Seattle Mariners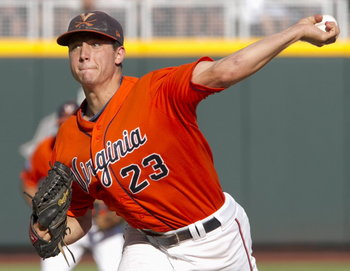 Photo courtesy oregonlive.com
Left-handed pitching prospect Danny Hultzen was just selected last season with the second overall pick in the MLB Draft by the Seattle Mariners, however, he may already be major-league ready.
Hultzen was 32-5 with a 2.08 ERA in his collegiate career with the University of Virginia, striking out 148 batters in 103 innings last season. In his first taste test in professional ball at the Arizona Fall League, Hultzen posted an even niftier 1.60 ERA in six starts.
Hultzen already displays pinpoint command with a mid-90s fastball, a nasty cutter, a better than average slider and a very good changeup. Hultzen will likely start at the Double-A level, but could very well be in the Mariners' pitching staff later in 2012.
6. Trevor Bauer: Arizona Diamondbacks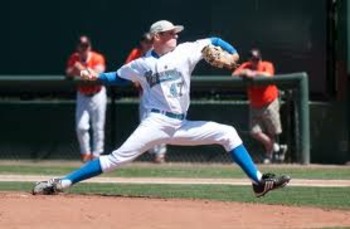 Photo courtesy dailybruin.com
Much like his fellow first-round draftee before him on this list, Danny Hultzen, Arizona Diamondbacks prospect Trevor Bauer (selected one pick after Hultzen in last year's draft) is just plain nasty.
Bauer got seven starts in the minors after signing a fat $7 million contract, striking out a whopping 43 batters in just 25.2 innings with Advanced Single-A Visalia and Double-A Mobile.
Bauer features a low-to-mid 90s fastball along with a dizzying array of breaking balls that are all of swing-and-miss variety. Bauer will likely start the 2012 season in Double-A ball, but if he keeps dominating the way he did late last year, Bauer could very well be fast-tracked.
5. Jacob Turner: Detroit Tigers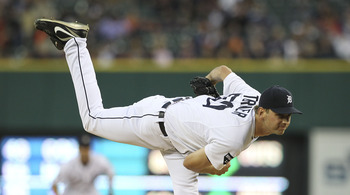 Leon Halip/Getty Images
Drafted by the Detroit Tigers in the first round of the 2009 MLB Draft, 20-year-old Jacob Turner didn't waste much time in making his major league debut.
While the results weren't stellar, Turner's debut certainly gave rise to discussion about the fifth starter in the Tigers' rotation in 2012. Turner features a low 90s fastball with three secondary pitches that by themselves aren't outstanding, but overall make up a body of work that has been more than impressive at the minor league level.
4. Jameson Taillon: Pittsburgh Pirates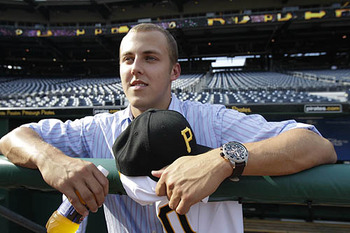 Photo courtesy post-gazette.com
With two successive top-two overall picks in 2010 and 2011, the Pittsburgh Pirates are more than well-positioned for their pitching staff of the future with Gerrit Cole and Jameson Taillon.
In Taillon's first professional season last year, he posted a 3.98 ERA in 23 starts for Single-A West Virginia, striking out 97 batters in 92.2 innings against just 22 walks. Taillon displays tremendous command for a 19-year-old, and with a fastball that hits 100 MPH, an excellent curve and a developing slider and changeup, he could very well be in the mix for the Pirates' rotation sometime in 2013.
3. Shelby Miller: St. Louis Cardinals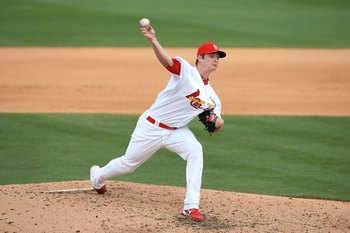 Doug Benc/Getty Images
Everything about 21-year-old St. Louis Cardinals pitching prospect Shelby Miller spells out future ace.
Selected by the Cards with the 19th overall pick in the first round of the 2009 MLB Draft, Miller has basically dominated at every level thus far. Last season between Advanced Single-A and Double-A, Miller was 11-6 with a 2.77 ERA in 25 starts, striking out 170 batters in 139.2 innings.
Miller's mid-to-high 90s fastball and devastating 12-6 curve are already plus pitches, and Miller has been toying with adding more sink to his two-seam fastball as well.
The 2013 season is the likely landing point for Miller's future in the Cardinals' rotation, but they won't hold him back if he dominates next season, either.
2. Julio Teheran: Atlanta Braves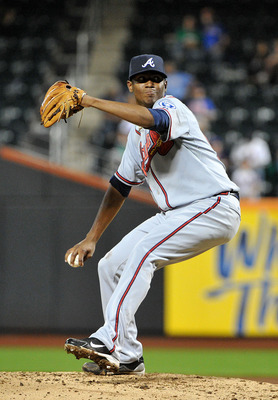 Christopher Pasatieri/Getty Images
If there was anything negative about Atlanta Braves' pitching prospect Julio Teheran's season last year, I am at a loss to find it.
Teheran was simply outstanding for the Triple-A Gwinnett Braves, posting a 15-3 record and a 2.55 ERA, giving up just 123 hits in 144.2 innings and an equally impressive 1.182 WHIP.
Teheran got his chance to shine on the big stage as well, with a 1-1 record and 5.03 ERA in five appearances, three of them starts. With Derek Lowe now out of the mix, Teheran will be given his shot to stick with the big club full-time next season.
1. Matt Moore: Tampa Bay Rays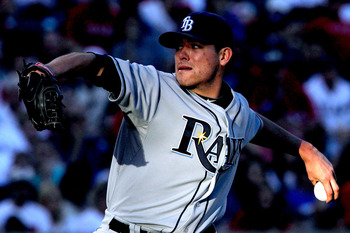 Tom Pennington/Getty Images
If top pitching prospect Matt Moore didn't prove his worth before last October, the ALDS playoffs certainly changed a few opinions.
Moore, who blistered minor league teams to the tune of a 1.92 ERA and 210 strikeouts in 155 innings, blanked the New York Yankees in his major league start on Sept. 22, striking out 11 in just five innings. Then, a week later, Moore stunned the baseball world by shutting out the mighty Texas Rangers on just two hits over seven innings in Game 1 of the ALDS.
The only question at this point is where Moore fits in the Rays' rotation, with established pitchers James Shields, David Price, Wade Davis, Jeremy Hellickson and Jeffrey Niemann. Somehow, GM Andrew Friedman and manager Joe Maddon will make it work.
Doug Mead is a featured columnist with Bleacher Report. His work has been featured on the Seattle Post-Intelligencer, SF Gate, CBS Sports, the Los Angeles Times and the Houston Chronicle. Follow Doug on Twitter, @Sports_A_Holic.
Keep Reading