Super Bowl 2012 Odds: Taking the Under Is a No-Brainer
January 24, 2012

Elsa/Getty Images
The New York Giants and New England Patriots gave us one of the greatest Super Bowls ever played four years ago, but you get the sense that this year's matchup could be even better.
These two teams are much more evenly matched than they were back in Super Bowl XLII. The Giants were not as strong from top to bottom as the Patriots back then, but they are now. That's due largely to the development of Eli Manning into one of the league's elite quarterbacks.
You can tell that the oddsmakers think these two teams are pretty evenly matched by taking a look at the spread. Per Bovada, the Patriots are favored to win by a mere three points. They were favored by double-digits in Super Bowl XLII.
But it's not the spread I want to focus on here. It's the over/under, which Bovada has at 55.5 points.
It's a tricky number because both of these offenses are capable of blowing up the scoreboard at any given moment, but both of them are coming off supbar games in their respective conference championship contests.
The Patriots only gained 330 yards and scored 23 points against the Baltimore Ravens, and the Giants managed 352 yards and 20 points against the San Francisco 49ers. It's also worth noting that the 49ers basically spotted the Giants 10 points.
So if nothing else, we know that neither the Giants nor Patriots are invincible on offense.
The big question is whether or not New England's defense will come to play. The Patriots really struggled on defense during the regular season, and they just let Joe Flacco throw for over 300 yards in the AFC Championship Game. That's not a good thing.
However, the Patriots have done a very good job of bending, but not breaking so far in the playoffs. Their secondary is still a huge concern, but it has been helped by a resurgent front seven that has been creating consistent pressure.
Because of this, it's actually rather easy to be confident in New England's defense. It will be going up against a Giants offense that, though explosive, is hit or miss. The Pats will be able to hold their own.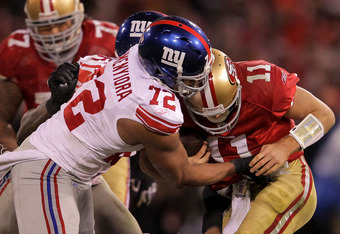 Doug Pensinger/Getty Images
We know that the Giants' own defense is going to be able to hold its own against the Patriots offense. Just like they did four years ago, the Giants have a killer defensive line, and it will bother Tom Brady. If the Giants get consistent pressure on him, the playing field will be leveled completely.
The track record between the Giants and Patriots is another thing that shows they are much more likely to play a hard-fought game than they are to get into a shootout. When these two teams met in Super Bowl XLII, they combined to score just 31 points. When they met during the regular season, they managed just 44. 
So 55.5 points is a bit much. The Giants and Patriots are going to be too busy beating each other up to score that many points. 
I'd take the under.