Prince Fielder Signs with Detroit Tigers: 7 Ways He's the Perfect Fit for the AL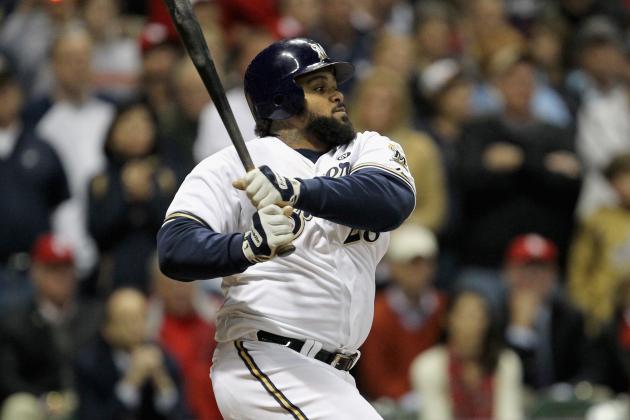 Jonathan Daniel/Getty Images
Prince Fielder will swing for the fences in Detroit.
Prince Fielder is coming to Detroit, according to Jon Heyman, and the expectation is that he will make the Tigers the kings of the American League, if not all of baseball.
Two of the best power hitters in the National League have now crossed over to the American League. The list of American League first basemen is now a who's who of baseball's best hitters—Fielder, Albert Pujols, Mark Teixeira and Adrian Gonzalez. That's not even including the Tigers first baseman last year, Miguel Cabrera, Paul Konerko or young future star Eric Hosmer.
Crossing leagues isn't always easy. Some players such as Cabrera made it look easy. Gonzalez's transition last year was fairly seamless as well.
Prince Fielder is not going to have too many problems making this transition either.
Begin Slideshow

»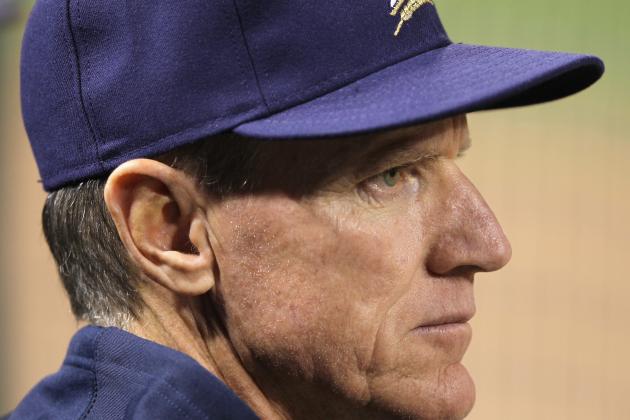 Jamie Squire/Getty Images
Prince's manager in Milwaukee Ron Roenicke had to make multiple switches and liberally use pinch hitters.
In the National League, things get done a little differently.
There's no designated hitter; the pitcher must hit.
That one aspect—a pitcher who must make a plate appearances—provides for many of the strategic differences that exist within the two leagues.
No, Fielder wasn't pinch-hit for very often while playing in Milwaukee, but the moves that National League managers make, such as double-switches, can impact the structure and consistency of a lineup.
That won't be happening with the same sort of regularity in Detroit, where Fielder will play first base and Miguel Cabrera, who is possibly one the best hitters in baseball, will likely play designated hitter, third base or move to the outfield.
Hitters are, of course, creatures of habit. Fewer lineup changes late in games means more comfort and that could easily translate to more production.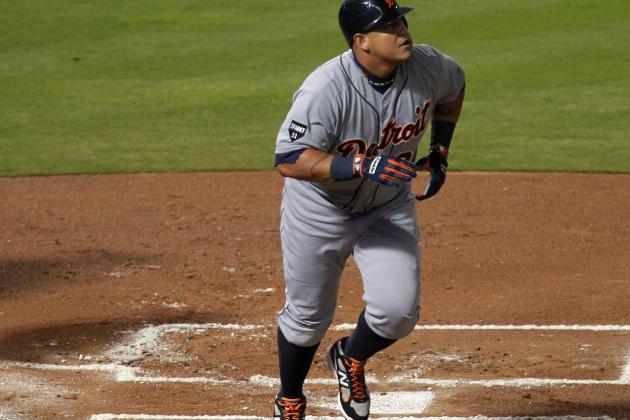 Ronald Martinez/Getty Images
Slugger Miguel Cabrera has mashed 30 or more home runs in every season since his arrival in the American League.
Prince's new ballpark doesn't have a reputation as a "hitter's" park, but when one looks at splits of the two leagues, there's no question that the American League seems to favor power hitters and that's before both Fielder and Albert Pujols crossed leagues this winter.
In 2011, the average offensive production for a National League team was a .253 average with an OPS of .710, 668 runs scored and 143 home runs. For the American League, it was a .258 average with a .730 OPS, 723 runs scored and 162 home runs.
It's not a myth that offensive production in the American League is better than in the National League. Some of that has to do with the designated hitter, but some of that is that there's more offensive talent in the American League.
That talent gap just widened considerably with the additions of Pujols and Fielder, coupled with the departure of pitchers such as Trevor Cahill, Gio Gonzalez and Mark Buehrle. There will be more offensive production in the AL in 2012 than in 2011.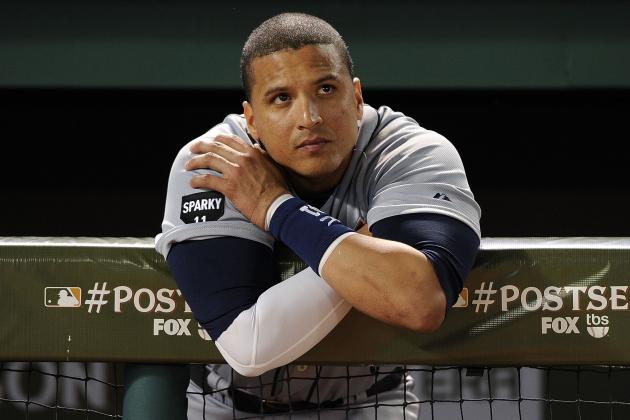 Harry How/Getty Images
Victor Martinez will miss all of 2012 while recovering from ACL surgery but the Tigers will still pack plenty of punch.
Yes, the Tigers lost Victor Martinez for the 2012 season. Martinez is one of the league's best all-around hitters who hits for average, has some pop and gets on base. He's a tough out, to say the least, and his injury will still hurt Detroit.
It's going to be a tough lineup, though.
The Tigers were fourth in both batting average and OPS in 2011 and they were third among all major league teams in runs scored.
Those numbers promise to climb with the addition of Fielder in spite of Martinez's injury.
Martinez was a dangerous hitter, but he only hit 12 home runs in 2011. Fielder hit 38 home runs in 2011. That's the type of power that scares opposing pitchers.
Fielder's presence will result in the Tigers lineup as a whole seeing more good pitchers, especially if you're Miguel Cabrera or Delmon Young, the players projected to possibly hit in front of and behind Fielder.
Nick Laham/Getty Images
The DH position has allowed sluggers like David Ortiz to flourish in the American League.
As of now, the news is that Prince Fielder will play first base and Miguel Cabrera will move to another position.
That won't be a permanent situation, or at least it doesn't have to be—not with the designated hitter position as a fixture in the league.
Fielder may play all nine years at first base in a Detroit Tigers uniform, but he doesn't have to. If he gets injured he can play DH. If he begins to show the effects of aging and slows down, he can DH as well.
David Ortiz has been a consistent offensive threat in Boston at the position for the better part of the past nine seasons. There's no question that the existence of the position can extend talented hitters' careers.
It's not a given that Prince will need to DH or that the Tigers will want him to, but the existence of the option makes the American League a more attractive home for a player of Fielder's caliber.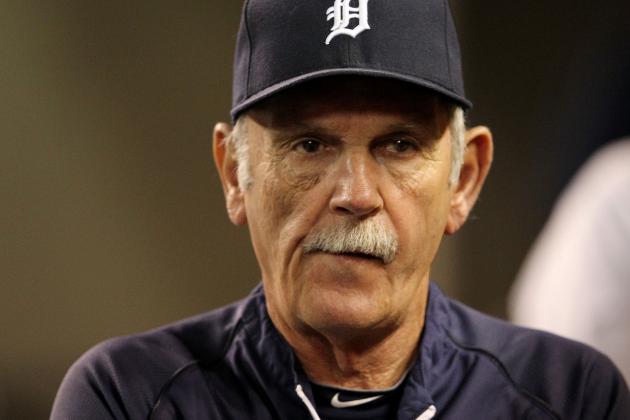 Leon Halip/Getty Images
Manager Jim Leyland has plenty of experience managing players of all different skill sets and personalities.
When Prince Fielder arrives in Detroit, he'll get to play for manager Jim Leyland.
It's unlikely that Fielder could have latched onto a team with a manager that approaches the depth of Leyland's experience.
Dusty Baker has Joey Votto; Mike Scioscia has Albert Pujols. It's a league that has seen many of its most experienced skippers retire in recent years. Bobby Cox, Tony LaRussa, Joe Torre and Terry Francona have all left the game.
To play for Leyland is to play for a guy who's been there and done that. He's won in both leagues—winning a World Series in Florida in 1997, winning divisions in Pittsburgh back in the early 1990s and taking the Detroit Tigers to the World Series in 2006.
Leyland has made a successful transition between leagues and that can only make Fielder's a little smoother as well.
Fielder will get to hit in Yankee Stadium more often now.
As a power-hitting left-handed hitter, Prince Fielder will benefit from being able to play in certain ballparks. Some of those ballparks are in his new home, the American League.
His home park in Detroit isn't exactly a hitter's paradise, but Fielder has enough power to hit the ball nearly anywhere with a high degree of success.
When he hits the road with the Tigers, he can play home run derby in Texas, where the ball flies out of the stadium. In Cleveland there is another hitter's park, just as in Chicago, where the White Sox play (someone should remind Adam Dunn of this).
Fielder will also get to go opposite field over the Green Monster in Boston and he'll certainly enjoy the short right field porch in New York at Yankee Stadium as well.
The Prince Fielder Show will be coming to an American League ballpark near you in 2012.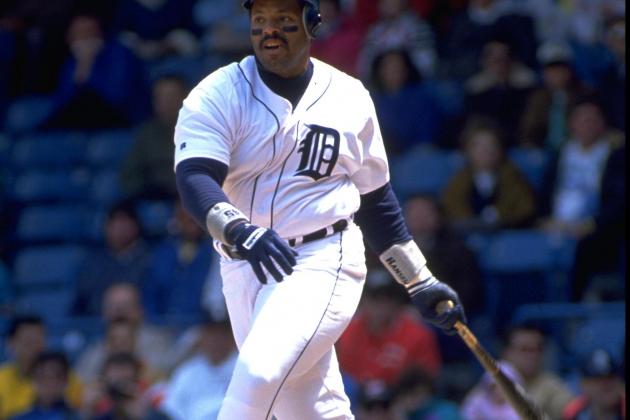 Rick Stewart/Getty Images
Prince's father certainly had no problem fitting in in Detroit.
Let's face it, if you've been watching baseball through the years and you look at Prince Fielder, you think "American League."
Being a slightly hefty, power-hitting first baseman or designated hitter is an American League tradition.
George "Boomer" Scott, Mo Vaughn, Cecil Fielder, Pete Incaviglia, Bob Hamelin, Kent Hrbek and Steve Balboni—Fielder always looked like an American League guy; now he gets to be one.